Walmart Credit Card Review
Editorial Note: This content is not provided by the card issuer. Opinions expressed here are author's alone, not those of the issuer, and have not been reviewed, approved or otherwise endorsed by the issuer.
This article contains references to products from our partners. We receive compensation if you apply or shop through links in our content. You help support CreditDonkey by reading our website and using our links.
(read more)
---
Is the Walmart Credit Card worth applying for? Read this expert review and comparison of the Walmart store card and Walmart Mastercard before you apply.
With its reputation for low prices, Walmart is the go-to store for groceries and other household staples. The retail giant offers two types of credit cards issued by Synchrony:
Walmart store credit card: can be used for purchases only in Walmart Stores and Supercenters, Walmart.com, Neighborhood Markets, Sam's Clubs, and Walmart and Murphy USA gas stations.
Walmart Mastercard: can be used wherever Mastercard is accepted.
We review the cards in detail below. In this review:
Also, check out some current credit card promotions you shouldn't miss.
Walmart Credit Card Review
PROS & CONS
PROS:
Up to 3% cashback at Walmart and affiliated stores and gas stations

Eligible to those with low credit scores

Special 6-24-month financing offers

No annual fee

Free FICO credit score each month

$0 fraud liability
CONS:
Low credit limits - as low as $150

High APR

Low rewards compared to other cashback cards
WHO THE WALMART CREDIT CARD IS BEST FOR:
Frequent Walmart shoppers, especially online

Those with limited or poor/average credit looking to improve their credit score
For anyone with better than average credit, there are a number of other rewards credit cards that offer better rewards and perks.

Now let's take a look at the Walmart credit cards in detail.
3-2-1 SAVE REWARDS PROGRAM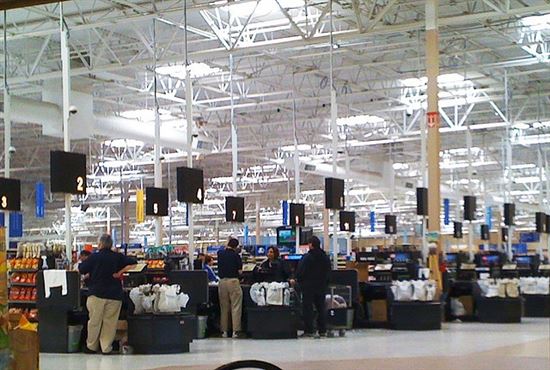 Walmart-World © Patrick Hoesly (CC BY 2.0) via Flickr
3-2-1 Save Rewards is Walmart's cashback rewards program. You get:
3% back on purchases made at Walmart.com, including in-store pickup, grocery pickup, and grocery delivery purchases

2% back on fuel at Walmart and Murphy USA gas stations (Murphy Express is excluded)

1% back on everything else, including: Walmart physical stores, Sam's Club, and Neighborhood Markets
If you have the Walmart Mastercard version, you'll receive 1% cashback on all purchases wherever Mastercard is accepted.
Rewards are issued as monthly statement credit. There's no limit on the amount of rewards you can earn. And they won't expire as long as your account is in good standing.
Can you only use a Walmart Credit Card at Walmart?
For the Walmart store card, you can only use it at Walmart and affiliated stores and gas stations (such as Sam's Club, Neighborhood Markets, and Walmart and Murphy USA gas stations).
For the Walmart Mastercard, you can use it wherever Mastercard is accepted.

WELCOME BONUS
You get $25 when you get approved for a new Walmart credit card at Walmart.com or in-store, and spend $75 on qualifying purchases the same day you open your account.
If you open the account in-store, the purchase must be made in the store in which you applied. If you open the account online, the purchases must be made online at Walmart.com.
The $25 will be paid as statement credit.
Walmart credit card sign in:
You can log into your Walmart credit card account at www.walmart.com/creditlogin. On your online account, you can:
Activate your new card

Pay your bill

View your statement and balance

Request credit limit increase or decrease

Dispute a charge

Report a lost or stolen card

Add an authorized user
SPECIAL FINANCING OFFERS
Both cards offer special promotional in-store financing on large purchases over $150. You can get a 6- to 24-month interest-free grace period to pay off your balance. The term depends on the amount of your purchase.
However, this comes with some strings attached. The interest is deferred, which means if you don't pay off the balance within the promotional period, you'll be charged ALL the interest on the full initial price from the date of purchase.
The financing offer is great, but make sure you pay off your balance before the 0% APR period ends.
Financed purchases will not earn cashback rewards.
CREDIT SCORE NEEDED FOR WALMART CREDIT CARD
One big appeal of the Walmart credit card is that those with limited or lower credit scores can be approved. Even with no credit or poor credit, you'll still likely qualify for the Walmart store card. Customers with FICO scores as low as 550 can usually be approved.
The Walmart credit card reports to all 3 credit bureaus, so it's a great way to build credit with responsible use.
The Mastercard version usually requires a credit score of 660 or higher, which is considered the low end of "good" on the credit score scale.
Keep in mind that if you have lower credit, you probably won't get a high credit limit. Your credit limit may be as low as $150 to start, but could increase with responsible use.
Free Credit Score: Walmart cardholders can access their FICO score for free each month. Just log in online to your account at www.walmart.com/creditlogin.

IS THE WALMART CREDIT CARD GOOD?
The target audience is frequent Walmart shoppers with limited or poor credit scores. It's great that Walmart offers approval to those with low scores so you have a way to build credit. With that in mind, this card isn't a bad option.
The rewards are not the best, but they're decent for an no-annual-fee card for low credit. It's just too bad that shopping at physical Walmart stores only get you 1% cash back. So it's best if you do most of your shopping online.
It's also pretty cool that grocery pick-up and delivery get 3% cashback too (as long as it's paid for online). So if you live near a Walmart with groceries, you can effectively get 3% back on groceries (which is on par with other grocery cards).
However, beware of the high APR. This is NOT a card that you'll want to carry a balance on if you can avoid it.
If you have better credit and are considering the Mastercard version, look into other cash back cards instead, as many offer better rewards.
HOW TO APPLY
To apply for the Walmart credit card, you have a few options:
At any register your local Walmart store

At a jewelry kiosk

Online through Walmart.com or Synchrony
Usually, you can get approval right away. You may be able to apply for both the store card and Mastercard at the same time to see which one you'll be approved for.
If not, you may have to wait 7-10 days for a decision. You can check your application status by calling Walmart Credit Services at 1-877-969-3668.
Applying will result in a hard pull on your credit.
Walmart Shopping Cart Trick
There's a lot of talk about a Walmart "shopping cart trick". It's believed that if you are invited to apply for the Walmart store card when checking out online, you can be approved with only a soft pull on your credit. So if you have lower credit, it won't be dinged more by a hard pull.
However, this is NOT TRUE. Walmart cards issued by Synchrony always perform a hard pull. So don't just apply for pop-up Walmart card offers unless you are serious about getting one.

HOW TO MAKE PAYMENTS
You can pay your Walmart credit card in a few ways:
Online: Sign into your online account to pay your card. Online payments will be posted within 2-3 business days.
E-Payment: Set up e-payment directly with your bank account.
In store: Pop into your local Walmart or Sam's Club to make a payment. In store payments will be posted within 1-2 days.
By phone: Free for automated payment service, or $10 for representative-assisted payment.
By mail: Mail in your payment.
CheckFree: This is an online payment center. You must have a CheckFree account to pay through it.
Walmart Credit Card Customer Service Numbers
:
Walmart Credit Card: 1-877-294-7880

Walmart Mastercard: 1-866-611-1148
Alternatives
If Walmart's card terms aren't enticing you to sign up, you may want to consider a standard credit card that you could use there as well as other retailers.
Consider the following alternatives:
Bottom Line: Are the Walmart Cards Worth It?
Walmart cards are not a bad option for those with lower credit and are looking for a way to improve, while getting some rewards at the same time. Those with higher credit have better options with more rewards and better terms.
If you're just looking for a credit card that's easy to get, we advise going with a secured credit card instead. The interest rate on the Walmart cards is high enough that carrying a balance can REALLY hurt your finances.
If you are determined to have a Walmart store card or Mastercard, be careful and make sure you understand the terms.
Leah Norris is a research analyst at CreditDonkey, a credit card comparison and reviews website. Write to Leah Norris at leah@creditdonkey.com
Disclaimer: Opinions expressed here are author's alone. Please support CreditDonkey on our mission to help you make savvy decisions. Our free online service is made possible through financial relationships with some of the products and services mentioned on this site. We may receive compensation if you shop through links in our content.
Editorial Note: Any opinions, analyses, reviews or recommendations expressed in this article are those of the author's alone, and have not been reviewed, approved or otherwise endorsed by any card issuer. This site may be compensated through the Advertiser's affiliate programs.
Disclaimer: The information for the Discover it® Cash Back, Costco Anywhere Visa® Card by Citi, and Discover it® Secured has been collected independently by CreditDonkey. The card details on this page have not been reviewed or provided by the card issuer.
More from CreditDonkey:
---