With credit being the lifeline to small businesses, this educational infographic helps small business owners learn how to build credit.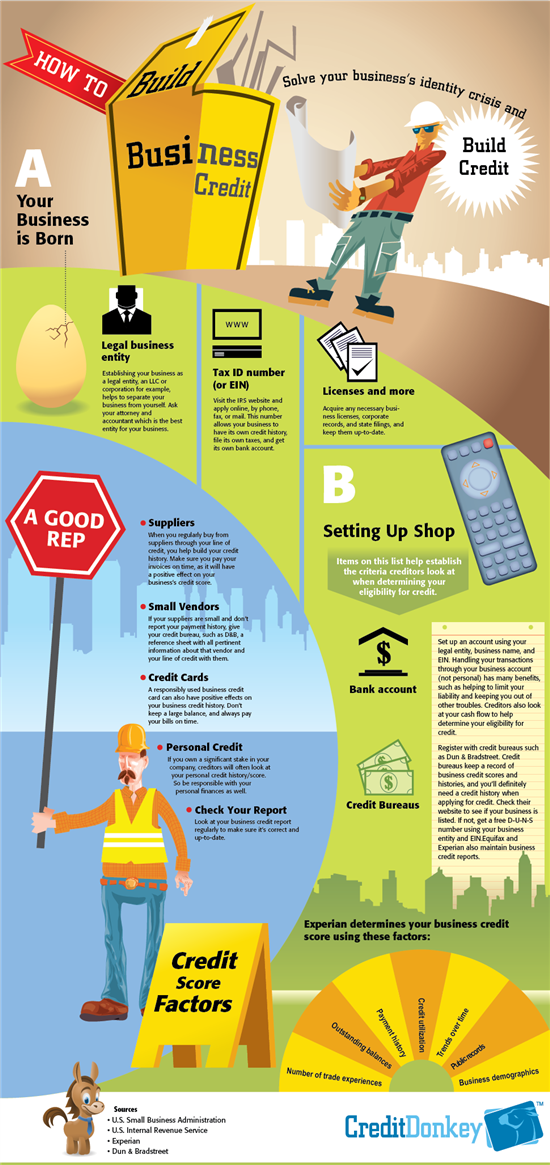 Infographics: How to Build Business Credit © CreditDonkey
Establishing business credit first requires that your business has its own identity—separate from your personal identity. For example, setting up a legal entity for your business, such as an LLC or corporation, is a like giving your business its own name and birth certificate. Instead of a using your social security number for a sole proprietorship, get your legal business entity its own tax ID (or EIN number).
Then, your business must operate entirely though its own identity. It's that simple. The rest is all in the details.
Keep in mind the following tips for small business owners:
When using a line of credit through a supplier, make sure you pay invoices on time. Doing so will usually help your business credit score.
Be aware that not all suppliers report your line of credit or your payment history.
Using business credit cards responsibly will also have a positive effect on your business credit history. Paying your entire balance each month will also help you get the most out of your rewards, like cash back, airline miles and travel perks.
Remember to regularly check your business credit report to make sure it's correct and up to date.
Remember, a home business can build credit too.


Infographic: Home Business Startup © CreditDonkey
(Writing by Kelly; Graphic Design by Marcelo and Estefan)