Best Yoga Blogs: Top Fitness Experts
---
Find the best yoga blogs. Look at the winners of the CreditDonkey Best Yoga Blogs Award for inspiration, motivation and practical tips for your next session on the mat.

Best Yoga Blogs

© CreditDonkey
Blogs That Will Help You Perfect Your Yoga Practice
When stressful thoughts - such as worries about debt or concerns about home safety - start creeping into your mind and messing with your yoga practice, it's time to get some yoga refreshers.
Blogs from yoga instructors and other experts are a must-have resource for both experienced yogis and beginners. They offer many photos of postures, helpful videos (you could finally learn how to do a salamba sirsasana, or supported handstand!), and ideas for incorporating yoga into your daily life. Luckily for you, there is a ton of yoga blogs, but it's tough to choose just a few to follow.
Read on to discover the very best yoga blogs on the Internet so you can fold them into your practice. Hopefully these will help you make time for you, to silence the worries in your head while you're trying to be in the moment, on the mat. Namaste.

Best Yoga Blogs

© CreditDonkey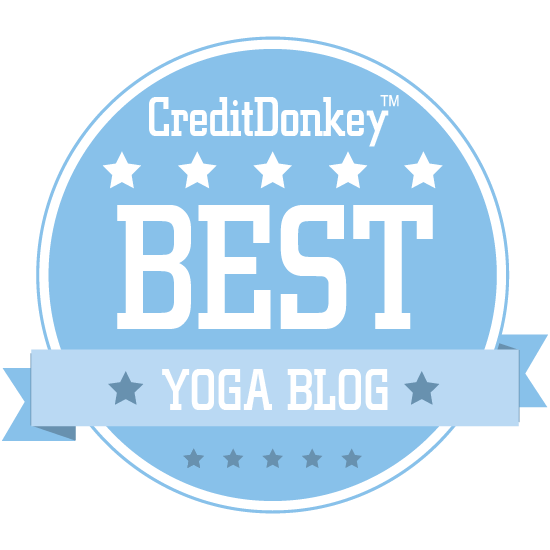 Best Yoga Blog

© CreditDonkey
Life and Money Lessons Learned from Yoga
Yoga, a discipline of the mind and body developed in ancient India that has now evolved into a fitness craze in modern America, shows no signs of fading. Big retailers sell an array of yoga merchandise, from blocks to mats and even special bags for your mats, and yogis can find a class at any gym or yoga studio. A 2012 study found that more than 20 million Americans practice yoga on a regular basis.
Whether you are among those 20 million or not, yoga's lessons can still be relevant in your daily life. Here are a few of our favorite life and money lessons taken from the yoga mat.
It's about small progress.
Flexibility can't be rushed. Muscles need time to warm up on a daily basis and time to elongate over the long haul (unless, perhaps, you're in the habit of doing hot yoga, where the humidity will quicken up your flexibility). Type A impatience can result in injury, not progress. This same philosophy applies to resurfacing from debt. You can't snap your fingers and be debt free. Instead, it takes daily attention and long-term commitment. This list of 10 smart ways to get out of debt will give you starting point for warming up.
Keep your inner focus.
The key to a successful yoga practice is keeping your focus internal, shutting out external stimuli. Strike a warrior pose and feel the strength of your legs and arms, and nothing else in the world matters. Staying productive in a busy workplace comes with this same challenge. Learning to keep your inner focus during the workday is key to being productive and working efficiently - but it's not easy to achieve. These basic tips, such as getting comfortable and getting organized, help minimize the distractions.
Work on your foundation.
The first step toward mastering a standing yoga pose focuses on the foundation and getting in tune to how the body is grounded strongly and evenly to the earth. The rest of the pose is built on this foundation. Set up the money version of the tree pose: Get grounded with your finances and set up a solid foundation for a comfortable retirement in the future. This begins with goal setting and making the most of your 401(k).
Know your limit.
Every yoga pose can be modified to match your body's own level, and learning not to reach beyond your limit requires attention and discipline (anyone who remembers their first time trying the crane pose knows what we're talking about). Sometimes your enthusiasm and ambition in the workplace can cause you to push beyond your limits, turning a positive trait into a negative one. Finding your sweet spot is a balance between recognizing your strengths and knowing how to keep them in check.
Take a deep breath.
Breathing is one of the foundational elements of yoga practice used to control the mind and the body. While yogis have understood the power of the breath for thousands of years, scientists are just now defining its impact on our health. Studies have shown that deep breathing can relieve stress, lower blood pressure, shift the pH balance of the blood and be an effective treatment for chronic disease.
Repetition is the key to progress.
The more you do certain sun salutations, the more connected you will become with your body's limitations and strengths. Only then are you able to become even stronger and leaner. This same practice can carry over to adopting good habits. Do something over and over again until you don't have to think about it anymore - you just do it (like paying all your credit bills on the same day every month so you don't forget, or always turning off the bathroom light right after your brush your teeth). Use these strategies to create such good habits by repetition.
Slow down.
Yoga practice teaches the practitioner to slow down the body, the breath, the heart, and the mind. The savasana, or corpse pose, is the time when you completely relax, and when you do it correctly, it can encourage you after class to slow down even when you're among the hurry-up, multitasking, hyperfast world. Sometimes the way to do that is to just give yourself a reminder every once in a while to do the simpler things, like savor a family meal together or spending time outside with nature, to slow the pace.
Note: This website is made possible through financial relationships with some of the products and services mentioned on this site. We may receive compensation if you shop through links in our content. You do not have to use our links, but you help support CreditDonkey if you do.
Read Next: