Best Outdoor Brands: Top Gear Experts
---
Gear up for the great outdoors. Winners of the CreditDonkey Best Outdoor Brands Award have been announced.

Best Outdoor Brand

© CreditDonkey
Top Outdoor Brands You Must Have
Outdoor enthusiasts need to know that everything they store in their packs is of the greatest quality. Out in the elements, where anything can happen, they need clothing that will keep them warm and shelter that will protect them in case of bad weather. Sometimes they won't even actually need some of the gear they bring along - but they want to feel confident it'll be useful if the time comes.
The Best Outdoor Brands know their customers' needs, they're innovative, and they're focused on quality. It's tough to know at first which brands to commit to - so many outdoor brands are trying to reach nature lovers and outdoor adventurers with their products. Only the ones on this list are the very best.
At CreditDonkey, we share money-saving ideas with consumers and present the best brands for spending wisely. Smart spending doesn't mean always buying the cheapest thing - it's about buying things you need that are of great quality and true value. (It's why, for example, we suggest the best credit cards for your next adventure - the one that offers the best signup bonus is not always the one that will fit your current needs.)
You want to always make the most of the money you've worked hard to earn. The outdoor brands listed below live up to this goal.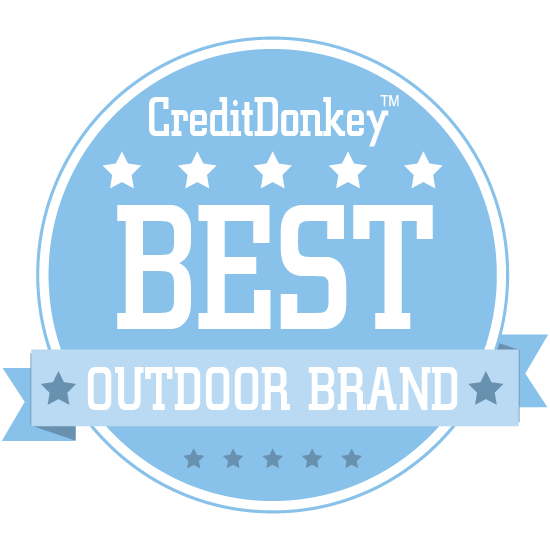 Best Outdoor Brand

© CreditDonkey
Jetboil


Jetboil is one of the best ways to cook food on any backpacking adventure. Whether you need a lightweight stove, fuel at altitude or a full cooking and eating system for a camping trip, they have some of the best compact and portable cooking products that you'll find along any trail. Jetboil was founded by Dwight Aspinwall and Perry Dowst in 2001.

Why Jetboil is a Top Outdoor Brand: They specialize in compact and portable cooking stoves and systems along with camping dining accessories. They are based in Manchester, NH.

Read: The Breakfast Quesadilla
Follow @jetboil

Duluth Pack


If you need a pack for the outdoors, hunting or camping that works just as stylishly as a pack for work or school, Duluth Pack has been one of the most consistent and strongest options in history. With its roots dating back to the 1880s, they are high-quality, American made packs that look great and will work for any outdoor activity. Duluth Pack traces their history back to Camille Poirier founding the brand in 1882.

Why Duluth Pack is a Top Outdoor Brand: Duluth Pack is the oldest canvas and leather bag and pack maker in the USA. They proudly handcraft all of our items here in the USA along with offering a lifetime guarantee on all craftsmanship and hardware. They handcraft backpacks, duffel bags, handbags, briefcases, hunting packs and gun cases and outdoor canoe packs. They are based in Duluth, MN.

Read: Roll-Top Scout Pack
Follow @duluthpack

Slumberjack


Slumberjack is one of the best brands in the country when it comes to tactical, sporty and functional hunting gear. Whether you need a large and comfortable pack for a day trip or a cozy tent for an overnight, you will be fully stocked with everything you need to make your next hunting trip a success. Slumberjack was founded over 50 years ago to provide campers with the best night's sleep under the stars.

Why Slumberjack is a Top Outdoor Brand: They offer sleeping bags, hunting cloaks, tents and shelters and accessories. They are based in Boulder, Colorado.

Read: Pro Purchase Program
Follow @sjkgear

Vargo


Vargo was one of the first companies at the forefront of the ultralight movement. With smart designs and investments in titanium gear, they have become one of the best options for long backpacking trips. That's thanks to lightweight packs, strong and durable tent stakes, utensils and cooking gear that will keep you going on your next adventure. Vargo was founded by Brian Vargo. He started Vargo with the goal of designing titanium products to help people lighten their pack's load. The actual development of titanium framed backpacks didn't happen until much later (2013). He started making titanium tent stakes then alcohol stoves at first. His design goal is to create simple, innovative, lightweight products that benefit from the unique qualities of titanium.

Why Vargo is a Top Outdoor Brand: They sell packs, tools, stoves, utensils, pots, mugs and tent stakes. They are located in Lewisburg, Pennsylvania.

Read: The Ultimate Fire Starter
Follow @VargoOutdoors

Venture Snowboards


No matter where your next snowboarding adventure takes you, you want to feel comfortable and confident on the board you're riding. Venture Snowboards is one of the best options for handcrafted boards that look and feel great down any kind of slope. Venture was founded in 1999 from a lifelong passion for building high-quality snowboards.

Why Venture Snowboards is a Top Outdoor Brand: They make handcrafted snowboards and splitboards. The snowboards are made in Silverton, CO.

Read: Venture Snowboards Announces 2017 Ambassador Team
Follow @venturesnow

Trek Light Gear


Trek Light Gear reflects what so many of us love about camping. The idea of finding peace and solitude and a perfect place to set-up a lightweight hammock between two trees. Their ultralight gear, stylish apparel and functional accessories are the best way to make the most out of your next outdoor adventure, no matter where it might take you. Trek Light Gear was founded by Seth Haber in 2003.

Why Trek Light Gear is a Top Outdoor Brand: They feature hammocks, apparel, packs, totes, hammock gear and accessories. They are located in Boulder, CO.

Read: Hammock Lover's Gift Bundle
Follow @treklightgear

Pelican


Pelican products are synonymous with being strong and durable for personal or professional use. Whether you need a great cooler that will last you for decades, a military-grade pack or case, or you want to protect your phone, they have reached a tremendous scale in the world of outdoors products. CEO Lyndon Faulkner joined the company in 2006 with over 30 years of experience.

Why Pelican is a Top Outdoor Brand: They offer cases, coolers, phone and tablet covers, luggage, packs and lights. They are located in Torrance, CA.

Read: 1535 Protector
Follow @pelicanproducts

ALPS OutdoorZ


ALPS OutdoorZ is one of the strongest brands on the market for hunting. With packs, gear and furniture that fit the needs of any hunting expedition, you will not have to worry about being fully equipped no matter where the adventure takes you. Their tactical gear can handle any challenge that your trip presents. ALPS has been equipping hunters with high quality gear since 2007.

Why ALPS OutdoorZ is a Top Outdoor Brand: They sell extreme packs, hunting chairs and stools, gear and duffels. They are based in New Haven, MO.

Read: Hunting Vests
Follow @ALPSOutdoorZ

Hoka One One


Hoka One One's founders understood the benefits of oversized equipment and wanted to translate the same success to running. They design their products to improve the speed, efficiency and safety for trail runners and hikers, and their company has never looked back since producing their first shoe in 2010. Hoka One One was founded by Nicolas Mermoud and Jean-Luc Diard in 2010.

Why Hoka One One is a Top Outdoor Brand: They sell some of the best footwear for trails, road running and hiking, along with apparel and accessories. They are based in Goleta, CA.

Read: Arahi Road Running Shoe
Follow @hokaoneone

Fitbit


Fitbit has become one of the strongest brands in the world of wearable technology by designing products and experiences that help people to lead healthier, more active lifestyles. With products that fit any need or price point, Fitbit empowers each user with the data, inspiration and guidance to reach their goals, whatever they might be. Whether you are just starting your fitness journey or an experienced athlete, you can choose from products that offer a variety of features such as activity and heart rate tracking, dynamic sleep tools, smart notifications, interchangeable bands, engaging social challenges and more. Fitbit was founded by James Park and Eric Friedman in 2007.

Why Fitbit is a Top Outdoor Brand: Fitbit's diverse line of innovative and popular products includes activity trackers, smartwatches, wireless headphones and Wi-Fi smart scales. They are headquartered in San Francisco, CA.

Read: How to Do a Perfect Squat (Plus, 3 Next-Level Variations)
Follow @fitbit

GRACEDBYGRIT


GRACEDBYGRIT was founded by two active entrepreneurs who wanted to build strong, comfortable, durable and safe workout clothing for women. The apparel is stylish and functional, while all bottoms have room to carry a cell phone at all times. Every purchase comes with a detachable safety whistle. Whether you are going to be in the sun or working out through weather or in a fitness class, they have the products that active women will want. GRACEDBYGRIT was founded by Kimberly Caccavo and Kate Nowlan.

Why GRACEDBYGRIT is a Top Outdoor Brand: They offer women's tops, bottoms, gear and accessories. They are based in Solana Beach, California.

Read: Best Sun Cover Up
Follow @gracedbygrit

Tower Paddle Boards


Stand-up paddle boarding has become one of the fastest growing sports in the country. A great way to explore the water while getting a full-body workout, Tower Paddle Boards has made itself a leader in the emerging sport and activity. The company has grown to be one of the best board brands in the country. Stephan Aarstol founded Tower Paddle Boards in 2010.

Why Tower Paddle Boards is a Top Outdoor Brand: They excel in stand up paddle boards, inflatable SUPs, paddles and bulk sales. They are based in San Diego, CA.

Read: Chris Craft Paddle Board
Follow @TowerPB

Rothco


When it comes to one of the world's foremost suppliers for military and tactical gear, there is one name that stands out from the pack. Rothco has been designing and selling military-grade tactical gear and equipment since 1953, and the proud tradition continues to this day. Rothco is a family-owned business founded in 1953 and run by Milton Somberg and Howard Somberg.

Why Rothco is a Top Outdoor Brand: They make and market tactical gear, camo, apparel, military bags, packs and footwear. They are based in Ronkonkoma, NY.

Read: Rothco Long Sleeve Camo T-Shirt
Follow @Rothco_Gear

Delta Waterfowl Gear
Delta Waterfowl Gear is gear for duck hunters that is designed by duck hunters. The material, packs and gear are built from high-quality fabrics and components that allow for function and practicality while keeping you dry along the hunt. Delta Waterfowl partnered with ALPS OutdoorZ in 2015 to combine high quality gear for hunters.

Why Delta Waterfowl Gear is a Top Outdoor Brand: They offer blinds, blind bags, accessories, packs and gun cases. They are based in New Haven, MO.

Altai Skis
Altai Skis is an outdoor and gear brand that focuses on skis in any condition where there is snow. Not just downhill riding, their skis are great for backcountry and cross country travel where skis are necessary. Whether you need to cross frozen lakes or streams or make your way up and down hills, these are one of the best ways to travel across snowy terrains. Nils Larsen and Francois Sylvain started Altai Skis in 2009.

Why Altai Skis is a Top Outdoor Brand: They specialize in skis, boots, gear and accessories. They have U.S. and Canadian online stores.

Holden Outerwear


Holden Outerwear was built on the mission of creating practical, comfortable and functional outerwear that could withstand harsh weather and also look great around town. The result is high quality jackets, pants, and apparel that are timeless in their design and are tough enough to handle any kind of weather you'll find on your adventures. Holden Outerwear was founded by Mike LeBlanc and Scott Zergebel.

Why Holden Outerwear is a Top Outdoor Brand: They manufacture technical pants, jackets, sportswear and accessories. Their showroom and headquarters are in Venice, CA.

Follow @holdenouterwear

Atayne
Atayne was founded with the intention of creating the best possible running shirt. These stylish, fashionable, inspired and sustainable designs and materials keep that spirit in mind. Whether you are racing in the national park collection or training in a custom shirt, these materials will keep you going while wicking away moisture and looking great. Atayne was founded by Jeremy Litchfield in 2007.

Why Atayne is a Top Outdoor Brand: They make running shirts for men and women with custom designs and collections. They are based out of Brunswick, Maine.

Phantom Splitboard Bindings
Phantom Splitboard Bindings are pioneers in the world of hard booting. They are built for lightweight alpine touring ski boots to perform in deep powder conditions. For people who need the best when it comes to snowboarding and require a more secure method for boot crampon attachment, there is no better option than Phantom. John Keffler, Phantom's founder/owner and chief engineer, is also a full-time aerospace engineer.

Why Phantom Splitboard Bindings is a Top Outdoor Brand: At Phantom, you can find binding packages, parts, accessories and cleats. They are located in Evergreen, CO.

Read: Solo Cleats


RefrigiWear


RefrigiWear is one of the oldest brands in the country when it comes to staying warm in the cold. Whether this means jackets, hats, gloves, footwear, liners or coveralls, you will find anything you need to stand up to rain, snow, or sleet. Each one of their products is built with your comfort and safety in mind. RefrigiWear traces its history back to Myron Breakstone, who started the business back in 1954.

Why RefrigiWear is a Top Outdoor Brand: You can shop RefrigiWear for cold weather men's and women's clothes, gloves, footwear, headwear and accessories. They offer gear for the harshest conditions - their Extreme jacket and bibs protect down to -60 degree F. They are based out of Dahlonega, Georgia.

Read: Lightweight Jackets
Follow @refrigiwear

MOTIV FISHING
MOTIV FISHING is a hybrid between a brand, store and media company. With a dedication to creating high quality videos, great gear and apparel, plus a team of experts in the world of fishing, they create captivating content for dedicated fishing enthusiasts along with the general public at large. MOTIV FISHING's team is dedicated to creating fishing media that is motivating and inspiring to wide audiences.

Why MOTIV FISHING is a Top Outdoor Brand: They feature adventures, apparel, gear and accessories. They travel around the world capturing films and adventures.

Wazoo Survival Gear


Wazoo Survival Gear creates products with your safety in mind. That means a business card that can act as a fire starter, a belt with a hidden compartment, a hat with hidden pockets, or a beer koozie with survival tips. Functional, fun, unique and helpful, these products stand out in the world of outdoor adventures and travel. Dustin Hogard and Nick Blackman started Wazoo Survival Gear back in 2008 and became an LLC in 2011.

Why Wazoo Survival Gear is a Top Outdoor Brand: They sell survival gear in the form of belts, bracelets, necklaces, and hats. They even offer survival kit components specifically designed to be compact and fit in the belt. They are based out of Seabrook, TX.

Read: Much More Than a Money Belt
Follow @wazoosurvival

SlingFin


There are an infinite number of options when it comes to purchasing a tent, but when you're facing tough weather, all four seasons and high winds, your options become much narrower. That's where SlingFin comes into play. With high quality materials, higher tear and abrasion strengths, and ease of use, it's a great option for extreme weather camping. SlingFin was founded by Martin Zemitis and Timothy Baka.

Why SlingFin is a Top Outdoor Brand: They offer expedition tents, backpacking tents, and accessories. They are based out of Berkeley, CA.

Read: Honey Badger Backpack
Follow @slingfin

Zing Products
Zing Products is located near the Cape Cod shores where the company's president grew up and learned to fish. The store has grown into a one-stop shop for all things related to fishing tackle. Anything you need for a successful trip, along with pro-staffers tips and advice, are on hand before you get out on the water. Zing Fishing Tackle president, Chris Lynch, is a lifelong fisherman.

Why Zing Products is a Top Outdoor Brand: At Zing, you can find bait rings, leaders, specialty items, spreader bars, trolling and tubing. They are located in Wareham, MA.

Janji


Janji is a stand-out in the world of running and fitness apparel. With eye-catching designs that are designed for maximum performance, they also have an eco-conscious bent. Ten percent of all sales go to clean water projects around the world, which allows your purchase to go even further when getting equipped for your next run. Janji was founded by Mike Burnstein and David Spandorfer.

Why Janji is a Top Outdoor Brand: They offer running apparel for men and women, with 10% of each sale going to clean water products. They are based in Boston, MA.

Read: Mombasa Collection
Follow @runjanji

Ridge Merino


Merino wool clothing is one of the best materials to have on an outdoor adventure. Quick drying, functional, moisture wicking, warm and breathable, Ridge Merino has rapidly grown since their 2014 founding. That is due to their high-quality and stylish clothes that will keep you warm in the mountains and looking great when you're back in town. Ridge Merino was founded in 2014 by husband and wife team Jeff and Susan Russell.

Why Ridge Merino is a Top Outdoor Brand: They offer outstanding merino wool clothing for men and women along with base layers, hats and accessories. They are based out of Mammoth Lakes, CA.

Read: Ridge Merino
Follow @ridgemerino

Hydro Hammock


The ultimate idea of camping luxury is having a hot tub when you travel. That's where Hydro Hammock by Savu comes into play. With a fully waterproof hammock design that's made in the U.S., you can fill your hammock with water and heat it up in around a half hour so that you have a waterbed and cold plunge on your next camping trip. Hydro Hammock concept was originated by Benjamin H. Frederick.

Why Savu is a Top Outdoor Brand: The hammocks hold up to 750 lbs., are made of durable materials, and can heat up in less than a half hour (depending on ambient air and water temps). They are based out of Ashland, OR.

Read: Media
Follow @hydrohammock

Roo Outdoor


Roo Outdoor solves a problem faced by people who love the outdoors: keeping hands warm in cold weather. The solution is with the Inferno hand pouch that is designed for sports and terrain. Functional, warm, and practical, the pouches come in different colors and styles are vouched for by athletes and hunters across the country. Roo Outdoor was founded by Mike and Alli Kafka in 2012.

Why Roo Outdoor is a Top Outdoor Brand: They make the Inferno Sport and Inferno Terrain hand pouches along with apparel. They are based in Chicago, IL.

Follow @RooOutdoor

SubQ Designs


SubQ Designs is all about maximizing safety for outdoor adventures, especially in the world of avalanches. The award-winning airbag jacket leaves room for snow picks, boards and water. It's a must-have for people who ski and snowboard under avalanche conditions and can save lives for people who love the outdoors as much as SubQ's founder. SubQ Designs was created by Corbin Redli, an ER physician and backcountry enthusiast.

Why SubQ Designs is a Top Outdoor Brand: They make avalanche jackets that feature airbag integration, hydration sleeves, comfort, temperature design and more. Their products can be found in Breckenridge, CO, and Houghton Lake, MI.

Follow @subqdesigns

Mad Water
Mad Water duffels are made in the USA and are waterproof bags that can be submersed up to 15 feet. Whether you partake in action water sports, fishing or just need a high-quality, American-made bag for when you don't want to worry about its contents getting wet, these duffels can handle almost any water activity you throw its way. Mad Water is a division of Roc Gear.

Why Mad Water is a Top Outdoor Brand: They offer waterproof duffels, roll-top bags, duffels, packs and cases. They are based out of Commerce, GA.

Rhone
Founded in 2014, Rhone is premium activewear that is engineered with principle, performance and progress for the modern man. Designed to fill the niche in the activewear market between big box retailers and high-end yoga brands, Rhone engineers best in class products that look good, feel great and perform better regardless of the activity. In 2017, Rhone launched a proprietary fabric technology named GoldFusion, an eco-friendly solution made from real gold particles that cuts drying time, lasts 3x longer than any existing treatment and permanently controls odor.

Why Rhone is a Top Activewear: The team at Rhone is made up of passionate people who live by the mantra "Forever Forward", a small reminder to get better each and every day. Currently, Rhone is sold in all Equinox locations, at select REI and Bloomingdale's locations, as well as Peloton Studios, and close to 150 specialty stores and gyms.

Read: My Story by Craig Towler


Snowline
Snowline is dedicated to creating high-quality products for hiking and mountaineering. Originally started to make the best crampons available, they have since expanded to a full line of products to optimize time on the mountain. They still make great crampons, but those are now accompanied by trekking poles, tables, chairs and cooking gear for alpine adventures. CEO Jin-Hong Choi oversees Snowline's mission to create high-quality technical mountain gear.

Why Snowline is a Top Outdoor Brand: They offer crampons, trekking poles, chairs, cooking ware and tables. They are based out of Korea.

greenlines


greenlines reflects the love of surfing, fashion, design and sustainability. Its founders grew up on the beach and their apparel, surfwear, swimwear and boardshorts are ubiquitous along the northeast Atlantic coast during the summer. They are stylish, functional, practical, and great for surfing. greenlines is a family-owned business started by Jerry and Sam Delaney in 2009.

Why greenlines is a Top Outdoor Brand: They offer boardshorts, hoodies, accessories and shirts for men, women and kids. They have stores in Montauk, NY, and Fair Haven, NJ.

Follow @greenlinesinc

Akela Surf
Inspired by their love for surfing and design, Akela is the Hawaiian word for happy and their designs reflect their spirit. Their works are stylish, functional, artistic and Instagram-friendly for any beachside activity or surfing trip around the world. Akela Surf was founded by Annie Gagne and Servio Anez.

Why Akela Surf is a Top Outdoor Brand: They offer surfwear, swimwear, activewear and accessories. They are based in Quebec, Canada.

Thursday Boot Company


Thursday Boot Company is built on a series of values to create some of the best footwear on the market. They believe that great materials make great boots, and then they use those materials to create comfortable, functional, and durable footwear that will last for years on fun adventures while your feet look and feel great. Thursday Boot Company was founded by Connor Wilson and Nolan Walsh.

Why Thursday Boot Company is a Top Outdoor Brand: The Commander features handcrafted, cork-bed midsoles and Goodyear welt construction. They are based out of New York City.

Read: Women's Boots
Follow @ThursdayBootCo

OGRE Outdoors
There are plenty of brands and stores that will load you up on gear to get you to your favorite place in the outdoors. OGRE takes things to the next level by customizing your truck or vehicle to maximize its use for your adventures. Whether you need to build an attachment for bikes, fishing gear, snowboards or hunting, they bring years of experience to build the custom truck gear you need. OGRE's founder loaded up on experience from fixing Humvees in the United States Marine Corps.

Why OGRE Outdoors is a Top Outdoor Brand: They complete custom truck and gear equipment for any outdoor adventure. They are based in Pisgah Forest, NC.

Natures Shapes


Natures Shapes is built on a love for surfing and craftsmanship. This Long Island-based company puts attention, care and detail into every single surfboard and stand-up paddle board they create, making them one of the best options for a custom-made board. Every Nature Shapes employee shares the common goal of making perfect and flawless boards for customers, using only the best materials, designs and shapes that interact seamlessly with nature. Natures Shapes was founded by Mike Becker.

Why Natures Shapes is a Top Outdoor Brand: They specialize in surfboards, paddle boards, and custom designs. They are based in Sayville, NY.

Follow @naturesshapes

Rego Gear


Rego Gear is an innovative start-up that uses a sling for people to carry around most of their essential needs throughout the day. With multiple pockets, mesh padding to wick away moisture, water bottle holder and carabiner, the quick and adjustable strap will get you going faster and quicker for your next daytime activity or bike ride. Rego Gear was founded by Alex Camacho in 2014.

Why Rego Gear is a Top Outdoor Brand: They offer the Metro Sling Plus 550, the Sling RGS 450 and apparel. They are based out of Oceanside, CA.

Follow @RegoGearLLC

Scent Kapture


Scent Kapture is a helpful outdoor product that eliminates the odors that can come with hunting. Whether you need to spray while you're out on the hunt or you need a powerful wash when you get back home, these lines of products encapsulate and eliminate all odors upon contact. Scent Kapture was founded by Troy Kloewer.

Why Scent Kapture is a Top Outdoor Brand: They offer field spray, hair and body wash, laundry detergent and a scent free storage bag. They are based in Dallas, TX.

Follow @scentkapture

Freeman Outdoor Gear
Freeman Outdoor Gear is a one-stop brand for any kind of knife your outdoor needs present. No matter what blade you need for hunting, these are top-tier engineered blades for any outdoor challenge. These knives are made in the U.S. and are built to stand for multiple generations. Freeman Outdoor Gear was founded by veteran Jeff Freeman.

Why Freeman Outdoor Gear is a Top Outdoor Brand: They offer fixed blade, combat, hunting, tactical and other knives. They are based in Brownsville, OR.

Oliver Safety Footwear
Oliver Safety Footwear are trusted by miners and construction workers for their ruggedness, toughness and comfort in some of the most grueling conditions; you can put them to the test on any outdoor adventure. Based on their roots in Australian mines, they have become one of the best boots on the market, and are now available across the U.S. Oliver Safety Footwear traces its roots to James Oliver in the mid-1800s.

Why Oliver Safety Footwear is a Top Outdoor Brand: They offer impact absorption, underfoot comfort technology and extreme impact protection. They are part of the Honeywell Corporation.

XTRATUF Boots


Alaskan and Pacific Northwest fishermen have been relying on XTRATUF Boots for over 50 years. These 100% waterproof boots can withstand any test and weather. They are relied upon by people facing the toughest conditions and keep feet dry against any challenge. XTRATUF was originally commissioned by BF Goodrich in the 1950s.

Why XTRATUF Boots is a Top Outdoor Brand: They specialize in fishing boots for men, women and kids. They have been equipping Alaskan feet for over 50 years.

Read: 12 in. Deck Boot
Follow @xtratufboots

The Original Muck Boot Company


When it comes to the strongest, most comfortable and toughest but functional footwear, The Original Muck Boot Company stands out from the competition. That's thanks to the 100% waterproof quality and comfort that they put into every single piece of footwear they make. Whether you are hiking, gardening or horseback riding, they have a great boot for you. Muck Boot Company was founded in 1999 to build comfortable, high-performance footwear.

Why The Original Muck Boot Company is a Top Outdoor Brand: They have footwear for the outdoors, gardening, casual, cold weather, work and horseback riding. They are located in Smithfield, RI.

Read: Chore Resistant Tall
Follow @muckbootco
Note: This website is made possible through financial relationships with some of the products and services mentioned on this site. We may receive compensation if you shop through links in our content. You do not have to use our links, but you help support CreditDonkey if you do.
Read Next: