Best Baby Products You're Missing Out On
---
Here are the must-have best baby products of the year. Find special items as you stock up for your baby by relying on this definitive list.

Best Baby Products

© CreditDonkey
Top Baby Products
If only babies were like dolls and came with their own accessories. Imagine the bottles, swaddle blankets, and bouncers simply appearing on your doorstop after the stork arrives.
Instead, finding the best products for baby requires research and shopping around. And even then you might not find what you're looking for. We're cutting the work in half for you by presenting the very best baby products, which you might have missed if you didn't know where to look.
Take a look at this list for items that will make you stand out during baby playtime, so much so that other mommies and daddies will be asking where you found that nursing pillow, sippy cup, or organic blankie. It's not easy to do when new baby products are added to the market almost every day.
At CreditDonkey, we know how costly babies are and we want to help you keep these expenses down by helping you find products you'll instantly love - and won't need to return because of quality issues. With any of these baby products, you will be the envy of other parents - they'll be asking, "Wherever did you find that?"
Related: Baby Products for New Parents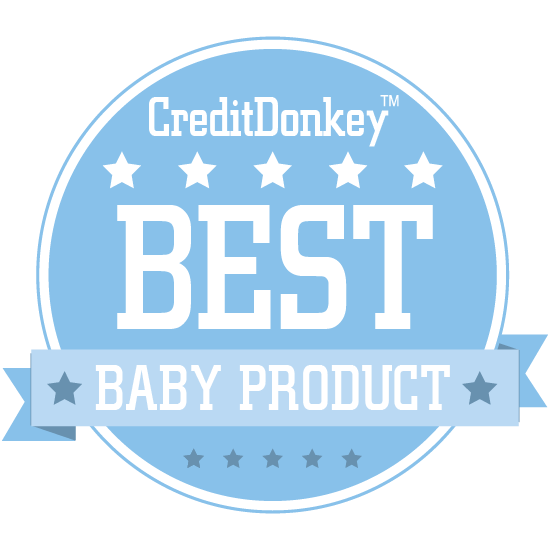 Best Baby Product

© CreditDonkey
Arm's Reach Co-Sleeper
The Arm's Reach Co-Sleeper is a bassinet that connects to your bed, allowing your baby to sleep beside you while maintaining the space and safety of a crib.

Why Arm's Reach Co-Sleeper is a Top Baby Product: New parents who want to keep their baby at arm's reach at night, but are hesitant to share the bed, will find just the product they're looking for here.

Read: Co-Sleepers


California Baby


California Baby started as one mom's simple quest for a safer baby shampoo, and has grown into a company offering more than eighty pediatrician- and dermatologist-approved hair and skin care products for babies, toddlers, and even adults with sensitive skin.

Why California Baby is a Top Baby Product: These eco-friendly, natural products are perfect for parents who don't want their children using off-the-shelf hair and skincare products that might be irritative or harmful in the long run.

Read: 4.5oz Therapeutic Relief Eczema Cream
Follow @CaliforniaBaby

Carousel Designs


Carousel Designs offers beautiful, adorable, high-quality bedding and decor for your new nursery

Why Carousel Designs is a Top Baby Product: Parents who are designing their new nursery should check out Carousel's well-crafted, well-designed bedding and decor to create a stylish, comfortable environment.

Read: Custom Crib Sheet
Follow @carouseldesigns

HALO


HALO designs sleep products for newborns, including safe, wearable blankets and swiveling bassinets, that allow parents to keep their child safe, comfortable, and close all night long.

Why HALO is a Top Baby Product: If you're looking for safer, more comfortable sleeping products so your new baby can get a better night's rest, check out HALO's offerings.

Read: April Showers Giveaway
Follow @Halosleep

Medela


Medela's primary focus is breast milk feeding… by helping moms to successfully provide breast milk to their babies and for as long as they choose.

Why Medela is a Top Baby Product: Medela supports moms every step of the way with superior quality breast pumps, breast milk feeding products, and resources to help moms give the best to their baby, every day.

Read: Our Products
Follow @medela_us

Keekaroo
Keekaroo crafts sturdy, comfortable, stylish, and affordable wooden high chairs and kids' seats for parents who want their children's furniture to look as good as the rest of the furniture in the house.

Why Keekaroo is a Top Baby Product: With a number of attractive styles, this company's wooden high chairs are a great option for design-focused parents.

Inglesina


Inglesina is dedicated to providing both comfort, safety, and practicality to children throughout their range of strollers and chairs.

Why Inglesina is a Top Baby Product: Built with high-quality materials with a priority on comfort, safety, and practicality, new parents should definitely consider company's strollers, high chairs, and fast table chairs. Most items are made in Italy.

Read: Products
Follow @InglesinaBabyUS

Love to Dream


Love to Dream offers uniquely-shaped swaddles for babies that allow access to hands for self-soothing.

Why Love to Dream is a Top Baby Product: If your child wriggles free of his or her wrapping or has a hard time sleeping, this product will help keep them snug, safe, and secure.

Read: The Love To Dream Original
Follow @LoveToDreamUSA

Naturepedic


Naturepedic creates all-organic, natural bedding, pillows, and mattresses that provide healthy comfort for newborn babies and tots.

Why Naturepedic is a Top Baby Product: Eco-friendly parents looking for all-natural, toxin-free bedding alternatives for their children should give this company's products a look.

Read: Naturepedic Organic Cotton Classic Baby Crib Mattress
Follow @naturepedic

Charlie Banana


Charlie Banana offers up cloth diapers in any size and in a variety of colors and prints. Charlie Banana also offers swim diapers, a must have for babies.

Why Charlie Banana is a Top Baby Product: Cloth diapers are an eco-friendly, cost effective, and more comfortable alternative to traditional diapers, and you can learn all about them and order a few for yourself on this site.

Read: Charlie Banana
Follow @CharlieBanana

The Honest Company
The Honest Company offers a wide selection of organic and sustainable products for expectant moms and new parents, including safe cleaning supplies, vitamins, and diapers.

Why The Honest Company is a Top Baby Product: Parents who want safe, chemical-free products around their children should give this company's products a look.

Rest Devices


MimoBaby's smart nursery products track your baby's sleep and send reports to your phone, allowing you and other caregivers to make adjustments to help your child sleep better than ever. CEO and co-founder Dulcie Madden studied biology at Georgetown University and pursued her MBA at MIT, while co-founder and CTO Carson Darling holds a BS in Mechanical Engineering from MIT.

Why Rest Devices is a Top Baby Product: If you're looking for more ways to help your child sleep soundly, you should check out Mimobaby's innovative products. From tracking sleep to movement and breathing, this company's smart monitors will tell you what your baby needs to rest more easily.

Read: A Conversation with Jessica Shortall
Follow @MimoBabies

Babyletto


Babyletto offers up all the furniture and bedding your nursery will need in a safe, eco-friendly, and attractive style.

Why Babyletto is a Top Baby Product: Parents on the lookout for sustainably-sourced baby furniture free from harmful chemicals should give these products a look.

Follow @babyletto

Britax


Britax is dedicated to creating the safest, most durable strollers, car seats, and child travel systems.

Why Britax is a Top Baby Product: Don't leave your child's safety to chance; check out Britax's innovative baby transport products.

Read: Britax B-Safe 35 Handle Recall
Follow @britax

Babiators


Babiators makes UV-protective sunglasses for babies, in tons of different styles and fun colors.

Why Babiators is a Top Baby Product: You want to protect your baby's eyes from the harmful effects of UV rays, so why not get him or her some fun, stylish sunglasses while you're at it?

Read: Original Babiators
Follow @babiators

Belly Ballot


Belly Ballot, a fun new idea for naming your baby, allows you to pick your favorite names and let your friends and family help you decide.

Why Belly Ballot is a Top Baby Product: With a huge list of names organized into a variety of categories, this startup's site is a great resource for baby names in addition to providing a great way to pick the right name. Belly Ballot recognizes that, in today's socially-connected world, baby name books and websites just weren't cutting it; that's why they created their app.

Follow @BellyBallot

Munchkin


Munchkin Inc., the world's most loved baby lifestyle brand, develops clever, innovative products for babies and toddlers including feeding, bath, safety, travel and more. Recently, they have expanded into foods with a mission to improve the future standard of feeding for infants in the U.S. launching the world's first infant formula made with milk from 100% certified grass fed cows.

Why Munchkin is a Top Baby Product: From spill-proof sippy cups, to Arm & Hammer odor-control diaper pails, Munchkin products match award-winning functionality with ingenious design, earning the brand over 180 product awards and 182 patents and counting.

Read: Munchkin Innovations
Follow @munchkin_inc

bumGenius


bumGenius makes eco-friendly, comfortable, and affordable cloth diapers for parents searching for an alternative to traditional diapers.

Why bumGenius is a Top Baby Product: In addition to saving you money in the long run, this company is also committed to fighting poverty in local communities through their Share the Love program, a national diaper bank that distributes local resources to families in need.

Read: Sierpinski
Follow @bumgenius

Little Partners


Little Partners offers products designed to nurture the bond between parent and child by allowing the child to explore his or her space and independence safely.

Why Little Partners is a Top Baby Product: This company's flagship product, the learning tower, is a toddler-safe step stool that lets kids explore their environment and feel more independent; perfect for parents who want their children to learn and grow at their own pace.

Read: tri side learn play art center
Follow @littlepartners1

UpSpring


With pre- and postnatal all-natural nutritional supplements, including many designed for nursing moms, UpSpring offers a range of nutritional products for new and expectant moms and their children.

Why UpSpring is a Top Baby Product: This company's products are designed specifically with the needs of moms and babies in mind, so if you've been looking for nutritional supplements for new mothers and their children, this a great place to start.

Read: Milkflow Fenugreek Blessed Thistle Chocolate Drinkable Supplement
Follow @UpSpring_Baby

Ubbi


Ubbi was made famous by their patented diaper pail design, but they also offer toilet training and bath time products to make parents' lives easier.

Why Ubbi is a Top Baby Product: This company prides itself on innovative, well-designed, and easy-to-use toilet training, diaper, and bath time products to make parenting just a little bit easier.

Follow @Ubbiworld

Baby Mantra


Baby Mantra crafts skincare products for babies and moms alike, all eco-friendly and formulated for sensitive skin.

Why Baby Mantra is a Top Baby Product: Parents who are looking for lotions, soaps, shampoos, and more that are toxin-free, eco-friendly, and designed for a baby's sensitive skin will love Baby Mantra's high-end products.

Read: The Benefits of Using Grape Seed Oil
Follow @BabyMantra

Baby Mop


The Baby Mop is the famous viral product that combines a onesie with a mop, allowing your baby to clean your floors as she explores.

Why Baby Mop is a Top Baby Product: This product is both fun and functional, with bright design that will also keep your floors dust-free.

Read: Things I Trust More Than Hillary Clinton T-Shirt
Follow @betterthanpants

Smartmom Jewelry


Teething Bling creates Smartmom Jewelry, stylish jewelry that doubles as teething toys for babies.

Why Smartmom Jewelry is a Top Baby Product: If your child is constantly grabbing your accessories to chew on them, Teething Bling will make it safe for them to do so.

Follow @SmartMomAmy

ezpz


ezpz's all-in-one durable, easy-to-clean silicone plates are built for babies and toddlers just learning to feed themselves.

Why ezpz is a Top Baby Product: Rather than clean up a huge mess every time your child has a meal, try one of this company's simple silicone products designed to make feeding time and cleaning time a whole lot easier.

Read: Shop Products
Follow @ezpzfun

Doddle & Co


Doddle & Co™ is a new lifestyle brand for families that offers The Pop™, a pacifier for babies that retracts if it falls out of a child's mouth. Founder and owner Nicki Radzely has worked in biotech and advertising, and now seeks to create simple yet innovative products that make parents' lives easier.

Why Doddle & Co is a Top Baby Product: Pacifiers have a way of tumbling into the dirtiest places, but this product will keep itself clean thanks to a nipple that pops back inside a protective bubble. Available in a variety of colors, The Pop is already garnering attention for its hygienic, safe, innovative design. The Pop is made from 100% silicone without phthalates, BPA, PVC, lead or latex.

Follow @DoddleCo

Grapple


Grapple is a simple idea that will make any new parent's life easier: a tether that keeps your baby's favorite toys from plummeting to the floor.

Why Grapple is a Top Baby Product: The base can suction to any smooth surface, and the adjustable tethers can then be attached to just about any baby toy. For travel, the tethers can be stored inside the Grapple base, and there's even a clip on the base so it can attach to your diaper bag.

Follow @GrappleByBoingy

Petunia Pickle Bottom


Offering backpacks, totes, diaper bags, and more, Petunia Pickle Bottom is a resource for designer accessories for new moms, babies, and dads.

Why Petunia Pickle Bottom is a Top Baby Product: Why should stylish parents settle for clunky diaper bags and totes when these designer bags are available just a few clicks away?

Read: Boxy Backpack
Follow @PPBbaby

BÉABA


BÉABA lets parents save money and control their kids' nutrition with a line of baby food makers, including the Babycook Original Plus model that doubles as bottle warmers and sterilizers.

Why BÉABA is a Top Baby Product: Parents who wish they could have more control over the ingredients in their baby's food will have their wish granted by this company's unique products.

Read: All Products
Follow @beaba_usa

UPPAbaby


UPPAbaby aims to make high-quality baby products that suit parents' needs while still appealing to their sense of style. Company owners Bob and Lauren draw on their own experience as parents to raise the standards of both safety and style with UPPAbaby.

Why UPPAbaby is a Top Baby Product: Their strollers are durable, light-weight, more comfortable for parents and baby alike, and great-looking, to boot. Their strollers, car seats, and other products are all also designed with the utmost safety in mind.

Read: Bassinet Stroller System
Follow @UPPAbaby

Newton


Newton crafts safe, breathable crib mattresses that will keep your baby comfortable and you resting easy. Founder Michael Rothbard created Newton as a concerned parent, using 30 years of experience in the industry to build the company.

Why Newton is a Top Baby Product: Their mattresses are so breathable that even a baby can breathe right through them. They're also free from foam, latex, and adhesives, making them hypoallergenic and healthier for your child than everyday mattresses.

Read: Newton Baby's Favorite Nursing Covers
Follow @newtonbabyrest

Peg Perego


Since 1949, Peg Perego has been creating products for parents, babies, and small children, including strollers, children's riding vehicles, high chairs, and more. Lucio Perego is the current company president, son to Giuseppe Perego, who created the best baby carriage around in 1949 and built a company with it.

Why Peg Perego is a Top Baby Product: For all of their carriages, car seats, and other products, Peg Perego engineers, manufactures, and ships every product, resulting in top-quality products. Their wide range of products means there's something here for parents with just about any lifestyle, from urban to rural and everything in between.

Read: Santa Fe Giveaway
Follow @pegperegousa

WubbaNub


The unique style of the WubbaNub pacifier allows it to remain close and to be easily positioned by your baby.

Why WubbaNub is a Top Baby Product: WubbaNubs are pacifiers with cute plush animals securely attached to help babies (0-6M) grip and control their pacifier. Their products are carefully tested for safety, and perfect for families on the go thanks to being easier to hold onto.

Read: Grandparents Day Gift Idea
Follow @wubbanub

BabyNes


Gerber's BabyNes is an advanced nutrition system that brings six stages of formulas together with a Wi-Fi connected machine.

Why BabyNes is a Top Baby Product: Proper nutrition at every stage of development is so important for a child's growth, and BabyNes makes it easy with their six post-breastfeeding stages of formula. The BabyNes machine is a safe, precise way to prepare each formula with the perfect mixture and temperature.

Read: Gerber BabyNes Formula Dispenser
Follow @babynes

Babo Botanicals


Babo Botanicals is a company that believes in organic, farm-sourced hair and skincare products, and offers them for both babies and adults.

Why Babo Botanicals is a Top Baby Product: Adults with sensitive skin and their babies can both benefit from this company's all-natural, farm-focused approach to hair and skincare products.

Read: Sheer Zinc Continuous Spray Sunscreen SPF 30 for Extra Sensitive Skin
Follow @babobotanicals

Kissy Kissy


Kissy Kissy crafts baby garments with incredibly soft Peruvian Pima cotton and a careful eye for quality and detail. Owner Roxana Castillo began her career as a boutique owner, and understands the needs of both retailers and customers in the children's market.

Why Kissy Kissy is a Top Baby Product: Their fashions feature timeless prints, delicate embroideries, and generous smocking. The result is a line of adorable, comfortable garments that both you and your baby will adore.

Read: Kissy Kissy NYC Model Contest
Follow @KissyKissyBrand

Lullaby Earth


Lullaby Earth crafts luxurious crib mattresses that are safe, breathable, and free from harmful chemicals.

Why Lullaby Earth is a Top Baby Product: They feature a waterproof surface that safely and easily keeps your baby's mattress clean and hygienic. Their mattresses are also breathable, so they always stay dry and cool through the night.

Read: 10 Things Dads Do Best
Follow @LullabyEarth

Mondevices


Mondevices is the startup that created MonBaby, a baby monitoring device that snaps onto any article of a child's clothing and monitors things like breathing and body position. CEO Lev Grzhonko is a successful serial entrepreneur and economics graduate of UC Berkeley and the Harvard University, while his co-founder and CTO Arturas Vaitaitis is the inventor of MonBaby and holds a PhD in Experimental Physics from Columbia University.

Why Mondevices is a Top Baby Product: This is a simple, easy-to-use device that will alert you if your child stops breathing, falls, or rolls on his or her stomach. It's designed to help parents ensure that their child is sleeping safely, so that they can rest easy.

Read: Mother's Day Quiz
Follow @mondevices

Finn + Emma


Finn + Emma uses only 100% organic cotton, eco-friendly dyes, and all-natural wood to create adorable, heirloom-quality baby clothes and toys.

Why Finn + Emma is a Top Baby Product: They have a wide selection of themes and styles for boys and girls, as well as teething toys, play gyms, and more. On top of this, all of their products are produced in fair trade settings with a focus on social and economic independence for workers and sustainable production.

Read: Organic Play Gym
Follow @finnandemma

TempTraq


TempTraq is a wireless, unobtrusive baby thermometer: it's a simple pad that sticks to your child and transmits temperature information directly to your phone.

Why TempTraq is a Top Baby Product: This allows you to monitor their temperature from the next room while they sleep soundly. Best of all, the patch is easy to apply and remove, and works for twenty-four hours, sending you alerts if your child has a fever.

Read: Body Thermometer App
Follow @TempTraq

Boon


Boon makes a wide array of simple yet innovative baby products, including bath toys, sippy cup tops, and more, all designed to make parents' lives easier.

Why Boon is a Top Baby Product: The colorful, easy-to-use products found on Boon's website might seem like simple ideas, but they'll make the busywork part of being a parent just a little bit easier.

Read: Sippy Cups
Follow @BoonInc

Simple Wishes


Simple Wishes creates breastfeeding products for new moms, including high-quality nursing and pumping bras, and more.

Why Simple Wishes is a Top Baby Product: New moms on the lookout for comfortable breastfeeding products should take a look at what this business has to offer.

Read: Signature Hands Free Pumping Bra
Follow @SimpleWishes_

Baby K'tan


Baby K'tan makes simple, stylish, ready-to-wear wraps that can also function as a sling or baby carrier.

Why Baby K'tan is a Top Baby Product: With no need to wrap or buckle anything, this product's unique design makes it an easy-to-use option for parents on the go.

Read: Baby K'tan ORIGINAL
Follow @babyktan

Snuggwugg


Snuggwugg is a changing and travel pillow, designed to keep kids from wriggling during diaper changes, car rides, and trips to the store.

Why Snuggwugg is a Top Baby Product: Soft and huggable like a blanket, with a form that helps keep kids from wriggling too much, this is the perfect pillow for parents who want to make their lives just a little easier.

Read: Forest Friends Green Owl Baby Pillow Travel Pillow
Follow @Snuggwugg

Smart Coos


Smart Coos is an online education system that teaches children ages four months to thirteen years how to speak the language you choose. Founder Mirta Desir founded Smart Coos to give parents a way to take advantage of the "golden period" of learning for their children by providing an easy, high-quality way to expose them to second language education.

Why Smart Coos is a Top Baby Product: With fluent college educated instructors, interactive content, and the ability for parents to track their child's progress, this startup offers an excellent path for parents who want their child to grow up bilingual. Each instructor is 100% bilingual, and they offer one-on-one online learning sessions.

Read: Learn more about Smart Coos
Follow @SmartCoos

Fridababy


Fridababy crafts a line of "fussbusting" baby tools, from safe and comfortable nail clippers to smart thermometers to snot-sucking tools to unplug your baby's sinuses.

Why Fridababy is a Top Baby Product: Babies come with a load of unexpected challenges, but with Fridababy's line of products, you'll always have the right tool at hand. They aim to add an innovative touch to even the most well-worn baby products, resulting in a millennial-friendly brand that covers many of your daily baby care needs.

Read: Windi the GasPasser safely frees farts
Follow @fridababy

Solly Baby


Solly Baby crafts baby wrap carriers with a mantra of closeness and togetherness in mind. Founder Elle Rowley created the first Solly Baby wrap in 2011 after the birth of her second child, aiming to create something better looking and more comfortable than the clunky carriers she used the first time around.

Why Solly Baby is a Top Baby Product: Their wraps are designed to be not only comfortable and great looking, but to provide the wearer with freedom of movement and the child with a sense of closeness to the parent. With a variety of materials, colors, and prints available, you're sure to find something on their site to suit your personal style.

Read: The family crowd pleaser
Follow @sollybabywrap

Nook


Nook began as a company for breathable, comfortable, and beautiful crib mattresses, and has since expanded to offer a wide range of baby and sleeping products of similar high quality.

Why Nook is a Top Baby Product: This company is dedicated to safety, comfort, and style, so parents looking for stylish and high-quality crib mattresses will find them here.

Read: The Little (BIG) Things Our Fathers Say
Follow @nooksleep

Molly's Suds


Molly's Suds manufactures laundry products such as laundry powder and liquid as well as wool dryer balls using ingredients and materials that have proven to be safe for people and the planet.

Why Molly's Suds is a Top Baby Product: This company's focus on safety makes it one for parents to check out when looking for affordable, effective and eco-responsible laundry detergent.

Read: 2 Pack Liquid Laundry Detergent 50 loads
Follow @mollyssuds

Bumbleride


Bumbleride creates durable strollers designed for adventure, crafting them from recycled materials with an eye on reducing their products' carbon footprint.

Why Bumbleride is a Top Baby Product: If you want the rugged stroller you take out on the hiking trail to be good for the environment you're enjoying, this is the right stroller company for you.

Read: Best Single and Double Baby Strollers
Follow @bumbleride

bamboobies


bamboobies makes ultra-soft, comfortable nursing pads, bras, and other clothing for new moms.

Why bamboobies is a Top Baby Product: If you're a new mom, you owe it to yourself to make nursing as comfortable as possible, and this company aims to make that happen for you.

Read: Enter to Win our Great Giveaways
Follow @bamboobies

Baby Brezza


Baby Brezza makes products to make your child's life easier for you, including one-touch baby food makers for infants and toddlers, high-quality bottles, bottle warmers, and more.

Why Baby Brezza is a Top Baby Product: No matter if you're breastfeeding, formula feeding, or looking for a way to make the perfect puree, they'll have a product that you can use. You can even visit their website to check out some great baby food recipes your child will love.

Read: Formula Pro
Follow @babybrezza

Monica + Andy


Monica + Andy create high-quality baby clothes and blankets out of the best fabrics, ensuring that your child will be cozy and warm even during the coldest months.

Why Monica + Andy is a Top Baby Product: Moms looking for a better option for baby clothes will love this company's soft and snuggly products.

Read: On the Go with Kendra Thornton
Follow @monicaandykids

Kiinde
Kiinde create innovative, easy-to-use products with a focus on helping make breastfeeding moms' lives easier.

Why Kiinde is a Top Baby Product: With a large collection of breast milk collection and storage products, this company is definitely one to check out for breastfeeding moms.

Read: Blackberry Apple Puree


SkylarLuna


SkylarLuna uses a mix of great fabrics and California-inspired style to create stylish, eco-friendly children's sleepwear.

Why SkylarLuna is a Top Baby Product: Their designs swap busy patterns and mascot characters for imaginatively simple looks and yarn-dyed organic cotton. Everything they do is done with sustainability in mind, too, right down to shipping their products in reusable linen bags.

Read: Unicorn Long Sleeve Pajamas
Follow @skylarlunapj

New for Baby


New for Baby's mission is to create stylish, well-fitting baby clothes that hip parents will reach for again and again.

Why New for Baby is a Top Baby Product: If you're a parent ready to ditch the cutesy prints for baby clothes that are a little more stylish, this company's products might be for you.

Follow @NewForBabyCo

ZoLi


ZoLi creates innovative, safety-focused products to make the challenge of modern parenting a little easier, from no-break cups to fun toys that double as safety buddies.

Why ZoLi is a Top Baby Product: This company aims to create products that exist at the intersection of style and function, with a focus on innovation and safety for kids; you'll find tons of unique products here.

Read: Teething Babies
Follow @zolidays

Spuni


Spuni is a startup that has crafted a unique, ergonomically-designed spoon that will help your child transition to solid food with less mess at mealtime. Spuni was created by two MIT friends and dads, Marcel Botha and Manuel Toscano, who grew frustrated with the messy process of feeding infants and decided to create something that would solve their problem.

Why Spuni is a Top Baby Product: Its unique shape allows babies to suck and swallow food off of Spuni, creating less mess and less waste. Made from the safest materials around, it's also hypoallergenic and dishwasher-safe.

Follow @getspuni

WaterWipes


WaterWipes are hypoallergenic, chemical-free baby wipes that are suitable for use on newborn babies.

Why WaterWipes is a Top Baby Product: They use only water and a tiny drop of grapefruit seed extract, a known skin conditioner, to keep your baby's skin smooth and clean. They also may help avoid diaper rash and other skin conditions. They're so gentle, in fact, that WaterWipes were Awarded the National Eczema Association Seal of Acceptance.

Read: Pure Love
Follow @waterwipesusa

Nuna


Nuna has crafted a line of impeccably stylish baby gear that aims to combine form and function for durable products that new parents will love having in their home.

Why Nuna is a Top Baby Product: Their high chairs, strollers, playards, and baby seats all look great in a modern home while still providing the comfort, safety, and ease of use you need. Nuna prides themselves on having the toughest testing standards in the industry, making for durable, safe products that your baby will rest easy in.

Manhattan Toy


Manhattan Toy creates safe, adorable, and fun toys sure to spark the imaginations of babies and young children.

Why Manhattan Toy is a Top Baby Product: The unique toys from Manhattan Toy aren't just fun; many of them are beautiful in their own right. You can find their products in select specialty retailers around the world.

Read: Teddy Bear Day Contest
Follow @manhattantoy

Safehead


Safehead creates adorable, durable headwear for newly mobile children to protect them from falling injury and other potential disasters. Founder Candida Jennifer is a parent who knows how crucial it is to keep a baby safe and comfortable in their home, and created SafeheadBABY to provide kids the freedom to explore and the safety to set their parents' minds at ease.

Why Safehead is a Top Baby Product: Their helmets are soft, flexible, and not too bulky; each weigh less than 100 grams, so your child will hardly notice it's there. The design is durable, and includes ventilation so your baby won't get too hot while she explores her surroundings for the first time.

Follow @SafeheadBABY

Woombie


Woombie is a safe, snug way to swaddle your baby, and it's designed for both your baby's comfort and to be easy for you.

Why Woombie is a Top Baby Product: With this product, swaddling becomes as easy as zipping up a zipper, and it solves the chief safety concerns of traditional swaddling, too.

Read: Original Woombie
Follow @woombieusa

B. Toys
B. Toys crafts a line of unique baby and toddler toys designed to inspire creativity and individuality through play.

Why B. Toys is a Top Baby Product: Their designs are different from what you'll find elsewhere, inspired by the world around us, by art, and by children themselves. With rocking horses, bouncers, and even a music-themed playmat, there's no end to the fun with B. Toys.

Read: A Musical Symphony in B


Belly Armor


Belly Armor offers protective blankets and other products for expectant mothers who want to shield their children from the everyday radiation of devices like cell phones and laptops.

Why Belly Armor is a Top Baby Product: With blankets, maternity tops, and more, this company offers a range of products, all of which are effective at blocking everyday radiation with 99.9% effectiveness.

Read: Protect Yourself from Everyday Radiation
Follow @bellyarmor

Happy Kidz


Happy Kidz has created the Doona, an innovative car seat that can transform into a stroller.

Why Happy Kidz is a Top Baby Product: This is the perfect product for parents on the go who are sick of dragging both a bulky stroller and a car seat around. Happy Kidz also has a wider range of products, including fun, educational games and a stroller that your baby's toddler brother or sister can ride along on.

Read: Doona is Now Available in 3 New Colors
Follow @HappyKidzLLC

North States
North States creates high-quality, safety-focused, and stylish gates and play yards for babies.

Why North States is a Top Baby Product: Gates and play yards are essential for keeping your young child safe around the house, and these gates are made in America with an eye toward durability and style.

Read: Portico Arch Gate


MilkSense


MilkSense is the world's first breastfeeding monitor; it takes just seconds before and after feeding to measure how much milk your baby received.

Why MilkSense is a Top Baby Product: It makes it easier than ever to track your new child's feeding and growth rate, including the date, time and side measured so you can track all the data you need. They also offer the BScale, a simple scale that attaches directly to your car seat so you can quickly and easily measure your child's growth each day.

Follow @milk_sense

Cry Translator


Cry Translator is a device that aims to tell parents their baby's mood within three seconds of hearing the child cry.

Why Cry Translator is a Top Baby Product: This device can't replace your parenting instincts, but it can give you peace of mind in knowing that you're acting appropriately when your baby is crying.

Follow @crytranslator

Belly Buds


WavHello's Belly Buds allow expecting parents to play soothing voices and music directly to their unborn child, a practice believed to be beneficial to the baby.

Why Belly Buds is a Top Baby Product: Rather than playing music loud enough for an unborn baby to hear, this product lets parents play whatever they choose with simple, small, discrete speakers.

Lalabu


Lalabu offers simple babywearing products, including shirts with a built-in pouch for your newborn to rest.

Why Lalabu is a Top Baby Product: When you've had enough of complicated wraps and other carrying products, you should check out this company's simple solutions.

Read: Lalabu Soothe Shirt
Follow @lalabu

LÍLLÉbaby


LÍLLÉbaby makes ergonomic, stylish baby carriers in a number of styles, all of them sturdy and easy to use.

Why LÍLLÉbaby is a Top Baby Product: With carriers, wraps, and their own unique "sling ring," this company offers up a variety of carrier styles for parents.

Read: WE WON A CRIBSIE! Celebration & Giveaway
Follow @lillebaby

Infantino


From toys to activity centers to carriers, Infantino offers a wide range of products designed to make parents' lives easier and more fun.

Why Infantino is a Top Baby Product: With feeding, nursing, and playtime products, this company's unique offerings combine innovation, ease-of-use, and fun.

Read: Infantino Elevate Adjustable Nursing Pillow
Follow @infantino

Blooming Bath


The Blooming Bath is a flower-shaped bath pillow for baby that can conform to the shape of any sink, keeping wiggly kids right where they should be. Eric Devericks, Brian Pond, David Morelock, and Tom Morris are a group of dads who all found themselves frustrated during baby's bath time, and together created the Blooming Bath to make things easier for baby and parents.

Why Blooming Bath is a Top Baby Product: Its comfortable, durable, and easy to clean design aims to bring the fun back to bath time. They also offer a line of scrubbers, washcloths, and other bath time products designed just for babies.

Read: 11 Tips for Surviving Your First Week After Maternity Leave Ends
Follow @bloomingbath

Lifefactory


Lifefactory creates containers designed to grow with your family; they can begin as baby bottles and later become water bottles, food storage containers, and more.

Why Lifefactory is a Top Baby Product: These reusable, eco-friendly containers are perfect for environmentally-conscious new parents looking for durable bottles, and they're even better because they can turn into other types of containers, too.

Read: Bottles
Follow @lifefactory

Baby's Journey


Baby's Journey offers a large line of baby products, including comfy bathtubs, changing pads and accessories, sleep supports, and much more. Founder and president Steven Gibree brings over 25 years of experience in juvenile and toy industry engineering, developing and innovating new products for the company.

Why Baby's Journey is a Top Baby Product: Their company is made up of parents with experience in the juvenile care industry, and all of their products are designed with safety and comfort in mind.

Read: Serta's iComfort Infant Sleeper
Follow @BabysJourney

Olie


Olie creates beautiful and adorable baby clothes that are also practical, so parents won't have to worry about them getting damaged. Founder Christina Plejdrup was born and raised in Sweden and, after creating The Minkey for her own kids, founded Olie in 2013 to help parents around the world.

Why Olie is a Top Baby Product: This startup produces the innovative kids' garment called The Minkey, which is an all-in-one baby and toddler winter garment that combines hat, gloves, and even a scarf into one. Parents know how often these pieces of winter clothing get lost or left behind, and The Minkey solves that problem with ease.

Read: The Minkey Dino
Follow @Olie_Baby

Baby Tula


Baby Tula makes a line of easy-to-use baby carriers in a wide variety of styles and stylish prints.

Why Baby Tula is a Top Baby Product: Their soft structured Tula carrier is available in baby and toddler sizes, and is designed to support a child's body in a comfortable, natural way. They also offer wraps, ring slings, blankets, and much more, though.

Read: Alliance
Follow @Baby_TULA

Baby Merlin's Magic Sleepsuit


Baby Merlin's Magic Sleepsuit is a swaddle transition product designed for babies who are ready to sleep without the swaddle, but still crave a comfy, secure feeling in order to sleep. Company founder Maureen began her career as a pediatric physical therapist, and the Magic Sleepsuit was born from her experimenting with ways to prolong the quality and duration of her children's sleep.

Why Baby Merlin's Magic Sleepsuit is a Top Baby Product: It's designed for babies of about 3 months who are transitioning from the swaddle or smaller sleep space; it helps minimize movement to keep babies from startling themselves out of sleep. Even better, once your child is used to the Sleepsuit, she'll associate it with bedtime and rest easier in the car seat, travel crib, and other less familiar environments. Magic Sleepsuit is designed with the ABC's of sleep in mind. It is to be used Alone, on the Back, and in the Crib - in line with the recommended safe sleep guidelines of the AAP.

Follow @MagicSleepSuit

BreathableBaby


BreathableBaby creates a line of breathable crib liners that help reduce the risk of suffocation and allow greater air flow in the crib. Dale and Susan Waters knew that pediatricians often warn against crib liners, but found that their baby still got her arms and legs caught outside her crib; they created BreathableBaby as a safe, protective alternative to more traditional crib liners.

Why BreathableBaby is a Top Baby Product: Their soft, cushiony design also helps protect baby against bumps and bruises while keeping her safe. They're also adjustable, so they'll fit most cribs with ease and stay exactly where they should.

Follow @BreathableBaby

Haiti Babi


Haiti Babi offers handmade baby clothes and other products, and your purchases help to employ moms in Haiti with a living wage.

Why Haiti Babi is a Top Baby Product: The beautiful baby clothes this company offers are made all the sweeter with the knowledge that your purchase is helping a Haitian mom raise her children.

Read: All
Follow @haiti_babi

The Boppy Company


The Bobby Company is known for its iconic nursing pillow and the slipcovers that come with it.

Why The Boppy Company is a Top Baby Product: Winner of a great many awards, Boppy is an industry-leading nursing pillow that has been around since 1989.

Read: Safe Sleep for Baby
Follow @BoppyCompany

Marcus & Marcus


Marcus & Marcus bring bright colors, fun and stimulating animal designs, and durability to their mealtime products for babies and young children.

Why Marcus & Marcus is a Top Baby Product: With designs that are both adorable and modern, this company's line of bowls, spoons, and more will keep children engaged with bright colors and cute imagery.

Follow @MarcusandMarcus

BonnBonn Baby


BonnBonn Baby offers eco-friendly, moisture-wicking, antimicrobial baby clothes and accessories.

Why BonnBonn Baby is a Top Baby Product: They're designed to put a stop to wetness and odor while pulling moisture away from baby to keep her fresh, dry and happy. Their integrated thermal layer will also ensure that your child is warm in their bodysuits, sheets, blankets, and other products.

Follow @bonnbonnbaby

Cranial Cradle
Cranial Cradle offers crib mattresses specially designed to reduce the risk of plagiocephaly, or flat head syndrome, in babies. Company founders Vince and Sheryl Lake previously owned and operated a childcare center in Maryland, and created Cranial Cradle to give parents a preventative measure against plagiocephaly.

Why Cranial Cradle is a Top Baby Product: Every baby's sleeping position is crucial to the development of their cranium in their first months of life, and these cribs are designed with that in mind. Their innovative design and high-density foam mattresses combine for maximum comfort and safety for your child.

Foogo


Thermos' Foogo line of cups and food insulators come in multiple sizes, suitable for babies 6 months to 18 months.

Why Foogo is a Top Baby Product: Whether you're looking for a cup your child can't get the lid off of or a baby-sized food insulator to keep lunch cold, these cups and containers are great for baby. Make sure to check out their soft spout sippy cup (for ages 6 months+), their hard spout sippy cup (for ages 12 months+), and their straw bottle (for 18 months+). All lids are interchangeable and are part of a system they call "Foogo Phases".

Read: Blue Foogo Vacuum Insulated Straw Bottle
Follow @Thermos

Woolino


Woolino crafts sleeping bags, blankets, and sleepwear for babies from safe, healthy, and comfortable Merino wool. Woolino's founder Mimi spent hours trying to find the perfect sleepwear for her baby, but couldn't find anything that met her standards of both comfort and safety; that's why she decided to create her own.

Why Woolino is a Top Baby Product: Merino wool creates a microclimate around the wearer, keeping your child cool when it's warm and warm when it's cool. Its hypoallergenic nature also makes it perfect for babies with sensitive skin conditions such as eczema.

Read: Baby Sleeping Bags
Follow @WoolinoBabywear

Apple Park


Apple Park creates classic yet luxurious children's toys and clothing from 100% organic, eco-friendly materials.

Why Apple Park is a Top Baby Product: Their products are free from potentially harmful products like polyester, and aren't made with cottons grown with pesticides and other chemicals that can harm both the environment and children. Their dolls, teething toys, and clothing are also adorably designed with classic children's toys as an inspiration.

Read: Lunchpacks from 100% recycled fabrics
Follow @appleparkkids

GoGlass
GoGlass creates water bottles and baby bottles from durable, safe Borosilicate glass.

Why GoGlass is a Top Baby Product: Many plastic bottles contain harmful chemicals like BPA, but GoGlass is free from these chemicals. Their bottles are tough, too, and can withstand the punishment a child can dish out, as well as large temperature fluctuations.

Baby Jogger


Baby Jogger designs sleek, highly functional strollers that are easily transported and perfect for active parents.

Why Baby Jogger is a Top Baby Product: With a stroller for just about any terrain you can think of, Baby Jogger is perfect for parents who love to travel and spend time outdoors.

Follow @BabyJogger

MOBY


MOBY offers a range of simple to wear, stylish babywearing wraps for parents who want to experience the benefits of keeping their child close on the go.

Why MOBY is a Top Baby Product: With a focus on quality, style, and ease of use, MOBY is a great option for parents looking for a babywearing product.

Follow @MobyWrap

oogiebear


oogiebear is a grooming tool for baby that safely removes both sticky and dried mucus from inside a child's nostrils. Founder Nina Farzin is a registered pharmacist who created oogiebear to help make her own children more comfortable.

Why oogiebear is a Top Baby Product: Developed with comfort in mind, the oogiebear has an adorable design that your child will love. This is a great alternative to less reliable, often irritating alternatives like aspirator bulbs and saline mist.

Follow @myoogie

iBaby Labs


iBaby Labs creates high-tech baby monitors that not only feature two-way audio communication, but a camera that allows you to keep an eye on your baby and even record and share footage. Born in Mountain View, California, in 2011, iBaby's iOS and cloud-enabled baby monitors were the first of their kind to hit the market.

Why iBaby Labs is a Top Baby Product: These devices allow you to communicate with your baby over the Internet using your iOS or Android mobile device at any time. With products available online as well as at major retailers, iBaby has quickly become a leader in high-tech products for parents and babies.

Follow @iBabyLabs

BabySpa


BabySpa is a natural bath and body care collection for newborns to children up to preschool age, with soothing, hydrating products made from ethnobotanical blends.

Why BabySpa is a Top Baby Product: All of their products are 95-100% natural and specially formulated for your child's skin. They're also divided into two stages: one designed for newborns, and one formulated for active toddlers and their changing environments.

Follow @babyspausa

Abiie


Abiie designs easy-to-use, safe, and innovative baby products, including the world's only diaper-changing stroller.

Why Abiie is a Top Baby Product: These strollers are designed to not only be comfortable, but to make outdoor diaper changing easier than you ever thought possible. In addition, they offer a range of stylish high chairs, stroller lights, baby carriers, and much more.

Follow @myabiie

Comotomo


Comotomo makes innovative, high-quality baby bottles and teethers designed with baby in mind.

Why Comotomo is a Top Baby Product: Their bottles are designed to help ease a child's transition to bottle feeding, with a wide-mouth design and anti-colic vents, while their teething ring is perfectly sized for your baby's hands and mouth. Their teething rings are made from silicone, which means they are soft and flexible, yet durable enough to boil so you can easily keep them clean.

Follow @comotomobaby

Burt's Bees Baby


Burt's Bees Baby has a large line of baby products, from cozy bodysuits to bath time products to bedding.

Why Burt's Bees Baby is a Top Baby Product: Their aim is in line with the rest of the Burt's Bees brand: to bring customers soft, natural, 100% organic products. If you're a parent looking for safe, natural products that will keep your baby cozy and comfy, check out Burt's Bees Baby.

Follow @BurtsBeesBaby

poof diapers

poof diapers are an eco-friendly, antibacterial, biodegradable diaper that's safe for both the planet and your baby. Founder Debra Lee found, after thousands of diaper changes, that she was often frustrated by the inadequate design and environmentally unfriendly materials of most diaper brands, and set out to fix the problem with Poof.

Why poof diapers is a Top Baby Product: Their antibacterial and bacteriostatic features mean less irritation and diaper rashes, which means a happier baby. Their couture-inspired designs are all printed with natural soy-based ink and look great, because poof also knows that style matters.

Follow @luxebabyllc

Ju-Ju-Be


Ju-Ju-Be makes stylish and functional diaper bags that new moms will love.

Why Ju-Ju-Be is a Top Baby Product: If you've been looking for a diaper bag that's as fashionable as your outfit, chances are good that you'll find one here.

Follow @jujube_intl

Marpac


Marpac builds the Dohm white noise machine, known for its exceptional sound quality and durability.

Why Marpac is a Top Baby Product: Their machines are perfect for a baby's room; your child will sleep soundly and you won't have to tiptoe around the house. Dohm even allows you adjust the volume and pitch of the white noise it produces so you can find your perfect sound.

Read: Bonnaroo Ticket Giveaway
Follow @SeriousSleep

Coyuchi


Coyuchi offers furniture, bedding, and clothing made with all-natural, sustainably-sourced materials in unique, modern, relaxed styles.

Why Coyuchi is a Top Baby Product: New parents who are looking for stylish furniture and clothing for their baby will love this company's safe, all-natural, and unique products.

Follow @coyuchi

Beco Baby Carrier


Beco Baby Carriers aim to provide a combination of comfort and style that make babywearing fun.

Why Beco Baby Carrier is a Top Baby Product: If you're sick of cumbersome, uncomfortable, and ugly wearable baby carriers, check out Beco's line of products.

Follow @becobaby

The Original Squeeze


The Original Squeeze is a spill-proof pouch intended for purees like apple sauce, yogurt and smoothies for on-the-go snack. The Original Squeeze makes a perfect alternative to messier cups and bowls when it comes to feeding your baby.

Why The Original Squeeze is a Top Baby Product: The spout can be swapped between a free-flowing version and a spill-proof one, so you'll always have the kind of top you need. Their products are safe, durable, and easy to fill with a funnel, all of which makes them perfect for feeding on the go.

Follow @OrigSqueezeCo

Austlen Baby Co.


Austlen Baby Co. is dedicated to making family outings easier than ever for new parents, with expandable strollers perfect for shopping, picnics, and other trips.

Why Austlen Baby Co. is a Top Baby Product: This company's unique, transformable strollers can carry more groceries, supplies, or whatever else you need than other strollers, making outings with baby easier and more fun than ever.

Follow @austlenbaby

Pediped


Pediped designs and sells shoes for babies and children that are made for comfort and the promotion of healthy foot development.

Why Pediped is a Top Baby Product: Your child will do a lot of growing in her shoes, so make sure those shoes are designed to help her feet grow in the healthiest possible way.

Follow @pedipedfootwear

Baby Banana Brush


Baby Banana Brush creates unique oral hygiene products for teething babies and toddlers, with a focus on safety and comfort.

Why Baby Banana Brush is a Top Baby Product: This company's products are dedicated to improving the oral health of babies and small children in a fun, safe way, and your kids will love their adorable designs.

Follow @BabyBananaBrush
Note: This website is made possible through financial relationships with some of the products and services mentioned on this site. We may receive compensation if you shop through links in our content. You do not have to use our links, but you help support CreditDonkey if you do.