Top 5 Ways to Save on Groceries
---
How much should you be spending on groceries? It's tough to decide. While experts have pretty much reached the conclusion that your rent or mortgage payments shouldn't exceed 30% of your take-home pay, recommendations for grocery budgeting range from 5% to 15%. The average American family spends a little under 10% of the monthly income on groceries, but even this may be a little high for some.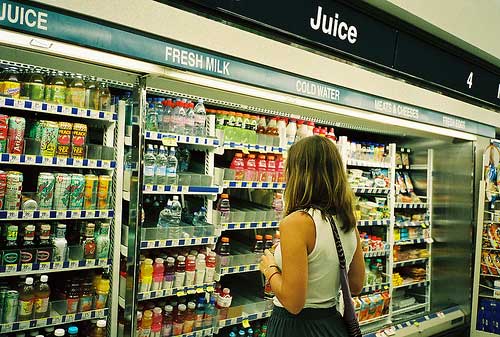 Juice Section in Grocery Store © Katherine Squier
Since groceries aren't a set budget, you can easily flex your spending here and save some serious cash. Here are just five excellent ways to save on your groceries:
Make things from scratch. One of the most expensive ways to eat is to buy prepared meals. On average, meals made from scratch are much cheaper than their prepared counterparts. Note that this does not mean you'll always save money overall on cooking from scratch. You'll just save on healthy foods!

The cheapest prepared foods are made from mainly artificial ingredients, and they provide your body with next to no nutrition. However, if you're savvy and frugal, you can actually make meals for only a little more than a can of practically-fake ravioli. It's much cheaper than splurging on decent freezer dinners, which can cost anywhere from $3 to $5 per person and are rarely large enough to fill an adult stomach all evening.

Eat less meat. Meat is the staple of most American meals, but it's actually the most expensive part of your entire meal, as well. Even at a really good discount, the meat you're eating probably costs more than everything else on your plate combined. Expensive cheeses and other animal products can also be a high spending proposition on your plate.

You don't need to become a vegetarian, though, to save money on your groceries. Just use smaller portions of meat and focus more meals on veggies, fruits, and cheap whole grains. You'll feel better and healthier, and you'll save a ton of money. Try one or two meatless meals a week, or spread meat into larger meals by adding it in bite-sized chunks. This works particularly well with things like curry and stir fry.

Go local and in season. It's easy to splurge on expensive out-of-season tomatoes just because a tomato salad sounds good. Your taste buds and your wallet will regret it, though. There's nothing like a juicy, ripe, summer tomato practically straight from the vine, and they're cheap in the summer, too. In the winter, though, you're just going to get mealy, practically colorless eats for a whole lot more cash. Why bother?

Instead, learn to eat what's in season for your area. Certain things, like apples and bananas, are pretty good year round and aren't all that expensive at any time, either. Also, check out some places where you can buy local produce. It's so much better, and it's often cheaper than you'd think because you aren't paying for gallons and gallons of gas to ship it in from another state or country!

Plan ahead. Planning ahead on your grocery spending and shopping is the absolute best way to save on groceries, no matter how you like to eat. Planning ahead allows you to stock up when things are cheap but to also not buy things you're never going to eat. No matter how cheap that canned asparagus is, it's expensive if you just end up throwing it out because it never fits any of your recipes!

This looks different for different people. Some like to buy things on super sale, freeze them, and then spend a weekend making several weeks' worth of dinners that can be frozen and reheated later. Others sit down and plan meals at the beginning of each week, and then go grocery shopping. Meal planning doesn't have to be the same for you as it is for other people. But you should definitely spend some time doing it so you can see where you need to spend your money to get the most out of your grocery budget.

Shop discount stores. Some people turn up their noses at discount stores . This is a huge mistake when it comes to your grocery budget, though. You can save a ton by shopping for the basics at these stores. They won't have name brands, many organics, or even a huge variety of fruits and veggies. They will, though, have the basic ingredients you need for healthy meals, and they'll cost a whole lot less most of the time.

One great thing is that many discount stores are jumping on the new health bandwagon. Aldi, for instance, offers its own brand of healthy prepared foods – Fit and Active – which are comparable to some Weight Watchers and other brand name products. So you can still eat healthy even when you're saving a ton of cash.

Some discount stores won't take credit. The lack of bells and whistles, including the ability to run credit cards, is one thing that helps these stores charge you less. However, many will take a debit card with your PIN number. Just check before you get a cart full of groceries and have no way to pay!

As always, remember to take advantage of grocery rewards credit cards that offer special cash back bonuses on grocery and supermarket purchases to maximize your grocery budget.