Go beyond the usual price breaks at Walmart with these tips, tricks and current promo codes.
---
Tips and Tricks to Save Money at Walmart
You can save a ton of money every time you shop at Walmart, but you could also easily give up some savings if you don't know your way around the retailer.
With this guide and the latest promo codes, you'll always know you're getting the best deal possible.
How to Get the Best Deals at Walmart
Take a picture of your receipt when you're done. Walmart has an app that makes it easy to save without much extra effort. After each Walmart shopping trip, take a picture of your receipt, upload it to the app or to Walmart.com, and the retailer's Savings Catcher program will give it a quick look-through to see if you could have gotten cheaper prices elsewhere. If it makes such a discovery, you'll get the price difference refunded in a Walmart gift card.
Price match before you go. Walmart will match the price of an identical item at a competitor. All you have to do is bring in the ad with the lower price, show it to the cashier, and it will be applied at checkout. Many stores don't even require you to have the ad as long as you mention the lower price. Walmart matches almost every kind of item, including grocery and household items, but clearance and closeout items are excluded.
Check out the daily deal. Every day, Walmart puts a few items for sale online with big discounts under a "Value of the Day" label. The types of items vary, but it's worth looking—discounts can be as big as 40% off.
Stick to shopping online, especially when you don't want to fall for impulse buys. Walmart makes you feel like you're saving money around every corner, but that feeling can easily lead to overspending—especially when you have a huge shopping cart you're pushing around the store. (Ever notice that Walmart doesn't have baskets? That's because you're more likely to take more than you intended when you can push, not carry, the stuff you're buying.) If you want to stick to your shopping budget, go to Walmart.com, which frequently runs specials and has clearance items that are priced better than the same items in-store. If the total is less than $35, you can ship it to your nearby store and you won't have to pay shipping charges. Many items are even available for same-day pickup.
Join ShippingPass if you're a frequent Walmart.com user. Walmart has a new program that offers free three-day shipping on all orders for an annual fee of $50. The service is still in the early stages, so sign up online to join the waiting list and be notified when the service becomes available in your area.
Price adjust. If you purchase an item from Walmart or Walmart.com and it goes on sale within seven days, you can visit the customer service desk to get a refund of the price difference. Clearance items and special buys are excluded, as are specials around Black Friday and Cyber Monday.
Use coupons. Walmart accepts manufacturer and store coupons that can be found in places like coupon websites, newspaper inserts, and the coupon section at Walmart.com.
Stack coupons and maybe get something back in return. Since Walmart's prices are already so low, it is often possible to get items for free or to get an overage. If you buy a product for $1.50 and have a $2 coupon, Walmart will apply the extra 50 cents to other items in your purchase. This is especially useful when paying for items that often don't have coupons, like produce and meat. If you don't have other items in your transaction, you'll get the overage amount as cash back.
Take advantage of mail-in rebates. Walmart sells lots of products for mail-in rebates. Some rebates are even exclusive to Walmart. Products are often applicable for rebates on smartphone apps like Ibotta and Checkout51.
Always shop clearance. Although Walmart's everyday prices are low, the clearance prices can lead to some amazing deals. Walmart doesn't have a set schedule of how it discounts items, so check the end caps and special clearance displays on a regular basis. It's an easy way to score great deals on all sorts of items.
When to Shop at Walmart
Early in the morning. Walmart tends to be a very busy store, so some of the best deals are most readily available in the early morning hours, typically from 6-9 a.m. Many stores discount items that are nearing their "best buy" date, but these items tend to sell out fairly soon after they are discounted first thing in the morning.
After holidays and seasons. Walmart sells a great deal of seasonal items, and wants to make room for new products once the holiday or season is over. Shop right after big holidays like Easter, Halloween, and Christmas for discounted decorations, food, and gifts. Shop towards the end of seasons to get big discounts on clothes and supplies that you can save for next year.
Black Friday/Cyber Monday. Walmart is known for having one of the best Black Friday and Cyber Monday sales, both online and in store. Plan ahead and brave the crowds to score amazing deals. Note that many of Walmart's other savings offers tend to not apply to Black Friday deals.
Mid-July. Walmart fairly recently used the lazy days of summer to drum up business, and they could repeat it. The sale claims to have more deals than Black Friday on a huge range of products.
What to Buy at Walmart
Prescriptions. Walmart sells hundreds of common prescription drugs for $4 per month, which is a huge savings on most products. Even better, you can subscribe to a three-month supply to most medicines for just $10.
Smartphones. Walmart sells the most popular smartphones and lets you compare service plans across Verizon, AT&T, Sprint, and T-Mobile, which helps you find the best price and service combination. This form of comparison shopping can rarely be done at other stores or phone service providers.
Baby items. Walmart sells a large selection of popular brands of baby products, including its own line of diapers and wipes. Everyday prices tend to be lower than many other stores and can be combined with coupons and rebates.
School supplies. Walmart has school and office supplies at low prices year round, but the items all go on sale for rock-bottom prices around back-to-school time. Most items, even small things like pencils and erasers, can be significantly cheaper at Walmart.
What Not to Buy at Walmart
Bedding. It may be tempting to purchase cheap bedding at Walmart, but items can be purchased for similar prices at other discount home stores, like Ross and Home Goods, that are much higher quality.
Organic produce. Although Walmart is selling an increasing amount of organic fruits and vegetables, the prices are still lower at other stores like Trader Joe's and Aldi. Price matching is harder on these items because identical varieties aren't always available across stores.
Video games. Walmart sells most of the newest video games, but prices are usually lower at other specialty stores and online retailers.
Note: This website is made possible through financial relationships with some of the products and services mentioned on this site. We may receive compensation if you shop through links in our content. You do not have to use our links, but you help support CreditDonkey if you do.
---
Articles on Walmart

These apps and browser extensions make it easy to earn cashback at Walmart, no matter how you shop. Find out how much you can earn in this guide.
---
Recent Mentions

Looking for a budget-friendly men's wedding band? Alternative metals are eye-catching and cheap. Here are 10 cheap alternatives and their pros and cons.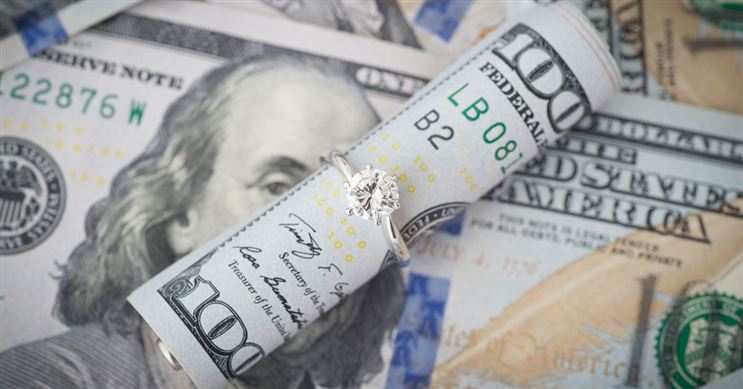 Every bride deserves a beautiful ring on her finger. But what if you only have a tiny budget? Read on for the best affordable engagement ring options.