Macys Coupon,
Promo Code

and Tips to

Save Money
4 promo offers
Save money with the latest Macys coupon and promo code, plus must-know tips to get the best deals.
---
How to Get the Best Deals at Macy's
There's a thrill that comes with getting a deep discount, and Macy's knows how to sell it by regularly offering coupons and significant sales.
Fans of Macy's go to the department not only for fashion and housewares, but also for the deals. Know where to find those deals and when to shop (and when to stay home) with our guide for shopping at Macy's.
Tips for Getting the Best Deals at Macy's
Always, always look for coupons. Macy's still puts coupons in the newspaper and also puts its flyers on its website, so always look around (including on CreditDonkey) before you go to the shop or make an online purchase. You can usually get a discount when you shop there (we'll clue you in with our tips below).
Get to know the details on discounts. You don't want to spend money just to save money, but Macy's coupons will tempt you by offering you a higher discount if you spend a certain amount. Read over the coupons before you go (Macy's has a string of exclusions with each deal) and understand how each one works. Pick the coupon that gives you the best deal. For example, if you're making a $100 purchase, don't use your coupon taking $10 off a $25 purchase. Instead, dig in your wallet for a 20% off coupon, which will yield $20 in savings. Ask the cashier for help if you're unsure; sometimes they may have an even better coupon they could scan for you at the register. Keep in mind that you cannot stack coupons at Macy's.
Download the Macy's app. The whole time you shop at Macy's you want to be on alert about the deep discounts. This app makes it easy since it turns your phone into a price checker that you can use to scan tags. You don't have to bother wandering around the store looking for one of those kiosks. This feature is particularly helpful when you're scouring the clearance racks, since prices are sometimes lower than what is ticketed. You can also track registry items and access your Macy's account information with the app.
Call around for the right size. Macy's doesn't always stock many items in the same size, so if you find a great deal, don't be afraid to ask a sales associate to call other stores to see if your size is available. They'll be able to put the item on hold for you until you can pick it up.
Check out prices at competitors. If you see an identical item at another store for a lower price, Macy's will price match within 14 days. The only exception is for membership club stores like Costco.
Apply for a Macy's credit card. Macy's cardholders receive extra coupons and incentives for shopping. From frequently offering cardholders an extra 15% off their entire purchase or mailing coupons that give up to 40% off a single item, Macy's knows its most loyal customers are looking for a deal. Read our review of the Macy's credit card here , but consider this option only if you are a frequent Macy's shopper (retail credit cards tend to come with a higher APR than other cards and you may find you are better off using a cash back credit card you can use at any store).
Look for deals even after your purchase. Macy's will refund the price difference to you if your item is further reduced within 14 days from when you bought it. If you have a suspicion the item will go on sale soon, you may want to check back in the store with your receipt to see if you can get a better deal.
When to Shop at Macy's (Best Sales of the Year)
One Day Sales. Though Macy's runs strong sales during holidays, the best prices are usually found during the advertised One Day Sales (which have a preview the day before). You'll find a number of deals, including clearance items marked down an additional 40% to 65%. One Day Sales generally take place once a month, and while they are usually on the third Saturday with a Friday preview, the date can vary, so check your ads before heading out to the mall.
Semi-annual Friends and Family Sales. Stake out this 25% off entire purchase coupon online or in the newspaper each April and November. The thing that makes this sale stand out is that that you'll be more likely to get a discount on high-end brands whereas most times, certain brands are excluded from coupon discounts.
Visit the store on a Tuesday. If you've missed one of the bigger sales and really need something, try scouring the clearance racks on a Tuesday or Wednesday. Macy's does weekly markdowns that start on Sunday and usually end by Tuesday or Wednesday, so you'll have the freshest selection to choose from.
Become a regular browser. The real way to find deals at Macy's is to familiarize yourself with the stock and the prices. By popping in once a week or so, you'll get to know when you're getting a deal and when some items seem marked up and not worth buying just yet. And you'll know when an item is worth jumping on, especially if it's something you coveted a couple weeks ago and now it's in the clearance rack. You just scored.
After Your Purchase
If you need to return a purchase to Macy's, their policy is fairly lenient.
In-store returns. There is no time period for returning items. With the receipt, you'll receive a full refund in whatever payment you originally used. If you're missing the receipt, the store may be able to look up your purchase using your account number, Customer Return Label or Gift Registry number. If you're returning with no proof of purchase, however, you'll receive only store credit for the item's lowest price in the last six months.
Online returns. You can return items purchased online either through the mail or in a Macy's store, and return shipping is now free. Area rugs, lamps and toys purchased online are exceptions to the flexibility as to where you can return items – they must be returned through the mail.
Gift returns. If you're returning a gift, you can either put the amount to use on a gift card later, or put the amount towards your Macy's credit card.
Best Things to Buy at Macy's
High-end brands (at the right time). Brands like Michael Kors and Coach are often excluded from sales and coupons, but if you wait until the semi-annual Friends and Family Sale, you'll find fewer restrictions. When looking for these high-end brands, consider driving to a Macy's in an affluent town, as it will likely have the widest selection of brands and products.
Wedding and other registry items. Macy's often has deals on small home appliances and other home goods, so check out that department before buying for the next wedding on your calendar. Compare online prices to in-store prices, though, because they don't always match up. Bring a printout or smartphone and seek out a sales associate who can price match the better deal.
Dockers pants. Macy's is a go-to spot for men's work clothes, with Dockers generally included in sales and clearance events.
North Face. Like other big name brands, you'll need to wait until a One Day Sale to find good deals on North Face, but when you do, you can get savings up to 30% on coats and accessories for the whole family.
Ralph Lauren and Calvin Klein. These popular brands are well stocked at Macy's and are frequently marked down. Not only that, you can apply your Macy's coupons, which can easily add up to a 60% or 70% discount.
What Not to Buy at Macy's When Deal Hunting
"Every Day Value" items. These items do not go on sale, nor can you use coupons on them. You can spot them because their price will always end in 98 cents. Because there's usually a sign that accompanies these items, you'll think you're getting a deal, but chances are you are not.
Anything at full price. Between coupons and frequent sales, you should rarely (if ever) have to buy anything full price at Macy's. New stock usually goes on sale within 8 weeks, so if you can hold out, you're likely to find what you want on the clearance rack.
Makeup on impulse. There's a reason Macy's has alluring makeup counters with friendly associates trying to get your attention as soon as you walk in the door. They will offer you samples and a moment of their time, but you'll also get sucked into paying more than you normally would because you've let your guard down and forgot to think about deal hunting. Try on the makeup if you wish, but hold off on your purchase until you've had a chance to think about it and do some price comparing.
Note: This website is made possible through financial relationships with some of the products and services mentioned on this site. We may receive compensation if you shop through links in our content. You do not have to use our links, but you help support CreditDonkey if you do.
---
Articles on Macy's

Are you thinking of filling out a Macy's credit card application? Before you sign, read the this review for the pros and cons.
---
Recent Mentions

Applying for a new Chase card? Not so fast. The 5/24 rule can make you ineligible. Learn what the Chase 5/24 rule is and which credit cards are impacted.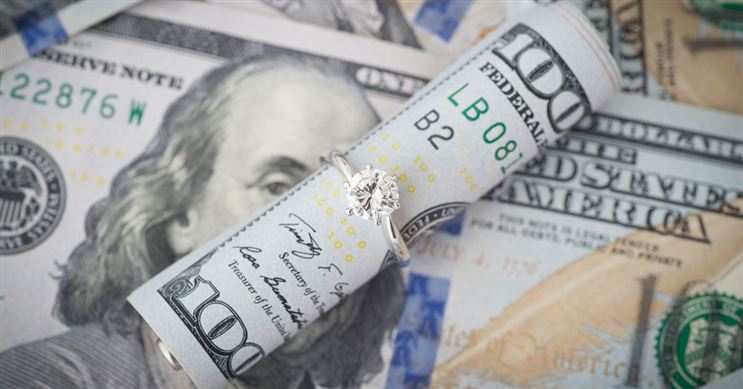 Every bride deserves a beautiful ring on her finger. But what if you only have a tiny budget? Read on for the best affordable engagement ring options.
More Deals from CreditDonkey