Rankings


Reviews


Tips


Promotions


Dish Tips


Resources

TV Reviews and Ratings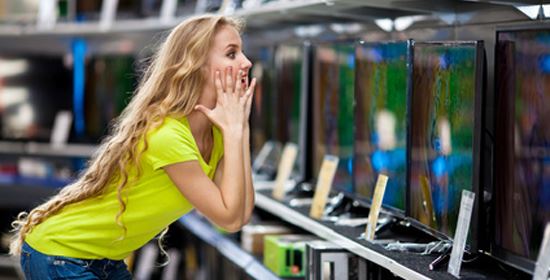 You can buy a TV just about anywhere these days, but not all retailers are created equal. When you're in the market for a new television, you want to get the best deal you can on this pricey purchase. So you need to think not only about what ...




How do DirecTV, DISH, and cable compare? This comparison review shows you which is better for HD, for the price, and for sports.

Thinking of switching to DISH? Get the dish on the DISH. Read this in-depth review before you choose it as your satellite TV provider.

The idea of cord cutting is grabbing a lot of headlines right now. Cutting the cord involves cancelling pay-TV service in favor of streaming services. But for some cable TV customers, cutting the cord may mean something else: Switching from a ...
---
DIRECTV and DISH are the two biggest satellite TV providers. See how they compare in terms of price, programming, and equipment.

Dish America's Top 120+ is a little bit of a misnomer in that you get a lot more than 120 channels. This popular satellite TV package offers over 190 of the most-watched channels available, making it a great option for TV lovers, families with varied interests, and roommates splitting the bill.

Contacting customer service for a phone, cable, satellite, TV or Internet company can quickly consume hours of your day. It can be frustrating to deal with multiple phone numbers, different departments and various issues that change depending on your need.

Binge watching entire seasons of shows like House of Cards is not out of the ordinary for many people. With more than 50 million Americans subscribed to Netflix, it reigns supreme amongst the streaming options. The good news is you no longer have to rely on your phone or iPad to catch the latest episode of Scandal. You might even have a device in your home that allows streaming to your big screen TV. Don't worry if you don't, though, there are many affordable options available.

ESPN is available on channel 140 on Dish. But there's more than just 1 channel. Read on to learn why we like ESPN and how to get the best Dish promotion.

Dish offers 4 main packages, but which one is best for you? Read on for a detailed breakdown and review of each package, cost, and what they include.

HBO has 9 channels on Dish Network. Read on for why we like HBO and how to get the best Dish promotions for HBO.

Say goodbye to paying for channels you do not watch. Learn what Dish Flex Pack is all about and whether it's worth the money.

Lifetime is on Dish channel 108. Read on for everything you need to know about Lifetime Channel and the latest Dish promotions.

AMC on Dish channel 131 offers edge of your seat programming. Read on to learn why we like AMC and how to get the best Dish promotion.