Best Student Apps: Most Helpful Resources
---
Winners of the Best Students Apps have been announced. These apps aimed at students get an "A+" with us.

Best Student App © CreditDonkey
Top Apps for Getting Through Student Life
Ah, the student days. One of the best, yet most challenging, parts of your life.
These days are filled with seemingly endless homework, studying for exams, and extracurricular activities. It's a lot of pressure.
Luckily, in today's technology-obsessed world, there are a ton of apps that can help. So you don't have to do it all alone. Whether you need help with time management, help with certain subjects, or help with SAT prep, there's an app for it.
We here at CreditDonkey have come up with a list of the best student apps available today. We know students are busy, and our goal is to help them spend their money and funds wisely.
These apps all pass our test. They're great for students of all ages. Check out our list for apps that may just make your student life easier.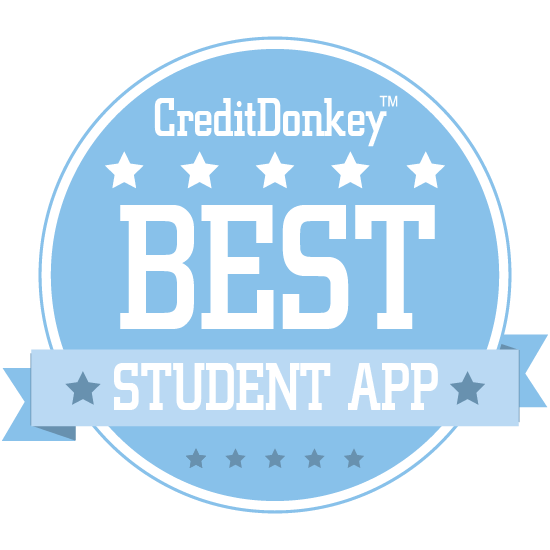 Best Student App © CreditDonkey
Zap Zap Kindergarten Math
Developed by the same people as Zap Zap math, this app is exclusively for the very young kids from 3-6. The mini games focus on basic math principles, such as numbers recognition, adding and subtracting, and shapes and measurement. The app is aligned to core common standards. It adjusts to each child's level, so they'll continue to learn and grow.

Why Zap Zap Kindergarten Math is a Top Student App: Get your little ones started early with an interest for math. This will give them a stronger foundation for when they start real school. The games are enjoyable for kids to play, so they'll see math as fun, instead of scary.

Scholarships.com


Scholarships.com helps you find the best matches for college scholarships and grants. There are over 3.7 million scholarships in their database. In addition, you can search and compare over 4,000 colleges and universities to find your perfect fit. Find detailed information for each, including admission stats, academic majors, tuition, financial aid, etc. It was founded in 1998 by Larry Gerber, and co-created by Kevin Ladd of Chicago, Illinois and Dan Walowski of Lake Villa, Illinois. App available in both iOS and Android.

Why Scholarships.com is a Top Student App: It's time consuming to search for scholarships yourself. There are tons you most likely don't even know exist. Scholarships.com will provide you with the best matches for your unique situation, interests, and qualifications. So you have better chances of winning. And not only that, the website also gives you the opportunity to be recruited by colleges as well.

Read: Hispanic Scholarships
Follow @Scholarshipscom

Dictionary.com


Hopefully this needs no introduction. You type in a word in the search bar and get the definition, how to pronounce it, how to use it, and its origin. Its main source is the Random House Unabridged Dictionary. There are also other fun things like a Word of the Day and interesting blogs. The company was first registered in 1995 and founded by Brian Kariger and Daniel Fierro as part of Lexico Publishing. Thesaurus.com and Reference.com are also part of the family. App is available in iOS and Android.

Why Dictionary.com is a Top Student App: It's basically the entire lexicon at the touch of your fingertips. And it's completely free. You can even search for words offline. So not understanding a word will never be an excuse again.

Read: Dictionary.com's 2016 Word of the Year: Xenophobia
Follow @dictionarycom

Homework Help


The Princeton Review is perhaps the most popular college test prep service. Its goal is to help get students into top colleges. We are recommending their Homework Help app, which lets you find homework tutors on-the-go. The app is free to download, but the prices of the actual tutoring vary. The Princeton Review is not affiliated with Princeton University. It helps students achieve their goals through college prep courses. It has a network of over 4,000 teachers and tutors, online resources, and over 150 print and digital books published by Penguin Random House. Founded in 1981 by John Katzman and Adam Robinson, and headquartered in New York, NY. App available in both iOS and Android.

Why Homework Help is a Top Student App: Homework Help allows you to get 24/7 tutoring wherever you are. Tutors are available for just about all subjects, including AP courses. You just take a photo of your problem and the app will connect you with a live expert tutor. The first session is free, and there are varying costs for other tutor sessions.

Read: Advanced Placement (AP) Homework Help
Follow @ThePrincetonRev

Zap Zap Math


ZapZapMath offers educational math games for grades K-6. Games are aligned with Common Core Standards. The apps are free to download but charge $9.99 annually for access to more features. It was founded in 2014 by Singaporean math teacher John Ng, who wanted to close the gap between education and technology. App available in both iOS and Android.

Why Zap Zap Math is a Top Student App: Your child can be blasting through space and playing games while practicing over 150 vital math skills and having fun. The game also promote creativity and higher thinking. It's a great tool for parents and teachers as well. In the web dashboard, you can keep track of your child's progress. It breaks down by topic so you can see your child's weak areas.

Read: From Singapore Math Teacher to Global Educational Game Platform Founder
See Also: Zap Zap Kindergarten Math for educational math games exclusively for Grade K
Follow @zapzapmathapp

My Video Tutor


Need extra math help? My Video Tutor helps with math from grades 3-12. The app offers a library of instructional videos by subject and target grade. It is free to download and you get 9 free video tutorials. But additional lessons will cost $0.99 each. Released in 2012 by McGraw-Hill Education. App available in both iOS and Android.

Why My Video Tutor is a Top Student App: There is a video library of math topics for every grade. You can also search topics that coordinate with Common Core State standards. If there's a math concept or problem you don't understand, you can search for a related video. Each video has an instructor that explains the problem step-by-step.

Read: McGraw-Hill Education Launches Connect2
Follow @McGrawHillK12

Wyzant


Wyzant is a huge online tutoring marketplace designed to connect students with tutors. You can find a tutor in just about any subject you need help in. You start by answering a few questions, picking an instructor, messaging with them to see if they are a good fit, and then booking a session. You can either meet in person or online. Hourly rates are set by the individual tutor. Wyzant is based in Chicago and founded in 2005 by Mike Weishuhn and Andrew Geant. App available in both iOS and Android.

Why Wyzant is a Top Student App: The site has an A+ rating through the Better Business Bureau (BBB). It's a safe and easy way to find qualified tutors for your needs. It is one of the largest online tutoring platforms in the U.S., with over 80,000 tutors and more than 6 million hours taught. You only pay after you've had a lesson, and all payments through Wyzant are secure. And as a plus: Wzyant has a Good Fit Guarantee, where your first hour is free if you're unsatisfied with a new tutor.

Read: College Scholarships
Follow @Wyzant

Elevate


Elevate makes training the brain fun! This is the winner of Apple's 2014 App of the Year. Elevate is a brain training app that comes with over 50 games to improve cognitive skills. You get a free daily training session of three games (that rotate each day). You can play the games as many times as you want. The free trial period is 30-days, and after that, you can unlock the Pro version for $39.99/year. Founded by Jesse Pickard in 2014 and headquartered in San Francisco, CA. App available in both iOS and Android.

Why Elevate is a Top Student App: You're training your brain as you play games. They're designed to improve productivity, memory, processing, math skills, reading, listening, and more. As you improve, the program adjust to your skills. It also tells you how you compare to others in your age group. The games are designed in collaboration with experts and backed by independent analysis.

Read: Forget Multitasking: Singletasking is the key to productivity
Follow @elevatelabs

ZeeMee


If you're a college bound, ZeeMee lets you showcase your life in a unique and creative way. It's a curated social media account just for admission officers. You can post videos, pictures, share goals, and show off skills (such as music or sports). ZeeMee was founded in 2014 by Juan Jaysingh and a small group of young entrepreneurs in Redwood City, CA. App available in both iOS and Android.

Why ZeeMee is a Top Student App: College applications are often impersonal. There is more to you than a piece of paper. ZeeMee could help you stand out from thousands of other applicants. This is your chance to show the admissions officers who you are. ZeeMee is partnered with more than 200 colleges in the U.S., and expanding into Europe. Once you're accepted, you can also join exclusive communities, where you can meet people and match with a roommate before you arrive.

Read: We Want You
Follow @zeemeeapp

myHomework


myHomework is a digital planner to help students get organized. There's a Basic version that comes with ads. But it gets the job done by tracking assignments and classes, sending due date reminders, syncing between devices, and showing upcoming homework. The paid Premium version is $4.99 with no ads, and allows you to send files, and has enhanced app widgets and external calendar access. myHomework was created in 2009 by Rodrigo Neri, Keith Entzeroth and Ryan Niemeye. App available in both iOS and Android.

Why myHomework is a Top Student App: It's even better than a traditional planner because of the notifications. No more excuses to forget about an assignment or exam. And it's one less notebook to carry around. Both free and paid versions sync between all your devices. You can enter an assignment date on your phone and get a reminder on your laptop later.

Read: iPad App
Follow @myhomeworkapp

Circle of 6


Circle of 6 is a free safety app. It's designed for college students to prevent sexual violence, but it's good for anyone to use too. The idea is that you should have 6 close and trusted people you can always call for help. The app is created by Nancy Schwartzman and Deb Levine in response to the White House sanctioned "Apps Against Abuse" technology challenge (to create mobile apps to prevent dating and sexual violence and abuse). Circle of 6 was the winner. App available in both iOS and Android.

Why Circle of 6 is a Top Student App: When you find yourself in a sticky situation, it's not always possible to call for help. Circle of 6 lets you do so discreetly, safely, and fast. With just a couple of taps, you can send a message to your 6 trusted people. It lets them know where you are and what kind of help you need. It's a great way to prevent violence before it happens. The U.S Air Force actually recommends that all cadets use this app.

Read: Circle of 6 Focuses on Security with Guardian Project Partnership
Follow @circleof6app

30hands Learning


30hands encourages creativity by letting you create your own stories with videos, audio, and images. There are three different apps (Storyteller Web, Storyteller Pro, and Listen-Read-Create) with their own features. The apps are for both teachers and students of all ages to digitally express concepts and ideas. 30hands is co-founded by CEO Eric Braun and CTO Carmen Ferrara. App available in iOS.

Why 30hands Learning is a Top Student App: 30hands enhances the classroom experience with project-based learning and digital storytelling. It keeps the students focused with hands-on learning. Storyteller Web is where students can share their stories and ideas as presentations on storyboard frames. Teachers can also post learning videos. Storyteller Pro has more enhanced features and has an upgrade charge. Listen-Read-Create is a series of multimedia picture books with discussion question. And Cloud LMS allows teachers to post digital learning materials.

Read: Collaboration Outside of Class Inspires Learning
Follow @30hands

MathPapa


If you're having trouble with algebra, check out MathPapa. This free algebra calculator walks you through equations step-by-step. It also has lessons and practice problems for further learning. It can be used either online or via their free app. MathPapa was founded in 2016 by Robert Ikeda and Priscilla Pham. App available in both iOS and Android.

Why MathPapa is a Top Student App: The app is very simple, but it works. If you don't understand how to solve a problem, you will see step-by-step solutions. The lessons are great too to learn at your own pace.

Follow @themathpapa

Scholly


Scholly is a scholarship search tool founded "by students, for students." High school seniors, current undergrads and graduate students can use this system to find scholarships uniquely suited for them. It costs $2.99 a month, but this fee is easily justified if you are able to get a scholarship. Scholly is founded by Christopher Gray in 2013. He won $1.3 million in scholarships through extensive and time-consuming research, and created Scholly to make things easier for everyone else. Since then, there has been over 1 million users who, combined, have won over $70 million in scholarships. App available in both iOS and Android.

Why Scholly is a Top Student App: The monthly service fee allows the site to be regularly updated and provide you with the best match for scholarships you could quality for. You also get access to management tools and scholarship essay resources. Scholly's has an advanced search algorithm that uses eight parameters to match students with scholarships, so the results are accurate. Staffers weed out any scams that slip past the algorithm.

Read: Chris Gray's Five Tips on Writing a Winning Scholarship Essay
Follow @MyScholly

ChemDoodle Mobile


ChemDoodle is already a popular desktop app for chemical sketches (student price starts at $19). ChemDoodle Mobile is the companion app for existing users. You could do a free guest accounts, but the features are restricted and you won't be able to save drawings. ChemDoodle was founded by Kevin Theisen in 2007 when he was a junior at Rutgers University. App available in both iOS and Android.

Why ChemDoodle Mobile is a Top Student App: ChemDoodle contains thousands of chemical graphics. If you are a scientist, student, or anyone who needs a chemistry or biology sketching tool, this app can't be beat. Users can build reactions, calculate descriptors and properties, and generate IUPAC names for drawn structures. You can build web components and embed data into software such as Microsoft Office and Mac OS X applications. You can also transport structures from your desktop to your mobile devices.

Read: MolGrabber 3D
Follow @ichemlabs

Todoist


Todoist is a free productivity app that helps you manage tasks and projects. Users have the ability to work online and offline and collaborate on shared tasks. Their goal? 'Do more, stress less.' The app is free, but you have the option to upgrade to Todoist Premium for $29 for more organizational tools and upgrades. Founded in 2007 by Amir Salihefendic, who previously co-founded Plurk (a micro-blogging network). The company is a fully remote team that collaborates on their work from over 20 different countries.

Why Todoist is a Top Student App: The design is kept simple but elegant, so you focus on your tasks. It works well across over 10 platforms. You can even link your email account to your Todoist account and organize emails along with all your other projects from one platform. It has all the popular features of other organizational apps (such as reminders, collaborating and sharing notifications) that will automatically sync across all your devices.

Read: Karma, a powerful new way to track productivity
Follow @todoist

Brainly
Brainly is a free social learning network for students of all ages from around the world. Students can post any question and receive an answer from another student fast. All responses are monitored for accuracy. Brainly also stores millions of questions in their searchable database. There are 60 million students using the app. Brainly was founded in 2009 by Mical Borkowski, Lukas Haluch and Tomasz Kraus. The team is headquartered in New York City but still keeps its original office in Krakow, Poland. App available in both iOS and Android.

Why Brainly is a Top Student App: Brainly is a great way to share knowledge and connect with other students. The app makes it fun to use. You can strive to rise through the ranks (Beginner to Genius) by answering questions and earning points. If you really know your stuff, you can become a community moderator. Moderators not only keep a close eye on the accuracy and clarity of questions and answers, but also the kindness.

Varsity Tutors


Varsity Tutors mobile apps (iOS and Android) are free learning apps that offer students educational resources such as practice tests, quizzes, flashcards, and diagnostic tests in over 65 subjects and tests. Students can also request help from live tutors within the app, but hourly rates vary per tutor. Varsity Tutors was founded in 2007 by CEO Chuck Cohn at Washington University in St. Louis. Cohn struggled finding effective tutors as a high school honors student and after dealing with spotty directory sites and tutor marketplaces, saw an opportunity to facilitate tutoring through a live learning platform. To date, students have accessed 2 million hours of instruction on the platform.

Why Varsity Tutors is a Top Student App: Students have free and immediate access to diagnostic tools, thousands of practice tests, and questions that pinpoint areas of strength and weakness. The apps also feature flashcard makers, daily questions and the ability to challenge friends. You have 24/7 access to diagnostic tools and practice tests. And if you choose to find a tutor through the platform, there's a satisfaction guarantee. If you didn't like your tutor, Varsity Tutors will match you with a better one and provide the next session for free. If you still didn't like it, you'll get a refund of all unused hours.

Follow @varsitytutors

Splash Math


Your little ones having trouble with math? Splash Math helps improve math skills for children grades K-5. The curriculum is aligned to Common Core and most state standards. There is a monthly or yearly membership fee to use the app. Splash Math was developed in 2010 by Study Pad Inc. based in Silicon Valley. The company creates high value educational content for children. Now, over 15 million people and 70,000 classrooms use the app. Splash Math is also available in Spanish. App available only in iOS.

Why Splash Math is a Top Student App: The apps are a win-win for everyone. Parents get an easy way to improve their child's math skills, and kids get to play fun games. Splash Math apps have multiple themes to fit your child's interest. And kids get fun rewards (like coins to buy virtual pets) to keep motivated. Most importantly, it makes math fun. It also provides assessment and placement tests, personalized learning, explanations, offline access, email progress reports, and activity monitoring through a Parent Connect App.

Read: How do I change currency for Money skills?
Follow @splashmath

Forest


What if every time you procrastinated, a tree died? That's the clever concept of Forest, a productivity app and website. When you are ready to begin a task, you open the app and plant a tiny digital tree. You have to leave the app open or else your tree dies (in other words... no checking Instagram or playing games!). The app costs a very reasonable $1.99. App available in both iOS and Android.


Why Forest is a Top Student App: Forest is the most adorable way to stay focused on tasks. It makes you feel like a terrible person if you ditch the app and kill your tree. If you last the whole half hour, you add a tree to your field. As you focus on tasks, you can start to build a whole forest (unlock new species with virtual coins). The great thing about Forest is that they're partnered with a real tree planting organization, Trees for the Future. You can help plant on real tree when you trade in your virtual coins.

Read: Forest, Stay focused, be present
Follow @forestapp_cc

Explain Everything


Explain Everything™ is a unique interactive screencasting whiteboard, and presentation tool that lets you animate your thinking. Available for iOS and Android tablets and phones, Windows touchscreen devices, and Chromebooks, the app allows users to record audio and video, annotate with drawings and shapes, write math equations, and animate objects, all at the same time. Projects can be played back and edited within the app or exported as videos, images, PDF documents, or shared editable projects. Users can collaborate in real time, communicate, and find inspirations while watching projects made by others uploaded to Explain Everything content portal. Co-founded by Bartosz Gonczarek, Piotr Sliwinski, and Reshan Richards, the company consists of 60 talented people based in Wroclaw, Poland and New York.

Why Explain Everything is a Top Student App: A fantastic tool for teachers, students and working professionals. Imagine having a digital whiteboard where you can draw and annotate, import videos and files, and also move and interact with objects while recording every interaction. Users have a choice to share their projects in different formats (video, image, document, editable project) to multiple cloud sources such as YouTube, Dropbox, Google Drive and others, or on Explain Everything's portal, 'Explain Everything Discover,' and have the option of downloading and remixing shared content.

Read: Oldham County Middle School, La Grange, Kentucky
Follow @explainevrythng

READY4


READY4 is a standardized test preparation app. Use it to prep for exams such at the SAT, PSAT, ACT, MCAT, GRE and GMAT. The app uses a complex algorithm that measures your level and progress. It'll customize a learning path for you and focus on areas that you need the most help on. Each app has over 1000 practice questions, flashcards, strength and weakness tracker, and customizable practice tests. There are in-app purchases. There is also personalized tutoring packages if you need extra help.

READY4 was founded in 2013 by CEO Elad Shoushan (MIT Sloan Grad), whose vision was to create a world-class test prep app available to everyone. The company is based in Boston and Tel Aviv. App available in both iOS and Android.

Why READY4 is a Top Student App: Back in the day, you'd buy multiple prep books for each exam and have to lug them around. Now, you can get it all on your mobile phone and study anytime, anywhere. Because of its adaptive learning algorithms, you get personalized lessons that help you learn more effectively.

Read: Free SAT Exam Preparation & Training App for iOS & Android
Follow @Ready4Education

Companion
Companion is a free safety app to help you feel safer when walking alone. You add friends and family from your contact list (who don't need to have the app installed to participate) and the app lets them a live map of your progress . It can also sound an alarm if it detects you straying from your designated route. Companion was founded by five students at the University of Michigan to help college students feel safer on campus. App available in both iOS and Android.

Why Companion is a Top Student App: Add a sense of security to your solo travels. The app lets you reach out to family, friends or the local police so you have people keeping an eye on you as you walk at night. They'll get real-time updates. If the app detects anything unusual (like phone dropping or headphones yanked out), the app checks in to make sure you are safe. If you don't respond in 15 seconds, your companions are alerted.

Droid Scan
Droid Scan is a free mobile app that turns your phone or tablet into a portable document scanner. The app transforms images into professional multi-page PDFs in just a few clicks. Droid Scan was developed by Trans-code Design, a software development company in Erie County, NY. App available only in Android.

Why Droid Scan is a Top Student App: Who has the money to buy a scanner or the time to look for one? Droid Scan lets you scan and send documents easily from your phone. The app uses perspective correction so you don't get distorted images. After capturing an image, Droid Scan automatically detects the edges of documents, corrects perspective, adjusts contrast and exposure, and generates a PDF file. You end up with a high-quality scan that you can then share via email, Picasa or SMS.

Knack


Knack is a free app that partners with colleges to help students find peer tutors. Tutors are fellow students or recent grads who have previously aced the course. Knack was launched in 2015 by then-University of Florida student Samyr Qureshi. Qureshi got the idea to make the app after learning how to play the guitar, after which he realized he could help people learn other subjects. App available in both iOS and Android.

Why Knack is a Top Student App: The good thing about this app is that you get tutoring for your exact class from someone who had already aced it. So it's even more personalized than a general tutor. Students download the app customized for their college. Then you enter in your course and it'll show you a list of available tutors for that specific class (hourly rates vary per tutor). Then you can arrange the meeting. The session is timed and payment is automatic.

Read: Download
Follow @joinknack

PathSource


PathSource helps students find their career fit and guide them on how to get there. It has a library of 2,600+ informational interviews in different professional fields. These are to help students understand different careers so they can find their passion and make informed decisions. PathSouce is founded in 2009 by Alex Li and Aaron Michel and based in Burlingame, CA. App available in both iOS and Android.

Why PathSource is a Top Student App: It's like having a career guidance counselor at your fingertips. It's hard to figure out what you want to do with your life at such a young age. PathSource helps you analyze your skills, personality, and interest to find careers best fit for you. It even has a Lifestyle Assessment that can see if a career can support your lifestyle. You can also search for jobs, browse upcoming job fairs, and make a resume with their Resume Builder.

Read: How to Become a Dental Hygienist
Follow @PathSource

Verso


Verso Learning, the free app that helps students achieve deeper learning while providing teachers with a contemporary professional development platform, gives even the most reserved student a chance to engage in classroom topics and discussions. Teachers post activities or discussion topics via the app or website, and students can respond anonymously (however, the teacher can always see who is responding). Verso was founded by CEO and President Colin Wood. App available in both iOS and Android.

Why Verso is a Top Student App: This free resource is a great tool for teachers to engage the entire class in a topic, even the quiet ones. It's a great way for a teacher to get to know each of the students. Students do not see any of their classmates' comments until they post their own, which encourages individual thinking. And it's anonymous so they can feel safe to voice ideas. Teachers can create "challenges" from audio, video, and images, and can easily imbed content from sources such as YouTube, Vimeo, Dropbox, URL, etc. They can also keep track of student engagement and respond to individual needs.

Read: Campus Features
Follow @VersoApp

Evolution Brain Training
Evolution Brain Training is a free app that improves your brain with fun games. It targets the areas of attention, memory, problem solving, and planning. The exercises are developed with brain scientists from Copenhagen University and are suitable for all ages. This app was founded in 2012 by Kim Baden-Kristensen, Ulrik Ditlev Eriksen, and Rasmus Højengaard under the Danish company Brain+. App available in both iOS and Android.

Why Evolution Brain Training is a Top Student App: It's better to spend your spare minutes playing mind-stimulating games instead of mindlessly checking Facebook or Twitter. The games are designed to help in real-life scenarios. All games use Artificial Intelligence technology that adapt to your performance. As you get better, the games will get harder so you will always be challenged.

Oh No Fractions!


Is your kid stuck on fractions? Curious Hat's "Oh No Fractions!" math app helps you practice this often-confusing concept for kids. Practice comparing, adding, subtracting, multiplying and dividing fractions. It is free to download, but the $0.99 in-app purchases release more functions. App is by Curious Hat, a children's app developer who merges learning in the real world with technology. App available only in iOS.

Why Oh No Fractions! is a Top Student App: It is a very visually stimulating way to practice working with fractions. The design is simple and easy to use. The problems also have visualized solutions so the child can understand how to get the answer step by step. It also keeps track of stats and progress.

Read: We design the digital playground for curious minds
Follow @Curious_Hat

Monkey In The Middle Apps


Monkey in the Middle is a set of educational games for middle school students (6th, 7th and 8th grade). Subjects include math, science, and vocabulary. Most of the games are free (except for the Pro versions, which are 99 cents). Co-founded in 2011 by Andrew Meier and based in Colorado. App available in both iOS and Android.

Why Monkey In The Middle Apps is a Top Student App: Students get to play fun games as they learn and practice. The games are aligned to Common Core State Standards so you can play while practicing for the standardized tests. To keep students motivated, you can compete with your friends and earn rewards (such as different characters). There are also built-in notes and links to online tutorials.

Follow @PlayLearnRepeat

NextTier


NextTier Education organizes the college planning and application process. This is a very pressure-filled phase with dozens of tasks and due dates to keep track of. The app brings students, parents, and educators together in one place so no one misses any deadlines. NextTier is provided to students, their parents and counselors by local school districts. The platform is also available at no cost to individual students and parents. Founded in 2014 by Justin Shiffman and based in Chicago. App available in both iOS and Android.

Why NextTier is a Top Student App: Students, parents, teachers and counselors can check in with each other in real-time during the college application process. For example, if a teacher needs to write a recommendation. You can also explore colleges to find a good fit for you. You can even get matched up with scholarships and grants, and keep track of all your financial aid applications. After you've picked the 2- or 4- year college(s) you want, the app will provide you with a detailed plan. This includes a detailed list of each school's requirements, step-by-step guidance and deadlines.

Read: Happy Holidays
Follow @NextTierEdu

Bugle


Bugle is another free personal safety app. It's built for active outdoors people, but it's great for students as well. It notifies your selected friends and family if you don't "check in" when expected. This will let them know to look for you at your designated location. Bugle is based in Seattle and founded in 2013 by Steve Grind and Matt Witcher, both avid outdoorsmen. App available only in iOS.

Why Bugle is a Top Student App: It's a great way to create a safety net of friends and family. It lets them know when you don't make it back when you said you will be. You don't have to be in a service area for the app to work. It was built with input from Search and Rescue professionals, guides and outdoor instructors.

Follow @gobugle

Yup


Yup (formerly MathCrunch) is an instant tutoring app for math, chemistry and physics. You only need to snap a photo of a problem and can be answered by a live tutor almost instantly. There is a free trial period, but you'll have to pay after the free minutes are up ($0.24 per minute, $6.99 per month for 30 minutes, or $49 for unlimited. Yup was founded in 2014 by Naguib Sawiris to make quality education affordable for everyone. Title 1 schools are entitled to a subsidized subscription plan and a free pilot. The website is backed by Sesame Street and Stanford University. App available in both iOS and Android.

Why Yup is a Top Student App: You don't have to make an appointment for a tutor. You get instant help. The online messaging system is also helpful for students who might be shy and have a hard time talking to someone in person. Yup Tutors all must pass an apprenticeship, so they are high quality. Tutors are encouraged to walk a student through the problem (instead of just give the answer) so you gain a real understanding.

Read: The NFL lineman who cracks helmets and math problems
Follow @YupTechnologies

Oxford Dictionary of English


The Oxford Dictionary of English has long been the most trusted English dictionary. The free mobile app includes features such as search autocomplete, keyword lookup, spelling correction, and camera search (looks up the word from your phone camera). Other fun tools include a "word of the day" section, "recent" list, and "favorites" feature. App available in both iOS and Android.

Why Oxford Dictionary of English is a Top Student App: Ideal for anyone who needs a comprehensive dictionary of current English at school, work, or home. Includes Voice Search feature (iOS 10 only), which allows users to speak to enter their word searches.

Read: Get Oxford Dictionary of English
Follow @MobiSystems

Gooroo


Gooroo (a play on "guru") is another platform helps connect students with tutors, or their personal "gooroos." Hourly cost varies per tutor. There are tutors available in over 650 subjects. You can choose to either meet online or in person. Gooroo was founded in 2015 by CEO Scott Lee. In high school, he founded his first non-profit tutoring platform to when he was struggling to learn English. Years later, he founded Gooroo to make a difference in the world. Scott himself regularly takes lessons on the app and tutors others. App available in both iOS and Android.

Why Gooroo is a Top Student App: Gooroo makes it easy to find, book and review tutors with just a few taps. Each tutor has their hourly rate displayed on their profile so you can easily find someone who fits your budget. All tutors are background-checked and attended top universities. Gooroo offers a money-back guarantee. If you're not happy with the session for any reason, you can email or call them and they will connect you with another tutor.

Follow @gooroo_official

Coursera


Always wanted to attend Princeton or Stanford? Coursera offers online courses from the world's top universities. When you complete a course ($29-$99 for regular courses, or $39-$79/mo for specializations), you receive an electronic certificate. Coursera also partners with certain universities to offer online accredited Masters Degrees in business, computer science and data science (admission is required and it can cost up to $25,000). Coursera was founded in 2012 by two Stanford Computer Science professors (Daphne Koller and Andrew Ng) who wanted to share their courses online for anyone to take. App available in both iOS and Android.

Why Coursera is a Top Student App: Take courses from the best universities without the heavy enrollment fees (or admission)! Anyone can take courses and earn credentials. The courses include recorded video lectures, auto-graded and peer-reviewed assignments, and discussion forums. And specializations include hands-on projects. There are a range of courses in the Arts and Humanities, Business, Computer Science, Data Science, Life Sciences, Math and Logic, Personal Development, Physical Science and Engineering, Social Sciences and Language Learning.

Read: Marketing Courses
Follow @coursera

Whiz Tutor


Whiz Tutor helps students find affordable, qualified tutors. Rates start at just $25 an hour. You specify the location and subject, and then select from a list of available tutors. Or you can contact them and Whiz Tutor will personally find you a tutor. The app offers tutoring in over 50 subjects, including math, science, English and language. It is based in Santa Clarita, CA, and founded in 2015 by Justin Clark (CEO) and cofounders Brett Clark and Ryan Rodriguez. Justin was trying to help his brother find clients to tutor, and that's when he came up with an idea to create a marketplace of tutors. App available only in iOS.

Why Whiz Tutor is a Top Student App: Whiz Tutor makes finding a tutor simple. In just three taps, you can find an affordable tutor in your area. Whiz Tutor's rates are generally lower because their goal is make tutors accessible to everyone. By this, they hope to improve education in the U.S. In the future, the company hopes to work with local governments to provide affordable private tutors to underdeveloped areas.

Follow @whiztutor

AccelaStudy
AccelaStudy is a free language app that develops vocabulary for everyday life. It is available in 18 languages. Founded by Renkara Media Group President Charles R. Sieg. His love of languages led him to create the company and AccelaStudy. App available only in iOS.

Why AccelaStudy is a Top Student App: Just about all schools now require you to learn a foreign language. Use Accela to supplement, practice, or just learn another language for fun. It uses tried and true study methods, such as spaced repetition, flashcards, and text and audio quiz. Vocab categories include: basics (colors, conversational, etc.), parts of speech (adjectives, adverbs and pronouns), the human body, nature and the outdoors, work, food and drink, and much more.

Quizlet


Quizlet allows students and teachers to create study materials and share them. It has over 175 million study sets shared by 20 million users. It is available in 15 languages and is complemented by Quizlet Live, an in-classroom collaborative game. It is free to use, but the full version costs $19.99/year. In 2007, founder Andrew Sutherland started this in high school when he created a tool to help study for a French vocab test. After ace-ing it, his friends asked if they could use the tool too, and the rest is history. App available in both iOS and Android.

Why Quizlet is a Top Student App: Users can either search through the millions of existing study sets or create their own. The app contains resources for all ages and subjects, even for standardized tests. Quizlet Learn (iOS only) will even help you keep on track by creating a personalized study plan and sending reminders.

Shmoop


Shmoop (a Yiddish word that means "to move something along a little bit") offers learning guides, test prep, and homework help. Students gain access to test prep guides (college exams and AP courses), free study guides, online courses, practice tests, and other study tools. Teachers get access to virtual classroom, individual and class analytics, and the assignments features. All subscription plans ($24.68/month of $150/year for students) come with a free trial period.

Shmoop is based in Silicon Valley and was founded in 2009. It started when entrepreneur and investor David Siminoff wrote and posted online study guides of popular books he loved in high school. App available in both iOS and Android.

Why Shmoop is a Top Student App: There are hundreds of detailed study guides available in all subjects. Most writers are teachers with PhD or Masters from top universities. Students will love the easy-to-read guides written in a funny, informal style. And teachers will love having an existing resource of study guides so they can spend less time on prep and more time on teaching. The company is partnered with schools to encourage technology-assisted education".

Read: Learning Guides
Follow @shmoop

MyScript MathPad


MyScript Mathpad (part of the MyScript platform) allows you to easily write math equations. You simply handwrite a formula and the app will digitalize it. You can export it as an image, or an in-app purchase allows you to export formulas as LaTEX or MathML. Founded in 1998 and headquartered in Nantes, France. App available only in iOS.

Why MyScript MathPad is a Top Student App: Math symbols and characters are impossible to type out. This app allows you to just naturally write math equations (as if on paper) and converts them into digital form. It recognizes a variety of handwritten text and adapts to your unique style and preferences.

Finish


Finish organizes your to-do list into short and mid-term goals. You just need to type in the task and the date it needs to be done. The app automatically calculates the duration and puts each task into a timeframe. As you work on tasks, Finish will auto-adjust all tasks and durations. Finish was created by two 16-year-olds (Ryan Orbuch and Michael Hansen) in Boulder, Colorado in 2013. They wanted an easy way to keep up with all their assignments. It won an Apple Design Award in 2013 at the iPhone Developer Showcase. App available in iOS.

Why Finish is a Top Student App: This is the perfect app for procrastinators or anyone who needs a little help managing tasks. It's strangely addicting to check off tasks. It is a free and easy way to organize your to-do list. You can opt to get notifications of when a task moves into a new timeframe. The simple design means less taps and more time to get things done.

Follow @getfinish

StudyBlue


StudyBlue is a crowdsourced learning platform with more than 350 million user-generated study material. The users create flashcards and study notes, and share them on the app.
You can use the basic account for free, but you won't get access to shared content. The "Pro" account is from $10/month, or a "Pro Annual" account is just $7/month per year. StudyBlue was founded in 2006 (originally called The Class Connection) by University of Wisconsin-Madison students Christopher Klundt and Dave Sargeant. It was renamed StudyBlue in 2009. App available in both iOS and Android.

Why StudyBlue is a Top Student App: Sharing notes and study guides is invaluable in college. After all, you can't expect to have jotted everything down yourself. You enter in your school, course name, and instructor, so you can find relevant notes for your exact class. The app is compatible on a wide variety of mobile devices, so you can download and study anytime. The "Homework help" feature allows you and other students to answer each others' questions.

Follow @studyblue

Schoology


In this digital age, Schoology is one of the best examples of a virtual classroom. It's a learning management system (LMS) for any grade. Even the corporate world can find it helpful. Schoology was founded in 2009 by four college students (Jeremy Friedman, Ryan Hwang, Tim Trinidad, and Bill Kindler) who wanted to create the ideal learning experience for both students and teachers. It was originally designed to share notes. App available in both iOS and Android.

Why Schoology is a Top Student App: Back in the day, once you leave school, there's no way to contact your teacher again until class the next day. Schoology makes it easy for teachers and students to communicate off-school hours. Students can participate in discussions and submit assignments through the app. Teachers can assign work, upload course material, answer questions, and even grade work. Now, the app is integrated with Google Drive too. Think of it as an one-stop-shop for students and teachers.

Follow @Schoology
More from CreditDonkey: