Saatva Mattress Review: Is It Good?
---
Saatva promises the sleep quality of luxury hotel beds at an affordable price. But are these hybrid mattresses any good? And how long do they last? Keep reading to find out.
Saatva is an online-only mattress store that aims to offer premium quality at a lower price.
Saatva only sells one mattress with 3 firmness levels, so there's no confusion over which type to buy. It is an innerspring mattress made with dual coils and memory foam to promote spine support, comfort, and airflow. It's handcrafted in the USA using all socially-conscious materials.
Is a Saatva a good mattress?
Saatva mattresses offer great quality at a budget price. It uses a hybrid coil and foam construction to deliver spine support and comfort for all sleeping positions. The parts are designed to withstand 10+ years of regular use.

Pros
No formaldehyde or other solutions known to cause allergies.
Two levels of coils to provide support and minimize bounce when your partner moves
3 firmness levels and 2 different heights
No physical stores means cheaper prices
Made with all eco-friendly materials
120 day trial
Free white glove delivery + mattress removal
Cons
Different construction from true "luxury" beds
Thin layer of foam lacks the feel of real memory foam
Can't try them out in stores
Costs $99 transportation fee to return
What are Saatva Mattresses Made of?

© CreditDonkey
Each Saatva mattress has a unique hybrid construction of memory foam and coil. Its "Spinal Zone" of wire support in the center properly aligns the back and distributes weight properly.
The result? A more restful night's sleep without back pain or stiffness in the morning.
Saatva ships your mattress free with their White Glove Delivery Service. They'll even haul away your old bed upon request. Read on to learn more.

Here's a breakdown of every layer of a Saatva mattress:
Base
The polyfoam first layer of the mattress acts as a support system for its double coil system. It also offers side support, keeping the mattress edges "up" even when you sit on the side of the bed.
Coil-on-coil structure
A layer of individually wrapped coil and a second hourglass configuration support your body and provide a higher level of motion isolation. This also promotes airflow throughout the mattress so you don't overheat while sleeping.

Why individual coils are better
Individual or "pocketed coils" do a better job of contouring to a sleeper's body for strong individual support. And since they aren't connected, pocketed coils create less motion transfer between sleepers. In other words, you won't feel it as much when your partner tosses and turns in their sleep.


Foam layer
This helps lessen the stiffness of the coil construction. The foam also offers lumbar support to eliminate pressure on the spine.
100% organic cotton cover
The top of the mattress resembles a Euro-style pillowtop bed. It creates a softer feel and has antimicrobial properties to prevent the growth of bacteria.
Saatva uses all conscious materials - from recycled steel for the inner springs to eco-friendly memory foam to organic cotton cover.
Do Saatva mattresses sleep hot? Saatva's innerspring system allows for airflow, which prevents the mattress from trapping heat and ruining the quality of your sleep. This breathability also helps clear the mattress of germs and dust mites.

What Type of Sleeper is Saatva Good for?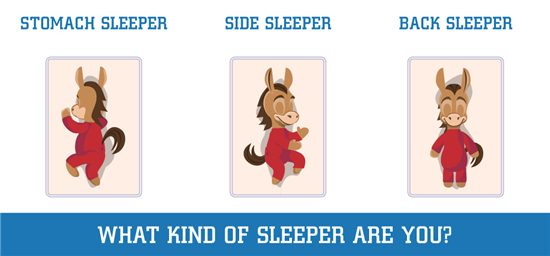 © CreditDonkey
Saatva mattresses come in three comfort levels for different kinds of sleepers:
1. Plush Soft
This mattress creates an "enveloped feeling" for those who prefer a more cushioned bed. Side sleepers would find that softer beds provide more contouring and better pressure relief at the shoulders and hips. Best for:
Side sleepers

Lighter body types
2. Luxury Firm
Saatva's "Flagship" mattress offers a balance of firmness and cushioned support comparable to the beds in luxury hotels. Best for:
Multiple sleeping positions

Couples
3. Firm
This mattress offers maximum support with little "sink." Back and stomach sleepers would find firmer mattresses keep your spine more naturally aligned, while keeping weight evenly distributed. Best for:
Stomach and back sleepers

Heavier body types
What's the best mattress for heavier body types? Saatva's Firm mattress offers more support for those who are heavier. The Plush Soft mattress works best for lighter body types.

How Tall Is It?

© CreditDonkey
Saatva offers 2 different mattress heights:
11.5'' custom slim

14.5" standard
Both heights promise the motion isolation and comfort of a foam bed with the firmness of coil springs.
Choose the right one for you based on your bed frame, available room space, and personal preference. Those with mobility issues may prefer a taller or shorter size to make getting in and out of bed easier.
What Does a Saatva Mattress Cost?
The cost of your mattress will depend on the size. You'll pay the same price no matter which comfort level or height you choose.
Twin - $599

Twin - $749

Full - $999

Queen - $1,099

King or Cal King- $1,499
An adjustable base, available for all 11.5-inch mattresses, will cost an extra $1,199–$2,498, depending on the size. You'll also pay more for a foundation (box spring) and frame.
Do Saatva mattresses go on sale?
Saata does not offer sales, coupons, or promo codes. Instead, they promise to deliver quality mattresses with transparent pricing.

Is There a Free Trial Period?
Saatva offers a 120 day trial period, which is a little bit longer than the standard 100 days offered by other mattress retailers.
You have 4 months to decide if you like the mattress. If not, request a pick-up for a full refund. However, there will be a $99 transportation charge, so it's not a completely free return.

How Long Do Saatva Mattresses Last?
Saatva constructs their mattresses to provide consistent comfort and support for 10–15 years. They provide a 15-year non pro-rated warranty to stand by their product.
In the first two years, Saatva Company will replace your mattress with a brand new one if its defective. In years 3-14, they will repair and re-cover the bed for a $99 transportation charge each way.
Can you flip a Saatva mattress?
Saatva mattresses are not meant to be flipped. But you should rotate your mattress regularly, especially if you sleep on the same side or in the same position every night. Mark your calendar (or the calendary app on your phone) to flip your bed every 3-4 months.

Is Saatva a Bed-in-a-Box?
The phrase bed-in-a-box typically refers to foam mattresses that are rolled, folded, or otherwise compressed to be shipped. These mattresses don't have springs or structural components like more traditional beds.
Saatva is not considered a bed-in-a-box. It's a hybrid mattress that contains spring and foam layers. That means it will be delivered to your door ready for you to sleep on.
Does a Saatva mattress need a box spring?
You should use a box spring with your Saatva mattress. The company recommends purchasing the mattress and foundation together through their website. However, if you have a used box spring in good condition, it should offer sufficient support.

Common Complaints (and Solutions)
Delivery Issues
These range from late or slow delivery in some areas to damaged or dirty mattresses.

Solution: Contact customer service at 1-877-672-2882.

Regarding delivery, Saatva offers a choice of delivery dates and a 4-hour window for convenience. However, mistakes or delays can still occur. In the case of damaged items, you can return the item or order a replacement to be delivered at no cost.
Does Saatva have a showroom?
Saatva is an online-only retailer—that means you won't find any brick and mortar stores to test out their mattresses.

Wrong Firmness Level
Since Saatva mattresses can't be texted before purchase, customers sometimes report that their bed is either too soft or firm for their needs.
Solution: Take advantage of the free trial.

You can request a pick-up for a full refund—minus a $99 transportation charge—for 120 days after purchasing your new mattress.
Customer Service Problems
Some buyers report being dissatisfied with the help they received from Saatva reps in resolving their concerns.
Solution: Ask to speak to a different agent.

Though Saatva prides itself on customer service, it's always possible that you may have an unpleasant interaction. If so, politely ask to be transferred to someone else. Or try emailing customer service to detail your issue.
What mattresses are used in luxury hotels?
Most hotel brands have exclusive deals with manufacturers to provide for their guests. These include:
The Four Seasons Mattress by Simmons Bedding Company

The Marriott Bed by Jamison

Westin Hotel's Heavenly Mattress and Box Spring by Simmons

Hilton Serenity Mattress by Serta
Where to Buy a Saatva Mattress
Since Saatva doesn't sell their mattresses in stores, you'll need to order one through their website.
Simply select your desired:

Height

Comfort level

Size

Base, foundation, frame (optional)
You can pay with a credit card, PayPal, or Amazon Pay. Saatva also offers 0% financing through Klarna. Saatva lets you cancel your order without a fee any time prior to the delivery day. Keep reading to learn more.
Where are Saatva mattresses made? Saatva builds it mattresses in the U.S. with locally sourced materials. They have 19 independent factories and 145 fulfillment centers nationwide.

Delivery
Saatva offers free "white glove" delivery and set-up of your new mattress. They'll also remove up to two pieces (usually the mattress and box spring) of your old bed at no cost.
Choose your delivery day and receive a 4-hour arrival window. Once they show up with your mattress, drivers will wait an additional 20 minutes in case of delays.
What does Saatva stand for?
Saatva comes from the Sanskrit sattva, a word meaning "purity."

Bottom Line
The Saatva mattress isn't for everyone. But if you are a budget-conscious consumer looking for a high-quality mattress, it may be worth giving them a try.
More from CreditDonkey: