Best Hardware Stores: Top Home Experts
---
Find your go-to place the next time you need to improve your house. Winners of the CreditDonkey Best Hardware Stores Award have been announced.

Best Hardware Store © CreditDonkey
Top Hardware and Home Makeover Store You Must Visit
Hardware stores are treasure troves of useful stuff. You go in for one thing and end up with several things that can improve your home or your everyday life. The hardware store landscape has changed so much in recent years - the mom-and-pop store on Main Street has given way to multiple stores in convenient locations near your home, and there's a seemingly endless number online that you can access for truer convenience.
That's why we've come up with this list - to help consumers narrow down their choices when they're in the market for tools that will transform their home or their yard, or something on a smaller scale, like the space above their fireplace. It's what we do: Help consumers spend their money wisely at good stores that provide value. Knowing the best hardware stores is especially important when you're in the process of buying a home: Where will you go after you save up for that fixer-upper you've been eyeing, or how will you DIY the problem areas in your existing house?
Keep this list handy and you'll know exactly where to go when it's time to go to the hardware store, either in person or through your favorite device. Read on for the Best Hardware Stores.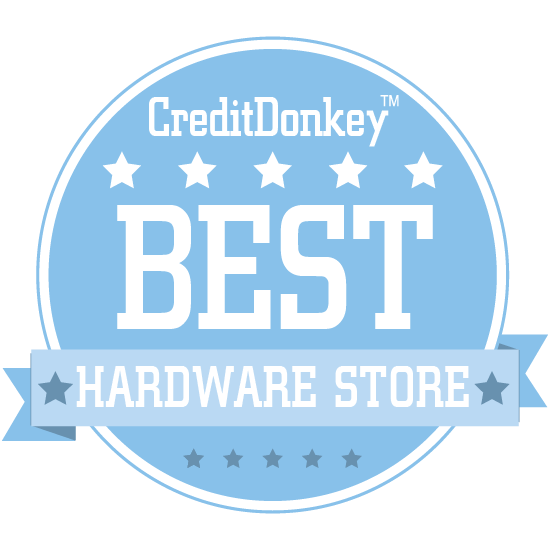 Best Hardware Store © CreditDonkey
Grainger


Grainger Industrial Supply has been in business for 90 years, and they offer 1.5 million items for sale through their website.

Why Grainger is Top Hardware Store: With their industry-leading product availability, you can secure next-day delivery or same-day pickup at one of their hundreds of branches around the country. You can order online, of course, or in-person, over the phone, or with their app, and they offer free technical support for their products 24/7.

Read: Focus on Preventive Maintenance for Success
Follow @grainger

Ace Hardware


Ace Hardware is a nationwide hardware chain that sells what you need for home improvement and more.

Why Ace Hardware is Top Hardware Store: With frequent sales online and in-store, you can save money by price shopping with Ace. If you head to one of their locations, you can take advantage of the range of services they offer, from key cutting to paint matching and more.

Read: Ace Hardware statement on North Dakota protest and product sales
Follow @AceHardware

True Value


True Value Hardware Stores offer great prices and discounts on everything from hardware to housewares. President and CEO John Hartmann brings over 15 years of corporate experience to True Value, including 11 in the home improvement/hardware retail sector, having most recently served as CEO of the New Zealand-based cooperative Mitre 10.

Why True Value is Top Hardware Store: With seasonal sales on items you need when winter or summer roll around, you'll be able to rack up the savings. DIY enthusiasts will also love their website's Projects section, which is packed with detailed how-to's for weekend warriors.

Read: Exclusive Trolls Easycare Paint Colors & Primer
Follow @truevalue

Rocky Mountain Hardware
Rocky Mountain Hardware and its expert craftsmen hand-cast custom art-grade bronze architectural products, including cabinet + door hardware, lighting, tile, kitchen and bath fittings, and more

Why Rocky Mountain Hardware is Top Home Makeover Resource: They also offer a specialized range of door handles, from antimicrobial fixtures to beautiful, one-of-a-kind custom creations. With each piece they create (touched by no less than 30 hands during the process), Rocky Mountain Hardware is your destination for high-quality custom home fixtures and features.

Read: Door Sets Gallery


Fastenal


Fastenal provides companies with the tools and supplies they need to manufacture, build, and keep their employees safe.

Why Fastenal is Top Hardware Store: Their local teams work closely with customers to provide smart supply chain solutions and create improvements that help businesses thrive. They don't just aim to make a sale; they align themselves with their customers and work to make them even more successful.

Read: FAST Solutions Onsite
Follow @fastenalcompany

Town Hardware and General Store


Town Hardware and General Store in Black Mountain, NC, combines a traditional hardware store with a general store that offers hard-to-find items, including toys, housewares, and outdoor supplies. Town Hardware and General Store has been owned by Peter and Beth Ballhaussen since 2013, who aim to honor the store's history of great service and wide product selection.

Why Town Hardware and General Store is Top Hardware Store: Occupying three historic buildings dating back to the 1920s, they combine the practicality of a hardware store with the fun "old timey" sights, sounds, and smells of a general store. Of course, if you can't make it to North Carolina, you can always shop their online store for nostalgic home decor, practical hardware, and more.

Follow @townhdwe

Hardware Sales
Hardware Sales, based in Bellingham, WA, specializes in repair of Honda and Stihl power equipment in addition to retail and industrial hardware sales. Hardware Sales is a family business, having been passed down from Max and Alta McClellan to their son Jerry, daughter LaDonna, and grandson Ty.

Why Hardware Sales is Top Hardware Store: In their online store, you can shop everything from power tools to electronics to office furniture. If they don't have what you're looking for, just call their great customer service reps and they'll order it for you.

The Shade Store


The Shade Store is your online destination for window dressings, including blinds, shades, curtains, and everything in between.

Why The Shade Store is Top Hardware Store: You can even order beautiful custom drapery from them and choose from 8 distinct styles and over 500 textiles from around the world. If you're looking for window inspiration, you can check out their website's content or visit one of their showrooms located throughout California.

Read: Free Samples For Window Treatments
Follow @theshadestore

Build.com


Build.com offers big savings on home improvement supplies and fixtures, all available online.

Why Build.com is Top Hardware Store: They have a huge selection to choose from, with multiple styles of fixtures ranging from French Countryside to Industrial. They also have an ongoing clearance section available on their website to help you save on bathroom, kitchen, living room, and other supplies for redecorating and remodeling.

Read: Careers At Build.com
Follow @buildcom

Frager's Hardware Store


Frager's Hardware in Washington, DC, has been named City Paper's best hardware store in the city for 4 years running, and has been locally owned and operated since 1920.

Why Frager's Hardware Store is Top Hardware Store: They offer everything you need for home improvement, repair, and renovation projects, and they even offer local delivery straight to your door for a low fee. Their store also includes a garden center for your green thumb, as well as rentals on everything from bubble machines to jack hammers.

Read: Frager's Hardware Bargains & Sales
Follow @fragers

BuildDirect


BuildDirect specializes in flooring, decking, roofing, and siding supplies, with a wide selection offered at low prices - sometimes up to 50% off retail. BuildDirect was founded in 1999 by Jeff Booth and Rob Banks, who aim to simplify the home improvement industry by giving homeowners online access to all of the products they love.

Why BuildDirect is Top Hardware Store: If you're having trouble deciding on what to buy, they'll ship up to 5 free product samples to your door so you can check them out in person. Once they've got your order, they will coordinate with you to ensure that you receive your products exactly where and when you need them.

Read: The 15 Best Architects in Tulsa OK
Follow @builddirect

HDW
Hardware Distribution Warehouses, Inc., is an employee-owned, wholesale hardware building products distributor that serves over 2,000 businesses in the Mid-South United States.

Why HDW is Top Hardware Store: They service lumberyards, hardware stores, farm and ranch outlets, and more with their fleet of trucks from Alabama to Oklahoma. They also offer frequent closeout items at rock-bottom prices, and a whole selection of "Profit Plus" items with great margins.

Hand-Eye Supply


Hand-Eye Supply offers tools, books, and clothing that are built for practical purposes, but also look great.

Why Hand-Eye Supply is Top Hardware Store: Located in downtown Portland, Oregon, they bring creative minds the hard-to-find, fun-to-use supplies they love. With their tools, aprons, and even kitchenware all available both in-store and online, you can have the most beautiful selection of hardware around.

Read: International Business Development Officer
Follow @handeyesupply

Bliffert Lumber and Hardware


Bliffert Lumber and Hardware in Wisconsin is a source for high-quality building materials and services for anyone planning a remodel, DIY project, or construction undertaking.

Why Bliffert Lumber and Hardware is Top Hardware Store: They know how important it is to have the materials you need, when you need them, and strive to bring you everything you need in a timely fashion. You can order their lumber, moldings, and hardware supplies online, and pick them up in-store at one of their 7 locations in Wisconsin.

Follow @BliffertLumber

Porcelanosa


Porcelanosa offers high-end kitchen and bathroom fixtures as well as tile and hardwood flooring.

Why Porcelanosa is Top Hardware Store: Founded over 40 years ago, their beautiful natural stone tiles and mosaics can all be sampled before you buy. You can visit their website to find inspiration, check out their lifestyle magazine for more ideas, or stop by a showroom and speak to one of their experts for remodeling advice.

Follow @Porcelanosa_en

TreeHouse


TreeHouse is the first home upgrade company. TreeHouse is your one-stop shop for sustainable home improvement and hardware supplies, offering high-performance projects with a low environmental footprint. CEO Jason Ballard studied ecology and biology and worked in green building along the front range of Colorado, where the idea for TreeHouse was born out of a desire for more sustainable living options.

Why TreeHouse is Top Hardware Store: TreeHouse is regarded as one of the most innovative retail companies, creating positive change and a hub for everything tied to thoughtful building. Customers come to find progressive products, quality design, turnkey installation services and leading-edge technology, all under one roof. They'll work within any aesthetic to fit your price range, whether you're updating your floors, putting a fresh coat of paint on your home, or remodeling your kitchen. They also offer a range of outdoor products designed to keep your yard eco-friendly, helping you capture rainwater and improve the health of your soil.

Read: Shop at TreeHouse
Follow @treehouseonline

Empire Today


Empire Today offers carpet, hardwood flooring, and window treatments at rock-bottom prices, and they'll install them for you too.

Why Empire Today is Top Hardware Store: They make the whole process easy, with free in-home estimates, online shopping, samples shipped to your door, and even next-day professional installation. They carry quality, name-brand products, but their great manufacturer relationships enable them to offer everything at a great value.

Read: New Laminate Collection
Follow @empiretoday

McLendon Hardware


Since 1926, McLendon Hardware has been providing the Pacific Northwest with the home improvement tools and supplies they need.

Why McLendon Hardware is Top Hardware Store: Their website features DIY project ideas, their expert-led workshop schedule, and plenty of online-only deals to save you money. McLendon's gardening center is another highlight, filled with gardening tips for Puget Sound green thumbs and ideas for garden projects.

Read: Digital Deals
Follow @mymclendons

National Lumber
National Lumber supplies lumber, building materials, and engineered wood products to New England. Overseen by owners Steven and Margie Kaitz, along with President Manny Pina, National Lumber has been in business since 1934.

Why National Lumber is Top Hardware Store: Not only do they offer building materials, but they also provide in-house design and engineering services, and they will work with you to address any problems and concerns prior to construction. With nine lumberyards and stores in three states, if you're building in New England, chances are there's a nearby National Lumber waiting to help.

Read: Babel's Paint & Decorating division of The National Lumber Family of Companies


Associated Building Supply


Associated Building Supply provides high quality windows and doors to homeowners, contractors, and builders all over California. Associated Building Supply, founded by Christopher Cole in 1993, has since grown to be one of California's most trusted dealers of high-end window and door products.

Why Associated Building Supply is Top Hardware Store: Their employees are experts in their top quality products, which are all required to meet their strict criteria, and their customer service stands by ready to answer all of your questions. They'll guide you through the process of finding the perfect doors and windows for your home, and even recommend trustworthy contractors to finish the job for you.

Follow @ABSiTweets

Randy's Hardware


Randy's Hardware in Virginia is a hometown hardware store that provides all the tools and supplies you'll need while remaining engaged in their community. President and Owner Randy Andes began his hardware career at 16, and has owned and operated his stores for the past 15 years.

Why Randy's Hardware is Top Hardware Store: Whether you need a new toolbox or your school fundraiser could use a boost from a local business, Randy's Hardware should be your first stop in Timberville and Bridgewater. They even run a fun (Cr)after Hours program where you can learn some fun DIY projects and build great things for your home.

Read: DIY Saturday
Follow @randysdoitbest

Community Forklift


Community Forklift in Edmundston, Maryland, is a huge self-serve reuse warehouse, carrying materials from just about every era as well as modern and vintage tools, hardware, and more.

Why Community Forklift is Top Hardware Store: Packed with everything from antiques to gently-used brick, reclaimed lumber, countertops, and tile, this is a one-stop shop for thrifty and environmentally-conscious builders, contractors, DIYers, and decorators. You can check out their eBay and Etsy stores to order online, or visit in person to find whatever you need. This nonprofit relies on donations of reusable building materials - they accept items like cabinets, doors, working appliances - and even entire buildings! They'll pick up for free, and donations are tax-deductible.

Read: Community Forklift is on HGTV TONIGHT
Follow @commforklift

Marin Ace
Marin Ace in San Rafael, California, is a Marin County hardware store packed with great deals on everything from tools to plants for your greenhouse.

Why Marin Ace is Top Hardware Store: You can visit their website to view their great deals, or stop by and pick up a Yeti cooler for your trip to the beautiful Marin wilderness. Marin Ace is also well-known for its community work; the store makes frequent charitable donations to organizations in the area.

Follow @marinacehw

Davis-Hawn Lumber Co. & Architectural Millworks
Davis-Hawn Lumber Co. & Architectural Millworks in Dallas offers just about everything you'll need for your next remodel or renovation.

Why Davis-Hawn Lumber Co. & Architectural Millworks is Top Hardware Store: From paint to plumbing to electrical and all the tools in between, lumber is just the tip of the iceberg at Davis-Hawn. Their website is also an excellent resource for budget-friendly DIY projects, with links to tons of ideas big and small.

Monk's


Monk's Home Improvements serves Northern New Jersey with pride, offering the highest quality customer service with free estimates for your project with no hidden costs or fees.

Why Monk's is Top Hardware Store: With painting services, flooring and carpentry projects, and remodeling all on offer, Monk's is a one-stop home improvement shop you can rely on. Take a gander at their website to view some of their completed projects and read up on their excellent customer service features.

Follow @MonksNJ

District Hardware and Bike


District Hardware and Bike in Washington, DC, is a family-owned, community-focused establishment with traditional hardware products and a range of bicycle services.

Why District Hardware and Bike is Top Hardware Store: If you want to rent a bike to explore the nation's capital, or get your own bike fixed or tuned up, the experts at District Hardware are here for you. They also offer a wide array of high-quality biking gear and accessories at great prices; check out the sale section on their website.

Read: Book Online
Follow @dchardwarebike

Beck & Benedict Hardware
Beck & Benedict Hardware in Waynesboro, Pennsylvania, offers not only hardware supplies, but model train products, a glass shop, and even monthly bluegrass concerts.

Why Beck & Benedict Hardware is Top Hardware Store: Serving Waynesboro for the past 115 years, customers can buy as much or as little as they need here, down to a single screw. They even feature an antique market offering a wide range of collectibles, from furniture to pottery to LPs and more.

Old Portland Hardware & Architectural
Old Portland Hardware & Architectural in Portland, Oregon, is packed with vintage and antique architectural pieces that have stood the test of time.

Why Old Portland Hardware & Architectural is Top Hardware Store: They believe in sustainability and the charm and personality of items that have been made with care, and this is reflected in their unique inventory. They don't have an online store, but if you're making your way to Portland you should stop by and see their incredible collection of vintage decor, windows, doors, light fixtures, and much more.

W.S. Jenks & Son


W.S. Jenks & Son of Washington, DC, has been selling hardware, tools, and machinery in the capital city since 1866.

Why W.S. Jenks & Son is Top Hardware Store: They offer over 100,000 items for woodworking, electronics, telecommunications, and more, all with worldwide delivery available. Visit their website to search their inventory or check out their daily sale items today.

Follow @wsjenks

MODA Floors & Interiors
MODA Floors & Interiors has two locations in Atlanta offering flooring of all kinds, window treatments, and more.

Why MODA Floors & Interiors is Top Hardware Store: If you want to use their products to visualize your new room, you can do it without even visiting their store by uploading a photo to their website. And if you don't have time to visit their showroom, one of their pros can come to your home for a free flooring consultation.

Follow @modaatlanta

Truckee-Tahoe Lumber Company
Truckee-Tahoe Lumber Company in California is the premier supplier of lumber, tools, and hardware in the Tahoe/Reno area.

Why Truckee-Tahoe Lumber Company is Top Hardware Store: With the Northern Sierra's largest and deepest lumber inventory and a knowledgeable staff, they stand ready and waiting to provide insight and advice for your next project. In addition to lumber, they also offer a wide selection of tools, decking, fencing, siding, and much more.

Read: KidZone Museum Truckee


Crest Hardware Store


Crest Hardware Store in Williamsburg, Brooklyn, offers everything you'd expect from a True Value hardware store, as well as a massive 5,000 square foot garden center. Founded in 1962 by Manny Franquinha, Crest is now run by his son Joseph with a dedication to great service and a focus on the innovative.

Why Crest Hardware Store is Top Hardware Store: Voted the Village Voice's Best Hardware Store in NYC, Crest is a family business that's been providing top-notch customer service for over 50 years. They also support their community, hosting numerous events like their annual pumpkin carving contest and party as well as an art show packed with hardware-inspired art by over 150 artists from Williamsburg and beyond.

Follow @CrestHardware

Garber Hardware
Garber Hardware has been serving the West Village and Manhattan since 1884, making it one of New York's oldest existing mom-and-pop shops.

Why Garber Hardware is Top Hardware Store: They bring their customers just about anything they could need, from grilling supplies to tools to plumbing equipment and beyond, and if they don't have it, they'll happily order it for you. Their historic, warehouse-style West Village location also offers a compelling reason to stop in: it's a unique space worth experiencing all on its own.

Follow @Garberhardware

Bolyard Lumber
Bolyard Lumber is one of the top suppliers of upscale building supplies in Southeast Michigan, and has been family-owned and operated for four generations.

Why Bolyard Lumber is Top Hardware Store: Bolyard offers high-grade materials for decking, flooring, doors, cabinets, and more, in addition to a range of green products. Their special services include interior trim design, custom cabinet design, and more, and they'll deliver to anywhere within the state of Michigan.

Tashman Home Center


Tashman Home Center in Los Angeles offers up over 20,000 hardware and building supplies, with a curated selection of only the finest manufacturers' materials at a fair price. Founded by Charles Tashman in 1961, Tashman Home Improvements is now operated by his grandson Kenny, who's been helping out at the store since he was 7 years old.

Why Tashman Home Center is Top Hardware Store: With a store in West Hollywood, they service the greater LA area. Their experts are ready to help you find the products you need and install them on-site. If you'd rather shop online, their eCommerce store carries over 60,000 unique items to choose from.

Read: Dog Doors & Pet Screens
Follow @TashmanHardware

Tum-A-Lum Lumber


Tum-A-Lum Lumber has been providing building materials and expert assistance to contractors, builders, and DIYers in Washington State since 1906. Tum-A-Lum Lumber was founded by J.M. Crawford, and is now owned by his great-granddaughter Susan Cornelius and her husband Bill.

Why Tum-A-Lum Lumber is Top Hardware Store: With three locations and a huge selection of top brands, Tum-a-Lum is here to provide you with any products you need for your next project, along with the services you'll need to get it done. Their website even features DIY project tutorials and links to manufacturer instructions for many of their products, so you'll never be at a loss for how to proceed.

Follow @tumalum

Clark-Devon Hardware


Clark-Devon Hardware, in the heart of Chicago's North Side, has been bringing professionals and consumers alike the right tools for any job since 1924.

Why Clark-Devon Hardware is Top Hardware Store: They offer not only all the tools and hardware you need for your next project, but a wide range of rental supplies, from air compressors to carpet cleaners to saws and sanders. Their website also features some handy DIY tutorials, including tips for beginners who are preparing to use new tools.

Follow @ClarkDevon

Baldwin Hardware Direct
Baldwin Hardware Direct of West Reading, Pennsylvania, provides plumbing and lighting supplies in addition to a range of beautiful decorative hardware.

Why Baldwin Hardware Direct is Top Hardware Store: Their range of high-tech door handle sets that can open your front door with the power of Bluetooth (or with keypad entry) are as beautiful as any traditional door fixture, for example. They also boast excellent customer service, with free shipping on all online orders over $99 and an easy 90-day return policy.

McKinney Welding Supply
McKinney Welding Supply has been serving the New York City area for over 70 years, providing both welding supplies and compressed gases.

Why McKinney Welding Supply is Top Hardware Store: They offer expert assistance with welding tools, as well as rentals and repairs to ensure you can get the job done when you need to. McKinney is also your one-stop shop for compressed gases, from propane for your next grilling session to medical-grade nitrous oxide and oxygen.

High Country Home Improvement
High Country Home Improvement in Golden, Colorado, is staffed by remodeling and building experts who are passionate about providing top-quality design and construction. Founder, owner, and general contractor Rob Gabriel spent years as a Superintendent of New Construction in Kansas City, MO, before launching his own business.

Why High Country Home Improvement is Top Hardware Store: Using superior materials and craftsmanship, they can transform your kitchen cabinetry or bathroom, add a room to your home, finish your basement, or do any other home improvement job you require. They'll work with you to find the perfect design, bring you detailed estimates and realistic time frames, and minimize waste to keep costs low.

Chapel Lumber
Chapel Lumber in Elmira, NY, has everything you need for your next building or home improvement project, whether hardware, tools, door knobs, or, of course, lumber.

Why Chapel Lumber is Top Hardware Store: Their knowledgeable staff is always on hand to answer any of your questions, and they can even arrange to ship any purchase to your door if need be. Their staff averages over 20 years of experience, and can guide you through their showroom or help you design your new kitchen to your specifications.

Sunset Ridge Home & Hardware
Sunset Ridge Home & Hardware in San Antonio, Texas, provides quality products for home improvement, decor, and more in the heart of Alamo Heights.

Why Sunset Ridge Home & Hardware is Top Hardware Store: With painting supplies, grills, hardware, home decor, kitchen goods, and much more, if you need something for the home, chances are you'll find it here. They even bring their customers a large range of in-store services, including key cutting, knife sharpening, bridal registry, and much more.

Rainier View Construction & Roofing


Rainier View Construction & Roofing in Enumclaw, Washington, is a one-stop shop for residential home improvements that prides itself on excellent customer service.

Why Rainier View Construction & Roofing is Top Hardware Store: They specialize in outdoor updates, including metal and composite roofing, siding, windows, decks, and more. Offering detailed proposals, factory prices, and certified installers for every project, they go above and beyond to satisfy every customer.

Read: Seattle's Best Home Improvement Company
Follow @rainierviewcr
More from CreditDonkey: