Best in Mortgages: Top Loan Experts
---
Figuring out where to get a mortgage and educating yourself about all things home loans is just as difficult as deciding which house to buy. Let us be your guide with this Best in Mortgages list.

Best in Mortgage © CreditDonkey
Best in Mortgages
Shop around — it's our unofficial mantra. You need to always shop around to make sure you're spending money wisely, whether it's to purchase a diamond ring, sign up for a credit card, or apply for a mortgage. It's a huge deal to take on such a hefty loan — you want to be sure you're making a smart choice and getting favorable terms and rates.
This list of the Best in Mortgages — culled from the many mortgage-related companies out there — will help you get up to speed on lenders and brokers who help with run-of-the-mill mortgages and reverse mortgages. Educate yourself about the best mortgage participants in the industry, and you'll be on your way to making a smart choice about one of the most expensive loans you'll ever make. Read on for the Best in Mortgages.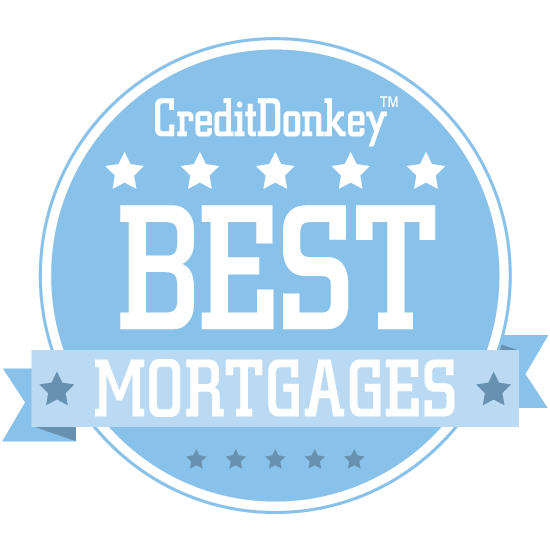 © CreditDonkey
Inland


Inland Group is one of the largest commercial real estate and finance groups in the country, as well as a business incubator. Principal and Chairman Daniel L. Goodwin was previously the founder of Retail Properties of America REIT and has been in the real estate industry for over 45 years.

Why Inland is a Top Mortgage Resource: They work to create, develop, and support their member companies, all of which provide commercial real estate-related services and alternative investment funds, from their Chicago headquarters. Their members also share their market knowledge and experience, resulting in a one-stop resource for their clients.

Read: The Inland Real Estate Group of Companies, Inc. Announces More Than $600 Million of Capital Raised in 2016 for Its Alternative Investment Funds
Follow @InlandGroup

RUPCO


RUPCO believes that everybody deserves affordable, sustainable, quality housing and works to create homes and build diverse, thriving communities. CEO Kevin O'Connor has 28 years of experience in the nonprofit sector, and had developed over 150 units of affordable housing prior to joining RUPCO in 2002.

Why RUPCO is a Top Mortgage Resource: They can help you buy a house you can afford, educate you on the process of homebuying, avoid foreclosure, and more. By expanding access to homes, they're giving families more opportunities to thrive and building strong, safe communities.

Read: HomeOwnership Center Online Orientation Video
Follow @RUPCO_

loanDepot


loanDepot aims to simplify the lending experience by matching borrowers with the right loans using technology and high-quality customer service. Chairman and CEO Anthony Hsieh is a trusted industry veteran who played a pivotal role in the creation of companies like LoansDirect.com, E*TRADE Mortgage, and LendingTree prior to creating loanDepot.

Why loanDepot is a Top Mortgage Resource: They're disrupting the finance world by blurring the lines between mortgage and non-mortgage credit, and are committed to leveraging the latest finance technology to empower their consumers. They can provide home equity loans and mortgage refinancing, and purchase and personal loans, and you can visit their website to get a quote or learn more about their options.

Read: Scotsman Guide ranks loanDepot as #1 Top Retail Volume Mortgage Lender in the U.S
Follow @loanDepot

Gate City Bank


Gate City Bank in North Dakota offers locally-approved, locally-financed, and locally-serviced mortgage loans to their consumers.

Why Gate City Bank is a Top Mortgage Resource: With a First Time Homebuyers program, conventional loans with both fixed and adjustable rates, a 12-month interest rate guarantee, and more, they have options for everyone. Novice homebuyers can also visit their site to learn more about the terminology and methodology of the mortgage industry from their handy guides.

Read: Auto Loans
Follow @gatecitybank

HashChing


The Australian company HashChing is bringing variable and fixed home loan deals and rates from local mortgage brokers to provide you with better deals.

Why HashChing is a Top Mortgage Resource: They connect their clients directly to mortgage brokers to negotiate better rates with lenders, at the same time saving you time and hassle. Their app lets you search for a home loan just like you'd shop online for anything else and get connected with local brokers, all for no charge.

Read: Hashching Home Loan Deals
Follow @HashChing

Lending Home


Lending Home provides home financing tailored to your specific needs, whether you're looking to refinance, buy your first home, or flip a home. Co-founder and CEO Matt Humphrey is a serial entrepreneur who has founded six startups and launched Lending Home in 2013 with the hope of redefining the mortgage process.

Why Lending Home is a Top Mortgage Resource: They'll help you find your rate with a few simple questions and get you pre-approved quickly so you can get your keys and start moving in. They cut out a ton of paperwork, too; no more hunting down documents, no fax machines, and no phone calls—just quick, simple service.

Read: Jobs
Follow @lendinghome

Prime Purchase


UK-based Prime Purchase is a property-buying agency, working only on behalf of buyers to ensure their interests are always protected.

Why Prime Purchase is a Top Mortgage Resource: Their experts work with buyers through every stage, finding great purchasing opportunities, checking every detail of potential properties, and helping them win every negotiation. They bring an expert eye and analytic approach to their work, meaning they never recommend a client purchase a property unless they truly believe it's a sound investment.

Read: Put schools at the top of your property search and go to the top of the class
Follow @PrimePurchase

Thorofare Capital


Thorofare Capital is a commercial real estate loan origination and servicing company with a focus on $3 million to $100 million financing transactions. CEO Kevin H. Miller is responsible for the oversight of all aspects of the firm; he began his career in commercial real estate insurance with Arthur J. Gallagher & Co.

Why Thorofare Capital is a Top Mortgage Resource: They target opportunistic acquisitions, distressed debt, recapitalizations and more, and have invested more than $1.38 billion in 28 states. Thorofare's offerings include short-term bridge loans, medium-term whole loans, and institutional loans.

Follow @thorofarecap

New View Advisors LLC


New View Advisors LLC offers up capital markets and investment banking solutions tailored to the reverse mortgage industry. Co-founder Michael K. McCully is an investment banker who brings more than 35 years of experience to New View; co-founder Joseph J. Kelly is a veteran securitization professional with a focus on prime mortgage assets.

Why New View Advisors LLC is a Top Mortgage Resource: Using their sophisticated loan-level cash flow analytics, they can provide structuring and asset valuation, new product development, principal advisory work, and much more. Their clients include commercial banks, mortgage companies, hedge funds, investment banks, and many other types of financial institutions.

Read: New View Advisors
Follow @mkmccully

California Reinvestment Coalition


The California Reinvestment Coalition is building a fair, inclusive economy by ensuring that banks and corporations invest in a just, equitable way. Executive Director Paulina Gonzalez has been fighting for economic and social justice for over 2 decades, organizing campaigns for worker and immigrant rights, low-income rights, and more.

Why California Reinvestment Coalition is a Top Mortgage Resource: Since 1986, they have been advocating for equal access to credit for all California communities by meeting with bank executives, pushing legislation forward, working with grassroots allies, and more. Together with their partners, they're securing more reinvestment for low-income communities and communities of color throughout California.

Read: Bank Agreements
Follow @CalReinvest

W Financial
W Financial is a New York City commercial real estate lender that has the expertise needed to help clients with complex, unusual, and time-sensitive loans. Founder and Managing Partner Gregg Winter created W Financial in 2004 after 14 years in the mortgage loan business, and is also the owner and CEO of the commercial mortgage advisory firm Winter & Company.

Why W Financial is a Top Mortgage Resource: They specialize in bridge loans ranging from $1 million to over $50 million, and aim to give their clients rapid access to the capital they need to close their deals. Their professionals have been originating and servicing bridge loans for over 25 years, helping their clients achieve their short-term goals so they can continue toward their long-term success.

Barry Slatt Mortgage
Barry Slatt Mortgage of Northern California is one of the premier commercial mortgage bankers in the nation, and prides itself on building meaningful relationships with both borrowers and lenders. CEO Daniel Friedeberg has been working in real estate and financial services since 1992 and with Barry Slatt Mortgage since 1994.

Why Barry Slatt Mortgage is a Top Mortgage Resource: With 45 years of experience, they have built deep, strong relationships with a huge network of lenders that their clients can access. With their experience and expertise in the complicated, constantly-changing real estate landscape, you'll find the right capital solution for your needs.

MIAC


MIAC Analytics is a mortgage industry advisory corporation, providing pricing, risk management, and accounting solutions for mortgage and financial services companies.

Why MIAC is a Top Mortgage Resource: They offer customized software solutions for data analysis, hedge advisory services, asset brokerage, and more. If you or your company is interested in learning more, they're always happy to run a free demo of any of their products or services so you can see how they work.

Read: Performing, S&D Loan Sale
Follow @MIACAnalytics

Timbercreek
Timbercreek is a global asset manager focused on real estate and other alternative asset classes. Senior Managing Director and CEO Blair Tamblyn brings over 20 years of expertise in public and private capital markets to Timbercreek, which he co-founded in 1999.

Why Timbercreek is a Top Mortgage Resource: They maximize value with their investment philosophy and hands-on asset management platform, working to be the first to identify opportunities to generate sustainable cash flow for their investors. Their platform boasts experts in direct real estate, property management, debt investments, and global real estate securities, and invest in almost all kinds of real estate in major North American markets.

Read: Timbercreek Asset Management Closes Canadian Multi-Residential Value-Add Fund at $245 Million


Parkside Lending
Parkside Lending is a wholesale and correspondent lender whose suite of mortgage products will help your customers' deals close so they can move into their dream homes faster. CEO Matt Ostrander has built multiple companies from the ground up; he founded Parkside Lending in 2004 and helped guide it successfully through the mortgage crises of 2007 and 2008.

Why Parkside Lending is a Top Mortgage Resource: They pride themselves on treating each client with care and integrity, and that, combined with their expertise, products, and technology, means they help mortgage professionals close more loans than ever before. They never work in the retail platform, which means they will never compete for their clients' business.

StreamLoan


StreamLoan's digital mortgage software gives lenders the power to close loans faster than ever before.

Why StreamLoan is a Top Mortgage Resource: Rather than taking 40+ days to close, StreamLoan's solution consolidates the process into a simple, secure digital and mobile app. You can use it to connect everyone involved in a sale, including real estate agents, buyers, and sellers, streamline your lead management process, and keep customers happy with snappy service.

Follow @streamloan1

CommLoan


CommLoan is one of the largest commercial real estate lending marketplaces out there, with access to hundreds of lenders and thousands of loan programs. Co-founder and CEO Mitch Ginsberg has over 25 years of experience in finance and accounting, while co-founder and Chairman Marc Mirbod brings 34 years in real estate development and management to CommLoan.

Why CommLoan is a Top Mortgage Resource: This one-stop shop gives you unprecedented access to capital markets, and their Cupid feature will match you to the best available commercial loan to suit your needs. Just complete a quick loan application, speak to one of their credit managers, and within minutes you'll receive a prequalification certificate.

Read: CommLoan Adds Two Industry Veterans to Executive Leadership
Follow @CommLoan

USA Mortgage


USA Mortgage's team of experienced professionals works to help homebuyers lock in the right mortgage for them. President and CEO Douglas A. Schukar took ownership of USA Mortgage in 2001 and has built it into one of the top-rated mortgage lenders in the St. Louis area.

Why USA Mortgage is a Top Mortgage Resource: As a full-service home loan financing center, they pride themselves on providing top-quality service and transparency in their products. They want all of their customers to be their customers for life, and provide a personal touch in their interactions with their customers.

Read: O'Fallon Branch
Follow @usamortgagehq

Guild Mortgage


Guild Mortgage is a home mortgage and refinancing company with a wide range of services for both first-time and long-time homeowners. President, CEO, and Partner Mary Ann McGarry began her career with Guild Mortgage in 1984 and quickly rose through the company's ranks as one of the key strategy drivers.

Why Guild Mortgage is a Top Mortgage Resource: They have stayed in business for 56 years by providing a focus on finding the right loans for each individual customer, closing on time, and providing great customer support well after the ink is dry. Whether you're a first-time homebuyer, looking to refinance an existing mortgage, or you're selling a home, they have products that will suit your needs.

Read: Find Branches and Loan Officer Near You
Follow @guildmortgageco

Ocwen Financial Corporation (Ocwen)
Ocwen Financial Corporation serves over 1.5 Americans as a mortgage servicer, offering personalized customer service and home financing options. President and CEO Ronald M. Faris has served as Ocwen's CEO since 2010 and its President since 2001, and previously worked at PricewaterhouseCoopers LLP and held leadership positions at Kidder, Peabody & Co., Inc.

Why Ocwen Financial Corporation (Ocwen) is a Top Mortgage Resource: Their aim is to help each and every one of their consumers save money over the long run, build equity, and above all, stay in their homes. You can visit their website to learn how they can help you refinance your home loan, get great rates on your first-ever mortgage, or cash in on your home's equity with a reverse mortgage.

Read: Ocwen Delivers Borrowers Solutions Through the U.S. Department of the Treasury's New Streamlined Modification Program


Harbor Mortgage Solutions, Inc.
Harbor Mortgage Solutions, Inc., which operates in Massachusetts and Rhode Island, offers both conventional and reverse mortgages. Founder George Downey has over 40 years of mortgage industry experience and is a Director on the board of the National Reverse Mortgage Lenders Association.

Why Harbor Mortgage Solutions, Inc. is a Top Mortgage Resource: If you're considering refinancing your current home or purchasing a new one, their personal touch will help guide you through the whole lending process. They specialize in reverse mortgages, allowing seniors to convert home equity into cash without selling their house.

New England Title & Escrow Services
New England Title & Escrow Services handles everything regarding residential real estate conveyance, including title insurance, escrow services, purchase and sale review, and much more. CEO and Founder Hugh J. Fitzpatrick, III has nearly two decades' worth of Real Estate Law experience and oversees all of New England Title & Escrow's operations.

Why New England Title & Escrow Services is a Top Mortgage Resource: Using a secure, streamlined digital channel, they can close on homes with unparalleled speed and accuracy. Thanks to their top-notch technology and professional experts, they offer a superior customer experience, a shorter time to close, and more savings.

Getarate


Getarate is the country's first non-commissioned home lender, striving to be the open, transparent mortgage company that today's educated, savvy consumers crave.

Why Getarate is a Top Mortgage Resource: By eliminating commissions, Getarate has gotten rid of a suspicious motivating factor that had begun poisoning the mortgage industry, aiming to provide honest, unincentivized advice to their clients. They can get you pre-approved in 30 minutes, assemble your mortgage plan in just seven days, and have you on your way to closing before you know it.

Read: How To Pick A Team Of Home Buying Pros
Follow @GetARate

Business Finance Group
The Business Finance Group is a non-profit, 504 lender financing commercial real estate, helping to make business expansion dreams come true for their clients. President and CEO Rick Frank brought 35 years of banking and SBA experience to the Business Finance Group with his appointment in 2016.

Why Business Finance Group is a Top Mortgage Resource: With a team of highly experienced professionals, they manage all phases of the SBA 504 loan process and work closely with both the business owner and the lender to make everything run smoothly. Their SBA 504 loans are long-term, low down payment, and fixed rate, and are built to encourage healthy businesses to keep growing and creating jobs.

Read: 1000 Down Program


Arcus Lending


Arcus Lending offers homebuyers custom-tailored advice for their financial situation on top of low rates and great customer service.

Why Arcus Lending is a Top Mortgage Resource: First-time homebuyers will be in good hands with Arcus, whose industry resources offer second-to-none guidance and education. They'll even shop the best lenders for you and get you the lowest possible rate, saving you a ton of hassle and headache.

Follow @ShashankTweets

Shellpoint Partners
Shellpoint Partners is bringing the next generation of lending solutions to the mortgage industry with the goal of reviving responsible home ownership in America. Co-CEOs Saul Sanders and Bruce Williams also serve on the Board of Directors and were previously a co-founders of C-BASS in 1996.

Why Shellpoint Partners is a Top Mortgage Resource: Founded in 2010, they were built with the express purpose of correcting the deep-rooted issues that led to the mortgage crisis, and have continued to grow and thrive with a clean transaction history and zero legacy issues. They work within the framework of government and traditional loans, but their expertise has also allowed them to built entirely new portfolio products for the next generation of homebuyers.

RANLife Home Loans


RANLife Home Loans offers home refinancing and purchase programs, 100% home financing and more, with a commitment to helping all of their customers save thousands through the years.

Why RANLife Home Loans is a Top Mortgage Resource: If you visit their website, you can apply for a home loan online in mere minutes, or find an agent to speak to about your needs. Their site is also an excellent educational resource for first-time homebuyers, with an informational blog and a "Mortgage 101" section to teach you everything you need to know.

Follow @RANLife

Amerinote Xchange


Based in San Francisco, Amerinote Xchange is a direct business and mortgage note buyer specializing in the acquisition and management of mortgage notes, land contracts, trust deeds, and more. Founder and CEO Abby J. Shemesh began his career in mortgage originations with IBG Financial and Empire Mortgage Services Inc., before founding his company in 2006.

Why Amerinote Xchange is a Top Mortgage Resource: They work with the goal of providing note sellers and owners with a sound exit strategy and great execution. Their aim is always to provide the seller liquidating an asset with the largest possible amount of cash, making them a preferred choice for mortgage note sellers.

Read: Private Mortgage Note Investing
Follow @amerinotex

Fast Forward Stories


Fast Forward Stories makes branded explainer videos for mortgage, real estate, and title companies that need business content marketing.

Why Fast Forward Stories is a Top Mortgage Resource: A single, well-made branded video can increase conversions by as much as 80%, and Fast Forward Stories has tons of videos ready and waiting for your brand. You can subscribe and use any of their videos, or pay a one-time fee to brand and download a single video of your choice.

Read: Real Estate
Follow @fastfwdstories

First Cal Mortgage
First Cal Mortgage works closely with all of their customers, guiding them through the entire mortgage process. President and CEO Chris Hart is principal and director of Standard Trust Deed Service, RSVP, and FCMC Insurance Agency, and restarted First Cal Mortgage in 2002.

Why First Cal Mortgage is a Top Mortgage Resource: From application to approval, they're here to ensure that your home buying process is not only easy, but enjoyable. They'll give you a dedicated mortgage advisor who works to tailor your mortgage to your needs, and their fully in-house support team will close your loan quickly.

Read: Wide Variety of Programs
Follow @firstcal

Willow Bend Mortgage Company


Willow Bend Mortgage Company guides their customers through the mortgage process with professional, reliable service, transparency, and efficiency.

Why Willow Bend Mortgage Company is a Top Mortgage Resource: With offices across the states of Texas and Alabama, they pride themselves on building meaningful relationships with their clients and putting their interests first. Their website also features a number of handy mortgage resources, like informational handouts, mortgage calculators, and online quotes.

Read: Willow Bend Mortgage Company
Follow @wbmtx

Hunt Mortgage Group
The Hunt Mortgage Group focuses on financing commercial real estate across the United States with non-recourse direct lending and by arranging financing. President and Chief Investment Officer James P. Flynn joined Hunt Mortgage Group in 2007 after practicing real estate law at Gibson, Dunn & Crutcher and working as an investment banker at Lehman Brothers.

Why Hunt Mortgage Group is a Top Mortgage Resource: They offer tailored solutions for multifamily properties, affordable and manufactured housing, retail and industrial sites, and much more. They offer their own proprietary loan products, as well as any offered by Fannie Mae, Freddie Mac, and the Federal Housing Association.

Read: Hunt Mortgage Group Finances the Acquisition of a Multifamily Property Located in Orlando Florida


NFM Lending


NFM Lending offers a diverse culture, unparalleled service, and a transparent and seamless loan process with the goal of making your home ownership dreams a reality. CEO David Silverman founded NFM Lending in 1998 and has grown it into a multi-state lender with over 300 employee. He was previously a serial entrepreneur who owned and operated several small businesses.

Why NFM Lending is a Top Mortgage Resource: They work hard to close most loans in 30 days without sacrificing the quality of the loan, and their committed staff is on hand to answer your questions and assuage your concerns day or night. Visit their website now to learn how they can help you buy your first home and refinance your existing mortgage.

Read: NFM Lending Welcomes Ben Burkett to our Glen Allen
Follow @NFM_Lending

Fairway Independent Mortgage Corporation


Fairway Independent Mortgage Corporation out of Charlotte, North Carolina, prides itself on taking the time to learn about you and your family's goals to help you find the best loan for your new home.

Why Fairway Independent Mortgage Corporation is a Top Mortgage Resource: They promise a personal touch in their customer service, honesty and transparency throughout the loan process, and to close your loan on time with perfect accuracy. They even offer an app, Fairway Now, that makes it easier than ever to apply online and scan documents simply by snapping a photo with your phone.

Read: September Homebuyer Success Stories
Follow @fairwaycltnc

Bank of Internet USA


Bank of Internet USA is your online home for low mortgage interest rates, a $0 lender fee, and great customer service with mortgage experts ready and waiting to answer all your questions.

Why Bank of Internet USA is a Top Mortgage Resource: They provide their customers with a comprehensive range of mortgage solutions, whether they want to buy a new home or refinance their current home loan. Check out their website to view their homebuyer's guide, get rate quotes for a mortgage or a refinancing, or learn more about their custom mortgage products.

Read: Home Buying Process
Follow @bofi_usa

Network Capital Funding Corporation


Network Capital Funding Corporation has made their lending process as streamlined as possible, closing in as quickly as 15 days.

Why Network Capital Funding Corporation is a Top Mortgage Resource: They also offer zero lending fees and low, competitive rates alongside transparency and guaranteed top-notch customer service. Their licensed home loan experts will always be on hand to explain your options in detail and help you choose the best option for your needs and goals.

Read: Los Angeles Mortgage Refinance Mortgage Loan Payment Calculator
Follow @networkcapital

New Mexico Bank & Trust
New Mexico Bank & Trust offers a wide range of mortgage products to choose from to meet your specific needs so you can get the home of your dreams.

Why New Mexico Bank & Trust is a Top Mortgage Resource: With conventional loans, VA loans for veterans and reservists, first-time buyer loans, and much more, you'll find a product that will help you reach your home ownership goals. The number of options available may even seem overwhelming, but their mortgage professionals are on hand to answer your pressing questions and provide guidance in a pinch.

Guardian Mortgage Company


Guardian Mortgage Company is committed to its guiding principles of honesty and integrity, and is exclusively focused on residential home loans. President Mischelle Weaver directs Guardian Mortgage's day-to-day operations and has over 36 years of mortgage expertise in a variety of roles.

Why Guardian Mortgage Company is a Top Mortgage Resource: This allows them to work smarter and with greater expertise than other lenders in the market while offering low rates and excellent mortgage servicing at the same time. On their website, you can apply for a loan or refinancing, or just learn more about the entire mortgage process with checklists, infographics, and other educational resources.

Read: Guardian Mortgage Online
Follow @Guardianmtg

VRM Mortgage Services
VRM Mortgage Services has been delivering solutions for the mortgage industry's toughest challenges since 2007.

Why VRM Mortgage Services is a Top Mortgage Resource: For example, their solutions for residential mortgages work to address the challenges of a rapidly changing industry, delivering operational excellence that reduces your organization's exposure to risk. These solutions include asset management and deposition, eviction management, inspection, short sale services, and much more.

National Family Mortgage


National Family Mortgage offers a smart way to manage mortgage loans between family members.

Why National Family Mortgage is a Top Mortgage Resource: Just complete their simple online application, review and sign the documents, register them, and you're off and running. This can help you build closer family relationships while building family wealth and preventing the IRS from taking a cut with gift taxes.

Follow @FamilyMortgage

First Commerce Financial
First Commerce Financial of Michigan provides competitive rate quotes to suit your family's needs, thanks to their one-on-one approach to customer service.

Why First Commerce Financial is a Top Mortgage Resource: They'll listen to you and work within your financial situation to come up with the right mortgage solution for you. Go to their website now for a free rate quote, or to check out their homebuyer's guide to learn about each step of the process.

Read: Get a Free Mortgage Rate Quote Online Instantly in Michigan


Academy Mortgage Corporation


Academy Mortgage Corporation is one of the nation's largest mortgage lenders, delivering exceptional mortgage service with a 100% focus on retail mortgage banking.

Why Academy Mortgage Corporation is a Top Mortgage Resource: As a direct lender, they keep all operations under their roof and have the tools and resources to expedite all processes, resulting in loans that close quickly and efficiently. In addition, this allows them to maintain their commitment to responsible lending practices and transparency.

Read: Mortgage rates rise in wake of Trump victory
Follow @academymortgage

Angel Oak Mortgage Solutions


Angel Oak Mortgage Solutions provides non-agency and specialized mortgage solutions for brokers around the nation, which provides consumers with unique flexibility when applying for home loans.

Why Angel Oak Mortgage Solutions is a Top Mortgage Resource: Their technology allows for paperless submission, the ability to track loan status, and dependable communications to keep operations running smoothly and efficiently. These solutions can empower you to expand your product offering and build your business up with unique programs your competitors don't have.

Read: The Atlanta Journal Constitution Names Angel Oak Companies A Top Workplace Winner Of The Atlanta Metro Area
Follow @angeloakms

Lancaster Pollard Mortgage Company
Lancaster Pollard Mortgage Company brings their clients access to more options than the competition, like non-conventional loans with government enhancement programs. CEO Nicholas M. Gesue has been with Lancaster Pollard since 2000 and has been instrumental in its growth since that time. For the past six years, he has been helping set the direction of company with the executive committee.

Why Lancaster Pollard Mortgage Company is a Top Mortgage Resource: These programs are great financing alternatives for healthcare, senior living, and affordable housing properties, and Lancaster Pollard has unique expertise in them. Their experience ensures that your loan closes on time so you can focus on what's most important: your business' success.

Read: How Seniors Housing Supply and Demand is Adjusting to Meet the Next Generation

A.S.A.P. Mortgage Corp.
A.S.A.P. Mortgage Corp. provides its customers with a boutique mortgage experience, including 25 years of experience on staff and access to over 40 nationwide lenders. A.S.A.P. Mortgage Corp. was founded by Irene Amato, who has over 30 years of experience in the real estate and finance industries.

Why A.S.A.P. Mortgage Corp. is a Top Mortgage Resource: They serve the needs of real estate professionals, builders, and individual home buyers in New Jersey, New York, and other states in the Eastern U.S., and offer a wide array of mortgage products. Their dedicated loan specialists are always on hand to help clients find the right loans, with great terms, rates, and costs that fit their needs.

Read: Events
Follow @amatoasap

PrivatePlus Mortgage


PrivatePlus Mortgage offers personalized mortgage servicing to clients nationwide, helping them find a loan that's 100% tailored to their needs.

Why PrivatePlus Mortgage is a Top Mortgage Resource: Their dedicated professionals will seek out the best rates and terms and present you with the options that suit your needs, but they don't stop once the ink is dry. They also offer private mortgage management, helping you save money by actively reaching out when new opportunities come up.

Read: Bistra Ninkova Krumova
Follow @PPMortgage

Zions Bank


Zions Bank is all about fast, easy, and local finance services, offering a variety of mortgage solutions and proven local expertise.

Why Zions Bank is a Top Mortgage Resource: Operating in Utah and Idaho, their home loan officers will work directly with you to ease the difficulty of the home buying process and help you find out what kind of mortgage is right for you. They'll answer any and all mortgage questions every step of the way, ensuring transparency and a great price.

Read: Home Equity Line of Credit Loans in Utah and Idaho
Follow @zionsbank

The Federal Savings Bank


The Federal Savings Bank offers an unmatched array of mortgage products and services designed to suit any homebuyer's need. CEO, Founder, and Chairman Steve Calk currently serves as a Senior Economic Advisor to the President-elect of the United States and is a nationally recognized expert in finance, economics, and residential real estate.

Why The Federal Savings Bank is a Top Mortgage Resource: Whether you're a first-time buyer or a veteran, shopping for a house or a condo, or just looking to refinance, they have the expertise and the solutions you need. They offer a focus on education and a dedication to expanding home ownership in America, and are invested in ensuring that you understand every step of the mortgage process.

Read: Young home owners planning for the future: Here's how to start
Follow @thefedsavbank

Prosperity Home Mortgage, LLC


Prosperity Home Mortgage, LLC has over 150 branches in 12 states throughout the Eastern United States, and pride themselves on providing extraordinary local service. President and CEO Tom Wilson has 22 years of finance experience in various roles at World Savings and Wachovia, where he served as executive vice president and director of wholesale lending.

Why Prosperity Home Mortgage, LLC is a Top Mortgage Resource: With their Buyer Advantage program, anyone shopping for a home can get much of the financing process out of the way and get an underwritten commitment letter before they even start their house hunt. Visit their website to apply for a mortgage loan online, learn more about their realtors, and check out their many loan options.

Read: Basics of Buying
Follow @phmloans

Royal United Mortgage


Royal United Mortgage is a privately held National Mortgage Lender that prides itself on educating clients about the loan programs they're investing in and easing the process with excellent customer service.

Why Royal United Mortgage is a Top Mortgage Resource: By providing their newly-informed consumers with a range of choices, competitive pricing, and expert guidance, they rise above the competition. They work hard to understand each and every client's long- and short-term financial goals, communicate regularly to ensure all questions are answered, and provide transparency at every stage of the lending process.

Read: Working With an Experienced REALTOR
Follow @royalunited

PeoplesBank


PeoplesBank provides a personal touch for their mortgage borrowers as the largest community bank in the market. President and CEO Thomas Senecal brings over 25 years of financial services industry experience to PeoplesBank, having served as its Executive Vice President and Chief Operating Officer in the past.

Why PeoplesBank is a Top Mortgage Resource: They offer fast, easy home financing, making it simple and hassle-free for their consumers to find a mortgage that works for them. You can choose to meet with a local mortgage consultant, or apply and get pre-qualified online at any time, day or night.

Read: Business Tips & Tactics
Follow @bankatpeoples

Evergreen Home Loans


Evergreen Home Loans provides great service and affordable home loan and mortgage rates in the Western United States. President Don Burton built Evergreen from its first small Seattle office into a company with over 40 branches thanks to his passion for transforming the mortgage experience for his customers.

Why Evergreen Home Loans is a Top Mortgage Resource: They operate as a local mortgage lender, offering top-notch mortgage services that provide a complete solution for their consumers. They originate, fund, and service all loans for their customers, and provide mortgage solutions for their business partners, banks, and credit unions, as well.

Read: Prepare yourself with the right tools before you shop
Follow @EvergreenHomeLn

Mortgage Cadence


Mortgage Cadence is a leader in mortgage lending software that offers a comprehensive suite of solutions for lenders. President and COO Trevor Gauthier has been with Mortgage Cadence since 2005, and has worked in financial services and mortgage banking since 2000 with companies like 3T Systems, Lion, Inc., and Clear Channel Communications.

Why Mortgage Cadence is a Top Mortgage Resource: Their enterprise-grade loan origination software provides all the tools companies need to efficiently manage compliance and close loans quickly. They also offer a broad range of solutions for document preparation and delivery, electronic document imaging, collaborative real estate finance transactions, and more.

Read: Careers
Follow @MortgageCadence

RPM Mortgage


RPM Mortgage offers expert advice, an easy process, and speedy service whether you're buying a home or refinancing.

Why RPM Mortgage is a Top Mortgage Resource: They have loan products for any first-time homebuyer, and always aim to educate their customers to turn them into financing and housing market experts so they can make informed decisions. For experienced homebuyers, they seek to get to know each person individually, learn what they're looking for in a home, and provide a custom-planned roadmap to getting it.

Read: How To Build Good Credit As A Young Person
Follow @rpmmortgage

Underwood FX
Underwood FX is a financial consulting firm that brings highly specialized trading market intelligence to their clients all over the world. CEO and Founder Keith Underwood has over 25 years of experience in the global foreign exchange market and has earned a reputation as a top-notch FX derivatives portfolio manager.

Why Underwood FX is a Top Mortgage Resource: Created to meet the increasing demand for true market insight, their knowledge is provided by market experts who are highly regarded by their peers in all respects. They can deliver litigation intelligence, data solutions, trading analysis, and much more for their clients.

Read: Blog Large Sidebar


The Money Source


The Money Source is a national correspondent and mortgage loan servicer specializing in direct-to-agency loan securitization.

Why The Money Source is a Top Mortgage Resource: Their products include conventional, FHA, VA, and USDA loans, all serviced with easy, convenient technology. The Money Source prides itself on top-notch customer service, focusing on great relationships with all of their clients and fostering a positive company culture.

Follow @TheMoneySource

JVM Lending


JVM Lending offers a top-notch borrower education service, easy pre-approval, and transparent refinancing so their clients are always in the know. Founders Jay and Heejin Kim Voorhees bring over 40 years of combined real estate experience to JVM Lending.

Why JVM Lending is a Top Mortgage Resource: Their experts can get you fully pre-approved in just 24 hours, are fast enough to close in 15 days, and are available to answer your questions and concerns 7 days a week. They also get a whopping 90% of their offers from realtors thanks to their fair, friendly practices, speed, and organization.

Read: First Time Homebuyers Workshop March 1
Follow @JVM_Lending

The 2 Mortgage Guys


The 2 Mortgage Guys bring decades of combined experience and a down-to-earth, personal touch to their clients. The 2 Mortgage Guys are Steve DeLon and Ryan Minick, who have been in business together since 2006 and bring passion and enthusiasm to their business.

Why The 2 Mortgage Guys is a Top Mortgage Resource: On their website, you can calculate your mortgage, apply for a home loan, or get pre-approved in no time at all. They also offer a blog packed with great information, articles, and videos for both first-time and experienced homebuyers.

Read: Did You Sustain Property Damage During the Kokomo Tornadoes?
Follow @2mortgageguys

All Shores Mortgage


All Shores Mortgage is a Long Island mortgage company that can help you buy a home or refinance or consolidate your debt.

Why All Shores Mortgage is a Top Mortgage Resource: Their team is made up of longtime Long Island residents who know the area well and are ready and waiting to treat you like part of the family. With over 20 years of expertise plus tons of online resources and education to get you started, you'll be in safe, secure hands with All Shore.

Follow @AllMtg

360 Mortgage Group


360 Mortgage Group is a 100% online, middleman-free mortgage company that saves homebuyers time and money.

Why 360 Mortgage Group is a Top Mortgage Resource: It's free to apply, most of their loan programs have no lender fees, and you can do it all in minutes from the comfort of your own home. They provide you with simple, clear instructions and get you approved in as little as 15 minutes, and if you need help, they have live chat available, too.

Follow @360mtg

Detroit Home Mortgage


Detroit Home Mortgage lets qualified borrowers get a mortgage for up to $75,000 more than the appraised value of a home.

Why Detroit Home Mortgage is a Top Mortgage Resource: This empowers them to buy a move in-ready home, buy a fixer-upper to renovate it, or refinance to afford repairs on a home they already own. They're aiming to solve the still-ongoing housing crisis in the city of Detroit by allowing folks to borrow on the true value of a home rather than the appraised value.

Follow @dethomemortgage

Community Reinvestment Fund, USA (CRF)


Community Reinvestment Fund, USA is a non-profit organization that provides capital to struggling communities and neighborhoods. The President and CEO of CRF is Frank Altman, who is also a founding member and first President of the Board of Directors of the New Markets Tax Credit Coalition.

Why Community Reinvestment Fund, USA (CRF) is a Top Mortgage Resource: They can provide small businesses with loans to help them grow and create jobs, increase affordable housing, develop community resources, and so much more. It all starts with a loan, be it to a small business or a local non-profit, and in turn these organizations work to improve their communities, bringing more money and business to the area.

Read: Community Reinvestment Fund
Follow @crf_usa

Advantage Real Estate


Advantage Real Estate is a full-service mortgage broker and real estate firm for Los Angeles, primarily serving the West Side and Beach City areas.

Why Advantage Real Estate is a Top Mortgage Resource: Using the latest technology and a deep knowledge of the local real estate market, they provide top-notch service to their clients. Visit their website to check out their listings and investment opportunities, or visit their blog to learn more about the Los Angeles real estate market.

Read: 541 Grand Blvd, Venice, CA 90291
Follow @WeAreRealEstate
More from CreditDonkey: