Best Museums Worth Traveling For
---
Here's the start of a bucket list you'll want to save. These are the Best Museums in the United States worth a visit.

Best Museums © CreditDonkey
Top Must-Visit Museums Worth Traveling For
The best museums are transformative - they take you to another world or another time and teach you things you didn't know but will always remember. In just one location, you can enjoy beautiful artwork, see a collection of unusual or fascinating items, or go on an historical journey without having to go in a time machine.
When it seems like practically every town and city in America has a museum, it's hard to decide which ones you should take the time to visit. Which museums are worth your dollars and vacation or day trip hours?
We're helping you come up with the definitive list of museums you'll want to visit at least once in your lifetime. The fun part is building an itinerary around these museums.
Need to save up for your next trip? Take a look at these travel rewards credit cards that make earning points or miles for hotels and airfare to museum destinations easy and fun.
At CreditDonkey, we help frequent travelers and once-a-year vacationers make the most of their time away from home. Spending your money wisely means spending your time wisely too. These museums are worth your time if you enjoy learning about other cultures, other periods of time, and interesting subjects.
Read on to see which of the museums in our "best of" list belong on your must-visit list.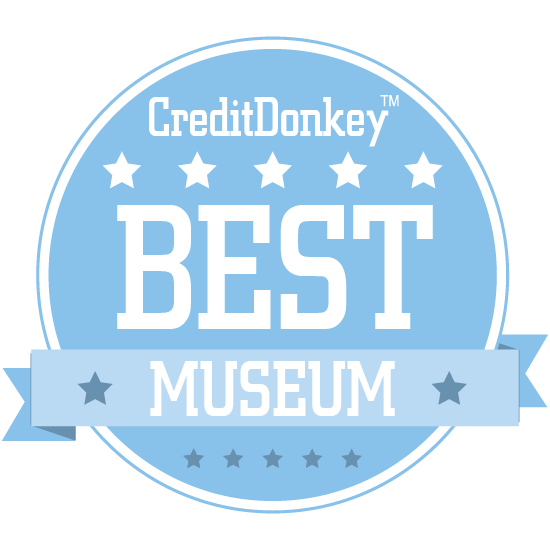 Best Museum © CreditDonkey
The Metropolitan Museum of Art
The world renowned Metropolitan Museum of Art in New York City displays more than 5,000 years of art at its three locations in the city.

Why The Metropolitan Museum of Art is a Top Museum: Founded in 1870, the museum is widely known as "The Met." Highlights from its permanent collection include centuries-old manuscripts, religious artifacts, and even fashion articles from around the world. Much of the collection is also available online, along with information about current and upcoming special exhibits.

Read: Honoré Daumier
Follow @metmuseum

Brooklyn Museum


New York's Brooklyn Museum is one of the largest museum's in the country and is well known for its comprehensive and wide-ranging collections that spans 5,000 years of human creativity from cultures in every corner of the globe. Collection highlights include the ancient Egyptian holdings, renowned for its objects of highest world-class quality, and the arts of the Americas collection, which is unrivaled in its diverse range from pre-Columbian relics, Spanish colonial painting, and Native American art and artifacts to 19th- and early 20th-century American painting, sculpture, and decorative objects.

Why Brooklyn Museum is a Top Museum: Founded in 1823 as the Brooklyn Apprentices' Library Association, the Brooklyn Museum's original architectural design was intended to be the largest single museum structure in the world. In addition to its impressive collection of American art, the museum also houses the Elizabeth A. Sackler Center for Feminist Art, which is dedicated to the study and exhibition of feminist art and is the only curatorial center of its kind.

Read: We Wanted a Revolution: Black Radical Women 1965 - 85
Follow @brooklynmuseum

Whitney Museum of American Art


Gertrude Vanderbilt Whitney founded the Whitney Museum of American Art in 1930 out of a desire to support living American artists. To this day, her 600-piece personal collection is the heart of the museum's 21,000-piece permanent collection. Great-granddaughter of railroad and shipping tycoon Cornelius Vanderbilt, Gertrude Vanderbilt Whitney was a significant patron of the arts as well as an accomplished sculptor.

Why Whitney Museum of American Art is a Top Museum: The Whitney is the preeminent art institution for twentieth-century American Art. The museum's new building opened in 2015 and better enables the Whitney to expand its commitment to innovation in the arts. The Whitney has been first in many respects: it was the first museum to establish corporate-funded branches that allow the museum to take its exhibitions and programming beyond its walls; it was the first museum dedicated to living American artists; and it was the first museum in New York to host a major exhibition by a video artist (1982).

Read: Immersive Cinema and Art 1905 - 2016
Follow @whitneymuseum

The Tech Museum of Innovation


The Tech Museum of Innovation in San Jose, California, known as "The Tech," is an interactive, technology-centric museum for the whole family. Their mission is to "inspire the innovator in everyone.

Why The Tech Museum of Innovation is a Top Museum: Silicon Valley is home to many commercial hubs of innovation. The founders of The Tech wanted to bring that spirit into a museum where kids (and kids-at-heart) can learn by experience about everything from biotech to cyber security. The award-winning museum welcomes more than half a million visitors every year. The museum also has an IMAX dome theater and host engineering-design challenges and events to engage the local community.

Read: Introducing Sensory Friendly Hours
Follow @TheTechMuseum

National Museum of Women in the Arts


The National Museum of Women in the Arts in Washington, DC, houses a collection of more than 5,000 pieces exclusively by women artists. Works by Frida Kahlo and Alma Thomas are among the collection's highlights.

Why National Museum of Women in the Arts is a Top Museum: The National Museum of Women in the Arts is the only major museum in the world solely dedicated to championing women through the arts. Housed in a beautiful Renaissance, revival-style building in Washington, DC, the National Museum of Women in the Arts uniquely celebrates the achievements of women in the arts. The museum also houses a library and a research center. The Great Hall of the museum is a popular venue for weddings and formal corporate functions thanks to its beauty and grand setting.

Read: Women's March on Washington
Follow @womeninthearts

Children's Museum of Indianapolis


The Children's Museum of Indianapolis, Indiana, seeks to use artifacts from all over the world to create memorable educational experiences for each child that enters.

Why Children's Museum of Indianapolis is a Top Museum: Covering more than 29 acres, the Children's Museum of Indianapolis is the largest children's museum in the world. From dinosaur fossils to props from Transformers, every child can find inspiration and learn something new from their visit.

Read: The Exhibit
Follow @tcmindy

The Andy Warhol Museum


One of the four Carnegie Museums of Pittsburgh, Pennsylvania, The Andy Warhol Museum opened in 1994. Known as "The Warhol," the museum is charged with keeping Andy Warhol's legacy alive in the city of his birth and beyond by displaying his work and maintaining his archival collections.

Why The Andy Warhol Museum is a Top Museum: The Warhol's collections include hundreds of paintings, sculptures, prints, photographs, videos and films by the famous artist. But your visit will begin with a short video called Andy Warhol: 15 Minutes Eternal, which introduces you to his life and art. Visitors to The Warhol can also create their own Warhol-inspired Screen Test.

Read: Warhol's Visit to Fighter's Heaven
Follow @thewarholmuseum

Museum of the City of New York


Located on Fifth Avenue, the Museum of the City of New York aims to connect the city's past, present, and future. In addition to its permanent collections, the museum hosts various traveling exhibits and programs for the city's school children.

Why Museum of the City of New York is a Top Museum: The Museum's collection includes many unique items related to the city, including a suit worn to George Washington's Inaugural Ball and some of the earliest maps of the city.

Read: Archaeology of the Lovelace Tavern
Follow @museumofcityNY

Anchorage Museum


Alaska's largest museum tells the real story of the North through its art and design, history, science and culture. Explore Alaska Native cultures with a collection from the Smithsonian Institution. An expansive interactive history gallery tells the story of Alaska. A hands-on science discovery center has marine life tanks, a planetarium and more. The Anchorage Museum Store is named among the world's 10 best by Conde Nast Traveler. Anchoragemuseum.org for hours and rates. Downtown Anchorage, corner of 6th Ave & C St.

Why Anchorage Museum is a Top Museum: Highlights of the Anchorage Museum include an interactive exhibit on Alaska's native cultures and the Thomas Planetarium. A new permanent exhibit that tells the story of Alaska from multiple perspectives opened in the fall of 2017.

Read: Alaska Exhibition
Follow @anchoragemuseum

National Women's History Museum


The National Women's History Museum aims to build a museum on the national mall in Washington, DC. It would be the first museum in any nation's capital city to focus on the history of the country's women and their contributions to its society.

Why National Women's History Museum is a Top Museum: Today the organization raises funds and awareness for the cause of obtaining a permanent site for the museum on the national mall, and hosts online exhibits about various aspects of women's history. You can donate online or shop the online museum store to help further the cause.

Read: A History of Resilience and Resistance
Follow @womenshistory

Bay Area Discovery Museum


The Bay Area Discovery Museum in Sausalito, California, offers exhibit spaces and educational programming for children 6 months to 10 years of age. From art studios to outdoor play areas, BADM is truly a place where imaginations can run wild.

Why Bay Area Discovery Museum is a Top Museum: One highlight at BADM is a maker space, complete with 3D printers, laser cutters, and vinyl cutters, designed especially for 5-10 year olds. The museum also offers a variety of drop-in programs and activities, many of which are included with the price of admission.

Read: Goblin Jamboree
Follow @BADM_org

The Florida Holocaust Museum


The Florida Holocaust Museum in St. Petersburg, Florida, opened in a temporary space in 1992, which it quickly outgrew. The museum's two permanent exhibits, "History, Heritage, and Hope" and "Kaddish in Wood," together with several temporary exhibit spaces, draw more than 65,000 people a year. The museum is supported by several noteworthy Holocaust scholars. Thomas Keneally, author of Schindler's List, joined the Board of Advisors and Elie Wiesel was named Honorary Chairman.

Why The Florida Holocaust Museum is a Top Museum: An original boxcar used to transport Nazi victims to Auschwitz and Treblinka is part of the museum's permanent collection, together with other original artifacts and photographs. In addition to its exhibits, The Florida Holocaust Museum hosts film screenings, educational lectures, and other events to share awareness of the events of the Holocaust with the Florida community.

Read: The FHM Mourns the Loss of Pulse Victim Christopher Leinonen
Follow @FLHolocaustMus

Tenement Museum


The Tenement Museum in New York City tells the story of the nearly 15,000 working class immigrants from more than 20 nations housed in two tenement building on Orchard Street. Apartments in the building have been restored to present what life would have been like during different time periods, and visitors are guided through them by knowledgeable tour guides.

Why Tenement Museum is a Top Museum: In addition to the exhibits inside the tenement building, visitors can take walking tours of the neighborhood to learn about the history of immigrants on the Lower East Side.

Read: A Message from Dr. Morris J. Vogel
Follow @tenementmuseum

The Neon Museum


The Neon Museum in Las Vegas collects, preserves, and displays iconic Las Vegas neon signs from hotels, casinos, and other venues. The museum's collection of signs speaks to the changes in design and technology that have taken place since the beginning of the twentieth century.

Why The Neon Museum is a Top Museum: The museum's full collection is only available to visitors through a one-hour guided tour, which can be booked through the museum's website. The museum's interior gallery space is also available for private events, including photo shoots amidst the signs. They allow limited access to the main event area on a limited basis.

Read: Weddings & Special Events
Follow @NeonMuseum

Japanese American National Museum
The Japanese American Museum in Los Angeles, California, is a Smithsonian-affiliated museum and the largest museum in the country dedicated to sharing the experiences of Japanese Americans. Its exhibits include art by Japanese Americans, historical artifacts and accounts of key periods in the lives of Japanese Americans, and even explorations of Japanese Americans' influence on American pop culture.

Why Japanese American National Museum is a Top Museum: You can view some of the museum's collection of art and photographs by Japanese Americans online at the museum's website. The museum also sends traveling exhibits across the country and even internationally to share the experiences of Japanese Americans.

Read: JANM STATEMENT REGARDING THE PRECEDENT OF JAPANESE AMERICAN INCARCERATION DURING WORLD WAR II

Michener Art Museum


The Michener Art Museum in Doylestown, Pennsylvania, opened in 1988 in the building previously occupied by the Bucks County Jail. Named for Doylestown native and Pulitzer Prize winning writer James Michener, the museum showcases a world-class collection of Pennsylvania Impressionist paintings as well as special exhibits.

Why Michener Art Museum is a Top Museum: In addition to its collection of local artists, the museum also has a sculpture garden and hosts special events and art classes that are open to the public.

Read: Bucks County Artists
Follow @MichenerArt

Winterthur Museum, Garden & Library


The Winterthur Museum, Garden & Library in Wilmington, Delaware, is the country's most prominent museum of American decorative arts. The museum's collection is housed in the mansion that belonged to Henry Francis du Pont, and also includes the 60-acre garden he designed. Henry Francis du Pont was a famous collector and horticulturalist. He opened his childhood home and its grounds to the public as a museum more than 50 years ago.

Why Winterthur Museum, Garden & Library is a Top Museum: The collection of American antiques from the seventeenth through nineteenth centuries that is assembled at Winterthur is the best in the country. Visitors can also wander the nearly 1,000-acre estate. The museum also hosts special events, including the Yuletide celebration during Christmastime.

Read: The Remarkable Life and Career of a Free African-American Cabinetmaker
Follow @winterthurmuse

Chinese American Museum, Los Angeles


The Chinese American Museum in Los Angeles, California, is located inside the last remaining structure of the city's original Chinatown. In addition to its collections documenting the experience of Chinese immigrants in America, the museum also serves as a research center for anyone interested in learning about Chinese American heritage.

Why Chinese American Museum, Los Angeles is a Top Museum: The museum is part of El Pueblo de Los Angeles Historic Monument, a 44-acre public park that includes the city's original Chinatown. The museum also hosts educational workshops and special events like the Lantern Festival.

Follow @camlaorg

Louisiana Children's Museum


The Louisiana Children's Museum in New Orleans welcomes 150,000 visitors each year to exhibits like "The Little Port of New Orleans," where children can load their own cargo ship.

Why Louisiana Children's Museum is a Top Museum: A kid-sized grocery store and a giant bubble platform are just two of the fun but educational exhibits at the museum. It also hosts field trips and even weekly storytime.

Read: Where We are Going
Follow @LouisianaKids

Randall Museum
The Randall Museum in San Francisco, California, is part of the city's Recreation and Park Department. It includes a live animal exhibit, extensive gardens, a greenhouse, and functional wood and ceramics studios. Randall Museum is named after Josephine Randall, the first Superintendent of Recreation for the city of San Francisco.

Why Randall Museum is a Top Museum: The museum's namesake wanted a place that could give an outdoor education to children growing up in the city. The Randall Museum exhibits, events, and nature classes do just that.

Read: Bug Day


The Strong


The Strong National Museum of Play in Rochester, New York, is highly interactive and aims to explore the history and many facets of play. It houses the International Center for the History of Electronic Games, the National Toy Hall of Fame, and the World Video Game Hall of Fame.

Why The Strong is a Top Museum: The museum's collection includes both toys and electronic games - with many hands-on, interactive exhibits to explore. Children can also enjoy an early 20th century carousel and a Wegmans-sponsored market sized just for them. The Strong Museum hosts many student tour groups each month, and also has affiliated preschool and kindergarten programs.

Read: 2016 World Video Game Hall of Fame Inductees Announced
Follow @museumofplay

Chrysler Museum of Art


The Chrysler Museum of Art in Norfolk, Virginia, was formerly the Norfolk Museum of Arts and Sciences. The museum's holdings include more than 10,000 glass objects as well as impressive collections of paintings, sculpture, and the decorative arts. Walter Chrysler, Jr., was an art collector for nearly his entire life. He accepted an offer from Norfolk, VA, and moved his collection from Massachusetts in 1971.

Why Chrysler Museum of Art is a Top Museum: Widely counted among the top museums in the U.S., the Chrysler Museum of Art has an extensive permanent collection as well as space to host multiple temporary exhibits. The museum's glass studio also hosts daily demos for visitors. The museum's website includes a helpful "what to see in an hour" section to help visitors prioritize their time in Norfolk.

Read: Policies
Follow @ChryslerMuseum

MOCA GA


The Museum of Contemporary Art of Georgia in Atlanta is a relatively young museum, founded in 2000. MOCA, as it's known, aims to collect and archive significant contemporary works by artists living and working in the state of Georgia.

Why MOCA GA is a Top Museum: MOCA's collection includes some 1,000 works of art by more than 150 Georgia artists. It hosts approximately 15 exhibitions each year, featuring local artists and encouraging authentic exchange between the artists and the community. MOCA's website includes profiles of the museum's recent exhibits as well as an archive of the entire permanent collection.

Read: Edge to Edge
Follow @mocaga

Madison Children's Museum


The Madison Children's Museum in Wisconsin is an award-winning museum that encourages children to achieve their fullest potential through play.

Why Madison Children's Museum is a Top Museum: The museum includes an 1838 log cabin recovered from Wisconsin's Walworth County, where children can learn to write with quill pens or try out a two-person saw. Traveling exhibits also rotate through the museum, so there is always something new for kids of all ages to discover.

Read: Madison Children's Museum to attend rocket launch at Kennedy Space Center
Follow @PlayAtMCM

Newark Museum


The Newark Museum is New Jersey's largest museum. Its permanent collection includes American art, decorative arts, contemporary art, arts of Asia, Africa, the Americas, and the ancient world, as well as an extensive set of natural sciences specimens.

Why Newark Museum is a Top Museum: The Tibetan collection at the Newark Museum is among the finest in the world. It includes a Buddhist altar consecrated by the Dalai Lama. The museum also has a planetarium and a stone schoolhouse from 1784 on the grounds.

Read: Modern Heroics
Follow @NewarkMuseum

Boston Children's Museum


Boston Children's Museum is the second oldest children's museum in the world, as well as one of the largest. In addition to its interactive, engaging exhibits, the Museum also maintains a permanent collection of objects from around the world.

Why Boston Children's Museum is a Top Museum: Boston Children's Museum launched a museum revolution in the 1960s, removing the 'Do not touch' signs, and pioneering hands-on, visitor-focused exhibits and programs, a model now used in museums around the world. There are many hands-on exhibits at the Museum today, from exploring a Japanese house to operating your own construction site.

Read: theland
Follow @BosChildMuseum

Worcester Art Museum


Worcester Art Museum in Worcester, Massachusetts, has a permanent collection that spans more than 5,000 years. Floor mosaics from ancient Antioch and paintings by Monet are among the collection's varied highlights.

Why Worcester Art Museum is a Top Museum: In addition to its permanent collections, the Worcester Art Museum also has an impressive research library and hosts traveling exhibits as well as summer camps for children and teens.

Read: The Art and Storytelling of Ed Emberley
Follow @WorcesterArt

American Independence Museum
The American Independence Museum is located in Exeter, "New Hampshire's Revolutionary War Capital." The open air museum includes the Dunlap Broadside, an original copy of the Declaration of Independence.

Why American Independence Museum is a Top Museum: Visitors to the American Independence Museum can expect to learn the role New Hampshire played in America's fight for independence. The house of Nicholas Gilman, delegate to the Constitutional Convention, is part of the museum along with his notes on the Declaration of Independence. The museum conducts educational tours and works to bring history alive for all visitors.

Read: American Independence Museum receives $5,000 grant to preserve rare artifacts


Farnsworth Art Museum


The Farnsworth Art Museum in Rockland, Maine, celebrates the state's role in American art. In addition to a large sculpture collection by sculptor Louise Nevelson, the museum has a center dedicated to collecting and displaying the work of Andrew, NC, and Jamie Wyeth. You can find over 1,600 different artists represented in their collection of over 15,000 works.

Why Farnsworth Art Museum is a Top Museum: Much of the museum's 15,000-piece collection is searchable online. There is also an education center and study center dedicated to sharing the work of American artists.

Read: Major Exhibition at the Farnsworth
Follow @farnsworth_art

San Diego Museum of Man


The San Diego Museum of Man in San Diego, California, is dedicated to exploring all facets of the human experience. Its permanent collection features early man fossils and ancient anthropological artifacts.

Why San Diego Museum of Man is a Top Museum: In the mid-twentieth century, the museum narrowed the focus of its collection to specimens from the Western Hemisphere - but traveling exhibits featuring other areas of the world are common. The museum also includes interactive exhibits for the whole family and special events open to the public.

Read: Tower After Hours
Follow @museumofman

Wing Luke Museum of the Asian Pacific American Experience


The Wing Luke Museum of the Asian Pacific American Experience in the Chinatown district of Seattle, Washington, aims to tell the story of Asian immigrants to the Pacific Northwest. The museum offers guided tours of the surrounding neighborhood to help visitors explore how Asian culture has shaped the city.

Why Wing Luke Museum of the Asian Pacific American Experience is a Top Museum: The museum's permanent exhibits share the history of Asian immigrants from pioneer times to present day issues. You can even take a Bruce Lee Chinatown tour that includes a meal at the star's favorite local hangout and a guided tour of the museum's Bruce Lee exhibit.

Read: Year of Remembrance
Follow @winglukemuseum

Petroleum Museum


The Permian Basin Petroleum Museum in Midland, Texas, is the nation's largest museum dedicated to the petroleum industry and its pioneers. It aims to share the petroleum and energy story and its impact on each of our lives.

Why Petroleum Museum is a Top Museum: In addition to exhibits on things like the birth of the petroleum industry and different energy sources, the museum also houses the Petroleum Hall of Fame, founded in 1967.

Read: Halloween Tricks & Treats
Follow @PetroleumMuseum

Taft Museum of Art


The Taft Museum of Art in Cincinnati, Ohio, is housed in the Baum-Longworth-Sinton-Taft House, a National Historic Landmark that is an excellent example of American Palladian architecture.

Why Taft Museum of Art is a Top Museum: Highlights of the Taft Museum's permanent collections include European and American paintings, European decorative arts, sculptures, and early 19th-century furniture. The museum also hosts many programs for school children and special events like Afternoon Teas and lecture series.

Read: Facility Rentals
Follow @taftmuseum

Los Altos History Museum
The Los Altos History Museum in Los Altos, California, tells the story of how the Santa Clara Valley transformed from an agricultural paradise into the tech hub of Silicon Valley. The museum is located in a picturesque apricot orchard and includes a 1905 house refurbished to replicate a 1930s farmhouse from the region.

Why Los Altos History Museum is a Top Museum: The museum's permanent exhibit, "Crown of the Peninsula," displays the rich history of Los Altos and the surrounding area. Traveling exhibits make up the rest of the museum's 8,200 square feet. The museum also participates in history curriculum development with local school children, and the gardens and grounds include agricultural equipment from the early 20th century.

Pulitzer Arts Foundation


The Pulitzer Arts Foundation in St. Louis, Missouri, presents experimental, progressive, and scholarly exhibitions of historic and contemporary art from the U.S. and around the world. It's striking building was designed by internationally acclaimed architect Tadao Ando.

Why Pulitzer Arts Foundation is a Top Museum: The museum began in the 1990s when Emily Rauh Pulitzer and Joseph Pulitzer, Jr., wanted a permanent space where they could share their acclaimed art collection with the public. But the plan for the museum evolved - the Pulitzer does not house the Pulitzer collection, but rather has rotating exhibitions and experimental community programming. The museum opened in 2001. Today, the Pulitzer Arts Foundation is free to the public and hosts many special educational and community events.

Read: Ellipsis
Follow @PulitzerArts

The Breman Museum


The Breman Museum in Atlanta, Georgia, is dedicated to making the lessons of the Holocaust and the history of the Southern Jewish experience available to all. The museum is named for William Breman, who gave the Atlanta Jewish Federation a generous donation in 1990 in order to create a Jewish heritage museum in Atlanta.

Why The Breman Museum is a Top Museum: The museum's highlights include the permanent exhibition, Absence of Humanity: The Holocaust Years, 1933-1945 and the Blonder Family Gallery dedicated to the history of Jewish culture in the southern United States.

Read: Bearing Witness Benjamin Hirsch
Follow @BremanMuseum

Mid-Hudson Children's Museum


The Mid-Hudson Children's Museum in Poughkeepsie, New York, is an award-winning children's museum with a variety of exhibits focusing on early literacy, art, early STEM, health and the local community of New York.

Why Mid-Hudson Children's Museum is a Top Museum: From a fire truck to a Mastodon replica, the Mid-Hudson Children's Museum offers many hands-on exhibits where children can play and discover new things. The museum also offers educational programming, camps, and even special events for the whole family.

Read: Employment Opportunities
Follow @MHCM_inPOK

Brattleboro Museum & Art Center


The Brattleboro Museum & Art Center in Brattleboro, Vermont, is an independent museum that presents thought-provoking exhibits, public workshops and performances. The museum does not have a permanent collection, but rather focuses on exhibits and events that reflect and enhance the cultural richness of the community.

Why Brattleboro Museum & Art Center is a Top Museum: Located in historic Union Station in downtown Brattleboro, the museum's varied exhibits and events are a part of the fabric of the community. The museum also coordinates travel programs to destinations from Nantucket to Cuba and beyond through ARTravels.

Read: OPEN CALL NXNE 2017
Follow @brattmuseum

NSU Art Museum


The Nova Southeastern University Art Museum in Fort Lauderdale, Florida, aims to provide "exceptional access to the highest level of artistic expression." The museum became part of Nova Southeastern University, one of the largest private research universities in the U.S., in 2008.

Why NSU Art Museum is a Top Museum: Highlights of the museum's 6,000-plus piece permanent collection include extensive examples by famous Latin American artists, avant-garde post-WWII works from Copenhagen, Brussels, and Amsterdam, and the largest collection of paintings by American realist William Glackens.

Read: History of Girls' Club
Follow @nsuartmuseum

DuPage Children's Museum


DuPage Children's Museum in Naperville, Illinois, features three floors of interactive exhibits to facilitate learning through hands-on exploration and fun for children of all ages. The Museum is committed to inclusion and providing a safe, accepting environment for all who visit.

Why DuPage Children's Museum is a Top Museum: Exhibits from a wood workshop (Construction House) to an art studio ( The Studio) draw tens of thousands of visitors to the DuPage Children's Museum each year. The Museum also works with more than 60 school districts to provide educational experiences for students.

Read: Be My Neighbor Afternoon
Follow @DuPageChildrens

International Spy Museum


The International Spy Museum in Washington, DC, features the largest collection of international espionage artifacts ever displayed in public. It tells the story of espionage throughout world history and focuses on stories of human intelligence. The museum is led by a board of former espionage experts and practitioners.

Why International Spy Museum is a Top Museum: In addition to exhibits displaying artifacts used by spies, the International Spy Museum features interactive exhibits that allow visitors to put themselves in the shoes of a spy. The museum also offers a GPS tour of DC through the eyes of spies, and hosts educational events and lectures that are open to the community.

Read: Spy For Students
Follow @intlspymuseum

Grout Museum District


The Grout Museum District in Waterloo, Iowa, is made up of multiple museums that seek to preserve and display various aspects of the area's history. For example, the Sullivan Brothers Iowa Veterans Museum honors the service and sacrifice of Iowa veterans from the Civil War to present. Additionally, the Bluedorn Science Imaginarium provides exhibitions and programming that inspire the study of the sciences.

Why Grout Museum District is a Top Museum: The Museum District consists of three Museums and two Historic Homes in downtown Waterloo, Iowa. The district works with local schools to create programming for each museum's distinct mission.

Read: A History for Today
Follow @GroutMuseum

Children's Museum of Pittsburgh


The Children's Museum of Pittsburgh, Pennsylvania, has been named one of the top children's museums in the country by Parents magazine. Its three buildings welcome more than a quarter of a million people annually.

Why Children's Museum of Pittsburgh is a Top Museum: The museum emphasizes the importance of playing with real things, and its varied exhibits allow children the chance to learn through hands-on experiences. The museum also provides field trip opportunities for local students.

Read: Daniel Tiger's Neighborhood
Follow @PghKids

The MADE (The Museum of Art and Digital Entertainment)


The Museum of Art and Digital Entertainment (The MADE) in Oakland, California, is the world's only all-playable museum of video games. The museum's collection has more than 5,300 games - all of which are playable.

Why The MADE (The Museum of Art and Digital Entertainment) is a Top Museum: The MADE uses free programming classes for kids, lectures, tournaments, game development parties, and exhibits of playable games to inspire the next generation of game designers. The museum hosts co-working time every week and invites the public to learn about the development and testing phases of the game creation process.

Read: The Museum of Art and Digital Entertainment
Follow @TheMADE

The Museum of Natural and Cultural History
The Museum of Natural and Cultural History at the University of Oregon combines millions of years of natural history with thousands of years of human history all under one roof. It is the premier such museum in the state, and holds a permanent, publicly owned collection of hundreds of thousands of artifacts.

Why The Museum of Natural and Cultural History is a Top Museum: The museum's collection highlights fossils and cultural artifacts from Oregon and the Pacific Northwest. Many specimens from the collection are viewable in the museum's online gallery, for those unable to visit in person. The museum also works with local schools and partners with various programs at the University of Oregon on research and exhibits development.

Children's Discovery Museum


The Children's Discovery Museum of San Jose, California, has welcomed more than 8 million visitors since opening in 1990. The museum's mission is to inspire creativity, curiosity and lifelong learning.

Why Children's Discovery Museum is a Top Museum: From waterworks and a bubble-making exhibit to changing real stoplights and fighting fake fires, the Children's Discovery Museum lets kids of all ages learn with their hands and their imaginations.

Read: Children's Discovery Museum of San Jose
Follow @PurpleMuseum

Cranbrook Art Museum


The Cranbrook Art Museum in Bloomfield Hills, Michigan, is part of Cranbrook Educational Community, one of the world's leading centers of education, science, and art and a designated National Historic Landmark. Architecture critic Wolf von Eckardt once described the Cranbrook Educational Community as "the most enchanted and enchanting setting in America.

Why Cranbrook Art Museum is a Top Museum: Cranbrook Art Museum features year-round, changing exhibitions of modern and contemporary art and design. The Museum's Collections Wing showcases its collection of nearly 6,000 artworks, and the 319-acre campus features extensive gardens and numerous sculptures.

Read: Opening at Cranbrook Art Museum
Follow @cranbrookartmus

Remick Country Doctor Museum & Farm
The Remwick Country Doctor Museum & Farm in Tamworth Village, New Hampshire, aims to preserve the past in order to educate the future. Six generations of the Remwick family lived and worked on the farm, with the last two becoming country doctors. They served their community for a combined 99 years.

Why Remick Country Doctor Museum & Farm is a Top Museum: Today the museum offers visitors a look into the training, work, and lifestyle of country doctors in New England. In addition to the farm buildings and exhibits, the museum also offers events from hearthside dinners to craft workshops and lectures that offer a full experience of the region and its country doctors.

Read: Ice Harvest


Museum of American Finance


The Museum of American Finance in New York City is a Smithsonian Affiliate museum that celebrates and teaches American financial history and achievement. Fittingly housed in an historic bank building on Wall Street, the museum seeks to be objective in its presentation of how the American financial scene developed and what it looks like today.

Why Museum of American Finance is a Top Museum: The museum's permanent collection includes stocks, bonds, currency, checks, prints, engravings, photographs, and more that tell the history of finance in America. Permanent exhibits on financial markets, money, banking, entrepreneurship and Alexander Hamilton are complemented by traveling exhibits, group classes on financial topics, walking tours of NYC's financial landmarks, and lectures by experts in the field.

Read: 21st Century Banking: Bridging the Digital Divide
Follow @financemuseum

The Mexican Museum


The Mexican Museum in San Francisco, California, aims to voice the complexity and richness of Latino art throughout the Americas. It goes beyond Mexican art to also portray the Chicano and Latino experience.

Why The Mexican Museum is a Top Museum: The museum's permanent collection includes more than 16,000 pieces of Pre-Hispanic, Colonial, Popular, Modern and Contemporary art from the Americas. The museum also offers educational programming that is open to the public. The museum's permanent site has been dedicated and will be built in downtown San Francisco's Yerba Buena Arts District.

Read: The Mexican Museum Hires Mela Delgado as Registrar
Follow @sfmexicanmuseum

Children's Museum of Brownsville


The Children's Museum of Brownsville, Texas, provides an interactive environment where children from all backgrounds can learn through playful fun. Most of the museum's exhibits are intended for children ages birth-8, and children under 1 get in free.

Why Children's Museum of Brownsville is a Top Museum: Popular exhibits at the museum include a health clinic, a construction zone, and a shrimp boat for children to fish from. The museum also offers summer camps, nights out at the museum, and holiday parties for the whole family.

Read: Children's Museum of Brownsville
Follow @childrenmuseumb

Battleship USS Iowa Museum


The Battleship USS Iowa Museum in Los Angeles, California, is a museum aboard what was known as the "Battleship of Presidents." Visitors can experience what life was like for the sailors onboard the USS Iowa, the only battleship open to the public on the West Coast.

Why Battleship USS Iowa Museum is a Top Museum: The interactive naval museum has a tour app you can use to guide your visit, and kids can follow the ship's mascot dog, Victory, on a scavenger hunt throughout the ship. The museum hosts special events, including outdoor movies under the ship's guns, and you can even rent out parts of the ship for your own private event.

Read: LA Fleet Week
Follow @ussiowa

The Fralin Museum of Art


The Fralin Museum of Art at the University of Virginia has a broad collection of artwork spanning many disciplines and regions that serve its mission of promoting visual literacy. Highlights of the collection include American figurative art and photography.

Why The Fralin Museum of Art is a Top Museum: Approximately 10% of the museum's nearly 14,000-piece collection is viewable online, including many of its finest pieces. The museum provides opportunities for study and research to the university community, and is committed to its academic and educational mission.

Read: Warhol
Follow @FralinMuseumUVA

Perot Museum of Nature and Science


The Perot Museum of Nature and Science in Dallas, Texas, opened in 2012 with the goal of inspiring the visionaries of tomorrow through hands-on experiences. The 180,000 square-foot museum's five floors house 11 "amaze-your-brain" exhibit halls that feature video, 3D animation, and life-like simulations to engage children and curious minds of all ages. Other highlights include a 54-foot glass-enclosed escalator, a Wolfgang Puck Café, Museum Shop and a playful 1-acre Urban Forest complete with a musical forest, outdoor plaza, lime green leap-frog forest and cascading stream.

Why Perot Museum of Nature and Science is a Top Museum: Race a virtual T. rex, experience the power of earthquakes, take flight as a bird avatar, and construct model skyscrapers. See an exhilarating 2D or 3D film in the cutting-edge Hoglund Foundation Theater, a National Geographic Experience, with themes ranging from wild weather and dinosaurs to space exploration. Kids 5 and younger can climb a miniature Dallas skyline and play at the Dallas Farmer's Market, a water station, Art Lab, outdoor dino dig and more at The Moody Family Children's Museum.

Read: Hidden Worlds Revealed
Follow @PerotMuseum

Coggeshall Farm Museum


The Coggeshall Farm Museum in Rhode Island immerses visitors in the life of a middle-class farm family in late eighteenth-century New England. Visitors are encouraged to get dirty and participate in all of the activities reminiscent of a farm family's daily life.

Why Coggeshall Farm Museum is a Top Museum: From cooking over an open fire to spinning wool and gardening heirloom vegetables, you'll step back in time during a visit to Coggeshall Farm Museum. The 48-acre property is a time capsule, helping to teach visitors of all ages about this period of American history.

Read: Arts on the Farm
Follow @coggeshallfarm

Chinese-American Museum of Chicago


The Chinese-American Museum of Chicago promotes the culture and history of Chinese-Americans in the Midwestern U.S. through exhibitions, education, and research. The museum is located in Chicago's Chinatown neighborhood, in a building that was formerly home to the company Quong Yick Co.

Why Chinese-American Museum of Chicago is a Top Museum: Exhibits at the museum focus on issues as varied as fashion and human trafficking. The museum also hosts screenings of films related to Chinese-American heritage, and invites experts for public lectures on subjects such as foot binding or the Great Wall of China.

Read: Celebrating Chinese Fashion Heritage
Follow @ccamuseum

High Scores Arcade
High Scores Arcade in Alameda, California, is the passion project of husband and wife team Shawn & Meg Livernoche. The arcade/museum focuses on games from the 1980s - and the jukebox plays only 70s and 80s tunes to keep visitors in the right frame of mind.

Why High Scores Arcade is a Top Museum: The arcade/museum has more than 400 playable games from the 1980s and 90s, including favorites like Star Castle and Mortal Kombat. You can also find classic games like Pac-Man and Tron. High scores for all of the games are posted online for worldwide bragging rights.

Living Computers: Museum + Labs


Living Computers: Museum + Labs in Seattle, Washington, presents visitors a hands-on computer experience with technology from the 1960s to the present. It includes the largest collection of vintage, usable supercomputers and mainframes.

Why Living Computers: Museum + Labs is a Top Museum: The museum also offers visitors direct experiences with robotics, virtual reality, artificial intelligence, self-driving cars, big data, the Internet of Things, video-game making, digital art, and more. There are labs where you can try out all of the different kinds of technology for yourself, and interactive exhibits where you can learn what they're used for. In the labs, there are workshops where you can learn how to create and program the machines, with topics like coding games and building robots.

Read: Discover
Follow @LivingComputers

Sioux City Public Museum
Sioux City Public Museum in Sioux City, Iowa, includes a downtown museum, a riverboat museum, and a restored Victorian-era mansion. The main museum features hands-on exhibits that tell the story of the area's local and regional history. The museum also hosts walking tours of the city for visitors to orient themselves and learn more about the area's character and history.

Why Sioux City Public Museum is a Top Museum: The Sergeant Floyd River Museum on Sioux City's waterfront examines the transportation history of the Missouri River as well as the legendary Lewis and Clark Expedition. The Peirce Mansion is a restored mansion open to the public for quarterly open houses where visitors can experience the Victorian era first-hand.

Read: Summer Programs


National Museum of the U.S. Air Force


The National Museum of the U.S. Air Force on Wright-Patterson Air Force Base near Dayton, Ohio, is the largest and oldest military aviation museum in the world. The museum preserves and presents the history and today's mission of the U.S. Air Force through engaging exhibits and special programs.

Why National Museum of the U.S. Air Force is a Top Museum: The museum has more than 360 aerospace vehicles and missiles on display, plus flight simulators and even a Holocaust remembrance exhibit. You can take a virtual tour of much of the museum online to help plan your visit to the expansive museum.

Read: Remains of fighter pilot hero return home after 10 years
Follow @afmuseum

RISD Museum


The Rhode Island School of Design Museum's collection includes more than 100,000 artifacts from ancient art to international contemporary pieces. Many pieces can be viewed in the museum's searchable online directory, along with commentary from specialists.

Why RISD Museum is a Top Museum: The museum is dedicated to educating RISD students as well as community members through art, lectures, and other special events. Highlights from the exhibits include an exceptional collection of Greek coins, a nine-foot tall Japanese Buddha sculpture, and one of the country's finest collections of historical textiles and clothing items.

Read: RISD Museum launches Café Pearl in partnership with Bolt Coffee
Follow @RISDMuseum

The Mob Museum


The Mob Museum, the National Museum of Organized Crime and Law Enforcement, is located steps from Fremont Street in downtown Las Vegas and chronicles more than 100 years of organized crime history, from the 19th century to the 21st. The provocative topics covered range from bootlegging to betting, drug trafficking to racketeering. Stories are told through high-tech theater presentations, hundreds of one-of-a-kind artifacts and interactive exhibits. The Mob Museum is ranked among TripAdvisor's Top 25 Museums in the United States.

Why The Mob Museum is a Top Museum: In addition to its permanent exhibits, The Mob Museum hosts events focusing on topics ranging from authentic explorations of the lives of mobsters such as Bugsy Siegel to debates on "Who Killed JFK" to current subjects such as cybercrime and trafficking.

Read: Queen of the Mob was no one's pushover
Follow @themobmuseum

Frazier History Museum


The Frazier History Museum in Louisville, Kentucky, aspires to be a compelling destination about Kentucky's culture, heritage, and its relationship to the world. It's where the world meets Kentucky. Highlights of the museum's collection include Geronimo's bow and arrows, the original "Big Stick" of President Theodore Roosevelt, and artifacts from the Lewis & Clark expedition.

Why Frazier History Museum is a Top Museum: One unique thing at the Frazier Museum are the multiple live performances every day by our talented staff of costumed actors known as "teaching artists.

Read: Hunger Games Tickets
Follow @FrazierMuseum

The Wolfsonian


The Wolfsonian at Florida International University has a world-renowned collection of objects from 1850-1950 in a wide variety of media, from furniture to medals and rare books. Through these objects, the Wolfsonian explores the critically important role of design in society, politics, and technology during one particular period of time.

Why The Wolfsonian is a Top Museum: Highlights of the museum's permanent collection include examples of American industrial design, propaganda materials from both World Wars and the Spanish Civil War, and objects from the world's fairs from 1850-1950. The Wolfsonian's library collection, made up of 60,000 smaller-format works on paper, is entirely searchable online for the benefit of students and researchers alike.

Read: Promising Paradise
Follow @wolfsonian

Muscarelle Museum of Art


The Muscarelle Museum of Art at the College of William & Mary presents works by historically significant American and English Colonial painters as well as more modern works. The museum opened in 1983 so that the large collection of art obtained by the college since its founding could be shared with the public and preserved for future generations.

Why Muscarelle Museum of Art is a Top Museum: The museum's collection has grown to more than 5,000 pieces that span many cultures and historical epochs. In addition to the many important 17th and 18th century portraits on display, the Muscarelle also features an impressive collection of German Expressionist works on paper and even paintings by Pablo Picaso and Henri Matisse. The south facade of the Muscarelle is an artwork itself - the world's first "solar painting" was designed by Gene Davis and transforms into a colorful design when a series of multi-colored tubes are illuminated from behind.

Read: Florentine Painting between the Medici and the Bonfires of the Vanities
Follow @Muscarelle

Natural History Museum of Los Angeles County


The Natural History Museum of Los Angeles County is part of a family of museums that also includes the La Brea Tar Pits Museum and the Hart Museum and Ranch. The museum's new dinosaur hall is one of the finest in the world and includes some 20 complete dinosaur skeletons.

Why Natural History Museum of Los Angeles County is a Top Museum: The museum has a unique "Becoming LA" permanent exhibit that explores how the sprawling city grew out of a small pueblo over the course of two centuries. Other highlights include an insect zoo where visitors can view - and even touch - bugs and spiders galore. The more squeamish visitors can view one of the country's largest collections of fossils instead.

Read: Natural History Museum of Los Angeles
Follow @nhmla

Pritzker Military Museum & Library


Founded in 2003, the Pritzker Military Museum & Library, located in downtown Chicago, is a nonprofit center where citizens and soldiers come together to learn about military history and affairs. The Museum & Library features an extensive collection of books, programs, artifacts, and rotating exhibits covering many eras and branches of the military. Programs include a lending library, the archives, recorded TV shows, podcasts and oral histories, and museum exhibits.

The Museum & Library features a Veterans Information Center with brochures, flyers, books, scholarly publications, and other materials specifically focused on important issues affecting veterans and their families.

Why Pritzker Military Museum & Library is a Top Museum: The Museum & Library hosts regular live tapings of its television shows Pritzker Military Presents and Citizen Soldier. These episodes feature authors, scholars and veterans on the topics of military history and affairs, in addition to live interviews with recipients of the prestigious Medal of Honor. Current episodes are featured weekly on Chicago's PBS member station WTTW, released as podcasts on iTunes and Stitcher and can be streamed on the Museum & Library's website.

Read: Century of Service
Follow @pritzkerlibrary

The DoSeum


The DoSeum in San Antonio, Texas, opened in 2015 as a place where children from birth to age 10 can discover, learn, explore, and create. It includes one of the largest outdoor play areas of any children's museum in the country.

Why The DoSeum is a Top Museum: The DoSeum's unique exhibits include an interactive robot named Baxter, a spy academy filled with math challenges, an interactive puppet parade, a musical staircase, and an ADA-accessible tree house. The museum also hosts summer camps and other educational programs for children, and has sensory-friendly hours for those children on the autism spectrum or with processing disorders.

Read: Artist in Residence
Follow @thedoseum

GulfQuest National Maritime Museum of the Gulf of Mexico


GulfQuest, the National Maritime Museum of the Gulf of Mexico, opened in 2015 in Mobile, Alabama. Instead of a permanent collection, the museum features more than 90 exhibits, theaters, displays and simulators that engage visitors in hands-on, interactive activities exploring the maritime heritage of the Gulf of Mexico.

Why GulfQuest National Maritime Museum of the Gulf of Mexico is a Top Museum: From the full-size container ship housing the museum's exhibits to navigation games and historical artifacts used to handle maritime cargo, everything about GulfQuest is intended to immerse visitors in maritime culture, history, and industry.

Read: GulfQuest welcomes tall ship America Nov. 4 - 8
Follow @gulfquest

Museum of the Big Bend
The Museum of the Big Bend is on the Sul Ross State University campus in Alpine, Texas. The museum's collection includes the Yana and Marty Davis Map Collection with more than 1,000 maps of areas that are now Texas, Oklahoma, and Mexico.

Why Museum of the Big Bend is a Top Museum: The museum also has a substantial collection of Retablos, small, personal devotional paintings on tin from Mexico. You can also see the Livermore Cache at the museum, a collection of arrowheads found on Mount Livermore in the Davis Mountains. You can see many of the museum's artifacts online, from its permanent collections as well as some of its traveling exhibits. Every April the Museum hosts Trappings of Texas, one of the first shows of its kind exhibiting Western art and contemporary Cowboy gear side by side.

Read: Spring Adult Workshops

Please Touch Museum


The Please Touch Museum in Philadelphia is full of stimulating activities and fun opportunities for children to learn through play. Started by a Montessori educator, the museum has a collection of more than 25,000 toys and a restored carousel from 1908.

Why Please Touch Museum is a Top Museum: Every day, visitors can enjoy theater performances, sing-a-longs and a Story Castle at the Please Touch Museum. And permanent exhibits explore everything from waterworks to a please touch garden and even the Statue of Liberty's torch made entirely out of toys.

Read: Star Wars Weekend
Follow @pleasetouch

Emily Dickinson Museum
The Emily Dickinson Museum in Amherst, Massachusetts, aims to amplify the poet's revolutionary poetic voice from the place she called home. The museum is owned by the Trustees of Amherst College, which has long been involved with preserving the legacy of this American poet. Her poems were almost completely unpublished until after her death, but she has since become one of the most well-known names in American literary history.

Why Emily Dickinson Museum is a Top Museum: The Museum is made up of the Homestead, where Emily Dickinson was born, and The Evergreens, the property next door where her brother and sister-in-law lived. The Evergreens was a social and intellectual center for the community, and today is furnished with preserved nineteenth century furnishings and decor just as it would have appeared when the poet lived next door.

Read: Events


Simeone Foundation Automotive Museum


The Simeone Foundation Automotive Museum in Philadelphia presents one of the best collections of racing sports cars in the world. Dr. Frederick Simeone collected more than 65 cars with historical significance from the U.S. and around the world. You can see the whole collection online at the museum's website.

Why Simeone Foundation Automotive Museum is a Top Museum: From the first car company focused on race cars to legendary names like Alfa Romeo and Bentley, the museum's collection has it all. There are also special exhibits on the history of NASCAR and what racing was like back before World War I. The museum even hosts regular demo days where visitors can see some of the historic cars in action.

Read: Simeone Museum Receives a Landmark Gift
Follow @SimeoneMuseum

U.S. Veterans Memorial Museum
The U.S. Veterans Memorial Museum in Huntsville, Alabama, aims to preserve, display, and promote the accomplishments of the men and women who have served in the armed forces of the United States. It includes artifacts from as far back as the Revolutionary War, and focuses in particular on conflicts since WWI. The museum has an outdoor display area that includes boats, tanks, and even airplanes.

Why U.S. Veterans Memorial Museum is a Top Museum: Highlights at the museum include a collection of more than 30 military vehicles from WWI to the present, riles and artillery pieces from the Civil War, and a full-scale replica of an air force briefing room from WWII-era England.

Read: M48 Patton

Kehila Kedosha Janina


The Kehila Kedosha Janina Synagogue and Museum in New York City is the only Romaniote Synagogue in the Western Hemisphere. The synagogue was first organized in 1906, and in 1997 the museum was created to tell the unique story of this particular Jewish community. Kehila Kedosha Janina is an active synagogue, and hosts an annual Greek Jewish Festival each spring.

Why Kehila Kedosha Janina is a Top Museum: Romaniote Jews' history in Greece dates back to the time of Alexander the Great. Their history is not well-known, so the museum aims to bring the community's experience, both in Greece and in the U.S., to life for its visitors. The museum includes the world's largest collection of Alephs, the Romaniotes' distinctive, hand-painted birth certificates, as well as the first Holocaust Memorial to Greek Jews in America. You can also find extensive resources about Romaniote history in the museum's educational center and on its website.

Follow @greekjewishfest

Sacramento History Museum


The Sacramento History Museum in Sacramento, California, is housed in a reproduction of the 1854 City Hall and Waterworks building, which stood on the same site. It presents visitors with exhibits about the city's origins during the California Gold Rush, the rich agricultural history of the area, and even a functioning 19th-century printing shop. The gold rush features prominently in the museum's exhibits, but there are also fascinating artifacts from the local Nisenan Indian culture and explorations of everything from riverboat transportation to growing up in the Victorian era.

Why Sacramento History Museum is a Top Museum: In addition to its exhibits, the museum offers interactive experiences that immerse visitors in Sacramento History. Gold Fever tours place visitors in the footsteps of gold seekers during the city's boomtown era. Underground tours take participants below the streets to examine how the city had to raise itself up to avoid future floods.

Read: History Exposed
Follow @shmhosf

The Leonardo


The Leonardo in Salt Lake City, Utah, honors the curiosity of its namesake, Leonardo da Vinci, by encouraging each visitor to always ask the big question: Why? An intensely interactive museum, the Leonardo merges science, art, and technology for the enjoyment and learning of visitors of all ages.

Why The Leonardo is a Top Museum: Highlights at the Leonardo include a full-size C-131 aircraft complete with flight simulators that is part of an extensive exhibit, "Flight," an art studio where visitors can create their own masterpieces, and Leonardo's Workshop where visitors learn about and apply engineering, technology and physics principles through hands-on activities.

Read: An Exhibit At The Leonardo
Follow @the_leonardo

American Bookbinders Museum


The American Bookbinders Museum in San Francisco, California, has an impressive collection of historical bookbinding equipment that can be viewed by arranging a guided tour. The museum is dedicated to preserving and sharing the history, stories, and tools of American bookbinding.

Why American Bookbinders Museum is a Top Museum: In addition to leading tours of its collection, the museum hosts special events with renowned authors and maintains a research library comprised of publications, archival records, and objects relating to bookbinding and the book industry more broadly.

Read: American Bookbinders Museum
Follow @BkBindersMuseum

Western Spirit: Scottsdale's Museum of the West


Western Spirit: Scottsdale's Museum of the West in Scottsdale, Arizona, has celebrated the history and culture of the "Greater Western" region since its opening in 2015. It was named "Best Western Museum in the Nation" in 2016 and 2017.

Why Western Spirit: Scottsdale's Museum of the West is a Top Museum: The museum's regularly changing and long-term exhibits include Western and Native American art and artifacts include Hopi pottery masterworks, historic Western film posters, and authentic Old West saddles, badges, spurs and more. Entertaining events and informative programs that bring the West's history and heritage to life are presented in the theater/auditorium. The sculpture courtyard features rotating artworks and an impressive rainwater collection system.

Read: Photographers of the American West Featuring Tom Brownold
Follow @smowest

American Sign Museum


The American Sign Museum in Cincinnati, Ohio, is the largest public museum dedicated to signs and sign-making in the country. Visitors can explore more than 20,000 square feet of indoor display space where the museum's ever-expanding collection of new and vintage signs is housed.

Why American Sign Museum is a Top Museum: From pre-electric signs to bright neon, the museum's tour guides can walk you through the history of signs from the late 19th century to the present. The museum also houses Neonworks of Cincinnati, a custom neon signs shop that offers visitors live demonstrations of the sign-making craft.

Read: How Poster Art Began
Follow @signmuseum

Greensboro Children's Museums


The Greensboro Children's Museum in Greensboro, North Carolina, has over 20 hands-on, interactive exhibits for children, their parents, and teachers to enjoy. In 2004, the downtown Greensboro museum was chosen as one of the top 50 children's museums in the U.S.

Why Greensboro Children's Museums is a Top Museum: Popular museum exhibits include a train depot, a real DC-9 jet for little pilots to "fly," and the first licensed Edible Schoolyard, a teaching garden where children learn about nature and food through planting, tending, harvesting, and cooking produce.

Read: specialevents2011
Follow @GCMuseum

Reginald F. Lewis Museum


The Reginald F. Lewis Museum of African American History and Culture is located in Baltimore, Maryland. The museum aims to preserve and share the stories of African American Marylanders from the area's earliest history through to present times.

Why Reginald F. Lewis Museum is a Top Museum: Everything from iron slave shackles to modern art are on display at the Reginald F. Lewis Museum. The museum's collection includes artifacts portraying the African American military experience, early American jazz recordings, and pieces of Maryland community history. The self-guided Generations Tour introduces visitors to the stories of two African American Marylanders and 12 of the most important exhibits in the museum.

Read: Black Fatherhood Project
Follow @lewismuseum

The Wende Museum
The Wende Museum in Culver City, California, aims to preserve Cold War art, culture, and history from former Soviet Bloc countries and inspire a broader understanding of the time period and its people. Founded by an LA native and European history scholar, the museum's collection includes more than 100,000 artifacts.

Why The Wende Museum is a Top Museum: The museum's collection also inspires educational programming which explores the complicated legacy of the Cold War and its relevance to contemporary social and political issues. Some items from the collection are featured online, and the museum's entire collection is available by appointment for researchers, journalists, and students.

Read: The Wall Project

Museum of Death


The Museum of Death in Hollywood, California, is recommended for mature, adult visitors only. Among other things, it includes the world's largest collection of artwork by serial killers and an extensive collection of body bags and coffins.

Why Museum of Death is a Top Museum: Visitors can watch the Heaven's Gate Cult recruiting video and videos of autopsies and serial killers, as well as view replicas of full-size execution devices and more. It isn't unheard of for visitors to pass out during their self-guided tour, so the museum recommends all visitors make sure they are prepared for a strong dose of the reality of death. $15 admission, open 7 days a week.

Read: Press
Follow Museum of Death

Pacific Bonsai Museum


The Pacific Bonsai Museum just outside of Tacoma, Washington, is an outdoor museum featuring more than 150 bonsai trees. Sixty trees from the diverse collection are on display at any one time, sourced from locations such as Canada, China, Japan, Korea, Taiwan and the United States.

Why Pacific Bonsai Museum is a Top Museum: Opened in 1989, the museum aims to connect people to nature through the living art of bonsai. Private tours are available for groups of 10 or more, and the museum offers public tours each Sunday at 1 pm for no charge. Though outdoors, it has the feel of a fine art museum and can be rented for private events.

Read: Bring Your Own Tree Workshop with Danny Coffey
Follow @PacBonsaiMuseum

USS Hornet


The USS Hornet Sea, Air & Space Museum in Alameda, California, tells the story of the aircraft carrier and its role in naval aviation, WWII, and even the Apollo Program. The museum features historic fighter planes, helicopters, a flight simulator, and an extensive collection of artifacts to teach visitors about the history of naval aviation and this particular carrier.

Why USS Hornet is a Top Museum: The USS Hornet served as the recovery ship for the first and second manned lunar missions. Apollo and Gemini test capsules are on view as part of the museum's permanent exhibits. Other exhibits tell the history of women in the military and anti-submarine warfare, to name just a few. You can even stay overnight on the ship as part of a guided tour if you want to experience life aboard first hand.

Read: Welcome to the Fleet
Follow @HornetMuseum

Peninsula Museum of Art
The Peninsula Museum of Art is located just south of San Francisco, California. Instead of a permanent collection, the museum features galleries for rotating exhibitions and studio space. There are 30 studios for a diverse group of working professional artists (the actual number of artists varies, as some may share a studio). The artists work in a wide variety of media, from paintings to sculpture and even stone or metal.

Why Peninsula Museum of Art is a Top Museum: Exhibits can feature anything from landscapes to mixed media sculptures and rotate through the museum every few months. The museum also hosts frequent workshops and classes, both with the resident artists and outside expert craftspeople. Admission is always free. They have five Museum galleries, plus the Studio Artists manage a gallery.

Read: Leonardo's Studio


Asheville Museum of Science
The Asheville Museum of Science in North Carolina is full of interactive exhibits. From uncovering dinosaur bones to crawling through a playground intended to replicate the Appalachian Forest, the museum is a great spot for families or student groups.

Why Asheville Museum of Science is a Top Museum: In addition to its exhibits, the museum offers recurring educational opportunities for children preschool age and up. Once a month, it also hosts adults in the evenings for an expert lecture combined with drinks and appetizers.

Read: Summer Camp


The New Children's Museum


The New Children's Museum in San Diego, California, aims to unlock children's innate creativity by exposing them to art and the process of creating. The museum houses both interactive art exhibits and studios where children and their families can create art of their own.

Why The New Children's Museum is a Top Museum: Visitors to the New Children's Museum can play dress up, explore a 4-story house filled with different architectural styles from California's history, and match Pantone color swatches to the foods they are named after, among other fun exhibits.

Read: The New Children's Museum
Follow @iheartncm

Motorcyclepedia Museum


The Motorcyclepedia Museum in Newburgh, New York, aims to collect, preserve, and present to the public motorcycles and related memorabilia. It includes every annual model of Indian Motorcycles produced from 1901-1953, and is the most comprehensive such collection in the world.

Why Motorcyclepedia Museum is a Top Museum: The museum includes the oldest running motorcycle in North America, an 1897 De-Dion Bouton tricycle. A video introducing the motorcycle is available on the museum's website. Other collection highlights include a motorcycle from President Kennedy's motorcade the day he was assassinated, some 75 Harley Davidsons (including custom models for Billy Joel and Patrick Harley), and award-winning antique motorcycles curated by the Antique Motorcycle Foundation. The museum also has 2 permanent motordromes on site, where they occasionally host events.

Read: 1912 Flying Merkel
Follow @MCP_Museums

Americans in Wartime Museum


The Americans in Wartime Museum will be located in Fairfax, Virginia, just outside of Washington, D.C. It will tell the stories of Americans who have served in wartime through indoor and outdoor exhibits, displays of operational military vehicles, and even live historical reenactments.

Why Americans in Wartime Museum is a Top Museum: The museum will explore the history of America's citizen soldiers from World War I through the present day. Prior to the opening of the museum, the organization hosts annual open houses for visitors to see various pieces of what will one day be included in the museum - from tanks to the recording studio meant to record veterans' and their families' stories first hand.

Read: Events
Follow @wartimemuseum

National Museum of Wildlife Art


The National Museum of Wildlife Art in Jackson, Wyoming, chronicles the history of wildlife art from 2500 B.C. to the present day. It includes an extensive collection of art from the American West, presenting the European exploration of the frontier through the eyes of artists.

Why National Museum of Wildlife Art is a Top Museum: The museum's collection is growing to include wildlife art from around the world. The museum also features an outdoor sculpture trail and hosts events for the local community to meet wildlife artists.

Read: 25 Fables Exhibit
Follow @WildlifeArtJH

Portland Museum of Art


The Portland Museum of Art in Portland, Maine, boasts extensive holdings of historic American and European art, contemporary art, and significant pieces from Maine that highlight the rich artistic tradition of the state and its artists.

Why Portland Museum of Art is a Top Museum: Collection highlights at the museum include paintings by Renoir and Monet, works by Warhol, and a group of works by Winslow Homer. You can see the entire collection and learn what is currently on view at the museum by visiting the museum's website.

Read: Don't Miss Masterworks this March
Follow @PtldMuseumofArt

In the Artifact Lab


The Artifact Lab: Conservation in Action is an exhibit at the Penn Museum in Philadelphia, Pennsylvania. Visitors to the exhibit can see the tools of the trade and watch as conservators work on a wide array of artifacts being prepared for exhibit in the Museum's signature galleries.

Why In the Artifact Lab is a Top Exhibition: Twice a day, the conservator working in the Artifact Lab answers questions from visitors. You can also ask questions and follow along with the work on the exhibit's blog at www.penn.museum/sites/artifactlab

Read: Summer 2016 Conservation in South Abydos
Follow @pennartifactlab

The Colored Girls Museum


The Colored Girls Museum is headquartered in an historic home in the Germantown neighborhood of Philadelphia, Pennsylvania. It offers visitors guided tours of artifacts that embody the experience and expression of being a Colored Girl.

Why The Colored Girls Museum is a Top Museum: The museum aims to be not just a museum but a research facility, exhibition space, gathering place and think tank for those interested in studying and sharing the experience of being a Colored Girl. It considers memoirs, in any form, as well as objects of personal and historic significance, as evidence with empirical value that should be preserved and shared.

Read: Open Call
Follow @TCGMuseum

Brew: The Museum of Beer


Brew: The Museum of Beer is a planned beer museum in Pittsburgh, Pennsylvania. When complete, the museum will be able to accommodate some half a million visitors every year. It will present the international story of beer, including the saints and villains of the industry.

Why Brew: The Museum of Beer is a Top Museum: The museum plans to use state-of-the-art technology and interactive exhibits to tell the 10,000-year-old story of beer around the world. You can already purchase museum gear on its website.

Read: Is there a bubble brewing in craft beer scene?
Follow @brewmuseum

California Automobile Museum


The California Automobile Museum in Sacramento, California, officially began with a red 1938 Buick and a 1934 Pierce Arrow. Today, visitors can view more than 150 vehicles from as long ago as 1885 in the museum's permanent collection. Avid car lovers can even adopt a car in the collection, helping ensure the preservation of the automobile for future viewers.

Why California Automobile Museum is a Top Museum: A journey through automobile history and the California culture that so loves its cars, the museum's exhibits include cars with famous owners, an examination of alternative fuels and propulsion methods, and more. The museum also manages a consignment program for community members looking to sell their antique cars to a respectful buyer.

Read: Model T Basics and Driving Class
Follow @calautomuseum

West Virginia Mine Wars Museum
The West Virginia Mine Wars Museum in Matewan, West Virginia, focuses on the history of miners organizing for their rights in early twentieth-century coal country. It includes exhibits about coal camp life, the Paint Creek-Cabin Creek Strike of 1912-1913, the Matewan Massacre, the Miners' March, and the Battle of Blair Mountain, the largest insurrection in U.S. history other than the Civil War.

Why West Virginia Mine Wars Museum is a Top Museum: The museum's exhibits include the largest exhibited collection of Mine Wars Era artifacts, oral histories, digitized film reels, maps, and historic photos. The museum is also willing to bring its experts and artifacts on the road to help educate more people about the Mine Wars.

Read: Resources


Quincy Quarry and Granite Workers Museum
The Quincy Quarry and Granite Workers Museum is a planned museum in Quincy, Massachusetts. The group behind the idea of the museum intends it to show the history of quarrying and stonecutting and its relationship to the industrialization of this industry as it relates to the history of Quincy.

Why Quincy Quarry and Granite Workers Museum is a Top Museum: Visitors to the area can check the group's website for events like Quarry walks and any news about the potential future site of the museum.

South Shore Children's Museum


The South Shore Children's Museum in Hanover, Massachusetts, is a children's museum focused on sharing American history with families and young students. From steering a model of the Mayflower to sitting in a full-size teepee, children learn about history through a very hands-on experience.

Why South Shore Children's Museum is a Top Museum: Each exhibit in the museum teaches children about a different part of America's rich history and growth in a way that is understandable and enjoyable for them. The museum also hosts storytime events, craft parties, and other special programs for children and their families.

Follow @SSCMKidMuseum

Dali17


The Dali 17 Museum is located in Monterey, California, the only place in the U.S. where Salvador Dali lived and painted. The permanent exhibition showcases the artist's influence locally and captures the rich history of his ties to the region.

Why Dali17 is a Top Museum: The permanent collection includes art in various media from Salvador Dali, one of the twentieth century's most famous surrealist artists. Original etchings, lithographs, and rare sculptures are on view at the museum, including the famous "Love" and "Tree with Rose." Many of the collection's highlights are also available on the museum's website.

Follow @dali17museum

Westchester Children's Museum


The Westchester Children's Museum is located just north of New York City in Rye, New York. It aims to be a museum where the child leads their own process of discovery through interactive, hands-on exhibits intended to be accessible for all learning styles and abilities.

Why Westchester Children's Museum is a Top Museum: From building their own rollercoaster to experimenting with a wind tunnel and a children's construction zone, the museum's exhibits offer something for every child. It also collaborates with local schools to bring in schoolchildren and hosts storytime and other special events.

Read: Special Events
Follow @discoverWCM

Illinois Coal Museum at Gillespie
The Illinois Coal Museum at Gillespie in Gillespie, Illinois, aims to advance knowledge of coal mining in Illinois. Located in a former community bank building on Route 66, the museum displays artifacts from miners' helmets to lunch pails and tools actually used in the region's coal mines.

Why Illinois Coal Museum at Gillespie is a Top Museum: VCheck out the mock coal tunnel in the children's section. Kids get a plastic miners helmet, crawl through a 20' tunnel lined with educational material, and then are able to watch videos of mining machines in action.

Rothschild Petersen Patent Model Museum
The Rothschild Petersen Patent Model Museum is located in Cazenovia, New York, just thirty minutes southeast of Syracuse. Its collection includes some 4,000 patent models and related documents from the period from 1790-1880, when a model of an inventor's work was required by law to accompany each patent application.

Why Rothschild Petersen Patent Model Museum is a Top Museum: Only a fraction of the museum's collection of models is viewable by the public at any one time. Among the collection's highlights are a model of a propeller blade for an "airship," or plane, and a model electromagnetic railroad signal. Taken together, the models tell the story of the American experience of the industrial revolution and the innovations that resulted.

Read: About the Museum

The Bakken Museum


The Bakken Museum in Minneapolis, Minnesota, aims to nurture a passion for science in all of its visitors. You can try some of the same science experiments performed by Benjamin Franklin, or step into Frankenstein's laboratory for an interactive theater experience. The museum's permanent collection also includes historic medical instruments, books, journals and manuscripts. The Bakken Museum was founded by Earl Bakken, a Minneapolis native and co-founder of Medtronic, a medical device company.

Why The Bakken Museum is a Top Museum: The museum is located in an historic mansion, and in addition to its exhibits also includes three beautiful, distinct gardens. You can participate in a guided tour to learn more about the Healthy Heart Organic Garden full of summer vegetables, the Dakota Native Plants Garden where deer like to visit, and the Florence Bakken Medicinal Garden complete with a rock fountain for aquatic plants.

Read: Discovery Days 2016
Follow @thebakken

The Rice Northwest Rock and Mineral Museum
The Rice Northwest Rock and Mineral Museum in Hillsboro, Oregon, has one of the finest collections in the country - not just of fine rocks and minerals, but also fossils, meteorites, lapidary art, and gemstones. The museum's building includes many rare Oregon hardwoods and is listed in the National Registry of Historic Places.

Why The Rice Northwest Rock and Mineral Museum is a Top Museum: The museum's main collection includes rare minerals, famous stones like the "Alma Rose" rhodochrosite from Colorado, and the largest opal-filled thunderegg in the world. The museum also includes the Gibeon Meteorite from Africa, a gallery of petrified wood, and unique agate specimens from around the world.

MoMath National Museum of Mathematics


The National Museum of Mathematics in New York City is full of innovative exhibits exploring the many facets of mathematics. It is primarily geared at those from 4th-8th grades, but has exhibits that anyone ages 5 and up will enjoy.

Why MoMath National Museum of Mathematics is a Top Museum: From a square-wheeled tricycle to 3D doodling and math games you control with your feet, this museum has tons for the whole family to explore. Traveling exhibits and special events are common at the museum, as are field trips and special tours for school groups.

Read: Pre-order for The Dice Lab d120
Follow @momath1

Michael C. Carlos Museum
The Michael C. Carlos Museum at Emory University in Atlanta, Georgia, is one of the leading ancient art museums in the southeast. It's affiliation with Emory University means the Carlos Museum also has a key educational mission: supporting scholars across many disciplines.

Why Michael C. Carlos Museum is a Top Museum: The museum's permanent collection includes the oldest Egyptian mummy in the Americas as well as pieces from ancient Greece nearly 6,000 years old. It also has online educational resources for students of all ages, and works with the University to host frequent public and private programs and lectures.

Read: Stay Connected
More from CreditDonkey: