Survey: Youngest Adults Still Not Saving for Retirement
Are young adults planning for retirement? Survey says no
---
Despite the focus on the economy during the past few years, the youngest of American adults are not saving for their future, according to a new survey conducted by CreditDonkey.com. The survey found that 79.8% of young adults, those ages 18-24 years, are not saving for retirement.
Any lesson learned about saving money both for their present needs and for the future still eludes young adults.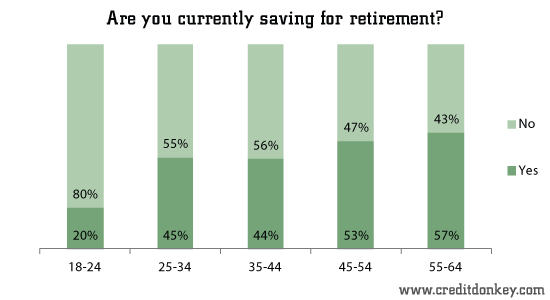 Are you currently saving for retirement? © CreditDonkey
The problem is, what they may have learned from the financial crisis – if anything – may be too fresh. In some cases, today's young adults were not taught at an early age about how to care for their finances and their future.
The lack of learning plays out in our latest survey: CreditDonkey.com found that retirement saving might be last on their list. As much as 70.2% of young adults think they can simply make enough money during their career to retire, without putting money aside to grow.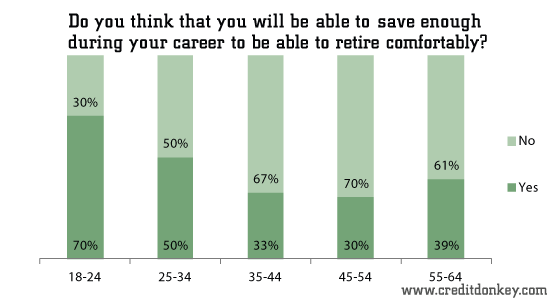 Do you think that you will be able to save enough during your career? © CreditDonkey
Of the young adults, 87.9% are also largely unfamiliar with the basic rule of 72, a simple formula that shows how time affects savings, when one is given a fixed interest rate that compounds.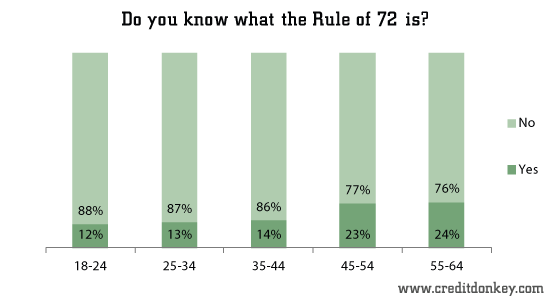 Do you know what the Rule of 72 is? © CreditDonkey
Compounding interest is earned on the principal invested plus the interest earned prior. This concept of saving using compound interest can make small amounts of money put aside monthly grow substantially over a long period.
There are many more formulas and calculators to determine financial need and length of time to save for retirement. It's worth trying them out for yourself. One thing is clear: The earlier saving is started, the more a saver earns over time.
CreditDonkey.com polled 1,105 Americans between September 17 and September 25, 2012.

Naomi Mannino is a contributing writer at CreditDonkey, a credit card comparison and reviews website. Write to Naomi Mannino at naomi@creditdonkey.com