23 Reasons Why Working Moms Should Volunteer
---
When you work 40 hours every week and handle home and family chores, doing anything for free may sound like a crazy notion. Let's be honest, while the idea of volunteering may sound like a nice concept, you can't help but wonder, "What's in it for me?" After all, who has the time and energy for giving back when you have pickups and drop-offs and soccer games and homework drills?
We're here to tell you the payoff. In fact, we've thought of 23 reasons why working mothers should consider volunteering, even if it's just for a few hours over the course of a year.
1. YOU CAN BOND WITH YOUR CHILD'S TEACHERS
Education is rife with volunteering opportunities, from the PTA (Parent Teacher Association) to the school committee to being a teacher's helper. And when you do give some time to your children's school, you'll be in direct contact with the people who have almost as strong an influence on their life as you do. Don't you want to know more about their teachers than their first and last name?
2. YOU'LL MAKE NEW FRIENDS
There's something about working alongside strangers on a common cause — say, an effort to raise funds for families in need or a building project for Habitat for Humanity — that creates a natural bond. If nothing else, there's no point working elbow to elbow without some chitchat. Relationships will naturally develop, and you'll get to know others in your community.
3. IT BEATS HAVING TO DONATE MONEY
For a lot of working moms, the easiest way to participate in a school event is to just donate money, because you think you don't have the time to help out. But Brian M. Rosenthal of The Seattle Times reports that one PTA president of a local elementary school reveals that parents at his school view volunteering as "more valuable than money." Many school events, such as carnivals or art fairs, require only an hour of your time on a weekend. Wouldn't it be nice to keep your guilt in check and keep money in your pocket by donating your time instead of your cash?
4. YOUR PERSPECTIVE IS DESPERATELY NEEDED
We'll cut to the chase here in a controversial subject: Stay-at-home parents should not have all the say in what goes on at the school. They may have more flexible schedules than you, but you do want to get your voice heard. As it is, much of the planning that is done for activities outside of the school's core curriculum is done by parents who have a lot of time or money, and that can result in a skewed viewpoint on what makes sense for all the children in a diverse community.
5. IT COULD MAKE YOUR CHILD SMARTER
According to Scholastic, "Research shows that children whose parents pitch in at school have a better attitude and higher academic achievement." Another perk is your children's happiness. They'll see you at an event and know you care, and even when they're older and embarrassed by their mom, a part of them will appreciate the time you're putting in (OK, maybe not right now, but eventually they will).
6. YOU GET A SAY
Does a baked good sale make your cringe? Did you hate last year's holiday wrapping fundraiser? Do you have great ideas for how your community can better raise money? Whether you just like to complain and want someone to hear you out or you do in fact have ideas that will rock your volunteering organization's world, being a participant will get you heard. They know you're giving up your precious time and will lend you an ear.
7. YOU'LL SEE YOUR KID IN ACTION
You know how your children act at home, but you don't always know how they interact with others when they're at school. Volunteering to help out with a classroom event, whether it be a poetry reading or a class play, is a great way to see your kids in action and witness their behavior. You'll get a better understanding of your child's needs and strengths when you're up close and personal.
8. IT'S AN EXCUSE TO TAKE OFF FROM WORK
There's something about a shortened workday that's sweet, as is the chance to let your coworkers know how selfless you are by giving your time. Many employers see the value in giving workers paid time off to volunteer, so you might as well take advantage of that and feel good about yourself in the process.
9. YOU GET TO BE A SPY
Observing how your child interacts at school can be eye opening. Of course, you want to know that your child is well liked and well behaved, but you may also discover there's a dark side and that your child is the one giving everyone else a hard time on the playground. Whether you find out something good or bad, you'll see it or hear it for yourself.
10. YOU MIGHT HAVE SOME FUN
Volunteering shakes you out of your routine. It puts you in touch with new people, and it will likely involve projects or events that you don't do a regular basis (unless you work at a nonprofit, perhaps). There's less pressure than at work when profits are on the line and office politics can be a mess. Spend a half hour packing boxes, stapling fliers, or manning a fundraising booth, and just try not to crack jokes with your fellow volunteers (or at least joke and work at the same time).
11. IT COULD MAKE YOU LIVE LONGER
Various studies have proven that people who volunteer are happier and healthier than those who don't. In fact, a 2013 meta-analysis of such reports found that volunteers cut their risk of mortality by 47%. We're all for giving back and all that good stuff, but here's actually a selfish reason to get out there and offer up your time: it's good for you.
12. SCHOOL FIELD TRIPS ARE A BLAST
When was the last time you were on a big yellow bus? Come on, you know you want to go to the aquarium. Or the zoo. Or the museum. How cool is that? All you have to bring is a smile, some discipline, and a bag lunch, and you're all set. And the teacher will always appreciate those extra helping hands with those excited, hard-to-wrangle second graders.
13. YOU NEED A MENTAL BREAK
We're not afraid to say it: working and mothering can both be stressful at times, and you rarely get a break from either of those roles. Volunteering is another form of work but it does come with a big benefit: Almost every respondent to a study by UnitedHealth Group said volunteering has helped their mood, and 78% said it has reduced their stress levels.
14. YOU COULD FIND YOUR NEXT CAREER OPPORTUNITY
As a working mom, sometimes you can't break out of your circle of friends/co-workers/acquaintances because you just don't have the time to broaden your horizons. Volunteering is a chance to show off your skills to a whole new group of people. Who knows who is watching? A fellow volunteer may be impressed by your project management skills and think of you the next time his company has an opening. Volunteering puts you in direct contact with other local people who may have promising connections, and gives you opportunities to expand your network.
15. IT'S NICE TO HELP OUT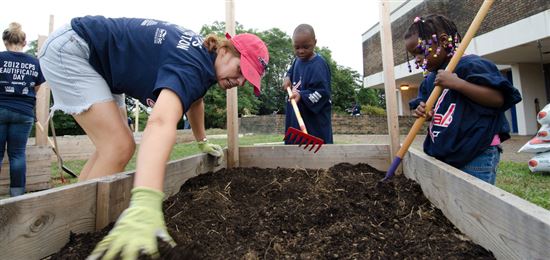 © U.S. Department of Agriculture (CC BY 2.0) via Flickr
It just is. It's rare that someone helps another person and feels bad about it. Period.
16. IT TAKES YOUR MIND OFF YOUR JOB
Sometimes, you just need a break from thinking about work. You're obsessed with thoughts about that annoying co-worker, that report you have do, or those invoices you have to pay. If your mind is occupied on something else, it helps to relieve that seemingly endless loop of thoughts.
17. YOU'LL GET PATS ON THE BACK
Perhaps from your spouse. Perhaps from another parent. Perhaps from the head of the organization you're helping. Or from yourself. There's nothing like a nice pat on the back.
18. YOU'LL GET SOME GRATITUDE
Working with kids is satisfying partly because they will be so appreciative of whatever you have to offer them (maybe not your kids but most, if not all, of the rest of the kids, regardless of age, will appreciate that you're paying attention to them in some way). For any kind of volunteering that you do, there will be a thank you involved.
19. YOU'LL GAIN CONFIDENCE
Organizations that need help — including your public school — are as resource strapped and financially strapped as you may be at home. They may have outdated technology systems and a total lack of workflow processes that someone like you, who lives and breathes the corporate world of organization and procedures, could easily clean up. Take some time to get them up to speed and voila, you've done a great thing and you'll feel good about yourself and your abilities. Studies have shown that those who volunteer have a higher level of self-esteem and sense of control over their life than those who do not bother.
20. YOU'LL PAD YOUR RESUME
At work, you may be limited by what others think you can do. When you volunteer, organizations will be open to letting you do pretty much anything. You get to try something new and you get to add your new skill or your affiliation with an organization on your résumé.
21. IT WILL GIVE YOU AN EDGE WITH THOSE IN CHARGE
By rolling up your sleeves and working with the principal or the administrators at your children's school, you're also becoming more familiar with them and they with you. You're no longer just some random parent who may call in to the office every once in a while – they're able to match the name with the face and they will likely be more open to listening to what you have to say.
22. YOU'LL BE IN THE KNOW
Children don't hang out at the water coolers with the teachers. Their idea of gossip is on a much smaller scale than yours. But if you have the opportunity to go to a PTA meeting, you would get to hear all sorts of info from other parents and teachers – and maybe even the principal – about what is really going on at the school, the school district, and the community at large.
23. IT'S GRATIFYING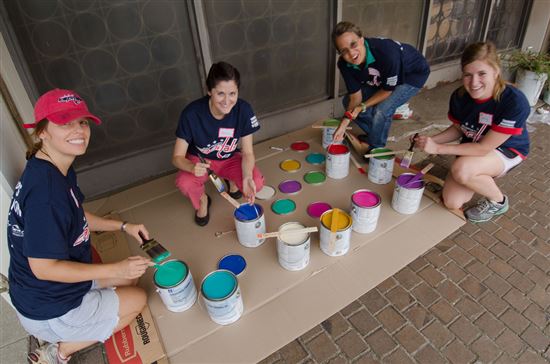 © U.S. Department of Agriculture (CC BY 2.0) via Flickr
It is. Even when you enjoy your job and love going to work, you'll get a good feeling when you manage to devote some time to a cause.
More from CreditDonkey: