Survey: Women More Worried About Credit Card Fraud than Men
---
Women are more likely to be worried about credit card fraud then men, according to a new CreditDonkey.com survey. More than half (57.6%) of female respondents worry about credit fraud while less than half of males (48.2%) are concerned about it.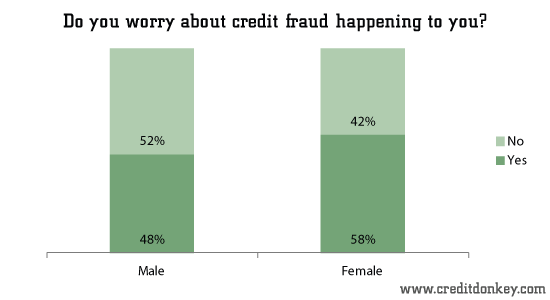 Do you worry about credit fraud happening to you? © CreditDonkey
By now you've heard of "phishing" and "smishing" fraud attempts at your account information through email and texting scams. As more people store their personal and financial account information online and on smartphones for banking and shopping, credit fraud is likely to increase. Credit fraud includes hacking online accounts for information or physically stealing the actual card. Both can lead to fraudulent charges and even identity theft.
Even though 66.1% of respondents have never been a victim of credit fraud, more than half (52.7%) are still worried it could happen to them, according to the survey.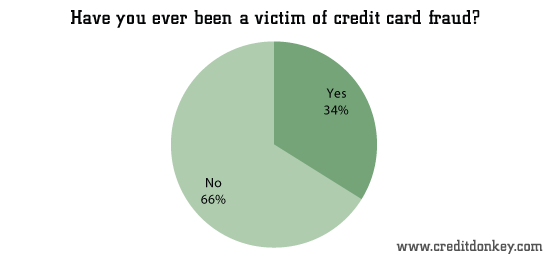 Have you ever been a victim of credit card fraud? © CreditDonkey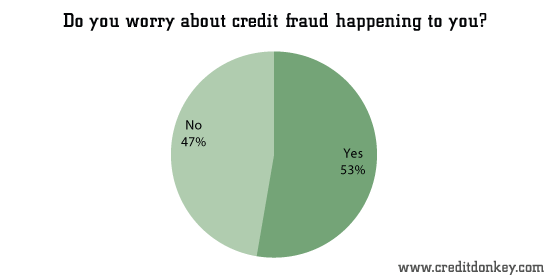 Do you worry about credit fraud happening to you? © CreditDonkey
Luckily, the credit card companies have our backs, and respondents were overwhelmingly happy about that. Credit card companies have dedicated fraud departments. They routinely track purchases and flag accounts with suspicious charges. Indeed, 62.6% of survey respondents said that a credit card company has called them about a questionable purchase.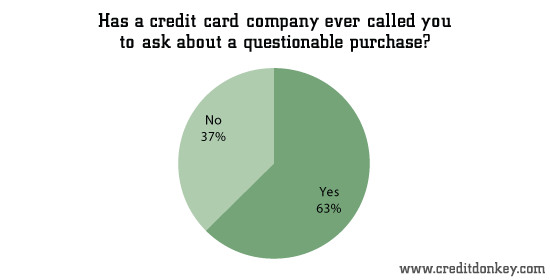 Has a credit card company ever called you to ask about a questionable purchase? © CreditDonkey
And, when asked if that purchase turned out to be fraudulent, 62% of respondents said the purchase was not fraudulent, but they were happy the credit card company had called to ask. Sometimes the credit card company will flag your purchases because you are spending more than usual or have made a purchase from a different state or country while on business or vacation.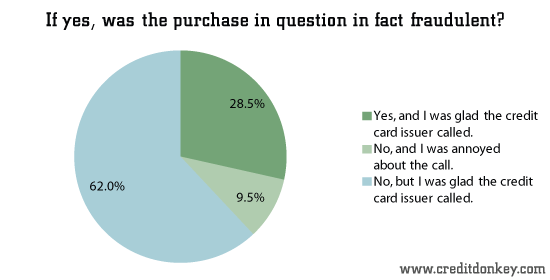 If yes, was the purchase in question in fact fraudulent? © CreditDonkey
Another way to catch fraudulent charges on credit statements is for borrowers to check statements regularly themselves. Currently, 42.6% check their own statements every month while 35.3% check their statements every week. Now that accounts and payments can be set up online, they can also be monitored online easily. Email and text alerts can also be set up to alert account-holders to current charges and changes to their accounts.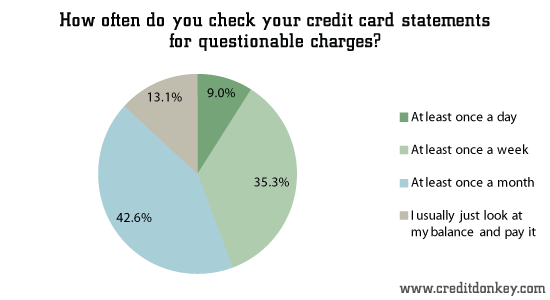 How often do you check your credit card statements for questionable charges? © CreditDonkey
When asked if a credit issuer had stopped credit fraud from affecting them in some way, 53.8% of respondents answered yes.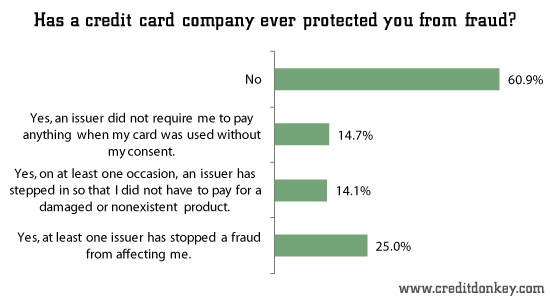 Has a credit card company ever protected you from fraud? © CreditDonkey
Our survey found that credit card issuers are doing their part. You can help them by alerting them when you will be using the card from another country or state for an extended period of time.
Also be diligent when using a computer. Both the Federal Bureau of Investigation and Federal Deposit Insurance Corp. advise consumers to never click on links in email or call numbers listed in a text message. If you did not start or ask for the communication, call the main phone number of the financial institution to confirm whether or not it is real, or log on to its website by typing the Web address in your browser window yourself.
CreditDonkey.com polled 1,105 Americans between September 17 and September 25, 2012.

Naomi Mannino is a contributing writer at CreditDonkey, a credit card comparison and reviews website. Write to Naomi Mannino at naomi@creditdonkey.com