Why Stockpile Might Just Be the Best Gift Ever
---
What do you get for the son, daughter, niece, or nephew who seemingly has everything? You could add to their growing pile of plastic toys that are soon destined for a garage sale, or give them a videogame that will distract them from the outdoors and homework for a few weeks. Or you could give them a gift that they'll not only profit from, but one that will also teach them valuable lessons.
This is where Stockpile comes in. Stockpile is a unique company that allows customers to give the gift of stock in recipients' favorite companies.
If your niece can't get enough of Disney's movies, for example, you can gift her a fraction of a share of Disney's stock. The recipient not only gets a stake in one of her favorite brands, but can watch its worth grow over the years and become invested in the company's performance. Stockpile is a fun way to provide a simple but valuable early lesson in finance.
Tip: Their mobile app contains fun mini-lessons that are great for teaching young learners how to become masters of the market.

HOW DOES STOCKPILE WORK?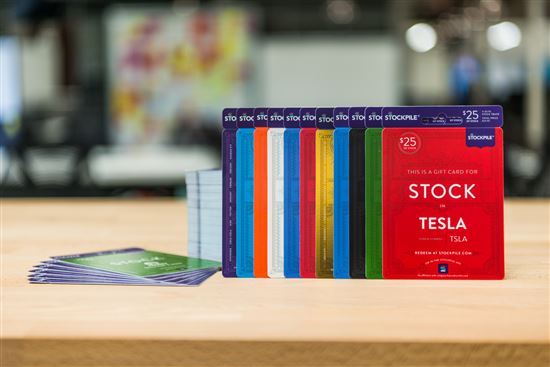 Stockpile Gift Cards
You can give Stockpile gifts in three ways: as an e-gift, a home-printed card, or a plastic Stockpile gift card, which you can find at participating retailers such as Office Depot and Wegmans. E-gifts and home-printed cards can be loaded up with any value up to $2,000, while the plastic cards come in smaller, incremental values of up to $100. Each purchase also includes a small fee to cover costs like commission and transaction, so a card with a $25 value costs $29.95, a $50 card costs $56.95, and so on.
You won't have to sign up for a Stockpile account to give, either; it's as simple as buying any other online gift. Once it's delivered, shopping for stock is as easy for the giftee as shopping on Amazon. They can choose any stock from a list of hundreds, although the plastic gift cards are limited to a smaller selection of the most popular stocks.
Once the stock is purchased, the recipient can sit back and watch their investment grow. They can also create a wish list of more stock they'd like to invest in, or even trade their chosen stock for a different one for a small fee.
Note: If the owner of the stock is under age 18, any trades will require approval from an adult before going through, allowing parents to have oversight.

STOCK UP FOR YOURSELF
Stockpile isn't just for gift giving. You can invest in yourself, too!
With a minimum of just five dollars, you can buy fractional shares of over one thousand stocks and ETFs. It's free to sign up, and there are no hidden fees or nasty surprises; just a ninety-nine cent charge per trade. That's opposed to more traditional brokerages, which often charge over five bucks for a single trade.
Tip: If you want to continue investing, Stockpile's app offers a handy automatic deposit feature that lets you do just that. Just head into the settings and tap Account, followed by Auto Deposit. There, you can toy around with their growth calculator, which allows you to estimate your potential earnings over time. Once you're satisfied, choose the frequency and amount of your recurring deposit and you'll automatically keep investing in your future.

HOW IS THIS POSSIBLE?
Stockpile knows that buying stock in the biggest, most popular companies is a pricey proposition. Top companies like Google and Amazon routinely trade at well over $1,000. So how is Stockpile able to offer stock in these companies at such a low price point?
It's simple: they buy up large amounts of stock in top companies, then divvy it up and offer the resulting parts to their customers. This lets iPhone lovers have a bit of Apple stock without shelling out for a full share, or the Frozen fanatic in your life have their own little piece of the Disney kingdom.
THE MINDS BEHIND STOCKPILE
Stockpile was co-founded by CEO Avi Lele and Sanj Kulkarni, who is now the Dean of the Graduate School at Princeton University. The idea behind Stockpile was born when Avi decided to give his nieces and nephews some stock in their favorite companies as a Christmas gift. But he soon discovered that the stock he'd chosen was too expensive, and the process of buying it wasn't straightforward at all.
Avi couldn't help but wonder if there was a way to make investing in the stock market more accessible, and that line of thinking led him to make Stockpile a reality. He hopes that people of all ages from around the world will warm up to investing and learn more about it now that they have access to shares in companies they love at prices they can afford.
A PERFECT GIFT FOR THE FUTURE
While stock might not seem like a gift a child would be excited to receive, you may be surprised to watch their face light up when you tell them that they have the chance to own a stake in their favorite company.
Not only that, but in watching their stock's value and using the Stockpile app, they will receive basic economic lessons that instill responsible financial practices that they'll carry with them for the rest of their lives. And what better gift could there be than that?
Disclaimer: Opinions expressed here are author's alone. Please support CreditDonkey on our mission to help you make savvy decisions. Our free online service is made possible through financial relationships with some of the products and services mentioned on this site. We may receive compensation if you shop through links in our content.
More from CreditDonkey: