Study: Best Cities for Bargain Shopping
---
Ever wonder if you're getting the best deal on that used car, a new pair of shoes, or even groceries? You may not be, because where you live or choose to visit can impact the price you pay for purchases both big and small. Taxes, retailers' rental rates, and the number of stores in an area influence your final cost at the register.
Study Methodology
CreditDonkey.com looked at the following factors to determine the best cities in the country for getting great deals:
Number of retail stores per capita. The more stores in one metropolitan area, the more likely you'll be able to find what you want when you're shopping, and, perhaps more important, the more likely that item will be priced competitively.
Sales tax. Sales tax can tack on more than 9 percent extra on your final cost if you're in a certain state. However, some states have very low, if any, sales tax. This can make a big difference, especially for higher-priced items. Some cities also add on their own sales tax to retail items on top of the state rate.
Average credit score of residents. For the most part, businesses price their items to sell based on what the majority of their customers are willing to pay. The more financially secure those who call a city home are, the more likely they will make smarter, less impulsive purchases. Because of this, cities with this type of residents presumably have more reasonable items available.
Rental vacancy rates. The higher the occupancy rate of a city's retail and commercial space, the more likely prices will be competitive. It implies that empty storefronts are few and far between. If there are more vacant stores in an area, those stores can afford not to price their products so competitively.
Regional price parities. Based on figures provided by the U.S. Bureau of Economic Analysis, this tells us how price levels differ between cities. New York has a relatively high RPP; not only are its price levels higher than other areas, but business owners have to pay more to provide their goods and services (because of the area's higher rents, for example), as well.
With those factors in mind, here are the best cities for getting the best bargain:
1. Cleveland, OH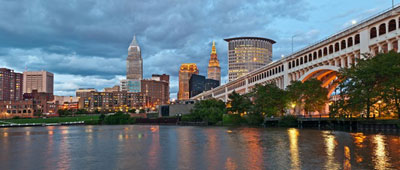 Cleveland, Ohio
Number of people per retail store: 308

Sales tax: 6.35%

Rental vacancy rate: 7.93%

Average credit score: 683

RPP: 10% below average
A high number of retail stores, mixed with inexpensive prices, helps Cleveland top the list as the best city to shop for deals. Pushing it to the top is the fact Cleveland is home to several malls, including the Westfield Southpark Mall, Beachwood Place, and Legacy Village. This gives you a wide selection and upping the chances that retailers have to keep their prices reasonable to attract shoppers away from their competition and stay in business. Cleveland is also home to the Aurora Farms Premium Outlets, 70 stores offering usually high-priced brand name items at a markdown, all in one place. These stores include Saks Fifth Avenue Off 5th, Ralph Lauren, and Coach. While you're in the area, consider picking up a souvenir, such as earrings in the shape of a guitar pick or a T-shirt of your favorite, old-school band while you're at The Rock and Roll Hall of Fame in downtown Cleveland.
2. Pittsburgh, PA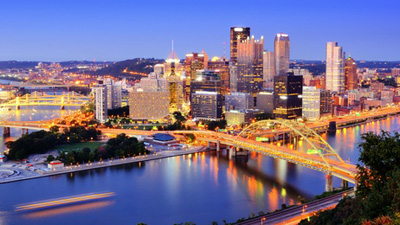 Pittsburgh, Pennsylvania
Number of people per retail store: 280

Sales tax: 6.2%

Rental vacancy rate: 5.5%

Average credit score: 693

RPP: 7.9% below average
Downtown Pittsburgh has a concentrated area of several shopping places, including locally owned boutiques. It ranked second on the list because of the high number of retail stores in the area compared to the city's population. Because there are so many stores in Pittsburgh, shoppers can find great prices on the things they need and the luxuries they want. Need to give your credit card a break while you shop? Take a step back into the past by walking through Pittsburgh's historic Market Square for some exercise and people-watching before you take out your wallet again at one of the many nearby restaurants.
3. St. Louis, MO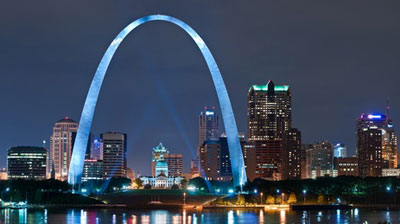 St Louis, Missouri
Number of people per retail store: 296

Sales tax: 9.25%

Rental vacancy rate: 7.93%

Average credit score: 682

RPP: 11.9% below average
St. Louis has the best RPP in the country, with the price of retail goods and services typically 11.9 percent below the national average. Moreover, St. Louis has many outlet stores, such as the St. Louis Premium Outlets, Osage Beach Premium Outlets, and St. Louis Outlet Malls, which has 1.1 million square feet of shopping space. There's also the Plaza Frontenac, which has high-end stores, such as Neiman Marcus and Tiffany & Co.
4. Milwaukee, WI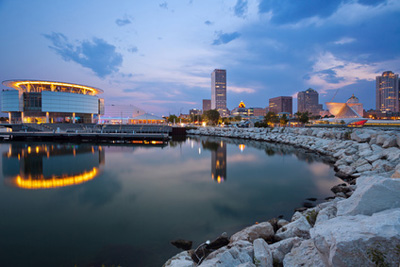 Milwaukee, Wisconsin
Number of people per retail store: 330

Sales tax: 5.3%

Rental vacancy rate: 3.45%

Average credit score: 690

RPP: 5.3% below average
Milwaukee has the lowest vacancy rate among the largest cities in the United States. The city also has a low sales tax rate, which means your overall bills will be lower every time you leave a shop here. If variety is the bargain shopper's version of heaven, then Milwaukee will be bliss as the city has many, many options. Shopping ranges from Brady Street, which spans several blocks and has boutiques and family-owned businesses, to the Historic Third Ward, a riverside public market.
5. Louisville, KY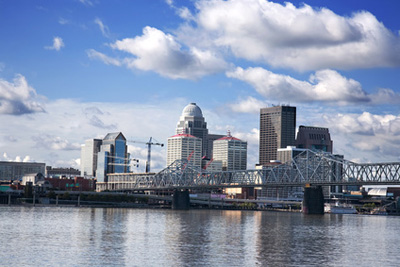 Louisville, Kentucky
Number of people per retail store: 291

Sales tax: 6%

Rental vacancy rate: 9.63%

Average credit score: 670

RPP: 7.9% below average
Although vacancy rates are somewhat high in Louisville, the RPP in the city is nearly 8 percent less than the average, putting the city fifth on our list. Louisville has several shopping centers, like Mall St. Matthews and Summit Lifestyle Center. But what makes Louisville stand out is its antique shops. The Derby City Antique Mall has more than 100 antique dealers in one place, so shoppers hoping to get a deal on a hidden treasure – and are willing to negotiate – may have some luck here.
6. Oklahoma City, OK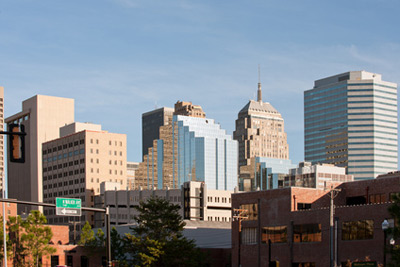 Oklahoma City, Oklahoma
Number of people per retail store: 299

Sales tax: 6%

Rental vacancy rate: 8.72%

Average credit score: 659

RPP: 6.4% below average
With nearly 300 people per every store and prices 6.4 percent below average, there's variety at inexpensive rates in Oklahoma City. Malls like 50 Penn Place and Casady Square are resident favorites, and the city also hosts numerous art galleries with art for sale, such as Painted Door and 50 Penn Place. Keep in mind if you visit Oklahoma between March and August, make sure to keep an eye on the forecasts, because the state's tornado season runs through these months.
7. Birmingham, AL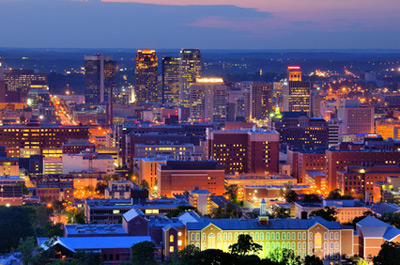 Birmingham, Alabama
Number of people per retail store: 258

Sales tax: 7.25%

Rental vacancy rate: 7.15%

Average credit score: 656

RPP: 5.9% below average
The most Southern state to make the top 10 is Birmingham. With only 258 stores per resident and prices 5.9 percent below average, Birmingham also has plenty for resident and visiting shoppers. Birmingham also is the home of Riverchase Galleria, which at 1.57 million square feet is one of the biggest malls in the country and includes stores like Macy's and Belk. Have high-end tastes but don't have the income to match? Marvel at more than a thousand vintage and antique motorcycles on display at the Barber Motorcycle Museum, which claims to have the world's largest collection.
8. Buffalo, NY

Buffalo, New York
Number of people per retail store: 282

Sales tax: 6.5%

Rental vacancy rate: 5.56%

Average credit score: 683

RPP: 4.5% below average
If you're planning a trip to New York City for a shopping spree, you may want to head a bit north and save some money. While New York City ranks 47th out of 50 for the best city to find a bargain, Buffalo is much higher, ranking eighth on our list. Although both cities have the same sales tax, New York City also has a local tax, meaning something you buy in the Big Apple will cost you 4.5 percent more than it would in Buffalo. North of New York City, Buffalo has several choices for bargain shopping, including farmers and flea markets. And it's closer to one of the most beautiful and relaxing tourist spots, Niagara Falls.
9. Kansas City, MO
Number of people per retail store: 314

Sales tax: 8.375%

Rental vacancy rate: 8.63%

Average credit score: 681

RPP: 7.1% below average
Kansas City is the second city from Missouri to make the list because its RPP is 7.1 percent, which is lower than the national average. Other than its mouthwatering barbecue, Kansas City is also known for its shopping districts like Crown Center, Downtown Kansas City, The Northland and Brookside/Waldo. Each offer different types of deals for bargain hunters among the city's nearly 6,500 stores.
10. Columbus, OH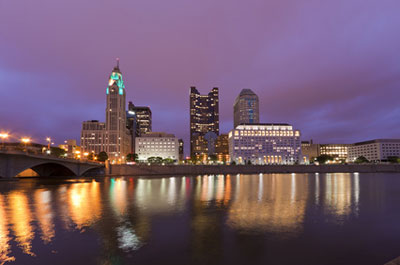 Columbus, Ohio
Number of people per retail store: 354

Sales tax: 7%

Rental vacancy rate: 7.02%

Average credit score: 676

RPP: 5.5% below average
Columbus' low rental vacancy rates and its RPP at 5.5 percent below the national average make it the last city on the list to round out the top 10. This Ohio city has large outdoor shopping areas, such as Eastern Town Center, as well as several other shopping districts, including its downtown and the edgier Short North Arts District. Short North offers a mix of art, dining, nightlife, and boutique shops. And when your hands get tired of holding shopping bags, you can visit the city's zoo and aquarium, renowned for its ties to the most famous zookeeper, Jack Hanna.
---
This list considered the top 50 metropolitan statistical areas based on the city's population. The rankings are based on several factors but do not take into account special sales and shopping seasons that could influence the price of retail items, including online sales stores in these areas may offer. Happy shopping!
Sources used in this study:
Tracy Jones is a contributing writer at CreditDonkey, a credit card comparison and reviews website. Write to Tracy Jones at tracy@creditdonkey.com