Study: Best Cities for the Broke
---
Hurting for cash? It might be time to consider relocating to an area where the cost of living is cheaper and the job prospects are better.
Plenty of major U.S. cities offer both a bustling, urban lifestyle and friendly financial conditions – as long as you're OK with not living on the coast. Below is our list of the top 10 cities for the broke.
Study Methodology
Consumer Price Index

CPI-Household Income Ratio

Unemployment Rate
The consumer price index, or CPI, measures the cost of living in an area, and we treated this factor with a heavier weight than the others. The national average for CPI is 100. All but one of the cities on this list falls below that number.
But a low CPI tells you only one part of the story. What really matters is whether people in an area are making enough to afford the items they need. So we also factored in the CPI-Household Income Ratio, which compares household income to the area's price level. If this number is greater than 100, the cost of living is proportionally greater than average income. Lower numbers indicate that the average household income can support a reasonably high standard of living. Then, bingo, you have a new place for relocating, as long as you also have a good chance at finding a job.
For that reason, we also looked unemployment rates for November 2013 for our pool of U.S. cities that have populations of more than 250,000. If you can at least afford the cost of a move, consider going to one of the following metropolitan areas to make your life more affordable.
10 Best Cities for the Broke
1. Omaha, NE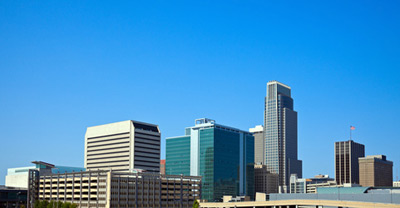 Omaha, Nebraska
CPI: 88.3

CPI/Household Income: 83.1

Unemployment: 3.6%
Omaha offers that rare, perfect trifecta of cheap living, reasonable wages, and low unemployment. The unemployment rate is staggeringly low at only 3.6%, and the cost of living is almost a full 12% below the national average. If you're looking to land a better job to improve your financial situation, the job prospects in Omaha are strong. Several major corporations across a variety of industries have chosen this city as their home, including Berkshire Hathaway, TD Ameritrade, and ConAgra Foods.
2. Des Moines, IA
CPI: 90.9

CPI/Household Income: 81.1

Unemployment: 4.1%
Like Omaha, Des Moines also offers the promising combination of cheap living and upwardly mobile job prospects. A hub for insurance and financial services, several major corporations, including Principal Financial Group and Allied Insurance, have established their headquarters here. If you're planning to compete in the job market, though, you'll probably need a college degree – 35% of Des Moines residents have earned a bachelor's degree or higher. In the average U.S. city, this percentage is only 28%.
3. Cedar Rapids, IA
CPI: 92.0

CPI/Household Income: 87.0

Unemployment: 4.2%
Cedar Rapids is the smallest city in the rankings, just barely making it past the 250,000 resident mini-mum to be considered. Though it's just a two-hour drive from Cedar Rapids to Des Moines, the econo-mies are very different: Des Moines has a large selection of jobs in the financial industry, while Cedar Rapids is much more dependent on agriculture and grain processing.
4. Huntsville, AL
CPI: 91.2

CPI/Household Income: 87.7

Unemployment: 4.8%
Huntsville is the second most educated city on the list, with about 37% of its residents having earned a bachelor's degree or higher – almost 10% more than the average U.S. city. This isn't surprising when you consider that aerospace and military technology is the main industry in the area, or that Huntsville is home to NASA's Marshall Space Flight Center.
5. Salt Lake City, UT
CPI: 100.6

CPI/Household Income: 89.1

Unemployment: 3.5%
The capital of Utah and the largest city in the state, Salt Lake City is the most expensive city on this list in terms of CPI and the only one to have a cost of living greater than the national average. The good news for residents is that they also have the highest household income at over $60,000 and the lowest unemployment at just 3.5%. That means if you relocate to Salt Lake City, you should be able to find a reasonably paying job.
6. Austin, TX
CPI: 95.5

CPI/Household Income: 85.5

Unemployment: 4.7%
None of Austin's metrics jump out on their own, but they combine to offer an impressive picture of a large city (population just under 1.6 million) with a very reasonable cost of living. The capital of Texas, Austin is also home to the University of Texas and its 50,000+ students. That might explain why its population is so well educated – an impressive 40.5% of Austin residents have earned at least a bachelor's degree.
7. Dallas, TX
CPI: 91.9

CPI/Household Income: 84.4

Unemployment: 5.6%
If you're looking for a lucrative career with a major corporation, Dallas is the place for you. The city is home to an impressive 10 Fortune 500 companies. Combine the potential for a high-paying corporate job with a cost of living that's 8% below the national average, and Dallas is an attractive spot to consider for relocating.
8. Tulsa, OK
CPI: 88.4

CPI/Household Income: 97.8

Unemployment: 5.2%
Tulsa, one of the cheaper cities on this list, also has one of the lower percentages of residents with a bachelor's degree or higher. If you have a college degree, you could find yourself in demand in the Tulsa job market, even if its 5.2% unemployment rate is the second highest in the top 10.
9. Oklahoma City, OK
CPI: 91.7

CPI/Household Income: 98.9

Unemployment: 4.7%
Home to about 1.2 million people, Oklahoma City is the second largest city in the top 10 – but with a CPI of just 91.7, it's not nearly as expensive as many larger cities. That CPI is almost exactly proportional to household income, though, which means a high standard of living might not be as easy to reach as it seems.
10. Springfield, MO
CPI: 88.0

CPI/Household Income: 108.5

Unemployment: 4.6%
Springfield has the lowest cost of living in the top 10 at a full 12% below the national average, but it also has the lowest household income at just $43,333. Healthcare services and education, the cornerstones of Springfield's economy, account for a significant portion of the jobs available in the area.
---
Based on the above rankings, if you're looking for cheap living and reasonable wages, the Midwest is the place to be. Texas, Oklahoma, and Iowa each have two cities in the Top 10, and coastal states didn't factor into the rankings at all. The good news for people facing adverse financial conditions is that there are cities that offer attractive combinations of purchasing power and job prospects if you're willing to consider relocating. And if you already live in one of these cities and feeling squeezed, check out 10 ways to save $1000 and 10 ways to invest $1000.
Sources:
Leah Norris is a research analyst at CreditDonkey, a credit card comparison and reviews website. Write to Leah Norris at leah@creditdonkey.com. Follow us on Twitter and Facebook for our latest posts.