Best Time to Buy Washer and Dryer
---
You head to the laundry room to dry a load of clothes, and everything is drenched in water. The washer didn't spin properly to take out the excess water. Oh well, you think, remembering that your dryer has been taking over an hour to dry your clothes these days anyway.
When it's time to buy a new washer and dryer, no matter how reluctant you are to admit you need them, the purchase will be less painful if you can save some bucks. All you need to do is time your purchase just right.
Here are the best times of the year to buy a new washer and dryer:
When is the Best Time to Buy Washer and Dryer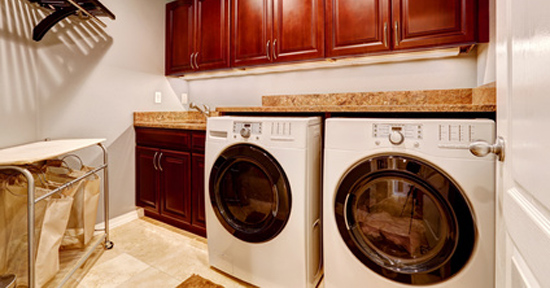 Early Fall
Manufacturers release their most recent creations in September and October, so retailers are eager to move last year's inventory to make room for the more innovative products. Don't be discouraged from buying an older model of washer and dryer; it could very well be equivalent to the most recent release, minus a few bells and whistles. Those extra bells and whistles could cost you an extra couple hundred dollars and probably aren't worth the additional cost.

Bonus Tip: Even the simplest washers and dryers will probably set you back upwards of $1,000 - quite a bit of money to pay at once. Consider using a low interest credit card to finance your purchase and spread out your payments over a couple of months. You'll get a little extra time to save up enough money to pay without getting slammed by the high interest rates other cards charge.

End of Fiscal Periods: Late June and late December
Whether it be near the end of the month or quarter, retailers have sales quotas to meet. As a result, your buying power will be at an all-time high if you catch the customer service representatives during this period of desperation, usually around the end of December and at the mid-year point, toward the end of June. As an added bonus, negotiating on price tends to be a very effective way to save some cash on appliance purchases, and the savings can be upwards of $100. Just be sure to shop during the week, preferably during daytime hours, to ensure that you will have an adequate amount of time to negotiate.
Holiday Sales
Black Friday isn't the only time of the year to purchase a washer and dryer for the cheap. Retailers tend to have a sale to correspond with every major holiday of the year. For Independence Day, we've seen discounts at big box home improvement stores of up to 36 percent off the original price.
Just be sure that the "sales price" is actually a bargain, and not a ploy by the retailer to lure consumers into buying more to increase their profits.
If none of these timeframes work for you, here are some other suggestions:
How to Save Money Buying a Washer and Dryer
Shop online
Not only can you more easily compare options, but you can save big by shopping online at Amazon or on eBay, just to name a few. And liquidation sites, such as Overstock.com, make your time even more valuable by passing on the savings incurred from cutting the middleman on to you.
Factor in your credit card strategy
The purchase you make requires some research on your part to get the best model for your needs, at the best price you can find. Don't forget to also consider how you're going to pay for it. You may want to use a credit card that offers cash back rewards (while the percentages can be a small, a big purchase like this one will be significant) or a card that has an extended warranty program.
Buy Used
Craigslist is a great place to find gently used washers and dryers at rock-bottom rates. And in some cases, you can save up to 50 percent, if not more, if the owner is desperate enough. Also, check out local scratch and dent centers and contact the manufacturer directly to inquire about refurbished products. If you can stand a slight blemish on the surface, which may not be apparent once the appliance is in use, you may be in luck.
(Writing by Allison, Additional Insight by Leah)
More from CreditDonkey: