---
Is it better to pay your credit card early or on time? Find out how to reduce debt and improve your credit score.

© CreditDonkey
Using credit cards wisely can help you make positive strides on your credit report. Knowing when to pay your card can save you tons in interest and fees and improve your credit score. But late or missed payments can have the opposite effect.
The best way to pay your bill is on time and in full each month, which will avoid interest, late payments, and keep your credit utilization lower.
If you can't pay off the full amount, much like 58% of other Americans, you can at least avoid late payment fees by making the minimum payment each month.
How Do You Know When to Pay Your Credit Card Bill?
At the end of every credit card cycle, you'll get a statement with the charges for that period. It will have due date at least 21 days from the date the bill was issued. You have until that date to pay at least a portion of your bill.
You have a few options as to how much you can pay:

A minimum payment, which is some percentage of your entire bill

An amount of your choosing above the minimum payment

The balance of your card through that cycle

The entire current balance of your card
As long as you pay at least the minimum requirement BEFORE the due date, you will not be charged any late fees or penalties. However, you will be subject to interest charges on any remaining balance (more on that below).
What is a grace period?
A grace period is a period in which you aren't charged interest on new purchases. It usually extends from the day your bill is issued through the due date for that billing cycle. Some credit cards only allow grace periods for customers who pay off their balance in full each month.
When to Pay to Improve Your Credit Score
The best way to boost your credit score is through regular, on-time payments of your credit card. That means paying at least the minimum balance BEFORE the due date every month.
This practice will help you develop a strong payment history, which is one of the most important factors affecting your credit. For every month that you make an on-time payment, the credit card company will make a positive report to the three credit bureaus.
While paying your bill on time is essential, how much you pay can also matters. Your credit utilization, or how much of your available credit you are actually using, also affects your credit.
In general, you should try to pay off your credit cards in full every month. Not only will this save you money in interest payments on any remaining balance (often 20% or higher), it will keep your credit utilization down.
If paying off your entire bill isn't possible, strive to pay as much as possible to keep your utilization under 30%.
If the credit card limit is $1,000, carrying a balance of $300 or less will keep your credit utilization at 30%.
If, on the other hand, you have maxed out your $1,000 credit limit and only make a minimum monthly payment of $50, your credit utilization would be above 90%. This can hurt your overall credit.

When to Pay Your Credit Card to Avoid Interest
You'll only pay interest on the part of your credit card balance you carry over (don't pay off) every month. That means you'll NEVER have to accrue interest if you pay off your card every month before the due date.
Here's a quick example: Your monthly credit card bill is $500.

If you pay $500 before the due date, you'll pay zero interest.

If you pay only $100 of that bill, you will pay interest on the remaining $400.
Credit card interest can add up quickly, too. The average credit card APR is more than 15%—that's an extra $60 tacked onto your bill in just one month.
Introductory 0% APR
Some credit cards offer an introductory APR as low as 0%. During the introductory period set by the credit card, you won't incur interest even if you don't pay the full balance off each month.
For example, take a card offering a 12-month 0% APR deal. If you make a large purchase on this card in the first month, you have almost a year to pay off the full balance without incurring any interest. There are a few things to keep in mind:

The introductory APR is typically only upheld for those cardholders in good standing. Being in good standing with a credit card means that you're abiding by the credit card agreement, usually by making the minimum monthly payments on time.
Credit card companies are only deferring interest during the introductory period. If you haven't paid the entire balance off in full, interest will be assessed from the beginning of the introductory period. You'll be charged for all that interest immediately. Let's look at how that works using the example of 12-month, 0% APR with 20% APR after the introductory period.
There are also 0% interest deals where credit cards won't charge any interest during the promotional period. Instead, you'll only begin to incur interest on the remaining balance at the end of the introductory period. Always read your credit card agreements thoroughly to understand the terms.

What Happens If I Pay My Credit Card Early?
If you pay your credit card balance early (that is, before the statement close date), the credit card will show a very low credit utilization. This can also improve your credit.
Here's how it works:

You make purchases within any given billing cycle.

Before that billing cycle ends, you pay off most (or all) of the purchases that you've made. That payment lowers your balance.

When the billing cycle ends, the credit card company assesses the outstanding balance.

Since you've already paid most of the charges off, your outstanding balance is low.
By paying purchases off within the same billing cycle you've made them, you keep your statement balances much lower and therefore have decrease your credit utilization.
Should you pay your credit card in full every month?
Paying off your entire credit card has several benefits. It ensures you will not get charged interest on purchases. It establishes a strong payment history and it keeps your credit utilization down, both of which can boost your credit score.

Understanding Your Credit Card Statement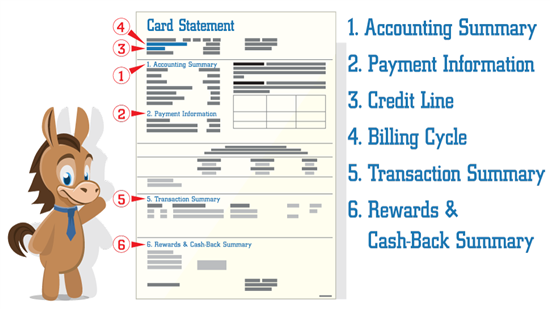 © CreditDonkey
At first glance, your statement might seem confusing and complex. It doesn't need to be. Keep reading to decode the terms and interpret your statement.
Billing Cycle
The billing cycle is the time period that your statement covers. It is made up of two dates:

Statement open date refers to the first day of the billing cycle.
Statement closing date is the last day of the billing cycle. Charges that post to your account on this day are included on this statement, but future charges will be on the next statement.
Posted vs pending posted transactions
Pending transactions haven't reached the credit card yet, meaning they aren't officially part of your statement. Posted transactions appear on your statement and count toward your account balance.

Account Summary
The account summary can tell you nearly everything you need to know about your account. It usually consists of the following:

Previous Balance: Your balance from the previous statement
Payments and Credits: Payments and credits applied to your previous statement balance
Purchases: Total new purchases made during the current billing cycle
Balance Transfers: Your balance transfer total
Cash Advances: Total cash advances taken during the statement billing cycle
Fees: Total fees charged during the billing cycle, including cash advance fees and balance transfer fees
Interest: Interest charged during the billing cycle. Your statement will also show an interest calculation section, typically further down on the statement. The calculation will tell you how interest was calculated on transactions, cash advances, and balance transfers.
New Balance: This balance reflects all the items above, combining previous balances, current transactions, and finance charges, and deducting any payments or credits. Paying this amount will fully clear your balance for the current billing cycle.
Credit Line
Here are some items to know about your credit line:

Credit Limit: Your credit limit is the total maximum credit you can use. This will not change unless the issuer increases or decreases it.
Available Credit Limit: The amount of your credit limit that you have not utilized. It's calculated by taking your total credit limit less your balance. This amount is likely to change with your spending each month.
Cash Advance Credit Line: Most credit cards grant you access to a line of cash. This is the total amount of cash you can take out using the credit card.
Cash Advance Credit Line Available: Adjusts your cash advance credit line for any cash advances taken and shows you what you have available.
Cash Advance credit lines should not be treated as a debit card. They are funds lent from the credit card company and can have hefty fees associated with them.

Payment Information
Understanding the payment information provided on your credit card statement is crucial. It allows you to stay on top of what, when, and how to pay your credit card to avoid any fees or late payment hits on your credit report.
Here's what you need to know:
Minimum Payment Due: The payment you must make to avoid being charged a late payment fee. Paying below this amount, or not paying at all, will make you past due and can hurt your credit score.
Payment Due Date: When your minimum payment is due to the lender. Make sure you're accounting for payment processing time to avoid being late.
Payment Coupon: Payment coupons must be torn off your statement and included with a check when making payment by mail. The payment coupon includes the information needed for your payment to be applied correctly.
Penalty APR: Your penalty APR may not be near your payment information on your statement, but it's directly tied to it. If you do not make at least the monthly payment by your payment due date, you can be assessed a penalty APR higher than your usual APR. You typically must be at least 60 days late to incur a penalty APR.
Rewards and Cash-Back Summary
If you're using a credit card offering rewards or cash-back benefits, you're likely to see a section of your credit card statement detailing what you've earned. It will show you how your rewards were calculated and if you can redeem any.
Transaction Summary
Your transaction summary shows every transaction and fee that posts to your account during the billing cycle. This is usually the largest section of your statement because it has the most detail. Each of your transactions will have the date, amounts, and merchants paid. This section should be reviewed for unauthorized transactions.
Other Items of Importance
Credit Counseling Statement: Your credit card statement is required to list the contact information of a nonprofit credit counseling agency on every statement. Ideally, you'll be able to pay your statement in full each month. But when hardship hits and you've exhausted all other options, credit counseling services can help you get on track.
Changes to Your Account: Any changes that are made to your account will have their own section toward the top of your statement. Items like a new APR or new terms and conditions can be found here.
Disclosures and Fine Print: Credit card statements include any disclosures that they're obligated to provide. You can also find instructions in this section, such as how to make payments, dispute charges, and how to handle a lost or stolen card.
Bottom Line
When you pay your credit card can impact your credit score and your interest charges. Regular on-time payments can solidify your credit history. Paying off your entire balance can lower your credit utilization, which can boost your score.
But if you have a late payment or don't pay at least the minimum payment by the due date, you'll suffer through interest and late payment fees, and take a hit on your credit score.
Making sure you follow your due dates and payment terms correctly will lead you down a path of creditworthiness.
Write to Kim Shackleton at feedback@creditdonkey.com. Follow us on Twitter and Facebook for our latest posts.
Read Next: