Survey: Valentine's Day Statistics 2014
---
How generous is your sweetheart, and will you return the favor this Valentine's Day? Male respondents to our annual CreditDonkey.com survey said they will spend an average of $87 on their lady friends, while women said they'd spend an average of just $56.
It's debatable whether men should spend more than women during this holiday – or if they should even out – but the fact is men are feeling a bit more generous these days. For a variety of reasons, a third of the male respondents said they plan to spend more money this year for Valentine's Day than they did last year. When asked why, some said it's because they now have a significant other or have more income this year. One respondent didn't hold back – "I'm in love," he gave as his reason for spending more this Valentine's Day.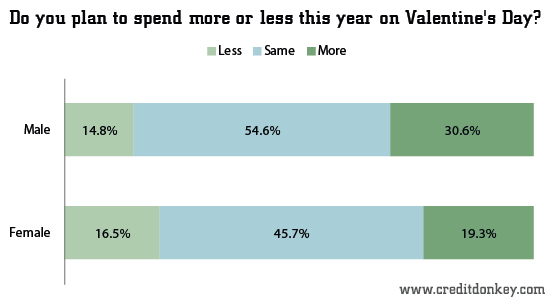 Do you plan to spend more or less this year on Valentine's Day? © CreditDonkey
On the other hand, about 15% of guys are going to spend less this year. Asked why, they mostly said they're either no longer in a relationship or simply don't feel the need to spend more than they did last year. "It is getting harder to save and budget money," one man said. Still, most guys, 54.6%, told us they plan to spend the same amount in 2014 as they did last year.
As for the ladies? Just over half (56.1%) intend to spend just as much or as little as they did the year before.
Just Whose Holiday Is It?
Almost everything on television and in the media this time of year screams that Valentine's Day is a holiday for men to give and women to receive. That's no real surprise, as this day has been coined for love, romance, and sweet gestures for as long as anyone can remember. But have ladies taken Valentine's Day too far? Have they made it completely one-sided and forgotten about the need to reciprocate?
According to the survey results, women could try harder to be creative with their generosity, at least on this upcoming day of love. Other than dinner, most women aren't planning to give much else for Valentine's Day. 61.3% said they would either prepare a meal or take their significant other out to dinner, and a third of women said they plan to give chocolates. All other gift ideas ranked fairly low on the list.
15.3% of women plan to give electronics.

11.3% of women plan to give clothing.

11.0% of women plan to give gift cards.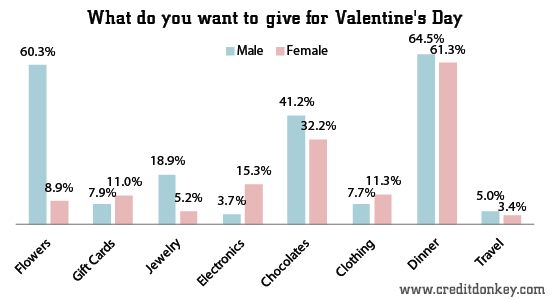 What do you want to give for Valentine's Day? © CreditDonkey
Despite having a short list of gifts to give, ladies definitely have expectations of what they'll be getting this year.
54.8% of women want to receive dinner.

36.9% of women want to receive flowers.

34.5% of women want to receive chocolates.

22.2% of women want to receive jewelry.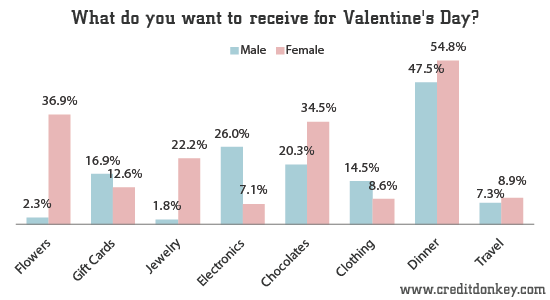 What do you want to receive for Valentine's Day © CreditDonkey
Even if you don't spend a fortune on making your significant other's day, make sure what you give or what you do reflects your appreciation of that person for being in your life.
(CreditDonkey.com surveyed 1,235 Americans, age 18 and over between January 10 and January 13, 2014. 59% plan to celebrate Valentine's Day. Results and analysis are based on the 733 Americans who plan to celebrate Valentine's Day.)
Jasmine Williams is a contributing writer at CreditDonkey, a diamond jeweler comparison and reviews website. Write to Jasmine Williams at jasmine@creditdonkey.com