Top 5 Ways to Save on Vacation Travel
---
In most families these days, money is tight. But even if you don't have a lot of extra to go around, you should still treat your family to a vacation once in a while. Going on vacation can help you throughout the rest of the year by letting you blow off some steam and giving you something to look forward to.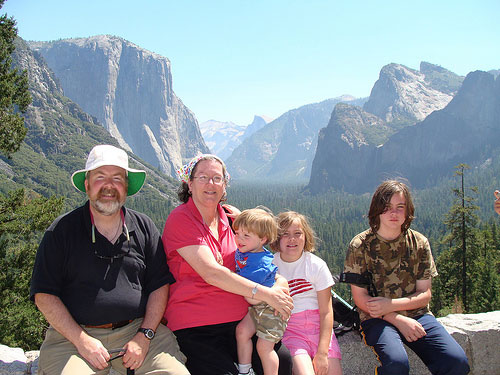 Family Vacation © Peter & Joyce Grace
Plus, it doesn't have to cost a fortune to take a nice vacation. There are loads of ways to save on your stay, whether you're up for a backwoods hiking trip or the most touristy of tourist destinations. Here are the top five ways that you can save on travel for your vacation.
1. Book Early or Book Late
This applies to planes and hotels, particularly, but it can also work well for vacation packages. Book your vacations up to a year in advance if possible, and set reminders on your phone or computer to book smaller items in advance, too. You can often take advantage of great discounts if you do this.
On the other hand, though, booking at the last minute can save you even more - if you can swing it! This isn't recommended for taking the whole family, but one or two people going on a vacation can probably handle this method. Websites like Priceline.com will let you find the absolute lowest prices on plane tickets, and if you buy them within a week or two of departure, you can often save a lot. It's better for the airlines, after all, to book seats, even for a lot less, than to have them sitting empty. Just be aware that you may not get as many options for departure and arrival dates and times by using this technique.
2. Sign Up for Group Coupon Sites
Sites like Groupon and Living Social often have great deals on local items. If you know well ahead of time that you're going to visit L.A. or Boston, for instance, start checking on the daily deals. While you don't necessarily need 50% off an oil change, you might be able to save on entertainment, a meal, or admission to popular local attractions.
Plus, the businesses featured on these sites are often local businesses that will give you more of a taste of the local flavor than if you were to eat at Applebee's and McDonald's on your entire trip.
One other thing to check out is Living Social's Escapes feature. There, you'll find savings on everything from nearby bed and breakfasts (great for a romantic weekend getaway!) to Caribbean cruises. Seriously, these trips can save you some major cash, since you often get at least a hotel package at 40% or more off the ticket price. If you can be flexible on your vacation, this is a great way to save some money!
3. Stay Out of Super-Touristy Areas
Even if you go to a spot that attracts a lot of tourists, avoiding the areas targeted specifically for tourists can save you money from the start. Hotels, restaurants, and attractions will all be much cheaper. In fact, one of the best ways to make a vacation more memorable while saving money is to find out where the locals would stay and eat.
If you're traveling in the United States, do some online research about the demographics of an area. Of course, hotels are likely to be nearer to tourist areas, but you might also be able to stay in a more business-oriented area. Just on the other side of town, you can hit up the tourist attractions.
If you're traveling out of the country, check out guide books like Rick Steves's "Back Door" series, which focus more on local flavor and less on tourist traps.
4. Be Frugal When it Comes to Food
Blowing your entire vacation budget on food is silly. If you want to just go out all the time, you might as well do a stay-cation and sample all your local restaurants, instead. There are lots of simple ways to save on food. One of the best is to pack some along with you. Condominiums and cabins with kitchens are great for beach and backwoods vacations; just get some groceries and fix most of your meals in. You'd be amazed at how much you'll save!
If this isn't an option for you, then eat at places where kids eat for free or cheap. Try to stay in hotels that offer a complimentary continental breakfast. For lunch, make lunchmeat sandwiches or peanut butter and jelly at least a couple of days. If nothing else, you can save on snacks by packing your own granola bars and trail mix instead of stopping at a coffee shop or roadside stand when the munchies hit.
5. Figure Out Your Best Transportation Arrangements
Some travel guides say it's cheaper to rent a car, and others say public transportation is the best option. The truth is that it really depends on where you are. If you're going to be driving long distances between places - or if you're staying in country but driving from home - renting a car might be a good option. It's a bigger expense up front, but it can actually save you money in maintenance and miles on your own family car.
In many large American cities like Chicago and New York, public transportation is by far the easiest way to get around. It's faster, and you don't have to worry about navigating unfamiliar roads.
In European cities, public transportation, walking, and biking are almost always the way to go. Keep in mind, though, that you should look into things like bus and subway passes, which could save you in the long run if you're going to be in the same area for more than a day.<