Survey: Black Friday Statistics 2012
75% do not plan to go out Thursday Night for Black Friday
---
Earlier Black Friday opening times on Thanksgiving evening are not popular with shoppers according to a recent CreditDonkey.com survey. The majority (74.6%) will not be going out on Thursday night to get a head start on Black Friday deals, although 41% do plan to shop during the day on Black Friday.
Even so, Black Friday's store-shopping event is losing its luster to Cyber Monday, when a lot of holiday shoppers take advantage of online retail sales. Close to 60% of all respondents said they will not shop on Black Friday, citing crowds as the most common reason to stay away.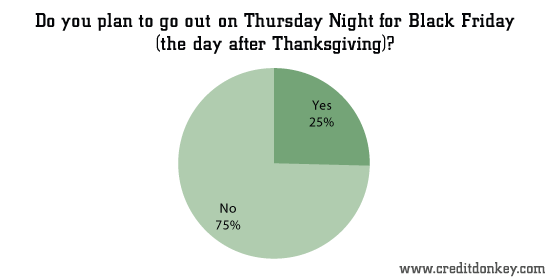 © CreditDonkey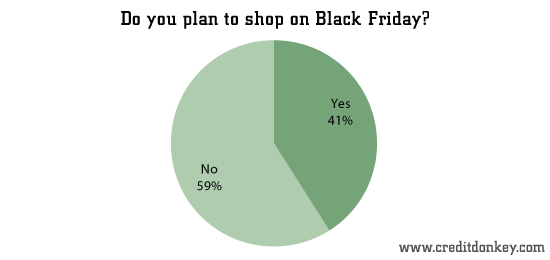 Do you plan to shop on Black Friday? © CreditDonkey
But, along gender lines, the choice of when to shop has nothing to do with being female as you might suspect, since women have gotten a bad rap for being crazy Black Friday shoppers in years past. Out of those respondents not going out Thanksgiving night, the majority are women (77.6% versus 71.7% of men who will not be shopping that evening).
Out of those who will be shopping on Black Friday, 59.5% will spend less that day than they did last year. Females were slightly more likely to be the ones tightening their spending belts this year.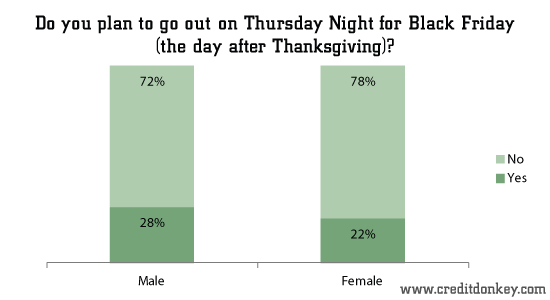 © CreditDonkey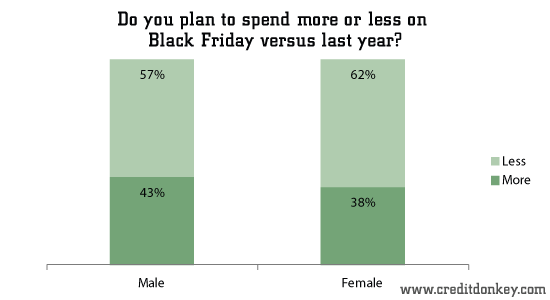 © CreditDonkey
More than Half Will Cyber Shop
In contrast, more than half of all respondents to our holiday shopping survey plan to shop Cyber Monday, when online retailers list the equivalent of their "Black Friday" door buster deals online instead of in stores. Just over half (56.7%) plan to shop on Cyber Monday, and 54.5% of those Cyber Monday shoppers will spend more that day than they did in 2011. These shoppers are swayed by the better deals online, including free shipping.
Men are getting in on the online action, too: 58.2% plan to shop more online on Cyber Monday versus just under half (49.4%) of women.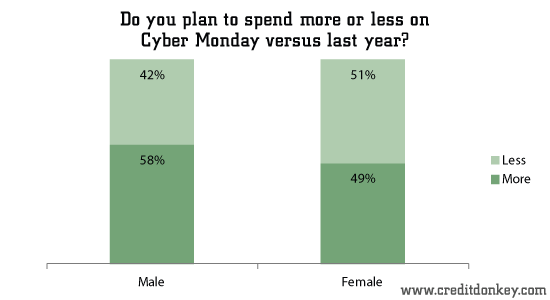 © CreditDonkey
And in general, beyond the Thanksgiving weekend, consumers will be spending more of their holiday shopping time online; 64.4% of respondents said they will browse online rather than schlep around brick and mortar stores.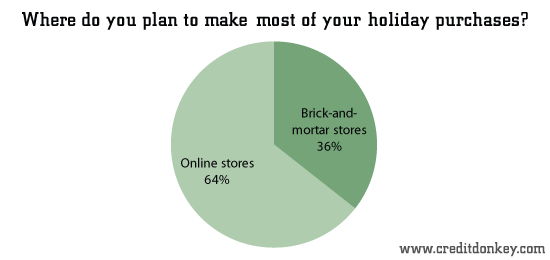 © CreditDonkey
From October 9 to October 23, 2012, CreditDonkey.com polled 1,125 Americans, age 18 and over, about their holiday shopping plans using multiple choice questions and short-answer questionnaires.
Naomi Mannino is a contributing writer at CreditDonkey, a credit card comparison and reviews website. Write to Naomi Mannino at naomi@creditdonkey.com