Survey: Thanksgiving Statistics 2013
Americans like Thanksgiving side dishes more than family and friends
---
Around the Thanksgiving table this year, Americans will be more interested in getting their hands on the mashed potatoes, cranberry sauce, and dinner rolls than they will the main dish – the turkey. In a survey of 1,076 Americans conducted by CreditDonkey.com, the majority (96.3%) rated the side dishes as what they like about Thanksgiving, followed by family and friends (94%) and the turkey (91%).
As for the activities that surround the Thanksgiving dinner, such as watching football, shopping, and traveling, respondents rated them lower on their list of favorite things to do that day, behind the main event itself.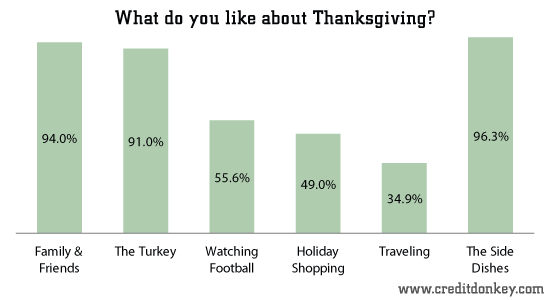 What do you like about Thanksgiving? © CreditDonkey
While the majority of Americans plan to celebrate the holiday (90.1% of respondents), 13.9% will be making an effort to spend less of their money on getting to their destination and entertaining and feeding their family and friends. Less than 10% will actually spend more money this Thanksgiving, while 77.7% said they would spend the same amount.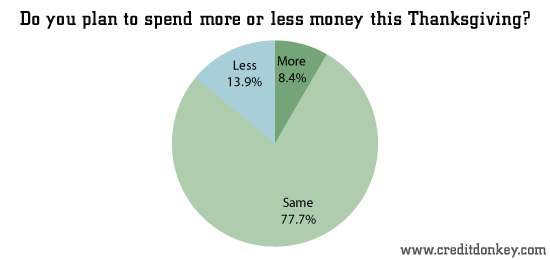 Thanksgiving 2013 Spending Outlook © CreditDonkey
From October 7, 2013 to October 11, 2013, CreditDonkey surveyed 1,076 Americans, age 18 and over, for their opinions and plans regarding the holidays.
Sarah Johnson is the senior editor of CreditDonkey, a credit card comparison and reviews website. Write to Sarah Johnson at sarah@creditdonkey.com