Survey: Summer Vacation Statistics 2013
Rising Prices Keep Vacation Plans Modest
---
Summer is the season for vacations, but it's also the season for saving for many Americans. That's according to a new CreditDonkey.com survey, which showed over 30% are planning to spend less on their summer break this year.
"The economy isn't recovering for everyone, and that's keeping vacations modest for a growing number of Americans," said Charles Tran of CreditDonkey. "You're seeing a lot of people looking for inexpensive alternatives to a big summer blowout trip." This means more people are looking for ways to save money on hotels or save money on gas for long road trips this year.
Rising prices and continued concerns over job security are likely keeping a lot of people at home. Just over 55.4% of respondents said they are not planning to go on vacation this summer.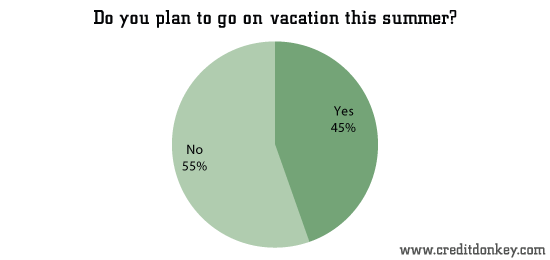 Do you plan to go on vacation this summer? © CreditDonkey
In addition, the vast majority are concerned about rises in everyday prices. About three-quarters of respondents said that high food prices and high gas prices are making them worry.
Their concern over less-necessary expenses – entertainment costs – is a much smaller issue. Less than half of respondents said they are worried about entertainment costs.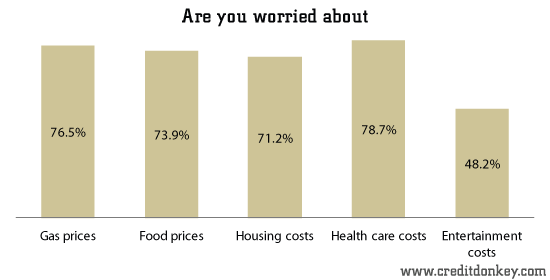 Are you worried about... © CreditDonkey
"People have been saving for years, since the economy started to slow down," Tran says, alluding to the 2008-2009 recession that has caused unemployment to soar and wages to stay low. "A lot of people are getting frustrated that things like a road trip are becoming more and more unaffordable, and sadly, that's keeping a lot of people at home."
(CreditDonkey.com surveyed 1,045 Americans, age 18 and over between May 24 and May 30, 2013.)
Mike Foster is a contributing writer at CreditDonkey, a credit card comparison and reviews website. Write to Mike Foster at mike@creditdonkey.com