5 Ideas to Stretch the Dollar with Kids
---
Maintaining a household budget takes on an entirely new meaning when you have kids. In fact, kids have a way of squashing a household budget before you can say…kids!
However, there are some great ways to save stretch your household dollar when you have little ones in the picture: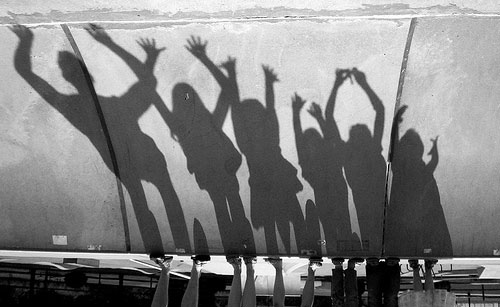 Family of Shadows © D. Sharon Pruitt
Find a great clothing consignment shop - Children's consignment shops are smart for parents who want to make money and save money on children's clothes. In particular, if you have kids' clothes, sell them and make a little extra cash for everyday expenses. Or, find a great bargain or two by browsing the racks of your neighborhood children's consignment shop.
Visit your local library - Your local library can be a gold mine when you have kids. The events held at most libraries are geared toward children and families, and they are a great way to enjoy free family time. Plus, a library card affords you the opportunity to borrow movies and books, both of which are free! There is plenty to see and do at your local library, and your children are sure to reap the benefits for years to come!
Make the family dinner important once again - Instead of eating out (and paying the hefty price that goes along with it), make mealtime family time. Better yet, make it a family affair by asking the kids to help prepare the meal, set the table, clear the table, or clean up afterwards. Use the time at the dinner table to ask your kids about their day and bond as a family, all the while enjoying the extra money in your grocery budget.
Start a babysitting swap with friends - Spending time out alone as a couple is appreciated by parents everywhere. However, many times parents skip a date night because they can't afford the cost of a babysitter. Save a considerable amount of money by starting a babysitter swap with friends. Take turns watching each other's kids and enjoy a night out once in a while. Your kids will surely love the opportunity to play with their friends, and you will get to enjoy date night guilt-free!
Get outside and play - Entertaining the kids can cost a small fortune. For example, consider a trip for four to the movie theater: after the tickets, popcorn and sweets are paid for, your wallet is easily thinner by $75. However, it doesn't cost any money to get outside and play! Pack a picnic lunch and spend the afternoon watching the clouds or playing on the swings, or take a family hike and make up a scavenger hunt to keep the kids entertained for hours. All it takes is some imagination and a pair of tennis shoes, and you have the makings of a free day together as a family!
Kids can be a strain on your budget, but by simply spending more time together outdoors, at the dinner table, and at the library, you can enjoy a larger savings account - and more family bonding time as well!

Grace C is a contributing writer at CreditDonkey, a credit card comparison and reviews website. Write to Grace C at grace@creditdonkey.com
Note: This website is made possible through financial relationships with some of the products and services mentioned on this site. We may receive compensation if you shop through links in our content. You do not have to use our links, but you help support CreditDonkey if you do.