Spirit Airlines Baggage Fees: How to Avoid Fees
Editorial Note: This content is not provided by the card issuer. Opinions expressed here are author's alone, not those of the issuer, and have not been reviewed, approved or otherwise endorsed by the issuer.
This article contains references to products from our partners. We receive compensation if you apply through links in our content. You help support CreditDonkey by reading our website and using our links.
(read more)
---
Spirit can be a great budget airline if you know how to avoid the (many) fees. Here is everything you need to know about Spirit fees and ways to save.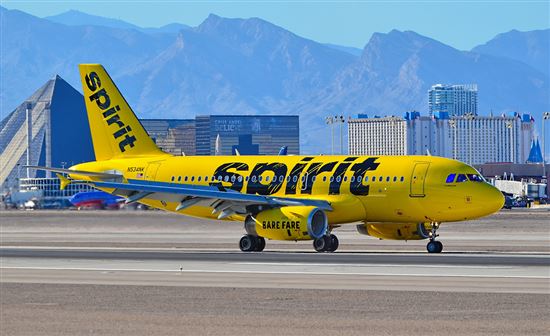 N534NK Spirit Airlines Airbus A319-132 © tomasdelcoro (CC BY-SA 2.0) via Flickr
On Spirit Airlines, virtually nothing is complimentary - which is how budget travelers save big. Letting flyers pick the upgrades they're willing to pay for (and skip the rest) lets Spirit keep their Bares Fares™ incredibly low.
Baggage Policy: One personal item (<40lbs and 18x14x8 inches) such as a purse or small backpack is permitted. A carry-on (22x18x10 inches) incurs a fee. A checked bag (<40lbs and <62 linear inches) also incurs a fee.

Everything You Need to Know to Avoid Surprise Fees
Some of the airline's basic charges can come as a surprise to first-time customers. The cost of your flight will cover travel for you and your personal item, and just about nothing else. But if you can pack light, plan ahead, and be flexible in your travel dates, Spirit might become your go-to budget airline.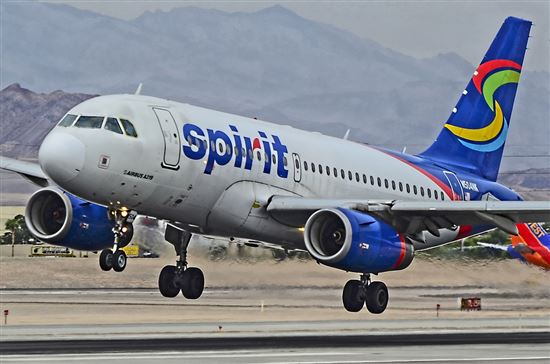 N504NK Spirit Airlines © tomasdelcoro (CC BY-SA 2.0) via Flickr
Buy tickets at the airport. Booking online or over the phone comes with a $9-$19 "Passenger Usage Fee" each way, and booking over the phone tacks on an extra $35 for Spirit's "Reservation Center Booking Fee." Even after you factor in parking and gas, booking at the airport is significantly cheaper.
Check in online. We're not exaggerating when we say that next to nothing is complimentary. Printing out your boarding pass at the airport will cost $2 with a kiosk, or $10 per pass with an agent. Save yourself $2-$10 each way and print your boarding pass at home.

Tip: One exception to this rule: passengers traveling with infants must check in at the counter, but won't pay for it.


Pack light, or pay for your bags ahead of time. If you can pack (extremely) light and fit the essentials in your personal item, you can cut baggage fees altogether.

Carry-on and checked bag fees vary depending on the length and time of your flight, but as a general rule, here's what you can expect:

$39 for a carry-on

$32 for your first checked bag

$42 for your second checked bag

$87 each for your third, fourth, and fifth

These are the prices if you pay for them while you're booking. If you reserve your bags after that, fees add up quickly: it's an extra $10 after booking, another $10 at online check-in, and another $10 at the airport check-in counter.

Keep costs low by paying for bags when you book. Estimate your exact costs ahead of time using Spirit's "Bag-o-Tron."

The baggage cost will vary slightly depending on your route. To know your exact cost before booking, use Spirit's baggage calculator.

Select "A New Trip" under Spirit Bag-O-Tron.

Enter in your travel destination and dates.

Click on "Display Bag Prices" to see the costs.

Keep in mind that you pay a baggage fee each way.


Measure and weigh your bags. If you're bringing a carry-on or checked bag, plan ahead and know your baggage allowances.

Carry-ons, personal items, and checked bags must weigh less than 40 pounds.

Going over by just a pound (up to 50 pounds total) will cost an extra $30.

Personal items must measure less than 18x14x8 inches.

Carry-on bags can measure up to 22x18x10 inches.

Checked bags measuring over 62 linear inches (length + width + height) cost another $100.

Tip: Some exemptions to these rates: Passengers won't be charged for bringing on crutches, canes, cameras, infant bags, strollers, or car seats (when in use by a child under 2 years old.)


Don't reserve your seat. The privilege to choose a seat will cost you a pretty penny, too.

Selecting a regular seat at check-in can cost anywhere from $1 to $50.

"Big Front Seats" with more leg room and wider cushions cost $12-$150.

Upgrading to a big seat while onboard costs $25-$175.

The cheapest option? Skip reserving a seat altogether.

One clever way to avoid paying a baggage fee on Spirit (or any other low-cost airline) is to try and fit your and your travel companion's belongings in the same carry-on bag. While that cuts the amount of luggage you can bring in half, it allows you to split one baggage fee between the two of you. This trick works best when you're going on a weekend trip or on a relatively short adventure where you will not need to make too many outfit changes.

Staffo Dobrev, budget travel expert, Wanderu


Stick to your plans. Make sure you won't need to modify or cancel your itinerary before you book. Spirit charges $90 to modify or cancel your itinerary, with "some" exemptions for free cancellations made within 24 hours of booking. It's an extra $10 to change your itinerary at the airport.

If you've found a cheap itinerary but aren't sure about the dates, you have the option of selecting Spirit's "Flight Flex" for $35-$45. That will let you modify your itinerary once online, down to only 24 hours in advance, but won't cover the price difference of your new itinerary.

Did you know

:

Southwest

gives you 2 free checked bags on every flight (as well as a free personal item and carry-on). And there are no fees if you need to change your flight.

JetBlue

also gives you one free carry-on.

Both airlines fly to over 90 destinations within the U.S. and surrounding countries. So it's worth it to see if either Southwest or JetBlue flies your route. Even if the flight cost is a little bit more, you could still be saving a lot on baggage fees.


Bring snacks and a water bottle. Want water on the flight? A pack of peanuts? That'll cost you, too - up to $10 for snacks, and up to $15 for drinks. The easiest solution: bring an empty water bottle through security, and throw some snacks in your bag before you board.
Browse the deals. Keep tabs on Spirit's "deals" page for discounted fares between U.S. cities. You can search for a specific route or browse deals by departure airport. Just keep in mind that you'll need to keep your travel dates flexible and might have to book an overnight flight to snag one of those $40 fares.
Join the $9 Fare Club. If you live near a Spirit hub and fly often with them, you might benefit from membership in Spirit's $9 Fare Club.

The name is a little misleading; you won't find $9 fares through the club, but you will get exclusive access to the biggest discounts on fares and vacation packages. In the "deals" section, some round-trip itineraries are discounted another 50% for Club members.

You'll also save on each carry-on and checked bag you bring onboard - for up to 8 other passengers on your booking.

Membership costs $59.95 for the first twelve months, and will automatically renew for $69.95 if you don't cancel.

More questions about fees? Spirit lists all of its fees and upgrades on its site so that you can avoid surprises at the airport.
Editorial Note: Any opinions, analyses, reviews or recommendations expressed in this article are those of the author's alone, and have not been reviewed, approved or otherwise endorsed by any card issuer. This site may be compensated through the Advertiser's affiliate programs.
Editorial Note: This content is not provided by Chase. Any opinions, analyses, reviews or recommendations expressed in this article are those of the author's alone, and have not been reviewed, approved or otherwise endorsed by Chase. This site may be compensated through the Advertiser's affiliate programs.
More from CreditDonkey: