Study: Best Small Business Website - Wordpress vs Squarespace vs Weebly vs Wix
---
Weebly, Wordpress, Wix or Squarespace have their pros and cons, so how do you choose a small business website builder? Here is a comparison to help small business owners build their first site.
These days, your online presence is your business's calling card. And while it may not need to be a triumph of cutting-edge design, your small business website does need to be informative and simple for outsiders (your potential customers) to navigate.
Unfortunately, many small business owners forget about that need. If they can't afford a full-fledged website design, they may try to make a go of it themselves by throwing a bunch of words up on the screen and hoping for the best. They forget to put up their address or contact info, and visitors to the site can't make sense of what the business is offering.
But you can easily – and cheaply – set up your own website, and you don't have to pay a fortune or learn to code in order to create a beautiful, functional website. Simply turn to one of today's popular DIY website solutions. Each offers a free or low-cost version that promises a quick, user-friendly experience. In other words, they won't let you forget to put your phone number on your site. We've picked our four favorites and highlight which ones would make the most sense, based on your needs.
Study Methodology
We evaluated four DIY website design platforms based on the following four criteria:
Cost for What You Get

User-Friendly Features

Creative Growth and Upgrades

Speed of Setting Up
When researching website solutions, look beyond the advertised price. You need to determine whether the cost is a monthly charge or a one-time fee. Then, you need to factor in the costs of website hosting and keeping your domain URL, in addition to the cost of the platform itself. Sometimes programs offer free hosting or a free domain for using their service, and sometimes those features cost extra. And while it's easy to be reeled in to a "free website" offer, it won't do you any good if you can't use the website for business purposes with a custom URL or ad-free operations.
A huge draw for DIY website services is making the process user-friendly for business owners who don't know their HTML from their CSS. While all four of the programs we rated are relatively user-friendly, some solutions are best for users with more Internet experience than others, which we've noted.
You also need to look beyond your needs today and consider how they'll change down the road. Our rankings took into account each platform's ability to grow and change over time, the flexibility for creative freedom, and whether or not you can truly personalize the site.
Finally, for habitual do-it-yourselfers, you know speed is of the essence. So we also factored in long it takes to sign up, customize the site, upload your information, and, finally, launch your site and go live.
BEST WEBSITE FOR UPGRADING LATER: WORDPRESS.COM
This ubiquitous website design tool has two versions: WordPress.com is the free version that allows you to build a beautiful blog quickly, and WordPress.org is the hosted version that allows you to build and customize that blog into a full website.
The WordPress team has no shortage of accolades and awards, seeing as it powers more than 20 percent of the Internet. Much of this has to do with how very easy the tool is to use and how quickly even those who are not very Internet savvy can get up to speed with it.
Why We Like WordPress.com
WordPress is hands down the most creative website design solution that offers the most extensive opportunities for future growth. When you sign on for a free WordPress.com blog, think of it as a baby step towards building an online following and growing your web presence. You're learning about website design and content management systems (CMS) as you go, and you can use that knowledge to expand your website (and web presence) in the future.
The Downsides
Installing a theme and getting up and running are very simple. However, as with other free options on our list, the downside is you have to allow ads on your site or pay $30 per year to keep the ads off. You also need to pay $10 to upgrade to a customized URL for your site (rather than a URL with "wordpress" in the name). To be fair, though, this option is still cheaper than paying for monthly website hosting costs.
Who WordPress.com Works Best For
WordPress.com works best for small business owners and freelancers who want to put together a simple, professional website presence today with the intention of one day expanding that presence. When the time comes to expand, upgrading to a self-hosted site and working with a website developer will be a simple and low-cost process. If you have grand plans for a customized, beautiful website a few months or a few years out, WordPress.com is the best choice for you now.
BEST WEBSITE FOR BUILDING A COMPANY WEBSITE: WIX
Wix is the most user-friendly option for those who don't consider themselves Internet experts. It provides cut and dry guidelines for creating a site that showcases your business and provides a predictable monthly expense.
In particular, Wix offers an intuitive, high-quality design, and editing experience. Even PC World is in love with Wix; Erez Zukerman exclaimed that the Wix editor is "a joy to use" – high praise from this website.
Why We Like Wix
Wix truly offers an amazing variety of templates. With over 70 categories, you're sure to find something you can customize for your business that will speak to industry standards but also be unique. We also love that you can customize the color options with a click of a button, and that your Wix subscription comes with over 1,000 free images that you can use on your website.
The Downsides
Wix provides designer-made templates for its free account, with a convenient drag-and-drop website builder template. However, you cannot use your own domain name for the free version. The upgrade pricing also gave the feeling of being nickel-and-dimed for small add-ons like adding a website Favicon (the tiny image that displays next to the URL in the browser) and customer support.
Who Wix Works Best For
Established companies should expect to pay something for their website, but they don't want to be stuck with fluctuating prices. Wix is a good fit considering how easy it is to put together and customize a professional, full-fledged website without much pain. There's no need for tracking down graphic designers for image editing and color palettes, or developers to customize the look and feel of your ecommerce capabilities; you just sign up, pay, and customize.
BEST WEBSITE FOR BUILDING A PORTFOLIO SITE: SQUARESPACE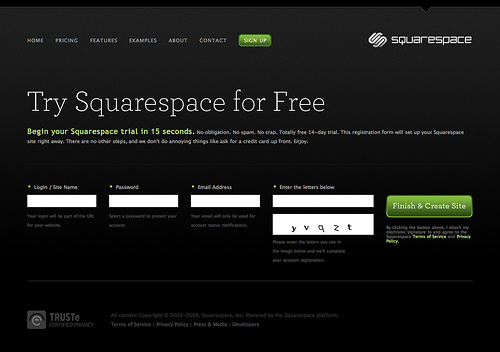 © Gustavo da Cunha Pimenta (CC BY-SA 2.0) via Flickr
Squarespace has pumped up its advertising volume in 2014, attracting tons of attention and users to its boutique-style website design platform. It excels at two things: creative options and customer service.
Why We Like Squarespace
Squarespace's strong suit lies in its highbrow designs and templates and excellent customer service. Especially if you're in the creative industry, it's easy to upload your photos and customize your space to create a portfolio that is engaging and beautiful. You can also view samples of different companies using a given template as you decide on one for yourself. That's an impressive option for brainstorming and sourcing ideas as you design your own.
The Downsides
Despite the value of the product, we think Squarespace missed out by not providing a free option. You can try the platform out for free for only 14 days, but ongoing plans start at $8 per month and go to $24 per month.

Who Squarespace Works Best For
Squarespace is the best option for hip, creative freelancers who know good design but don't necessarily know how to code good design. You won't be able to create and download a masterpiece, as there is no downloadable version or standard methods for exporting your data, but as long as you're in business, keeping your website look is easy: You just pay your monthly fee and can forget about it (no hosting, domains, downloads, and updates to worry about).
BEST WEBSITE FOR DOING IT QUICK AND CHEAP: WEEBLY
Weebly offers the most inexpensive and valuable (ad-free) free option, and its upgrade options are integrated and easy to understand. If you need to build a website that has just a few simple webpages or even ecommerce functionality, your to-do list is simple. You also have an impressive array of themes to choose from, each of which you can customize easily.
Weebly has earned citations from The Wall Street Journal, BBC, Time, Newsweek, and TechCrunch, and has the confidence of investors with deep pockets, as noted by WSJ's Douglas MacMillan. In a recent article, one of the investors, who contributed some of the $35 million for the startup's most recent round of funding, called the platform "so simple and intuitive to use."
Why We Like Weebly
Weebly outclasses the other websites in terms of what you get for a free site. If you're a (very) small business or freelancer, you can get the five pages you need and host your website for free (give or take a little Weebly branding). If you need to upgrade, you can do so later at a range of $4 to $25 per month.
The Downsides
Unlike WordPress, Weebly is limited in providing a community of designers and developers who work with the program, as well as nice add-ons like plug-ins that can help your site perform better. Weebly also offers a Site Planner feature, which acts as an educational tool, but if you prefer real people to guide you, this feature might be a boring way to spend an afternoon.
Who Weebly Works Best For
If you have a limited budget, limited time, and limited design or development experience, Weebly is for you. Literally click, then click and drag, and you're up and running.
Other Small Business Websites to Consider
If you're still on the hunt for a DIY website solution, consider runners up like About.Me, Yola, or Moonfruit. These options may not be as polished or popular as the ones outlined in this post, but the functionality and design might catch your eye.
Everyone doing business in 2014 needs a customized website, whether you're brick-and-mortar or operating exclusively by referral. If you're unable (or uninterested) in spending money for a formal website redesign, consider building your own website using these free and low cost DIY options.
Sarah Greesonbach is a contributing writer at CreditDonkey, a credit card comparison and reviews website. Write to Sarah Greesonbach at sarahg@creditdonkey.com
Note: This website is made possible through financial relationships with some of the products and services mentioned on this site. We may receive compensation if you shop through links in our content. You do not have to use our links, but you help support CreditDonkey if you do.
More from CreditDonkey: