5 Creative Tips to Save on Entertainment
---
Living on a budget doesn't have to mean totally forgoing all forms of entertainment. There are lots of ways you can entertain yourself and your family on a budget. Just use these 5 creative ideas to rack up the savings on your favorite forms of entertainment: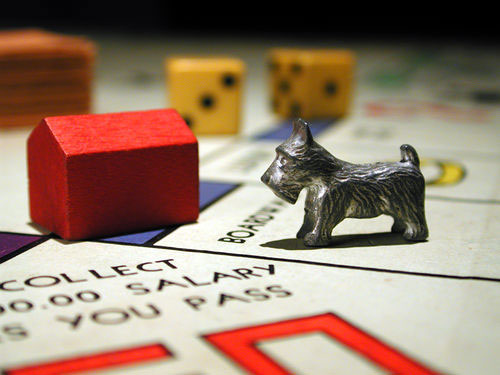 Monopoly Dog © Mark Strozier
Join group coupon services like LivingSocial and Groupon. These services give you access to great coupons for local businesses and services, many of which are entertainment-focused. LivingSocial even has a family edition that offers coupons specifically for those who want to do things together as a family.

When a business makes an offer on services like these, you're going to end up saving between 50% and 75% on average. In order for the deal to go through, a certain number of people have to buy the coupon. Usually the coupon is valid for a couple months after purchase. If you use these services to buy coupons you'll actually use, your family could save a fortune on fun things like putt-putting, playing in arcades, taking special lessons and classes, and even going on vacation!

Try off-day and off-season entertainment for better prices. In its simplest form, this means heading to the movie theater on a non-weekend night. AMC Theaters, a large chain, offers matinee prices at any time of the day Monday through Thursday. They get more business this way, and you can see the latest blockbusters without spending a fortune!

You can do the same type of thing with other local businesses. Putt-putting and go-kart places may have better prices for the shoulder seasons – early spring and late fall – than for the peak summer season. This is a good tactic for many vacations! You can often camp cheaper in the spring and fall than you can in the summer.

Plan fun activities at home. Just because most people think of entertainment as something they get outside the home doesn't mean you have to. There are fun ways to entertain yourself at home.

Set up a weekly family game night. You can spend $20 or $30 on a board game you'll play again and again. Movie nights are great, too. Just make sure you plan out everything, from food to drinks to games, to be similar to a night you would spend out on the town. Instead of going out for pizza, for instance, make homemade pizza, complemented with soda for the kids and a glass of wine for the adults.

If you use certain types of entertainment a lot, check out memberships or payment plans that might make them more affordable. For instance, if one of your family's favorite summertime activities is going to the zoo, consider getting a membership. It seems pricey at first, but with most zoos, a membership will pay for itself with just two or three visits!

Movie-going families can often save with services like Netflix. With a single monthly payment, you can get unlimited movies delivered to your home. Family movie night won't have to involve reruns anymore! Plus, it's easy to add a monthly payment for movies into your budget, instead of trying to figure out how much you'll spend on Redbox or Blockbuster movies in a month!

Go out, but enjoy part of the meal at home. There really is something relaxing about having someone else serve and clean up after your meal. However, paying for this privilege gets pricey. One way to cut back on eating out is to serve part of the meal at home.

For instance, you could set up a fun double date with friends. Start off with appetizers and spritzers at one home. Then, go out to dinner at a nice restaurant where you'll all order a main course. After dinner, head to the other couple's home for a pre-prepared dessert and drinks. You'll cut up to 50% off your dinner tab and still have a great time going out!
Of course, don't forget to take advantage of the exclusive discounts available to you from your credit card. Enjoy access to events and entertainment venues, often before the public sale.