23 Sales Statistics That Will Surprise You
---
You may encounter more than 5 decision makers in 1 sale. If that's not overwhelming enough, what about the fact that only 20% of buyers say "yes" during the first 4 sales phone calls?
Read this shocking report to learn more about the sales industry and what you may face today.
Sales Statistics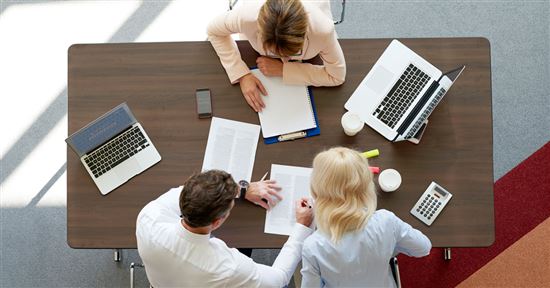 How many decision makers are there in the sales process?
In the B2C sales process, you usually only deal with 1, or possibly 2, decision makers. Take a husband and wife, for example. They often have equal decision-making power. In other words, if one half says "no," the sale falls through.

In the B2B sale, however, there are 5.4 decision makers in every sale. This is likely due to the complexity of a B2B sale. Most businesses are looking for long-term relationships rather than a one-and-done type sale.

How many sales calls does it take on average to make a sale?
80% of consumers say "no" the first four times a salesperson talks to them. It's that fifth phone call that turns things around. Putting even more perspective on it, 44% of prospects say "no" after the first phone call versus 12% after the fourth call.
Why won't prospects purchase from you?
The number one obstacle salespeople face today is social media. Consumers can conduct a majority of their own research. They don't want to be bothered with a salesperson with an "agenda." Social media helps buyers see what others think. It also helps them find their own products, and make decisions alone. This is all without the interference of a salesperson.

In short, buyers don't want to be bothered now that they are more empowered.

How often do buyers want to talk to a salesperson during the discovery stage?
Thanks to the internet, buyers only want a salesperson involved 19% of the time while they learn about a product. However, 60% want to talk to a salesperson after they have narrowed down their choices to a few brands.
Job Statistics
How many jobs are there in the sales profession?
In the U.S., there are 14 million salespeople. However, Forrester Research predicts that at least 1 million of those salespeople will be out of a job by the year 2020.
How many salespeople have a college degree?
17% of salespeople did not attend college. Of those who did attend, 17% majored in business. The remainder had majors in random subjects, including math and engineering. Surprisingly, almost half of the people in the profession didn't intend to work in sales.
Industry Statistics
How many gun sales are there in a year?
According to the FBI, gun sales hit a sky-high record of 27 million guns sold in 2016.
How many car sales are there in a year?
2016 was another record setting year for car sales. 17.6 million cars and trucks were sold in 2016. That's a record $18 million dollar sales - only 5 previous years topped this number.
How many comic book sales are there in a year?
Comic book sales increased $55 million from 2015-2016. They reached just over $1 billion in sales in 2016.
Prospecting
How many sales professionals find prospecting to be the hardest part of the sales process?
Almost half (42%) of sales professionals say prospecting is the hardest part of their job. Compare this to just 36% saying that closing the sale is the hardest part.
What is the most important topic to buyers during the first call?
Interestingly enough, buyers want to talk about pricing. 58% of buyers felt this way. Buyers today do most of their own research. By the time they get to the salesperson, they are interested in one thing only - the price.
When do buyers want to see product demos during the sales process?
Again, because buyers do their own research, they are eager to see a demo right away. It's a close tie between product demo and pricing as far as what consumers want first. Of course, taking the time to do demos for uninterested buyers can be a major waste of time. Many companies turn to social media and pre-recorded videos to satisfy the consumer's need.
How many sales emails are opened on average?
According to The Sales Development Technology Report, only 24% of sales emails are opened.
Cold Calling
How many cold calls result in an appointment?
It takes approximately 209 phone calls to get one appointment. Breaking it down, it takes about 7½ hours to make those 209 phone calls. Over a typical workweek, that means 1½ hours of cold calling each day. This is all to get that one appointment.
How many cold calls result in rejection?
According to a study conducted by Keller Research Center, 72% of cold calls result in rejection. This includes those who say "no" and those who just flat out hang up on you.
Communications
How much customer interaction occurs over the phone?
Studies show that 92% of customer interaction is over the phone. More shocking, however, is the 85% of customers who display some type of dissatisfaction with the interaction.
When is the best time and day to send sales emails?
Saturday and Sunday have shown to be the most effective days for sales emails. Prospects are more likely to open, click through, and make a purchase on the weekends.
How important is the level of writing in an email to the sale?
Apparently, buyers respond better to simpler writing. Buyers responded better to emails written at a 3rd grade reading level than college level. The lower level emails had a 36% better response. Just goes to show that simpler is better.
Referrals
What influences buyers the most to buy a product?
Social media tops the charts as an influencer. Their friend's posts and purchases on a social media platform influenced 80% of buyers. Compare that to just 74% of buyers who claimed they were influenced by the actual brand's social media posts.
How likely is a warm referral to result in a sale?
According to a Demand Generation Report, a warm referral is 4 times more likely to result in a sale than a cold call.
How much influence do peers have on the purchase decision?
Apparently, buyers hold their peers in high regard. 90% of buyers let their peers influence their decision. This could be why social media has such an impact on the buying process today.
Social Media Sales
What is the average social media spending?
According to Forrest Research, social media spending hit $13 billion in 2016. However, they predict that it will increase 130% to 30 million in just 5 years.
How many B2B buyers use social media to influence their purchases?
75% of all B2B buyers use social media before making a purchasing decision. However, 84% of vice president and C-level executives let social media influence their decisions.
Bottom Line
As a sales professional, you've got your work cut out for you. The internet is your biggest competitor. Evolving with the times seems to yield the greatest results.
Sources and References:
Note: This website is made possible through financial relationships with some of the products and services mentioned on this site. We may receive compensation if you shop through links in our content. You do not have to use our links, but you help support CreditDonkey if you do.
More from CreditDonkey: