Survey: Online Shopping Safety Statistics
Shoppers Feel Safer Shopping Online than at Local Stores
---
Local stores may need to convince shoppers that they are honest, reliable, and secure if they want to steal customers away from online retailers and chain stores.
That is the conclusion of a recent Creditdonkey.com survey, which asked over 1,000 shoppers where they felt most secure using their credit card. Online stores won out against mom and pop stores (local independent stores) by a wide margin: 23.2% of respondents felt safer online than at mom and pop stores. Only 9.9% said they felt most safe at their local independent shop.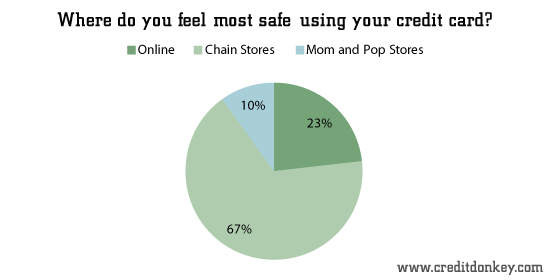 Where do you feel most safe using your credit card? © CreditDonkey
"While there is much rhetoric about Main Street versus Wall Street, the fact is many Americans aren't shopping on Main Street at all," noted Charles Tran of CreditDonkey.com. "More than anything else, local shops need a solid customer base to stay in business, and if shoppers feel uncomfortable using their credit cards at those shops, they may decide to take their business elsewhere."
Instead of going online, most shoppers are likely to choose a large big box chain store like Wal-Mart or Target for security reasons. Chain stores were by far the most trusted, with 66.9% of respondents saying they felt safest at the large retailers.
"Brand recognition, consistent and reliable return policies, and a history of keeping personal data safe and secure helps these shops win out when it comes to safety and security issues," said Tran.
The concern for safety is only one challenge for local shops. The convenience and the reliability of online retailers have encouraged shoppers to avoid Main Street and look for the Internet to satisfy their shopping needs.
That trend could easily reverse if local shops won over consumers trust, notes Tran. "These small businesses need to get more involved in their local communities and make shoppers feel that they are a valuable asset to their society," said Tran. "The one thing local shops have over the competition is a personal touch. If shops leveraged that, shoppers would likely trust them more."
CreditDonkey.com conducted the online survey between August 20, 2012 and September 2, 2012. In total, 1,097 consumers in the U.S. aged 18 and older answered the question, "Where do you feel most safe using your credit card?"
Mike Foster is a contributing writer at CreditDonkey, a credit card comparison and reviews website. Write to Mike Foster at mike@creditdonkey.com