23 Romantic Ways to Propose Marriage
---
Want a memorable way to propose to your girlfriend? Read this list of the 23 most romantic ways to propose marriage.
Asking someone to marry you is a big step, and it's not something that you want to fumble. Creating a memorable experience usually requires a decent amount of planning and in some cases, a nice chunk of change.
Above all, you want your proposal to be thoughtful and romantic, so you'll have to go beyond just getting down on one knee and pulling out a ring.
Related: Engagement Ring Statistics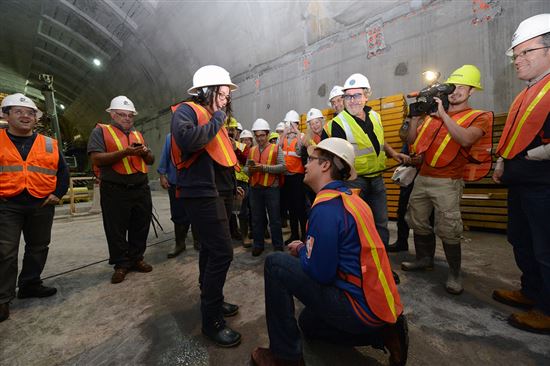 © Metropolitan Transportation Authority of the State of New York (CC BY 2.0) via Flickr
Need some inspiration? CreditDonkey has 23 ideas for making your proposal a romance-filled affair.
1. Advertise your intentions
Taking out a full-page ad in your local newspaper is a good way to make headlines if you're ready to propose. When UK resident Steve English used a newspaper ad to propose to his long-time girlfriend, the story got picked up by the Daily Mail and the Huffington Post. His ad for his love's hand included words that would be hard for anyone to reject, including this admission: "My family adores you and I cannot imagine my life without you in it."
2. Enlist some help
If your sweetheart is an animal lover, having a four-legged friend lend a paw with your proposal is definitely a romantic move. Edward Grant drew on his girlfriend's love of pugs by having 16 of them show up in Central Park sporting heart-shaped balloons just as he was poised to pop the question.
3. Add a touch of magic
Sleight of hand isn't just for Vegas; it always works for proposals too. In a now famous YouTube video, illusionist Sean Emory uses his magic skills to transform a leaf and some dirt into a sparkling engagement ring, which was enough to conjure up a "yes" when he asked his longtime love to marry him.
4. Get it on film
Directing your own mini-movie proposal is a memorable way to capture the moment, even if you're not Steven Spielberg. For some inspiration, check out how Matt Still managed to pull it off when proposing to girlfriend Ginny Joiner at their local movie theater. Let's just say it's a good thing she showed up on time and didn't miss the trailers.
5. Make it a group event
If your spouse-to-be isn't shy about public displays of affection and in fact relishes it, consider a flash mob. You'll certainly get your sweetheart's attention and focused on the question you're about to ask. Getting the dancers to sing "Glee"-style is even better, which is just what Matt Fury did when enlisting the help of strangers to propose to his girlfriend while on vacation.
6. Leave little clues
Sending your significant other on a scavenger hunt that requires them to visit places that are meaningful to both of you is a great lead-up to a proposal. When UK resident Karis Lee went out to help a friend shop for wedding dresses, she had no idea that she'd be spending the day following a trail of romantic clues that would eventually culminate in her own engagement.
Tip: How to Buy an Engagement Ring Online
7. Take them out to the ball game
Asking for his or her hand in marriage via Jumbotron is not only a bold move, it's a great way to steal your honey's attention away from the game. Just make sure that your spouse-to-be is open to the attention since, according to a David's Bridal survey, 63% of women said they'd say no to a Jumbotron proposal.
8. Be a fortune teller
If you both love Chinese food, proposing with a customized fortune cookie is sure to hit the spot. It worked for Chris Pratt's character when he proposed to Anne Hathaway in "Bride Wars." You can order your cookies online or try a DIY version.
9. Hit the beach
Proposing by the ocean may seem a bit clichéd, but it isn't if you know how to make it unique. When Delaware resident John Rodriguez was ready to say "I do," he took his bride-to-be for a stroll along the beach where a sand sculpture proposal was waiting, complete with roses and champagne.
10. Share a snack
In 2012, Cracker Jack celebrated its 100th anniversary by giving away real diamond rings in selected boxes. One Florida bride-to-be got an extra sweet surprise when her boyfriend smuggled his own ring into a package of the molasses-covered snack while picnicking along the Caloosahatchee River.
11. Smile for the camera
Photo booths, a big hit at weddings these days, are also a popular spot to propose. When Kevin Moran and Molly McGinnis popped into a photo booth to snap a pic on their seventh anniversary of being together, he made sure their engagement was caught on film.
12. Talk about it over coffee
If you both have a hankering for coffee, nothing says "Marry Me" like creating your own private java spot in the woods. That's what Shane Bradley did when he was ready to propose to his photographer girlfriend Mikaela Ruth. The two lovebirds had spent their first date at Starbucks. She just had to say yes when Bradley re-created that special event in an entirely unique way.
13. Make a game of it
Spelling out your proposal during a friendly round of Scrabble is a clever way to do the deed. If you want to make sure your message comes across loud and clear, take a cue from this groom-to-be and glue the pieces down before you get started. Even if you don't win the game, you'll still win the heart of your one and only.
14. Go for a hike
Proposing after you've climbed to the top of a mountain is certainly romantic, but that's nothing compared to trekking across the country to spell out the question using GPS technology. It took Japanese artist Yasushi Takahashi 6 months and 3,000 miles to create his one-of-a-kind proposal that's visible from space.
15. Head out on the highway
Billboards are designed to be attention-grabbers, but they're not just for advertising businesses. New York restaurant owner Joe Ferrari stopped traffic when he rented a billboard along Route 390 outside of Rochester to propose to his ladylove.
16. Get in the holiday spirit
The Christmas season is a great time to propose, partly because you can take advantage of an array of misdirections. Missouri resident Justin Blattel set up a light display complete with a diamond ring to ask his high school sweetheart to marry him after 7 years of dating.
17. Re-create your first date
Going back to the place where you had your first date can trigger some romantic memories, setting the mood for the new one you're about to make. For Ean and Samantha Smith, their first date was bungled and they actually didn't have one (she had overslept). Ean enlisted the help of his friends and a stealthy photographer to re-create that first date anyway, and this time it ended on a much happier note, with an engagement.
18. Go on a shopping spree
Spending some quality time at the mall may not seem like the best way to propose, but it's the perfect cover for that very reason — your partner won't be expecting anything and you get to preserve the element of surprise. When Hazel Chu went out shoe shopping with her boyfriend Paul, she had no idea he'd be presenting her with a pair of custom-made sneakers bearing a marriage proposal.
19. Appeal to their sweet tooth
If your significant other has a sweet tooth, proposing over ice cream is a no-brainer. Ben & Jerry's allows you to create personalized labels for your favorite flavor, which helped one D.C. resident propose to his girlfriend of nearly 7 years.
20. Channel a movie moment
If you have a favorite film as a couple, working it into your proposal plans makes it a one-of-a-kind experience. New Jersey native Joe Perri went all-out to re-create a scene from his girlfriend's favorite movie, ""Up",Up," to guarantee she'd say yes.
21. Puzzle it out
Doing the Sunday crossword together is how some couples spend their weekends, and sneaking in a marriage proposal may ensure that the tradition continues for years to come. Cory Newman won the heart of his girlfriend Marlowe when he collaborated with the Washington Post to incorporate his proposal into the weekly puzzle.
22. Test your carving skills
Fall is prime time for pumpkins but instead of the usual witches, ghosts, and spooky faces, you could always try your hand at etching out a marriage proposal instead. When Steven was ready to propose to Crysta, he got her whole family in on the pumpkin carving action.
23. Paint the town
To make a lasting impression, create a customized mural to ask for your partner's hand in marriage. And then watch her swoon. Graffiti enthusiast Phillip Burton commissioned a distinctive mural on East London's Shoreditch Art Wall. If you prefer to do it yourself, you could always try writing out your message with spray paint.
CONCLUSION
Planning a romantic proposal is all about the size of your heart, not your wallet. Whether your budget is big or small isn't as important as why you're popping the question in the first place.
Rebecca Lake is a journalist at CreditDonkey, a diamond jeweler comparison and reviews website. Write to Rebecca Lake at rebecca@creditdonkey.com. Follow us on Twitter and Facebook for our latest posts.
Note: This website is made possible through financial relationships with some of the products and services mentioned on this site. We may receive compensation if you shop through links in our content. You do not have to use our links, but you help support CreditDonkey if you do.
Read Next: