How to Get Rid of Bed Bugs in a Mattress
---
Bed bugs are hard to kill, but not impossible. Learn about the main cause of bed bugs and how to get rid of them on your own.
© CreditDonkey
Bedbugs can be a big problem. But they don't mean you need to throw away your mattress. With the right steps, you can eliminate bedbugs from your bedroom and hopefully keep them from returning.
Treating a Mattress With Bedbugs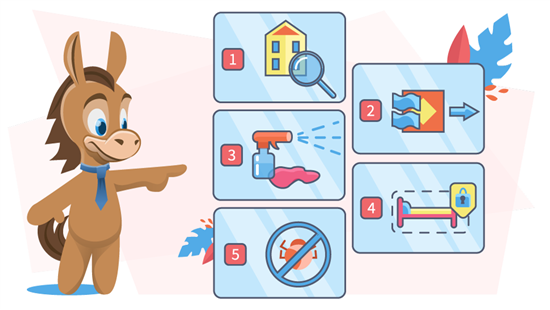 © CreditDonkey
Depending on the level of infestation, you may be able to get rid of bedbugs on your own. Follow these steps:

Strip the bedding (and mattress protector)
Carefully place all bedding, including the dust ruffle, into a garbage bag and seal it. Carry the garbage bag directly to your washing machine and wash the bedding on the hottest temperature possible. If you can't wash your bedding, at the very least put it in the dryer on the hottest temperature. Heat of at least 120 degrees Fahrenheit kills bedbugs.
Wash or dry any other loose items
Look for any loose items that are located near your bed that could possibly have bedbugs. Think of things like curtains, stuffed animals, and clothing. Wash everything you find on the hottest temperature. Anything you can't wash, put on the highest setting in the dryer for at least 30 minutes.

Can you see bedbugs with the naked eye?
You can see bedbugs with the naked eye. Eggs are about the size of a rice and adult bedbugs measure about 1/6 inch. But it usually takes a trained eye to determine if what you're seeing is bedbugs and not carpet beetles or another type of insect. In many cases, bedbugs hide, making it hard to spot them before you find the telltale signs.


Get a stiff brush and start brushing
Focus on the mattress seams, but look for any other tight areas where bedbugs may hide. Vigorously brush the areas to loosen the bedbugs from their nestled spots.
Vacuum the mattress
Using the hose attachment, vacuum all areas of your mattress, including the top, bottom, seams, and box spring.
Take the bed apart
You need to see all of the areas where the bedbugs could hide. That means taking the frame apart to vacuum all areas where bedbugs may hide.
Vacuum the box spring
Get another person to help you vacuum the box spring, including the top, bottom, and seams. If the box spring has any holes, you may want to replace the box spring because bedbugs love to hide in dark places.
Steam the mattress
Use a steamer that gets hotter than 120 degrees Fahrenheit directly on your mattress. A high-pressured steamer works best, but only if it gets hot enough—the heat is the crucial component. Make sure not to soak the mattress or you'll invite a new problem—mold. Steam just enough to kill the bugs and then let the mattress thoroughly dry.
Encase the mattress
Once you're sure you've eliminated all bedbugs and the mattress is dry, encase your mattress. This isn't a mattress protector. It literally encases the entire mattress, trapping any bedbugs you may have missed. Eventually, they will die off and won't be able to multiply, helping to end your bedbug issue.
Do you have to throw everything away when you have bed bugs? You don't have to throw everything away when you have bed bugs. As long as you act fast (and thoroughly), you can contain the problem. If you can't do it on your own, don't be afraid to hire professionals to eliminate and help prevent further infestation.

Can Bedbugs Live in Pillows?
Pillows are a great hiding place for bedbugs because it puts them even closer to their source (you). If you have signs of bedbugs, consider tossing your pillows. They are easy enough to replace.
If you have a special attachment to your pillow, put it in a sealed garbage bag and transport it to your washing machine. Wash it on the highest temperature possible and then throw it in the dryer for at least 30 minutes (if the manufacturer's instructions say it's OK).
If not, you may have to toss them. After treating your pillow for bedbugs, consider encasing it as you do the mattress to prevent any further infestation.
How Can You Tell If a Mattress Has Bedbugs?
Bedbugs show telltale signs of their presence. One of the first signs of bedbugs typically occurs on the mattress itself. When you clean your bed or change the sheets, look for any of the following:

Rusty stains on the mattress or sheets

Dark spots as small as a tiny dot

Pale and yellowish skins on the mattress surface

Live bedbugs
What Is the Main Cause of Bedbugs?
Bedbugs occur for a variety of reasons, but the largest is travel. Bedbugs are great hitchhikers. They'll ride on your luggage, clothing, and even your hair.
If there's one thing bedbugs are attracted to, it's humans. They thrive on human blood, but are also attracted to human breath.
Bedbugs aren't a sign of filth. They can thrive in even the cleanest environment as long as there is blood. That's why bedbugs hide in dark places where you can't see them come out at night, feast, and then go back into hiding.
Do bed bugs hide during the day? Yes, bed bugs are nocturnal and they usually come out at night when you are asleep. They typically hide in crevices of the mattress or furniture during the day, waiting for the heat of your body to be present again for them to feast.

Bottom Line
You don't have to get rid of your mattress if you have bedbugs. But you should take care in eliminating them. Heat is the best way to exterminate them.
If you find yourself infiltrated with bedbugs, but if you don't want to handle the mess yourself, call in the professionals to ensure a thorough job.
Write to Kim P at feedback@creditdonkey.com. Follow us on Twitter and Facebook for our latest posts.
---
Not sure what mattress is right for you?
Answer a few short questions in our mattress quiz to receive tailored recommendations.
Take Mattress Quiz
Read Next: