Best Retirement Accounts: SEP IRA vs SIMPLE IRA vs Roth IRA
---
Saving for retirement can be tricky to navigate when you haven't started yet. So many different names and tax codes are out there, from Roth and Traditional Individual Retirement Accounts (IRA) to 401(k) and 403(b) and everything in between. To make things simpler for you and get you going toward building your nest egg, CreditDonkey has broken down the best retirement accounts for each type of career and life situation. After our rundown, you'll have no excuse but to get started on setting up one of these accounts for yourself.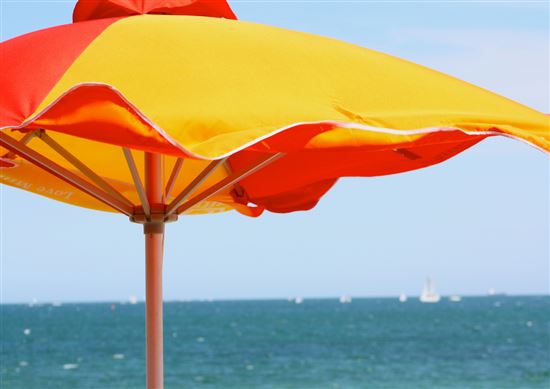 Umbrella in the wind © will ockenden (CC BY 2.0) via Flickr
Best Retirement Account for Self-Employed Individuals: SEP-IRA
If you are self-employed, you do not have the spoon-fed retirement options available to many employees, such as a 401(k) or 403(b). That means you need to take your retirement into your own hands, which isn't necessarily a bad thing. The biggest complication could be the fact that you have a bigger set of choices in front of you in terms of service providers. As long as you plan to remain a sole proprietor, an SEP-IRA is the way to go. After all, notes this CNN Money article, "it is the plan of choice for most sole proprietors and moonlighters."
Setting up an SEP-IRA is easy and low maintenance, and you can put more in there at a time than some other retirement accounts. For 2014, you can put as much as 25 percent of your total compensation or up to $52,000, whichever amount is less. The account is tax-deferred, and contributions do not affect other retirement accounts, meaning you can still contribute to other IRA accounts even if you max out your SEP-IRA for the year.
One advantage of these accounts is the ability to control when to make your contributions during the year. You can even wait until your tax filing comes due in the spring. "So if your income turns out to be higher than expected, you can make a large contribution and cut your tax bill," notes CNN Money. "If you have a tough year, you can scale your contribution back."
There are strong downsides if you hire employees. Employers are responsible for the totality of contributions to their employees' accounts, they have to include all employees in the program, and the percentage of contributions have to be the same across the board. In a nutshell, as you grow your team, an SEP-IRA can get costly. So, if you'll be hiring, you may want to check the next account on our list.
Best Retirement Account for Small Business Owners: SIMPLE IRA
While SEP-IRAs can get complicated and expensive once you start adding employees to your team, a Savings Incentive Match Plan for Employees (SIMPLE IRA) is a great plan if you're independent but plan to hire employees in the future or if you're already running a small business with several employees. This plan was designed to best serve small businesses with fewer than 100 employees.
"If you have a few employees, say, less than 10, who make more than $5,000, but far from six figures, and want to offer a plan for them as a perk, this is probably the one for you," according to Kerry Hannon, contributor at Forbes.
It's a less expensive option than the others while it still gives you a way to boost employee morale and give your best employees a reason to stick around. Compared to the SEP-IRA, where you would make the full contributions on behalf of your employees, a SIMPLE IRA requires you match contributions up to 3 percent for all participating employees or make contributions of 2 percent across the board for all eligible employees, regardless of whether they make their own contributions. All matching contributions are tax deductible to you as the employer.
There are a couple of downsides for account holders, as compared to the SEP-IRA. There is a lower employee contribution limit of $12,000 ($14,500 if you're over 50) for 2014, the deadline for setting up the account is October 1, and contributions to the account must be made by December 31 (as opposed to the ability to wait until filing your taxes and evaluating your funding situation).
On the upside, there is no percentage of income restriction on your contributions, meaning if you take home only $12,000 from your business, you can contribute all of that into your SIMPLE IRA if you want. You can also match your own contribution as employer and employee, meaning if you make $100,000 for the year, that's an extra $3,000 you can contribute (for a total of $15,000).
And if you're married, there are two huge benefits, according to Ashlea Ebeling at Forbes. If both the husband and the wife work together in the business, each spouse can save up to $12,000 in addition to the 3 percent match. Also, if one spouse earns a majority of the income and the other spouse runs a small business on the side, you are able to shelter 100 percent of that income up to $12,000.
Of course, if your business grows rapidly and you are nearing the 100-employee threshold, you should look into implementing a 401(k). Even though it is much more time consuming than a SIMPLE IRA, it will be worth it in the long haul.
Best Retirement Account for Young Investors: Roth IRA
The younger you are, the longer your money has time to grow and compound when saving for retirement. Once you begin your career, a wise move is to start saving for your retirement right away. You will thank yourself later.
If your employer matches your contributions to your 401(k), you should always take the free money on the table to start building your retirement funds. Be sure you are putting away at least the maximum contribution that will get you the full match. You should seriously look into also opening a Roth IRA to put any money above this matching threshold into an account that will grow for you tax-free.
"Smart young savers know to participate in their companies' 401(k)s as soon as they join the workforce to benefit from as many years of saving and compounding as possible. But really smart young savers…should know to save via a Roth IRA, too," according to Stacy Rapacon at Kiplinger.
Why a Roth IRA instead of any other investment vehicle for the young investor? The tax-free savings, for one. The earlier you are in your career, the more likely you are to have increases in salary, and therefore higher tax rates, as you progress through your career. The IRS looks at your Roth IRA contributions as after-tax dollars, meaning you have already paid taxes on them. So if you pay taxes on your money now and your income continues to grow, along with your income tax rate, you are avoiding paying higher taxes on your money at the same rate as you would with investments like a traditional IRA or 401(k), which are both tax-deferred.
That's the reason Danny Kofke, a 38-year-old retirement consultant from Georgia, puts his savings, and those of his wife, in Roth IRAs. "I have no idea what my tax bracket will look like 25 years from now, but I like taking the hit now and being able to keep all of our earnings in our Roth when we decide to withdraw money from it."
A neat, little-known feature of the Roth is that there is no age limit — you can open one as soon as you start making money. This means, once your children start earning income, no matter the source, opening a Roth for them is a fantastic way to fast track their retirement.
Roth IRAs also offer more flexibility for investment options, as opposed to a 401(k) or other retirement accounts. You can invest a Roth into stocks, bonds, mutual funds, real estate, or just about whatever investment vehicle you desire. The younger you are, the more aggressive you will want to be, and a Roth will give you options to make sure you maximize your returns and minimize your risk.
Roths allow for withdrawals of contributions tax- and penalty-free at any time. However, if you withdraw the earnings before age 59½,you are subject to the 10 percent IRS penalty and income taxes. The good news is the IRS assumes you withdraw contributions first before dipping into the earnings portion of your account. You should build up an emergency savings fund so you can avoid tapping into your retirement funds, but it is nice to know this option is available just in case dire circumstances arise.
Young investors, and people in general, tend to be procrastinators. Roth IRAs give you some leeway to protect you from yourself in this regard. The 2014 contribution limits are $5,500 per year (add an extra $1,000 per year if you're at least 50 years old), and you can contribute into your Roth for this year up until next year's tax deadline. Meaning, up until your taxes are due in 2015, you can max out your $5,500 contribution for 2014, and then still have the full contribution available for 2015.
Retirement Account For Teachers: 403(b) or Roth IRA
If you're a teacher enrolled in a pension plan, do not rely on that to be your sole source of retirement income, especially if you are young, because the funding might not exist by the time you get to retirement. According to Josh Barro, contributor at Forbes, "plans covering public school teachers, by their own admission, are underfunded by $332 billion. However, the plans' real funding gap is far worse than their financial statements show."
Outside of a pension, most teachers have access to a 403(b) plan, which is very similar to a 401(k). The 403(b) limit on money deferred from your paycheck is $17,500 in 2014. When looking into this vehicle, pay close attention to the types of investments offered to you.
According to Kimberly Lankford at Kiplinger, 403(b) plans "often limit their offerings to insurance products, such as annuities, and they charge much higher fees than 401(k)s." Lankford goes on to say, "Instead of a menu of funds — with easy access to information about fees and performance — many school systems just hand out a list of sales reps."
Regulations implemented in 2009 require school systems to keep better track of these issues and to alleviate the problems associated with them, but it is wise to still be aware in case your district has not fully adjusted to the rules.
When looking into a 403(b) plan, an important consideration is if matching contributions are offered. As discussed in the section above, always take full advantage of the free money offered to you.
Depending on the investment options offered in your plan, you should strongly consider complementing your plan with a Roth IRA to take advantage of its many benefits.
Personal finance expert and radio show host Dave Ramsey recommends saving 15 percent of your total income towards retirement by maximizing the matching contribution from your 403(b) and investing the rest of the 15 percent into a Roth IRA. If your plan does not match, he recommends investing the maximum amount allowed into a Roth IRA first, and then contributing the remainder to your 403(b).
By preparing as if your pension will not be there when you are ready for retirement, you will have a nice surprise waiting for you if your pension does in fact come through. And if it is not there, you will be glad you prepared for the worst-case scenario.
Best Investment for Older Investors: Roth IRA
If you have already established a solid nest egg for retirement and have extra money that you would like to continue investing, look into complementing your current portfolio with a Roth IRA. Or, if you already have a Roth in place, read on to find out how it can further benefit you and your family.
A little-known benefit of the Roth IRA is that you are never required to take distributions from the account. All other IRAs have required minimum distributions (RMDs), meaning you must start withdrawing from your account on April 1 following the year you turn 70½, whether you are still working or not. Defined contribution plans also have RMDs, making you start withdrawals at either age 70½ or the year after you retire, whichever is later.
If you own a Roth IRA, you can allow your money to grow past that age without touching it, either giving yourself a larger nest egg for a rainy day or an untouched bounty to leave for future generations. Money from a Roth can be left tax-free to children or grandchildren. Although your heirs will be required to start taking distributions once the account is passed on, the distributions can be stretched out to allow the funds to continue to grow while providing tax-free withdrawals over their lifespan.
Now that you have a background as to which retirement accounts are best for your particular situation, don't wait to start building up that egg. It's the only way to make your life-after-work fantasy come true, whether that involves taking it easy, volunteering your time, traveling, or a little bit of everything. It's never too early to begin dreaming. David Maxell, a 25-year-old from Ohio, told us he plans "on traveling to some of my favorite beaches in the U.S., the Outer Banks in North Carolina, or Sanibel Island in Florida."
Indeed, the more time your money has to grow, the more comfortable you will be sitting when it comes time to ride off into the sunset.
More from CreditDonkey: