Survey: Digital Media Statistics
Most Prefer Print Books But Would Rather Read a Digital Newspaper
---
Despite the ease of e-readers and tablets for reading, a recent CreditDonkey.com survey found that a real book in the hands trumps the digital version. Out of over 1,200 respondents, 73.7% would rather hold an actual book versus 26.3% who would rather read the online version of a book.
We can think of several reasons why some people still prefer the printed version of books, including:
Some people just love the feel of a book, including the act of turning the pages and seeing a pile of potential next reads.

Physical books are fun to lend and collect.

Books, especially classic editions, can be beautiful display pieces.

A book collection can act as personal expression that reflects the personality of its owner.
Conversely, 68.5% would rather read a newspaper online than in print.
A colleague who rides the train to New York City to and from work every day and has switched from the ink newspaper to the digital version ever since he got an iPad tells why:
A newspaper has to be bought and carried around.

You get ink on your fingers.

Folding up every page of the newspaper smaller so you can keep within your personal train space, and avoid hitting neighbors, is annoying.

It's a waste of paper.
Magazines fall in the middle: 59.3% total would rather read a physical magazine, but there's a bigger gender divide. 68.2% of female respondents would rather flip through and read an actual magazine versus 54.6% of male respondents.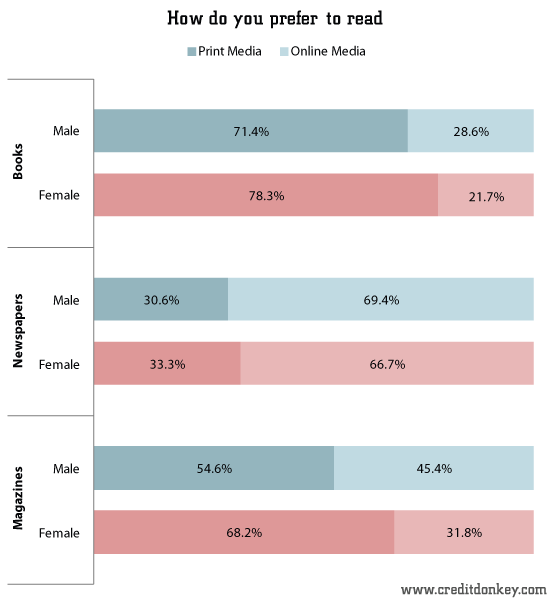 How do you prefer to read © CreditDonkey
Which device is preferred for watching, reading?
Most tablet users rate entertainment as the top reason they use one. Of tablet users, 74.4% use their device mostly for entertainment, such as for reading books or news, listening to music, watching movies or TV shows, and internet browsing.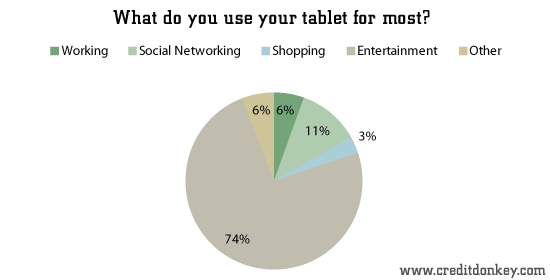 What do you use your tablet for most? © CreditDonkey
But when it comes to watching shows and movies, the TV trumps all devices, across the genders and generations. Respondents prefer to do the following activities on TV:
Sports, 84.8%.

Movies, 74.3%.

TV shows, 69.6%.

News, 49.4%.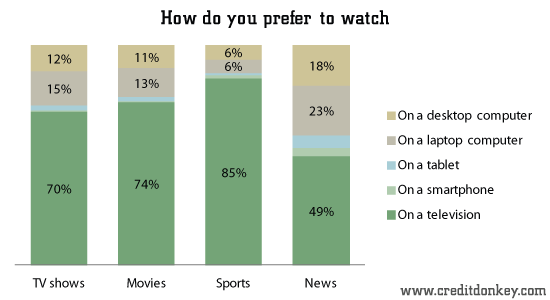 How do you prefer to watch © CreditDonkey
CreditDonkey.com surveyed 1,250 Americans, age 18 and over between February 19, 2013 and March 6, 2013 on their use of technology. CreditDonkey.com conducted the survey online using a multiple-choice and short-answer questionnaire.
Naomi Mannino is a contributing writer at CreditDonkey, a credit card comparison and reviews website. Write to Naomi Mannino at naomi@creditdonkey.com