Credit Card Purchase Protection: Should You Pay Extra for It?
---
Credit card purchase protection is a feature offered by many credit card companies to lure customers into becoming a card member. Most of the time, it is simply a feature of the credit card; other times, the credit card company charges the customer for the privilege of having this insurance policy on their purchases. You may wonder, then, if credit card protection is something for which you should pay if it is not offered.
Benefits of Credit Card Purchase Protection
Credit card purchase protection may give you benefits financially, and it is especially helpful with a big-ticket purchase.
For example, let's say you purchase one of those expensive, flat-screen televisions, and one day soon after the purchase, you turn it on and find that the screen has turned black. You talk to the retailer and the manufacturer, both of whom say the television was damaged, and therefore, repair costs are not covered. Luckily, you bought the television on your major credit card with purchase protection, so you file a claim with the credit card company, and within weeks, receive a check to cover the cost of repair.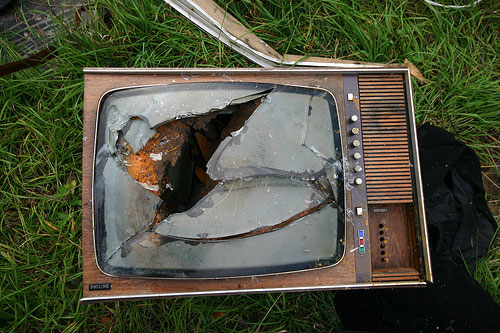 Broken TV

© schmilblick
Your credit card purchase protection may have just saved you hundreds of dollars.
The Value of Credit Card Purchase Protection
Although the exact benefits and protection received under your credit card's purchase protection plan vary, some credit card companies will offer purchase protection for up to $1,000 within the first 90 days of the purchase. And, luckily, the purchase protection feature can cover your purchase from loss due to fire, theft or damage.
All that's needed to file a claim is the receipt from your original purchase, and if applicable, a police report if the item was stolen.
If you have a card with purchase protection, it is a good idea to make large purchases on that card, particularly for personal electronics, such as computers, televisions, video cameras and digital cameras.
Using a credit card with purchase protection to purchase a big-ticket item will also eliminate the need to purchase the retailer's expensive, extended warranty.
Should You Pay for Purchase Protection?
We've outlined the benefits and value of using a credit card's purchase protection feature, so the question remains: Is purchase protection something I should pay for?
Most major credit cards offer purchase protection for free, and they view it as an incentive for carrying the card. However, your credit card may not offer this feature complimentarily and instead offer it as an optional product.
Whether you pay for this feature will largely depend on your credit card's features. In other words, if you have an excellent card with a low, fixed rate and attractive rewards benefits, you may not want to cancel the card and open another card simply because it has free purchase protection benefits.
Simply put, your decision to pay for purchase protection will largely depend on your spending habits and your need for purchase protection.