Best POS System for Retail 2020
This article contains references to products from our partners. We may receive compensation if you apply or shop through links in our content. You help support CreditDonkey by reading our website and using our links.
(read more)
How much is a retail POS system? The best price is different for a clothing store vs restaurant. Read this guide to find the cheapest solution for you.

© CreditDonkey
The right POS system goes beyond accepting sales. It should streamline the administrative process, helping you save money and productivity on the back-end. In addition, the right POS system will be affordable, user-friendly, and provide the tools you need, which may include:
Tracking inventory

Managing employees

Tracking customers

Marketing your business

Setting appointments

Creating and using loyalty programs
Of course, ultimately, you'll also want affordable and reliable customer service, as your POS is the backbone of your business.
What Is a POS System?
In a nutshell, a POS system helps you ring customers up and take their payments. But it does so much more, depending on the option you choose.

Hardware: You accept payments based on the hardware provided with the system. Typically, you can accept cash. But, if you want to accept credit cards, EMV payments (chip), and mobile payments, you'll need specific hardware.

You should also decide if you need further capabilities, such as safely storing cash, printing receipts, and reading bar codes.

Software: A system's software can be simple or complex, based on your needs. Typically, the system contains a library where you store your inventory and ring up sales. On a grander level, though, it also provides reports, helps with marketing, and manages inventory.
Payment system: Accepting payments means you need the funds routed to your bank account, which is what the payment system handles.
How Do You Know if You Need a POS System?
At what point do you need a POS system? You might think your business is small enough that a cash drawer, clipboard, and bookkeeping books suffice. But what if a POS system could save you time and money?
Yes, you'll have to pay for most of the systems, but they usually more than pay for themselves in the end. Even the smallest business with no employees can use the organization a POS can provide.
A POS system makes everything electronic for you. At the touch of a few buttons, you can have reports on your inventory levels, sales, trends, and more. It can help you make decisions, stay financially fit, and even keep you organized for tax time.
Even though it is possible to accept credit card payments via a basic credit card reader, a POS can make your business so much more. You'll be able to adjust your plans according to the reports, giving you a better idea of how to operate at a profit, rather than constantly chasing your tail.
What's the Difference Between a cash register and a POS?
A cash register is a box you keep money in when you make a sale. A POS is an upgraded cash register. It's your back-office with all of the information you need in one place. It also stores your cash and credit card payments for you.
You can't take a cash register with you. Or you can, but you might look strange sitting on the train with a cash register on your lap. Your POS (if it's cloud-based) can pretty much go anywhere your phone or tablet goes. This gives you access to the data you need, whether to make decisions, have a meeting, or impress investors.

What to Look for in a POS System
Once you decide you need a POS, what do you look for?
How easy is the initial setup? You want a system that you can set up in minutes and can understand how it works. If this is your first use of a POS system, you could have a major learning curve. How good is the customer service? What type of training do they provide? These are questions you'll want answered before you decide.
Is it mobile? If you manage multiple branches or you are always on the go, you'll need a system you can work on anywhere. Most iPad or tablet-based systems are available as long as you have an internet connection, but it's worth asking.
What type of payments does it accept? If your POS also processes payments, make sure it accepts the payments you want to accept. Swipe credit cards, EMV (chip cards), gift cards, and NFC payments are the top payment options. You may also want to process ACH payments and/or accept cash.
What type of features does it offer? If you need inventory tracking, customer information management, loyalty programs, appointment tracking, and/or invoicing services, you'll need to find the system that suits your needs.
What are the fees? Each POS system has its own payment structure. Some charge a monthly subscription and nothing else. Others charge extra for certain services, such as managing multiple branches or chargeback protection. Knowing the fees upfront can help you make the right decision.
Best POS Systems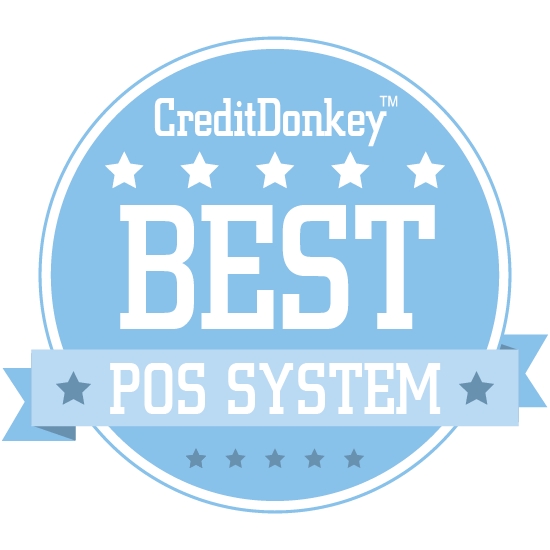 © CreditDonkey
VEND: Best POS System for Retail Overall
Cost: $69 - $199 per month
Vend was one of the first POS systems available for retail businesses. Today they offer a multitude of services, including:
Cloud-based system that is available anywhere you have an internet connection
Offline capabilities
Accepts online, in-store, and mobile payments
Works on iPad, Mac, and PC
Seamlessly manages inventory, whether you have one or more retail branches
Integrates seamlessly with many other third-party retail tools you may already use
Create custom receipts sporting your company's logo
Easily process refunds and exchanges


Offer discounts, coupons, and layaways
Vend offers packages and services that cater to businesses from small to large. They even have a free plan for businesses needing one register and that has less than 10 products.
Their higher-end plans serve unlimited numbers of products and users, making it the system that can grow with a business. If there's one area they lack, it would be in item modifiers, which could pose a problem for large food establishments.
SQUARE: Best POS System for Small Retail Stores
Cost: Free - $169 (one-time fee for hardware)
Small retail stores that want to watch their monthly costs do well with Square. This free POS offers a multitude of services, requiring you to pay just the transaction fees for processed payments. More than just a credit card reader, Square allows you to:
Track sales
Track payments
Manage inventory
Create discounts
Manage employees, tracking their sales and time worked
Customer tracking, marketing, and loyalty programs
Create and track appointments
Manage multiple locations
The Square reader and app are both completely free. If you want to upgrade to a chip card reader or NFC reader, you'll pay a one-time fee for the hardware.
If you're just starting out or your POS needs are simple, Square provides the answers you need to run an efficient business without overpaying in fees.
REVEL: Best POS System for iPads
Cost: Call for pricing
iPads are a great way to manage your POS system. Many companies offer card readers that attach directly to your iPad or that work right alongside it. Every transaction is recorded and all aspects of your business are captured in the back office.
Revel's iPad POS works well with food establishments, retail stores, and mobile companies. They offer the following features:
Track customers' habits and create discounts or specials just for them
Offer and accept gift cards
Offer online ordering
Create loyalty programs
Manage multiple locations from one system
Effectively manage menus and product offerings
Manage employees
Manage inventory and get low stock alerts
Accept payments even if you lose internet connection
Revel offers a full-service POS that caters to the needs of many industries. It offers menus with modifiers; can handle multiple tax rates; and each sale can be tailored for discounts, special requests, and more.
Revel also seamlessly integrates with QuickBooks to make bookkeeping even easier.
QUETZAL: Best POS System for Retail Clothing Stores
Cost: $75 - $100/month/location
Retail clothing stores have unique needs, such as eCommerce capabilities, sales trackers, inventory system, and barcode scanning.
Quetzal was designed to meet these needs and more for fashion and shoe retailers. They offer the following benefits:
Manage your POS from an iPad, PC or both
Produce "reorder" reports so you know what you need and when to order it
Predict sales trends and plan inventory accordingly
Seamlessly integrates with Shopify's eCommerce platform
Manage multiple locations from one program
Customize receipts
Hold up to 10,000 items and 2,000,000 SKUs
Inventory tracking
Offer discounts, split payments, and offer store credits or refunds
Track sales
Quetzal has captured the retail, namely the small retailer niche, and has done it well. This system makes staying on top of inventory, purchasing, and sales seamless. With numerous tagging options and simple ways to track employees' sales, it's a great system for retailers.
One downfall, however, is the cost of the system. If you want phone support, you'll have to pay for the top tier and you'll pay per location.
POS NATION: Best POS System for Grocery Stores
Cost: $119/month and up
Grocery store retailers need fast and efficient tracking to stay profitable in their industry.
POS Nation caters to a grocery store's needs by providing inventory tracking for thousands of products, accepts coupons, and keeps track of customers by offering loyalty rewards. Among these benefits, POS Nation offers:
Mix and match sales
Checkout of weighed products (produce, deli, etc.)
Manage sales by department
Accept multiple forms of payment, including debt, credit, and EBT
Create hotkeys for produce items to reduce checkout time
Sell and accept gift cards
Manage employee labor
POS Nation helps grocery stores of all sizes take control of their business by combining the sales and back office needs in one system.
Seamlessly manage all aspects of your business, leaving time for the important things, rather than trying to figure out how to optimize inventory and sales on your own.
TOUCHBISTRO: Best POS System for Restaurants and Bars
Cost: $69 - $399 per month
Restaurants and bars have unique needs. You need efficiency when creating and changing menus, modifying items, and communicating with multiple areas of the restaurant.
You also need a system that can seamlessly split checks, manage discounts, and manage payouts. TouchBistro does all of this and more:
Order right at the tableside or counter on the iPad
Accept credit and debit card payments right at the table
Set up your unique table layout and manage it on the fly in the POS
Create regulars in the CRM system, track their orders, and offer customer loyalty programs
Manage your staff's hours, sales, and capabilities
Track inventory by ingredient and recipe, keeping all staff informed of inventory levels easily
Use the POS to sell, upsell, and improve tableside service
TouchBistro was "created by restaurant people for restaurant people". Working in the cloud, the POS goes with you wherever you are in the restaurant. TouchBistro is completely customizable to fit the needs of your restaurant, whether small or large.
Other POS Systems to Consider:
PIONEER RX: Best POS System for Pharmacies
Pharmacies have unique needs that no other businesses have. Pioneer RX recognizes that need with its point of sale that combines pricing, patient information, and inventory.
With a built-in medication therapy system, you can track patients' prescriptions, alerting them when it's time for a refill. The software also has inventory alerts when inventory is low and custom report capabilities.
SHOPKEEP: Best POS System for Food Trucks
ShopKeep is a universal POS that works well for food trucks, even if you operate where internet isn't available. The POS system helps track sales by day or even hour, tracks trends, and helps you determine the appropriate amount of staff.
You can modify orders, accept payments, and run extensive reports, all from the back of your truck.
SALESVU: Best POS System for Salons
Salon owners need more than inventory tracking and ringing out customers; they also need an efficient appointment scheduler. SalesVu does all of this and more. In addition to your standard sales and inventory tracker, it offers an intuitive way to accept online appointment scheduling, keeping everyone in the system up-to-date on the latest appointment changes.
SalesVu sends out automatic appointment reminders and can even accept non-refundable deposits to keep your no-shows to a minimum.
Bottom Line
Each business has unique needs for a POS. Focus on the individual needs of your business when searching for the right system. Don't focus solely on the cost, but also on the level of customer service provided by the company to ensure that you get the system that is right for you.
Note: This website is made possible through financial relationships with some of the products and services mentioned on this site. We may receive compensation if you shop through links in our content. You do not have to use our links, but you help support CreditDonkey if you do.
More from CreditDonkey: