American Express Platinum vs
Visa Black

vs

Citi Prestige
Editorial Note: This content is not provided by the card issuer. Opinions expressed here are author's alone, not those of the issuer, and have not been reviewed, approved or otherwise endorsed by the issuer.
This article contains references to products from our partners. We receive compensation if you apply through links in our content. You help support CreditDonkey by reading our website and using our links.
(read more)
---
Congratulations you, the frequent traveler, on graduating to the next level of travel rewards cards. Since airports have basically become your second home, you've decided to get the most out of them by joining the elite club of premium cardholders. These cards promise plenty of perks, as long as you're willing to pay hundreds of dollars a year in annual fees. Yes, being a premium cardholder will cost you, but if you pick the right card, then the benefits will be worth it.
We here at CreditDonkey talk a lot about fees, specifically about how you should avoid them. But it's a different conversation with premium travel rewards cards: in order to enjoy luxurious amenities like lounge access and 24/7 concierge service, you're going to have to pay some of the highest annual fees around.
Fortunately, in order to even get these cards you have to be doing pretty well financially, so you can probably cover it.
Still, you want to make sure you're getting the best benefits for your spending. To help you parse out the perks, CreditDonkey has compared three of the top premium rewards cards for frequent travelers:
The Platinum Card (from American Express, a CreditDonkey advertiser),

Visa Black, and

Citi Prestige (from Citibank).
PAY ATTENTION: WHAT YOU NEED TO KNOW
When considering a premium travel rewards card, these are the main categories to compare:
Bonus
The bonus is usually the first number that jumps out at you when comparing premium rewards cards. The promise of a huge bonus in points can make the annual fee look small in comparison. But just like the card itself, the bonus won't come cheap: you'll need to spend thousands to get any of the bonuses offered by these cards.
Annual Fee
These premium cards have annual fees that range from $450 to $550. At first, these numbers might seem high (and they are), but you'd be surprised how quickly these cards can pay for themselves. In fact, the introductory bonus alone can help put you in the black (although just barely with the Visa Black).
Rewards

Earning Rewards
The ability to earn rewards is important if you want the card to keep paying for itself after that promotional bonus is long gone. With every purchase you make, you should get something back. Some cards will earn you more rewards at the expense of fewer perks, so you need to consider what is most valuable to you.
Redeeming Rewards
For the most part, each 1 point you earn is worth at least 1 cent towards redemption, but some redemption methods can get you more value for your points than others. For example, with the Visa Black card, you can get double the value of your points if you redeem them for airfare. Using transfer partners is also a great way of extending the amount of your rewards. The main point about points is that you want the freedom to use them when and how you want to.

Credits
Another way these elite cards pay for themselves is with credits, mostly with airline fees. You can use these credits (up to $250 per year with one card) to cover costs like checked baggage fees and in-flight purchases. These credits are a huge bonus for frequent fliers who are already routinely dinged with these charges.
Benefits
This is where the choice of an elite travel card becomes more subjective. It's hard to compare benefits equally because while some people might care about hotel perks, others might be more concerned with free Wi-Fi or discounted concert tickets. In most cases, the best card isn't the one with the most benefits but the one with the most benefits you'll actually use.

There are other benefits that come standard with these premium cards that won't factor into our comparison. First is the no foreign transaction fee, meaning you can use the card abroad without any additional charges. Second is the 24/7 concierge service, which is an invaluable tool for getting help with practically anything you can think of.

Lounge Access
Ah yes, the airport lounge. Few things offer more hope and salvation to frequent travelers than those secluded sanctuaries of complimentary goodies. Unfortunately, these cards are not a free pass to go lounge crazy, as business agreements mean that only certain cards work with certain lounges. But when you find the one that you can use, oh man, does it feel good.
AMERICAN EXPRESS PLATINUM



Earn 60,000 Membership Rewards® points after you use your new Card to make $5,000 in purchases in your first 3 months.
Enjoy VIP status and up to $200 in Uber savings on rides or eats orders in the US annually. Uber Cash and Uber VIP status available to Basic Card Member only.
5X Membership Rewards® points on flights booked directly with airlines or with American Express Travel.
5X Membership Rewards points on prepaid hotels booked on amextravel.com.
Enjoy access to the Global Lounge Collection, the only credit card airport lounge access program that includes proprietary lounge locations around the world.
Receive complimentary benefits with an average total value of $550 with Fine Hotels & Resorts® program at over 1,000 properties. Learn More.
$200 Airline Fee Credit, up to $200 in statement credits per calendar year in baggage fees and more at one qualifying airline.
Get up to $100 in statement credits annually for purchases at Saks Fifth Avenue on your Platinum Card®. That's up to $50 in statement credits semi-annually. Enrollment required.
$550 annual fee.
Terms Apply.

Intro APR for Purchases
Intro APR for Balance Transfer
Regular APR
Annual Fee
N/A
N/A
See Pay Over Time APR

$550
Annual Fee: $550 (See Rates & Fees)
Bonus: 60,000 points after spending $5,000 in the first 3 months of owning the card
Earning Rewards
With the Platinum, you'll earn 1 point per dollar spent. You'll earn 5x points on flights booked directly with airlines or with American Express Travel.
Redeeming Rewards
You can redeem your points through the company's Membership Rewards portal on things like travel expenses, gift cards, and merchandise. You can maintain a value of at least 1 cent per point by using the "Pay with Points" feature to book air travel. This means that 100,000 points will cover $1,000 in air travel expenses. Other purchases (like hotel bookings and gift cards) will usually be redeemed for a lower conversion value, so it's usually best to stick with airfare.
Another option for redeeming your rewards is to transfer them to one of the card's many travel partners. Membership Rewards gives you access to the loyalty programs of 17 airlines and 4 hotels, which is significantly more than any other card on this list.
Of course, the transfer game isn't always a guarantee for a rewards boost. Regardless, the long roster of partners provides a flexibility that many other rewards cards simply don't provide.
Credits
$200 a year in airline fees; $100 for Global Entry or $85 TSA Pre-check every 4 years
American Express will cover $200 a year in what the company calls "incidental fees, such as checked bags and in-flight refreshment." You cannot use the credit to cover airfare or any in-flight costs not charged by the airline. Also, you can only get the credit for fees on one airline that you have to pre-register with through American Express. You're allowed to change your airline of choice, but only one time each January. In short, choose wisely.
The credit for either the Global Entry or TSA Pre-check is much easier to take advantage of. Simply charge the application fee to your Platinum card (once in a 4-year period) and you'll get a statement credit in return. Since you can only choose one, I recommend Global Entry. Even if you don't travel internationally, you'll receive automatic access to TSA Pre-check at no additional charge. Then, when an international destination calls your name, you're less likely to miss out because you're stuck at Customs.
You also get a $15 Uber credit each month ($35 in December). That's up to $200 for Uber rides annually. Keep in mind, unused credits do not roll over and the credit only applies to rides within the United States. Also credit and Uber VIP status available to Basic Card Member only.
Benefits
A premium rewards card should have a long list of benefits, and the American Express Platinum is no exception. However, unlike fee credits, it's not easy to put a dollar value on what these benefits will be worth to you, so make sure you'll get something out of them.

The biggest category of benefits falls under hotel perks. Being a Platinum cardholder means you can take advantage of the Fine Hotels & Resorts program, which gives you complimentary amenities at 700+ hotel partners when you book a Fine Hotels & Resorts reservation. These amenities range from the useful (room upgrades, early check-in) to the very useful (free breakfast). Like I said, benefits can be subjective, so free waffles might not steer your ship the same way they steer mine.
You'll also get complimentary gold status with Marriott Bonvoy, which brings a lot more benefits to the table. Gold status means room upgrades, late checkout when available, and more.
But that's not all. There's another benefit on the table. You can now enroll to enjoy the benefits of complimentary Hilton Honors Gold Status.
The Platinum also gives you status with rental car companies Avis, Hertz, and National. Enrollment in these membership programs provides you with upgrades, discounts, and quicker service.
To learn more, read our guide to American Express Platinum Benefits.
Lounge Access
The Platinum card gives you complimentary entry to The Centurion Lounge, Airspace Lounge, or Delta Sky Club. Centurion Lounges are located in San Francisco, Dallas Fort-Worth, Las Vegas, and LaGuardia, with a Miami location scheduled to open this year. Airspace has locations in JFK, Cleveland, Baltimore, and San Diego. Delta Sky Clubs are located all over the world, but you get access to them only on the days you're flying with Delta.
You can also enroll for Priority Pass Select for access to more than 600 lounges in 100 countries, regardless of which airline you're flying.
Bottom Line
We can all use a little redemption sometimes and the Platinum provides plenty of opportunities to do so. The transfer partners, fee credits, and lounge access make a strong case for spending the $550 annual fee. Terms and limitations apply.
To learn more about the Platinum Card, read our full review here.
To learn more about the 60,000 bonus points offer, including the online secure application, visit American Express' Platinum Card website.
VISA BLACK
Annual Fee: $495
Bonus: 25,000 points after spending $1,500 in the first 90 days of owning the card
Earning Rewards
With Visa Black, you earn 1 point per dollar spent everywhere.
Redeeming Rewards
With no transfer partners, the Visa Black doesn't give you that many redemption options, but it does make it easy to get double the value of your points. If you book flights through the card's Exclusive Rewards program, you get 2 cents per point instead of the usual 1 cent. That means your bonus is instantly worth $500 in air travel instead of $250 if you redeemed it for something else.
Credits
None
Benefits
The benefits offered by the Visa Black card are clearly designed for hotel fanatics who never want to stay at the same location twice. The Black Card VIP Program offers complimentary amenities at more than 3,000 hotels, resorts, and villas across the globe. That's a staggering number that easily bests the 750+ offered by the Platinum card. And what kind of VIP treatment can you expect? Included in the long list of luxuries are spa treatments, early check-in, and free breakfasts. This vast collection of properties is the most compelling argument as to why the Visa Black belongs in your wallet.
What the Black card doesn't provide is elite status with any hotel partner. It does, however, promise you "luxury gifts" from some of the world's top brands. Of course, in order to find out what the gifts are, you'll have to become a cardholder.
Lounge Access
Cardholders are enrolled in Lounge Club, which gives you free, unlimited access to more than 350 lounges in 200 cities.
Bottom Line
Unless you really want to visit 3,000 hotel properties (which, let's face it, you can't) or at least you plan to make a few hotel visits throughout each year, there just isn't much to recommend about the Visa Black. The 2X points redemption on airfare almost makes the card a contender, but then the $495 annual fee blows it out of the sky.
To learn more, read our Visa Black review.
Visa Black: Pricing information from published website as of 2/5/2015.
CITI PRESTIGE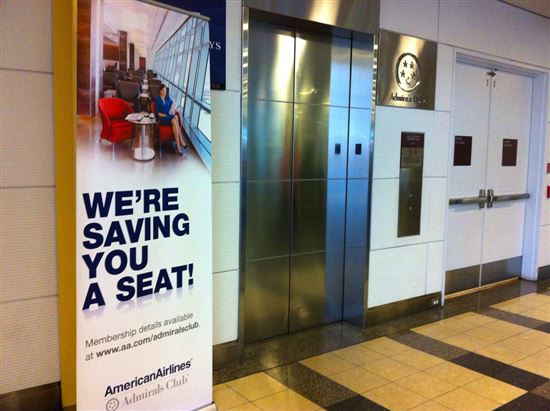 American Airlines Admirals Club © Grant Wickes (CC BY 2.0) via Flickr
Intro APR for Purchases
Intro APR for Balance Transfer
Regular APR
Annual Fee
N/A
N/A

16.99% - 23.99%* (Variable)

$495
Disclaimer: The information for the Citi Prestige® Card has been collected independently by CreditDonkey. The card details on this page have not been reviewed or provided by the card issuer.
Annual Fee: $495
Earning Rewards
If you're looking for the most options to earn points, Citi Prestige is way ahead of the competition. The card uses a category-based rewards system, similar to a general rewards card.
The earning potential alone positions the Prestige as one of the few premium rewards card that could also double as your everyday spending card.
Redeeming Rewards
Citi also gives you lots of options to redeem your ThankYou Points through the card's online shopping portal. You can get statement credits, gift cards, or other merchandise for usually 1 cent per point or less. Points can also be used to shop directly with Amazon, but you'll lose an estimated 20% of their value for the convenience.
If you're looking to maximize the value of your ThankYou Points, then you should use Citi's Travel Center to book flights.
The Citi Prestige also allows you to transfer points to travel partners, although the list of companies is nowhere near as robust as Amex Membership Rewards. For airlines, your points will transfer 1:1 across 10 loyalty programs. The sole hotel partner, Hilton HHonors, gets you 1,500 HHonor Points for 1,000 ThankYou Points.
A quick glance at the airline partners shows that none of the big domestic airlines are included. Fortunately, there are enough partners on the list to get you access to all three airline alliances (Star Alliance, OneWorld, and SkyTeam), which will let you tap into airlines like United or American.
Credits
Not only does the Prestige offer one of the highest airline fee credit, it also offers the most options to use it. The big winner here is that you can redeem the fee credit for any eligible travel purchase, including airfare. That effectively lowers the annual fee to $200, because there's almost no way that credit isn't getting used if you travel regularly. You also don't need to register an airline with the card, meaning the credit will cover eligible expenses on any flight you take.
Benefits
One of the most stand-out benefits of the Citi Prestige is that you receive a free 4th night at any hotel when your eligible stay is charged to your card. Citi's main stipulation is that the hotel must be booked through ThankYou.com. Another plus: there are no blackout dates.
Lounge Access
The Citi Prestige provides entry to the more than 1,000 lounges in 100 countries offered by Priority Pass Select. You can also get complimentary access for your immediate family or up to 2 guests.
Bottom Line
Citi Prestige hits the right balance between a premium rewards card and a card for everyday spending. While it doesn't have the redemption flexibility of the Platinum, it has enough benefits to make it a good choice for frequent travelers. Once you add in the generous fee credits, it becomes one of the best overall values in the premium card roundup.
Citi Prestige: Pricing information from published website as of 10/26/2017
Reaching the Next Level: Is It Worth It?
What's going to win you over? The rewards? The airport lounge? The prospect of having a direct line to concierge services? A comparison of cards is a must before you apply — and especially in this case when you're contemplating forking over a hefty annual fee. Have fun considering the possibilities — and choose wisely.
Still not sure about the annual fee?
We can think of at least 2 cards out there that travel-friendly rewards like the American Express Platinum, Visa Black, and Citi Prestige but at a much lower annual fee. With the Chase Sapphire Preferred, you can earn 2X points on travel and dining at restaurants & 1 point per dollar spent on all other purchases worldwide; 20% discount on travel reward redemption when you book through Chase Ultimate Rewards, and the ability to transfer points with many leading frequent travel partner programs. For more information, see our Chase Sapphire Preferred review here.
Compare that to the American Express Gold, which attracts frequent travelers who want to get 3x points for flights booked directly with airlines and up to a $100 statement credit a year for incidental fees incurred with their selected airline. In return, you'll pay a $250 annual fee (See Rates & Fees). Read our in-depth comparison of AMEX Platinum and Gold before you decide.
Terms and limitations apply.
Ross Frasier is a research analyst at CreditDonkey, a credit card comparison and reviews website. Write to Ross Frasier at ross@creditdonkey.com
Editorial Note: Any opinions, analyses, reviews or recommendations expressed in this article are those of the author's alone, and have not been reviewed, approved or otherwise endorsed by any card issuer. This site may be compensated through the Advertiser's affiliate programs.
For rates and fees of the American Express Platinum card, please click here.
For rates and fees of the American Express Gold card, please click here.

Disclaimer: The information for the Citi Prestige® Card has been collected independently by CreditDonkey. The card details on this page have not been reviewed or provided by the card issuer.
More from CreditDonkey: