Personal Capital Retirement Planner
Ad Disclosure: This article contains references to products from our partners. We may receive compensation if you apply or shop through links in our content. You help support CreditDonkey by using our links.
(read more)
Are you in good shape for retirement? Personal Capital's free money management tools can help you find out.
Retirement planning can feel like one big question mark.
Am I really saving enough? Will I have enough money to support the lifestyle I want? What if my plans change down the road?
Luckily, there's a tool that uses real data to show you whether you're on track for retirement. It can even account for major life events like weddings or buying a home.
It's called Personal Capital, and it manages all your finances: investments, cash, expenses, everything in one place. It's a powerful way to learn if you're on track for your goals, and how to change course if you're not.
There's even a Recession Simulator to demonstrate the effects of a recession on your investments.
Here's a full overview of how Personal Capital can give you peace of mind in your retirement plans.
How does Personal Capital Retirement Planner work?
With this free financial tool, you'll get access to the following features:
Recession Simulator - You can check how your portfolio would have performed in past recessions and market crashes. Find out the recovery time and probability of meeting your retirement goals post-crash.
Run different scenarios - Do you want to retire earlier? Or level up your monthly contributions? Compare how your current plan stacks up to a new scenario side-by-side.
Prepare for big expenses - Saving up for your kids' college education? Buying a home for the first (or second) time. You add these events into the Retirement planner to see how they impact your financial future.
Add income events - Enter additional sources of income such as Social Security, rental income, pensions and so on.
Analyze your spending habits - Break down how much you'll be able to spend in retirement and what you can afford each month. Personal Capital automatically pulls your savings and expenses data to provide you with an estimate.
Track your progress over time - The app helps you keep track of goals and how close you are to reaching them.
Personal Capital Alternatives
There are a lot of personal finance and budgeting apps out there? But should you choose Personal Capital over the others?
Check out how Personal Capital stacks up against the others.
Mint - Mint is a hugely popular money management software. But this app is geared towards everyday spending and budgeting rather than future income. If your focus is just budgeting, Mint is the better choice. But Personal Capital far exceeds Mint when it comes to investment tracking and retirement planning.
Quicken - Quicken is the original money management software. That said, Quicken is not free and you must pay an annual subscription to use their services. Quicken's premium program has cool features like bill pay, investment tracking, market comparisons, property manager and small business manager. But if you're the average investor who doesn't manage a business, Personal Capital will more than suffice.
Is Personal Capital worth the fee?
Personal Capital is a free, online financial management tool. But wait. Maybe you're thinking, "Nothing's really free. What's the catch?"
There actually isn't one. Personal Capital makes money from their paid investment advisory service. They currently have more than $16 billion assets under management, but you definitely don't have to use that service to get complete access to their free tools.
Is it safe to link accounts to Personal Capital?
Personal Capital uses top-of-the-line safety measures and stronger encryption than most major banks. In short, your data is encrypted when your data is being transmitted and when it's stored. So, no one has access to your credentials.
They also never sell your information, so you're safe from those pesky telemarketer calls.
Here's the full story of how Personal Capital protects your data.
Are You on the Right Path to Retirement?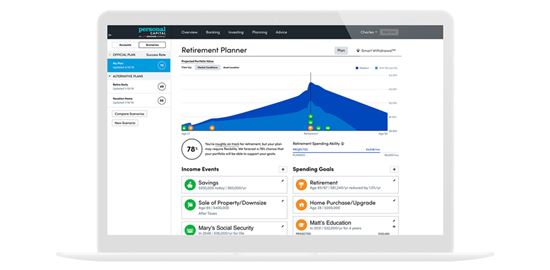 Credit: Personal Capital
When you sign up for an account, you'll see all your money in one place without annoying ads for random companies clouding your view. Most importantly, you'll gain deep insight from their analytics tools.
In addition to retirement planning, Personal Capital provides excellent wealth management tools, a robo-advisor for investments and human financial advisors.
Personal Capital is in a very different league from Mint, Quicken and other budgeting apps. Don't leave your golden years up to chance. Personal Capital can give you much-needed reassurance.

Donna Tang is a content associate at CreditDonkey, a personal finance comparison and reviews website. Write to Donna Tang at donna.tang@creditdonkey.com. Follow us on Twitter and Facebook for our latest posts.
Note: This website is made possible through financial relationships with some of the products and services mentioned on this site. We may receive compensation if you shop through links in our content. You do not have to use our links, but you help support CreditDonkey if you do.
Personal Capital Advisors Corporation ("PCAC") compensates CreditDonkey Inc ("Company") for new leads. ("Company") is not an investment client of PCAC.
Read Next:
Compare: