Survey: Holiday Shopping Statistics
Most Plan to Pay Off Holiday Purchases by End of January
---
Just over half of consumers plan to pay off the purchases they make during the holiday shopping season by the end of January, according to a recent CreditDonkey.com survey.
The debt-burdened holiday shopper paying off their holiday shopping throughout the rest of the following year is a thing of the past. In fact, 85.3% of respondents told us they will not need to use a credit card to borrow money for holiday shopping in 2012.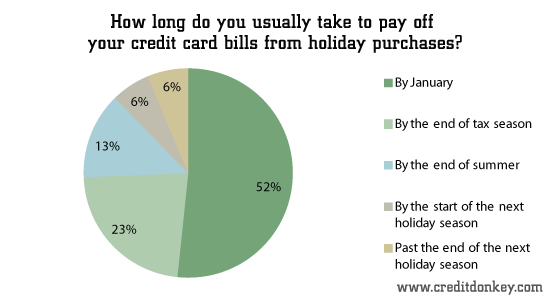 How long do you usually take to pay off your credit card bills from holiday purchases? © CreditDonkey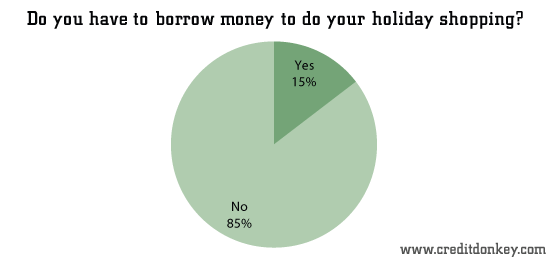 Do you have to borrow money to do your holiday shopping? © CreditDonkey
Instead, when they do use their cards, they will likely be using them soley to manage their current cash holdings and take advantage of deals. "Savvy consumers are taking advantage of credit card rewards to game the system for additional discounts," says Charles Tran, founder of CreditDonkey.com.
If consumers pay-in-full, they'll generally be able to take advantage of rewards without the headaches associated with burdensome interest payments.
Consumers hacking the credit card rewards system:
About 60% of consumers have a rewards credit card, according to the 2010 "Survey of Consumer Payment Choice," from the Federal Reserve Bank of Boston.

Roughly one in five consumers who believe they have strong credit ranked rewards as the most important card feature, according to Comscore's 2010 Online Credit Card Report.
No need for more credit:
45.8% of our survey respondents have 0 dollars in credit card debt.

81.6% have not sought a credit limit increase in the past 12 months, and 58.3% have never sought a credit limit increase.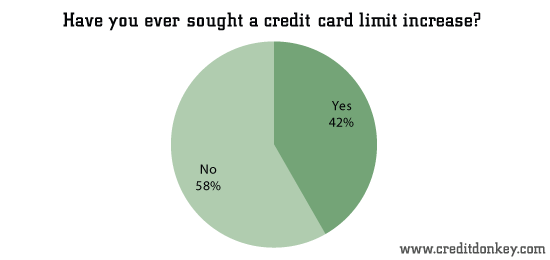 Have you ever sought a credit limit increase? © CreditDonkey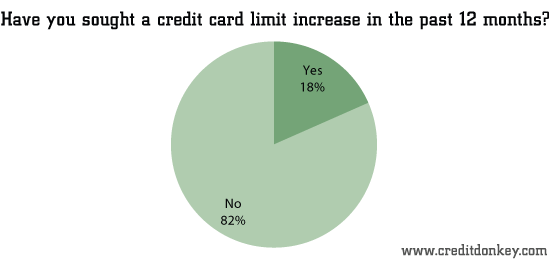 Have you sought a credit card limit increase in the past 12 months? © CreditDonkey
(From November 19 to November 27, 2012, CreditDonkey.com surveyed 1,045 Americans, age 18 and over using multiple choice questions and short-answer questionnaires. 744 survey respondents answered the question "How long do you usually take to pay off your credit card bills from holiday purchases?" 782 survey respondents answered the question "Have you ever sought a credit card limit increase?")
Naomi Mannino is a contributing writer at CreditDonkey, a credit card comparison and reviews website. Write to Naomi Mannino at naomi@creditdonkey.com