How to Pay Off Credit Cards: 6 Fast Steps
---
It's happened to most of us: we get a credit card with the best of intentions and suddenly find ourselves overwhelmed by more debt than we can afford. While a lot of people hold out hope for a promotion or a lottery win to save them from their high debt level, there is an easier – and more realistic – way to pay off credit cards when their balance has gotten out of hand.
All you need is a plan.
Step 1: Find low-cost or no-cost balance transfers
The first step for anyone facing credit card debt is to find and compare cards with no or low balance transfer fees and an introductory 0% APR. When used correctly, such cards can give you a short-term chance to pay off your credit card debt without paying interest. The savings this can represent are substantial.
Enter information about your existing credit card(s)
| Card | Balance | APR (Interest Rate) |
| --- | --- | --- |
| #1 | $ | % |
| #2 | $ | % |
| #3 | $ | % |
Enter information about the card you're transferring to
| | |
| --- | --- |
| Enter the intro APR on Balance Transfers (Interest Rate): | % |
| Enter the length of the intro period: | months |
| Enter the regular APR (Interest Rate): | % |
| Enter the annual fee: | $ |
| Enter the balance transfer fee (% of balance): | % |
| Enter monthly payment: | $ |
You will need good credit to qualify for these cards, which is yet another reason to make sure you do everything can to improve your credit score. If you're in a rush to pay off your debt but you don't have the credit score necessary to qualify for a 0% intro APR card, no problem – there are additional steps you can take.

Infographics: Balance Transfer Game

© CreditDonkey
Step 2: Identify the APR on your cards
Determine how much interest you are paying on all of your cards plus any fees you pay each month. These figures should be stated clearly on your monthly bills, or you can call the customer service desk of each one and ask. Make a list for all of your cards.
Step 3: Identify the minimum payment and amount owed on your credit cards
Add to the list how much you owe on each card and what the minimum payment is for each card.
With all of this info – APR, minimum payments, total amount owed, plus any fees you pay each month – you are ready to tackle those debts, using a schedule that you put together.
Step 4: Prioritize your payments
Rank your cards from those that have the highest interest rate – which you will pay off first – to the lowest. While you will continue to pay at least the minimum amount due on all your cards, every month, you will usually save money in the long run if you designate any funds you have left over to the card with the highest interest rate. However, if you owe a little on a card with a low interest rate and a lot on a card with a high interest rate, you might find it psychologically more satisfying to pay off the card with the smaller amount owed first, just to get it out of the way.
Enter information about your current balance
| | |
| --- | --- |
| Current Balance ($): | |
| APR (% Interest Rate): | |
(Optional) To pay off your credit card balance sooner, fill out the fields below. Otherwise leave the fields blank, and we'll estimate how long you'll need to pay it if you only make the minimum payment:
Specific monthly payment ($):
- OR -
Specific number of months:
(includes CreditDonkey® Payoff Chart to show how long it will take to get out of debt)
Step 5: Budget and plan
To calculate how much you should be paying toward which cards and how fast you can pay them off, you need to make a budget. This budget should incorporate all of your debts and all of your expenses.
With a budget in hand, it's easier to identify places where you can cut expenses and use the freed-up money toward tackling your credit cards. If you go out to eat twice a week, perhaps you can cut that to once a week. Or stop buying coffee at a café every workday afternoon just because you're bored. Cancel – or at least downgrade – your cable subscription. Whatever cuts you make, however small, they will give you greater power to pay off your credit card debts, and a good budget is one of the most powerful financial tools anyone has available.
Step 6: Negotiate
Negotiating isn't just for buying a car. Finance companies, like all companies, want to keep their customers and keep them happy. Sometimes that means giving customers a special offer.
So, finally, after you have calculated how much you can allocate toward card payments every month and which cards you should tackle first, try calling your credit card issuers and be honest. Tell them you want to pay off your credit cards as fast as possible because you're having difficulties affording your current debt level. Ask if they can lower your interest rates, or maybe give you a short break from having to pay interest at all. You might want to mention that you're considering transferring your balance to another card issuer because of a 0% balance transfer offer, and see if they're willing to give you a deal to keep you as a customer.
If you are serious about paying off your credit card debts, it's pretty easy to do if you have a plan. By identifying what you owe and how much it costs you to owe, you can easily identify a strategy that will make you debt free. But, like any strategy, it only works if you stick to it.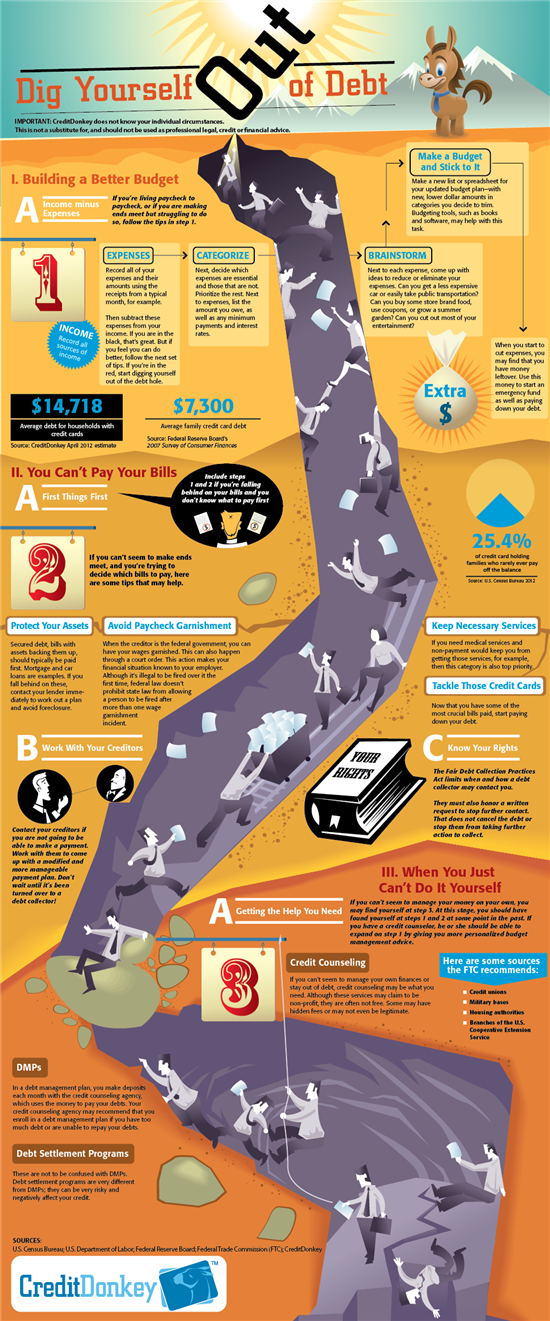 Dig Yourself Out of Debt

© CreditDonkey
Related Resources
(Graphic Writing by Kelly; Graphic Design by Marcelo)