Survey: Online Shopping Statistics 2012
Online Holiday Shopping Grows in Popularity, Changing the Nature of Black Friday
---
Mobile apps and easier accessibility of retailer websites are apparently cutting into designated holiday shopping events. According to a new survey by CreditDonkey.com, shoppers are split over whether they'll shop on Cyber Monday, the internet's version of Black Friday when online holiday shopping tends to spike and online retailers offer an array of deals.
A total of 56.7% of the survey respondents plan to take advantage of such deals this year, even though, overall, the majority (64.4%) of respondents plan to make most of their holiday purchases online this year.
"The trend toward online shopping seems to be more about convenience than anything else," notes Charles Tran, founder of CreditDonkey.com, which surveyed more than 1,000 Americans in October about their holiday-shopping plans. "Gimmicks like Cyber Monday aren't what's bringing people online. Rather, it seems the convenience of just getting the shopping over with is that is benefiting big box retailers with a big online presence."
New to the mix this year are mobile apps dedicated to Black Friday, which adds to the sign that the day after Thanksgiving may become a more virtual experience as shoppers continue to prefer to shop online. "This trend is tearing down the walls between Cyber Monday and Black Friday. If people are surfing for Black Friday deals on their phones and tablets, is it really an offline shopping event?" asks Tran.
Indeed, many of those shoppers who do venture to the malls will likely be walking around with their noses aimed toward their smartphones. This trend favors online retailers as the prevalence of apps for smartphones and tablets are making it easier for shoppers to browse for goods online. "Shoppers can download a retailer's app and browse inventory there on their tablet," says Tran. "Even if they don't buy the product right there on their phone, the first step is on a mobile device, which will make it easier to buy the product on the company's main site instead of at a physical store."
As it is, 54.5% respondents to the CreditDonkey.com survey plan to spend more on Cyber Monday this year than they did last year. "Survey respondents seem attracted to the combination of low cost and convenience of buying holiday gifts online," notes Tran. "Online retailers have made it easier than ever to buy gifts without the hassle of brick and mortar stores, which is going to put pressure on smaller retailers that find it difficult to compete on price or convenience with the big boys online."
Realizing this, big-box retailers have been aggressively pushing products on their own apps and aggregate apps that display just Black Friday deals.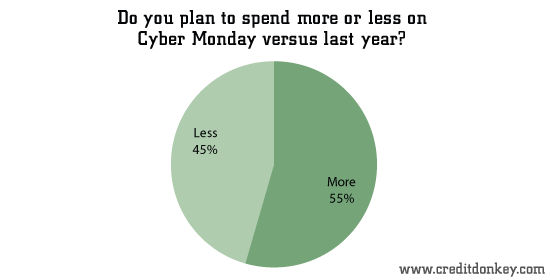 Do you plan to spend more or less on Cyber Monday versus last year? © CreditDonkey
From October 9 to October 23, 2012, CreditDonkey.com polled 1,125 Americans, age 18 and over, about their holiday shopping plans using multiple choice questions and short-answer questionnaires.
Mike Foster is a contributing writer at CreditDonkey, a credit card comparison and reviews website. Write to Mike Foster at mike@creditdonkey.com