Obama vs Romney: Who Do You Trust More with Your Credit Card?
Would You Trust Mitt Romney with Your Credit Card?
---
Both presidential candidates are asking you to trust them with the country's economy, but would you trust them with your credit card? For many, the answer to that question is "no," according to a new exploratory survey by CreditDonkey.com.
Over a thousand shoppers were asked who they would trust more with their credit card information: Barack Obama or Mitt Romney. Almost half, some 48.5% said that they would trust neither more than the other. Shoppers were most suspicious of the former Massachusetts governor: only 8.8% of respondents said they would trust Romney more with their card info. President Obama, on the other hand, received a more favorable response: 42.7% said they would trust Obama more with their card information.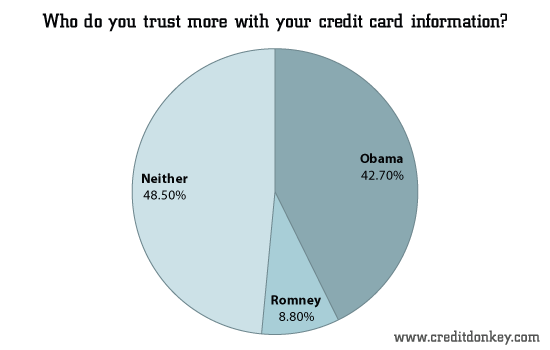 Who do you trust more with your credit card information? © CreditDonkey
American voters seem uneasy with the thought of Romney getting his hands on their plastic. The verdict is out whether this is because of his refusal to release additional tax returns, or just because he is less familiar to people than the sitting president.
The results should concern the Romney campaign, which has attempted to shift the focus to Americans' economic worries and Obama's handling of the U.S. economy during his tenure as president. If nothing else, Americans are more wary of sharing personal information with Romney than Obama, suggesting that he has not won the public's trust quite yet.
Related:

Trust in Politicians Continues to Splutter
The lack of trust in politicians has meant that voters are trusting political ads less, according to the National Journal. As a result, Democratic pollster Celinda Lake says, "people are so alienated from politics right now that when they see real people talking, it's much more persuasive."
Trust, particularly trust with the economy, has become a central issue for the presidential race. Romney has faced intense pressure on his personal finances, with Democrats urging the candidate to release more tax returns. Meanwhile, first lady Michelle Obama has recently said at the Democratic National Convention that her husband is "a man we can trust" to revive the nation's economy.
Republicans have countered that Obama has failed to deliver the economic recovery that America so badly needs, and that he can no longer be trusted with the nation's finances.
Who do you trust more with your credit card information?
CreditDonkey.com conducted the online survey between August 20, 2012 and September 2, 2012. In total, 1,022 consumers in the U.S. aged 18 and older answered the question, "Who do you trust more with your credit card information?"
Editor's Note: No weights were applied. For your convenience, our survey demographics are below. You might find it convenient to compare it to the 2008 Election Population Demographics. In general, respondents to our online survey skewed younger.
Gender: 47.68% of respondents male; 52.32% female

Age: 31.47% of respondents 18-24; 39.51% 25-34; 15.98% 35-44; 7.55% 45-54; 4.41% 55-64; 1.08% 65+

Household Income: 56.58% of respondents less than $50k; 33.69% less than 100k; 7.27% less than 150k; 2.46% more than 150k

Highest Achieved Education Level: 1.08% of respondents some high school; 13.63% high school graduate; 33.14% some college (no degree); 10.69% associates degree; 31.18% bachelors degree; 10.29% graduate degree
Mike Foster is a contributing writer at CreditDonkey, a credit card comparison and reviews website. Write to Mike Foster at mike@creditdonkey.com