What Not to Buy Your Wife for Christmas
---
Whether you're a newlywed or you've been married for years, you could easily end up spending hours debating what to buy your wife for Christmas. Maybe you have a sense of what she wants, but you're not quite sure. Or maybe you're clueless and can use all the help you can get. After asking nearly 200 married women what they hope to receive for Christmas, CreditDonkey.com has compiled a list that will help you narrow down your gift choices.
Here are the top three things not to buy your wife for Christmas.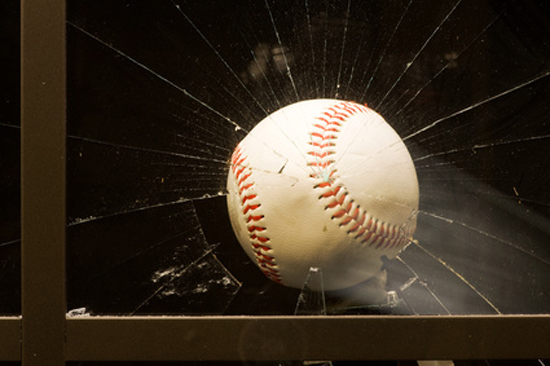 Sporting goods: Even if your wife is into fitness, there's a good chance she's not hoping to unwrap sporting goods this holiday, as 86% are not putting it on their holiday wish list. For even the most athletic types, sporting goods are sometimes considered to be "necessity" purchases rather than something a person wants to receive as a gift.

Consider household goods instead. Three-fourths of our married female respondents said they would like a household item as a Christmas gift. But tread carefully here and base it on what your wife truly enjoys doing around the house. If she's into baking, you could get her a nice mixer and some new baking pans. Maybe she's tired of her Swiffer WetJet and ready to upgrade to a Shark Steam Mop. If you do go this route, be sure to immediately offer to be the first one to use it so she doesn't think you're hinting that she needs to clean the floors!

Music: Most people's music is on their iTunes libraries or some other digital form these days. They usually download songs they like shortly after hearing them and don't think much about receiving music as a gift. Married women are no different, as 68% of them said they wouldn't want songs for Christmas.

Try gift cards instead. In contrast to music, 86% of our married female respondents said they want cards to their favorite stores for Christmas. This way she can go shopping for herself and pick out exactly what she wants. A gift card doesn't have to be a thoughtless gift: just about every place sells gift cards, from spas and hair salons to grocery stores and department stores. She'll probably appreciate you taking the time to buy her gift cards from her favorite places.

Movies: Perhaps she already has a nice collection of movies or she just doesn't care to receive any more. Movies ranked high on our respondents' list of do-not-want items; 60% said they don't want them for Christmas. If you know of a particular movie that your wife has always loved or really wants to see, then it could make for a nice stocking stuffer. Just know there's a good chance movies aren't at the top of her wish list.

Get books instead. In our survey, 66% of wives said they'd like books for Christmas. What does yours like to read? If you don't know, do a little snooping around her nightstand to find out. Ask one of her sisters or close friends if they know what she considers a good read. Consider a collector's edition of a favorite book or a simple digital download of a newly published book for her Kindle on Christmas Day (the perfect solution for procrastinating husbands.)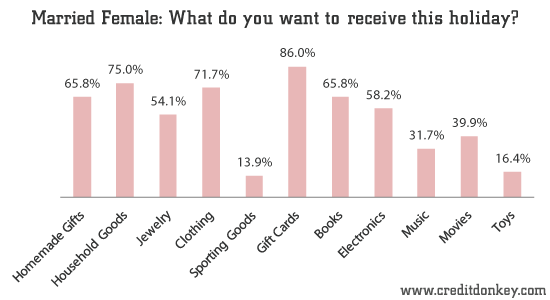 Married Female: What do you want to receive this holiday?

© CreditDonkey
(From October 7, 2013 to October 11, 2013, CreditDonkey polled 1,076 Americans online, age 18 and over for their opinions and plans regarding the Halloween, Thanksgiving, and Christmas holidays. Results and analysis for what not to buy your wife based on female married respondents only.)
Jasmine Williams is a contributing writer at CreditDonkey, a credit card comparison and reviews website. Write to Jasmine Williams at jasmine@creditdonkey.com. Follow us on Twitter and Facebook for our latest posts.