Review: Is Nordstrom Credit Card Worth It?
Editorial Note: This content is not provided by the card issuer. Opinions expressed here are author's alone, not those of the issuer, and have not been reviewed, approved or otherwise endorsed by the issuer.
This article contains references to products from our partners. We receive compensation if you apply through links in our content. You help support CreditDonkey by reading our website and using our links.
(read more)
---
Thinking of getting the Nordstrom credit card? Before you apply, read this review of the Nordstrom retail store card and the Visa card.
See Top Rated Credit Card Deals
Nordstrom has a loyal base of shoppers, so it makes sense that this retailer has a store credit card for its biggest fans.
Shoppers can choose between two types of Nordstrom credit cards: a regular store card that can only be used at Nordstrom and 2 Visa versions that can be used wherever Visa credit cards are accepted. You earn rewards on your spending on both cards, and get rewards in the form of Nordstrom gift cards.
But is either card a better option than the non-branded rewards credit cards on the market? Read on to find out.
Deal of the Day: Chase Freedom Unlimited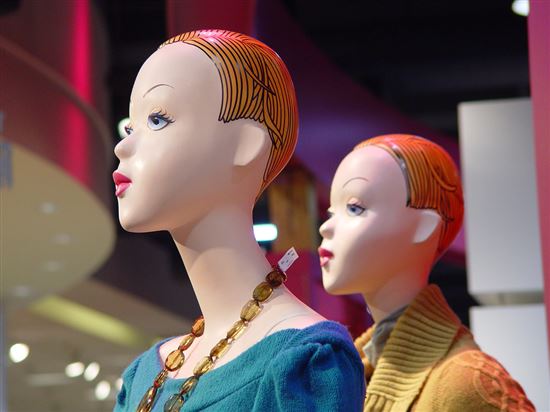 Mannequins at Nordstrom © Franco Folini (CC BY-SA 2.0) via Flickr
Overview of the Cards
Nordstrom offers three different credit cards: a regular store retail card, Visa Signature, and Visa Platinum. Briefly here's how they are different from each other:
Retail card: You can only use this card at Nordstrom stores. You get 2x points per dollar spent.
Visa Platinum: You can use this card anywhere Visa is accepted. You still get 2x points per dollar spent at Nordstrom stores, and 1 point everywhere else.
Visa Signature: It works the same way as the Platinum, but you get special Visa Signature benefits. These include travel promotions and preferred access to events.
Did you know: Nordstrom also offers a Debit card, which draws the money directly from your bank checking account. You can only use it at Nordstrom stores and you'll earn 2x points per dollar.

We'll explain the pros and cons below. But first, here are some current credit card promotions you should not ignore.
Nordstrom Credit Card In-Depth
Benefits
Rewards: All the Nordstrom cards earn 2x points per dollar at Nordstrom, Nordstrom Rack, Nordstrom.com, Haute Look, and Trunk Club. The Visa card also offers 1 point per dollar spent elsewhere. When you hit 2,000 points, a $20 Nordstrom Note gift certificate is automatically mailed to you.

The 2 points per dollar you'll earn at Nordstrom is equivalent to a 2% rewards rate. But if you're using the Visa cards for ordinary spending, the 1 point per dollar is only the equivalent of 1%.

Cardholder Levels Perks: The more you spend on the card, the better deals you get. Nordstrom has four cardholder tiers that are depend on how much you buy at Nordstrom on your Nordstrom credit card during one year. The levels are:

Level 1 (up to $1,999): 1 personal triple points day, free alterations up to $100

Level 2 ($2,000 - $4,999): 2 personal triple points days, free alterations up to $200, invitation to an exclusive holiday event

Level 3 ($5,000 - $9,999): 3 personal triple points days, free alterations up to $300, invitation to an exclusive holiday event, experience packages for purchase

Level 4 ($10,000+): 4 personal triple points days, unlimited free alterations, invitation to an exclusive holiday event, experience packages for purchase, VIP experiences on the house (spa day or dining experience).

Triple Points Days: A Triple Points Day is when you earn three times the number of points for Nordstrom purchases (meaning 6 points per dollar). You get to pick when you want to use this. Depending on your Level, you get different number of Triple Points Day.

To make the most use of your card, use a Triple Points Day when you have huge purchases to make. You'd only have to spend $334 to reach 2,000 point for a $20 Note. That's pretty good.

Bonus point events: In additional to your personal Triple Points Days, there are also bonus point events scattered throughout the year. You'll earn more points for your Nordstrom purchases on these days - up to 10x sometimes. Keep an eye out on their calendar for these events.

Note that Triple Points Days and bonus point events are only for Nordstrom, Nordstrom Rack, and HauteLook (not Trunk Club).

Early access to annual anniversary sale: All cardholders also gain early access to Nordstrom's biggest event of the year. Level 4 cardholders get pre-access one day earlier before start of Early Access.
Intro offer: The first day you receive your card, if you spend $100 at a Nordstrom store, you get a $20 Note. It's not as generous as the intro offers of many other rewards credit cards, but it's still $20.
No reward limits: There is no limit to the amount of rewards you can earn or redeem in a given window of time. But note that you will to maintain the same spend on your card every year to maintain your Level.
What to Watch Out For
APR: Like most store credit cards, the Nordstrom credit card can have a relatively high APR. The most creditworthy cardholders can qualify for competitive rates as low as 11.4% for Nordstrom purchases, while rates can go as high as 23.4% for cardholders who have lower credit scores. If you plan to carry a balance, consider a low interest credit card instead.
Rewards outside Nordstrom: While the 2% reward percentage earned on Nordstrom purchases is good, the 1% earned elsewhere (if you opt for the Visa version) is lower than you'd get if you used some other type of rewards card.
Lack of reward flexibility: Every time you reach 2,000 points, you get a $20 Nordstrom Note automatically mailed to you. This is great for no-hassle redemption. However, other rewards cards give you greater flexibility with choosing when, how, and in what form you redeem your rewards points.
Click Here to Compare Credit Card Rewards
Our Opinion: Are the Nordstrom Cards Worth It?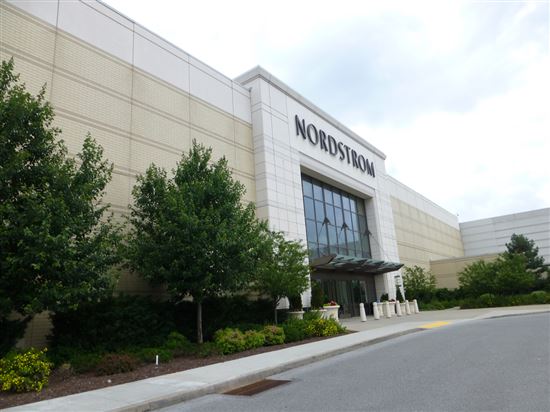 Nordstrom in Pittsburgh, Pennsylvania © Nicholas Eckhart (CC BY 2.0) via Flickr
Do you often shop at Nordstrom? If so, you'll mostly likely find the card a useful addition in your wallet. You may rack up a few Nordstrom Note gift certificates each year. The 2% reward rate is higher than the rates offered with many other store credit cards.
For most Nordstrom devotees, the store version of the card will suffice. If you do want the Visa version, you only get 1% on non-Nordstrom purchases, which is lower than what you'll earn with some non-store branded rewards cards. So your Nordstrom Visa card should never be used as a primary card. It's best to only it for Nordstrom purchases, and use another card with better reward rates for everything else.
To get the most rewards for your money, plan any huge purchases with your Triple Points Days or bonus point events. Your reward rate will be much higher. And don't forget to take advantage of the free alternations as well. Even the lowest Level offers a free $100 worth of alternations.
The cards are all free to apply to with no annual fee. So if all you do is shop during your Triple Points Day and use the $100 free alternations, you'd still be getting good value out of the card.
Alternatives
If you tend to browse more than you buy in Nordstrom, you may not get the full potential this card offers. In this case, you'd be better off with an alternative card. The right one for you depends on your spending preferences:
You like to travel as well: If you're a big spender, you should be rewarded for all your hard work at the store. Travel credit cards give you tons of points or miles for your purchases, and then you can redeem them for airfare, hotel stays and more. It's a nice perk to watch those points add up for your next excursion.
You want cash back : If you always pay off your balance, even after shopping binges, look for a cash back credit card. There are cards that offer 5% cash back rewards on rotating categories every 3 months, and 1% on anything else. If you line up your spending with the categories, you'll maximize cash back potential.
You tend to carry a balance: While we always recommend paying off your balance whenever you can, we get it if you can't. If you usually carry a balance, you should steer clear of store credit cards, which have high interest rates. Opt for a credit card with low interest rates instead. You won't get any store perks, but the savings on interest will outweigh that.
Bottom Line
The Nordstrom credit cards are great for frequent shoppers who enjoy specific Nordstrom perks, such as free alterations and early access to the anniversary sale. If you do opt for the Visa version, we just recommend that you mainly stick to using it on Nordstrom purchases. The 2% you get in Nordstrom stores is a generous rate. And even more so if you shop during Triple Points Days and bonus point events.
Since the cards have no annual fee, there is no real downside to getting one if you like shopping at Nordstrom. Just make sure that you are able to pay off the balance each month, because the APR is quite high.
Leah Norris is a research analyst at CreditDonkey, a credit card comparison and reviews website. Write to Leah Norris at leah@creditdonkey.com
Editorial Note: Any opinions, analyses, reviews or recommendations expressed in this article are those of the author's alone, and have not been reviewed, approved or otherwise endorsed by any card issuer. This site may be compensated through the Advertiser's affiliate programs.
Disclaimer: The information for the Discover it® Cash Back has been collected independently by CreditDonkey. The card details on this page have not been reviewed or provided by the card issuer.
More from CreditDonkey:
---