Survey: Many Americans Satisfied and Employed Yet Want a New Job in 2015
---
Employees are not sitting still in 2015. Even though they're satisfied in their current positions, many employed Americans plan to look for something better this year, according to a new CreditDonkey survey.
Many Satisfied Workers Plan to Look for a New Job This Year
Chances are you'll see many coworkers sneak in late to their cubicles a few times this year. Dressed in their job-interview best, they'll act suspiciously throughout the day. They're not the only ones trying to hold a secret from the boss: Nearly half of employed Americans surveyed (44%) plan to look for a new job in 2015, according to a new survey from CreditDonkey, which means there will be some sly job hunts going on in the months ahead.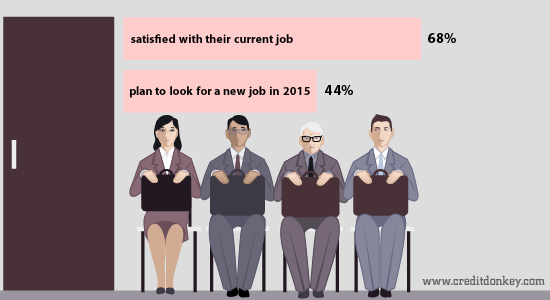 Employees who plan to look for a new job

© CreditDonkey
Will you be one of them? Even though 68% of the employed respondents claim to be satisfied with their current job, 44% of the employed respondents plan to spruce up their résumé and hit the interview trails. They'll be seeking work even though the majority of them have characterized their current work situation as "secure" and "interesting." Then they must hate their boss, you must be thinking? Nope, 85% of our currently employed survey respondents said they like their boss and 92% like their coworkers.
Employees Optimistic
So, what gives? In general, most likely, people are in search mode after a few years of feeling like they were stuck, when raise and hiring freezes became commonplace after the Great Recession. Now that the unemployment rate is at a much healthier 5.7% as of January (it's been under 6% since the summer of 2014, a far cry from when it was 10% just 6 years ago), employees feel like they have more job security — and more wiggle room to move around.
It's tough to generalize a very personal decision to search for greener employable pastures, and respondents to our survey gave varying responses. Many cited the need for more income ("I am always on the hunt for better pay," said one respondent) while others had very specific reasons, from the pending birth of a new baby to a move to a new home, and the need to pay off student loans with a better wage.
Others feel like they need a change. "I want something new and different," a respondent said. Another put the reasoning plainly: to "see if anything is better out there." Some job hunters view the task as a way to get away from a negative experience, as they feel burned out and ready for a change. "My current job is slowly killing me," one respondent confessed while another said, "My current job is a dead-end job."
Respondents also cited the need not only for better pay but flexible hours, and more stimulating work. "I have been with my current company for 5 years and would like more opportunity for advancement," a respondent wrote.
But for everyone who is looking and hoping for a better title and job satisfaction, there are those who still feel stuck where they're at. "I don't think I could easily find another employer to pay me my current wages," wrote another respondent.
Men vs Women
In the survey, more employed men than women said they are looking for a job in 2015 (46% of male respondents vs. 42% of female respondents). One reason for the discrepancy between the genders? In general, women may be more hard-pressed to find flexible work situations and will stick to one employer if they have been rewarded for their long tenure with a good situation that would be tough to replicate somewhere else. Authors of a 2014 American Sociological Review study concluded that job tenure (which was an average 6.9 years for women in 2012 and 7.4 for men that year) for mothers in particular can be connected to their employment situation when they give birth and the state of the job market.
Highlights
For the CreditDonkey survey, of the currently employed respondents:
68% are satisfied with their job.

74% say their job is secure.

72% view their job as interesting.

66% say their job is meaningful.
Of those currently employed looking for a new job in 2015:
37% are satisfied with their job.

58% say their current job is secure.

54% say their current job is interesting.

48% say their current job is meaningful.
Of those who said their current job is meaningful:
92% like their boss compared to 71% who said their job was not meaningful.

95% like their coworkers compared to 84% who said their job was not meaningful.
(CreditDonkey conducted the online survey between February 23 and February 26, 2015. Results and analysis are based on the 905 Americans, aged 18 and over, who indicated they are currently employed.)
Sarah Johnson is a senior editor at CreditDonkey, a credit card comparison and reviews website. Write to Sarah Johnson at sarah@creditdonkey.com. Follow us on Twitter and Facebook for our latest posts.
Read Next: