23
Money Mistakes

Almost

Everyone Makes
---
Do you wish your finances were in a better position? Get on the road to wiser spending and better saving by correcting these 23 common money mistakes.
Here's a salute to all the common mistakes you've probably made or are making right now, and a call to move on and do better the next time. Wash yourself of these 23 mistakes so that you can finally spend smarter and save better.
1. YOU SNUB THE BUDGET-KEEPERS
Think you're better than the folks who have a budget, but you still don't have much to show at the end of the month when all your bills are paid? You don't have to burden yourself with getting a budgeting software package. You don't even need Excel. Just a sheet of paper listing your income and expenses will suffice — as long as you actually follow it. You don't have to track every single cent. The point is to get a grip on how your money comes in and knowing where it goes. So many people are afraid to admit the truth that they'd rather say budgeting is for dummies and shrug their shoulders when they have no clue where their money goes. One-up the two-thirds of Americans who don't budget, and you should be rewarded with more financial security at the end of the month — not a feeling of desperation and confusion.
Related: Best Budgeting Software
2. YOU SPEND BEYOND YOUR MEANS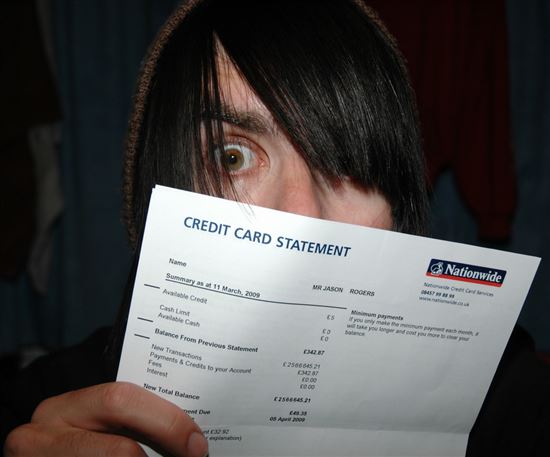 Day 736 / 365 - Ski holiday Ouch ( credit crunch debts bills ) © Jason Rogers (CC BY 2.0) via Flickr
Do you get a wicked wakeup call every time you open your credit card statement? If you bring in $3,000 per month and you're barely making ends meet, why would you possibly think it's OK to purchase that $2,500 big-screen smart TV that will take you forever and a day to pay off? In your defense, it has become the American way as savings rates have plummeted but spending rates have remained high. After the financial crisis, some of us have improved these figures, but the overspending habit dies hard. Keep your spending in check by continuing to truly understand your money situation. Get a realistic picture, not the one you fantasize about that involves high-end cars and gadgets.
Related: Live Within Means
3. YOU NEVER THINK ABOUT INTEREST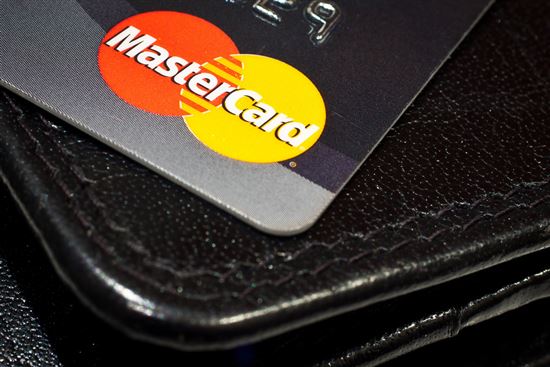 MasterCard credit card © dahlstroms (CC BY 2.0) via Flickr
When it comes to debt, one of the most important figures you need to know is the amount of interest you will paying. If you get swayed to sign up for a credit card with a promotional 0% APR, you really need to know how that figure will change when the promo period ends. And you also need to know the credit card issuer's policy on rates going forward. You need to know if your rate will change, under what conditions, and how you will know about any changes. It's a big deal: Paying interest on revolving debt is really one place that hits you hard in your pocketbook. A $2,500 balance on a card that charges an APR of 12.99% will cost almost $30 in interest each month — for what? While you should always try to pay off your balance each month, the reality is sometimes you won't or can't. Periodically check in with your various loans and credit cards to see if you're paying down the ones with the highest interest rates and to evaluate if you should move your debt elsewhere (such as by making a balance transfer).
Related: Compound Interest
4. YOU DON'T BOTHER TO RESEARCH PRICES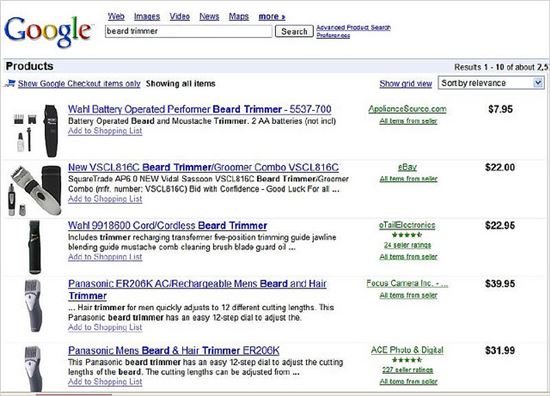 Google Product Search Results © Danny Sullivan (CC BY 2.0) via Flickr
The Internet is a blessing. You can Google the exact model of something you've been yearning for and compare prices with dozens of stores. You can also find a store that doesn't charge tax or shipping, saving you even more money. Not doing the online research to find the lowest price is an unbelievably common mistake people make (and so end up paying top-dollar for an item).
Related: Best Time to Buy
5. YOU KEEP ALL OF YOUR MONEY IN A STANDARD SAVINGS ACCOUNT
Trust us, the only real reason to keep all your money in a bank savings account is to keep it out of your sock drawer. The interest rates are so low (less than 1% pretty much across the board) that you're not doing your hard-earned cash any favors by hoarding it. Experts have blamed our hoarding (Americans are holding 36% of their assets in cash on average, according to this New York Times article) on fear following the financial crisis, and that fear really hasn't gone away. Interest rates are unlikely to budge significantly anytime soon. Consider investing some of your savings in an IRA, or putting it into stocks or bonds — or, if you're risk averse, CDs (certificates of deposit), which will give you a teensy-weensy better rate than your savings account. Almost anything is better than leaving your money in an account that's seeing hardly any growth.
6. NOT MAINTAINING YOUR LIVING SPACE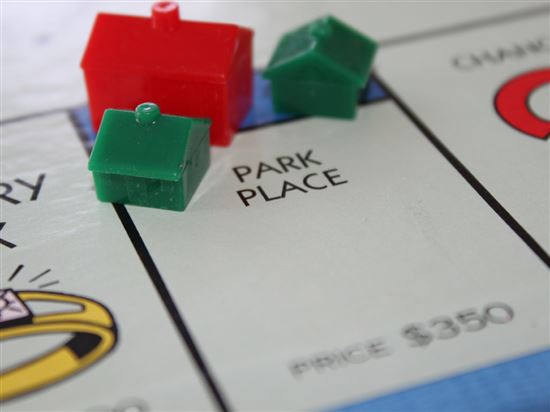 Park Place Expensive Real Estate Monopoly © Philip Taylor (CC BY 2.0) via Flickr
The 2007 financial crisis and real estate bubble is behind us. Hopefully, we've learned our lessons about subprime mortgages and snake-oil brokers who promise you can afford a house when you can't. And hopefully we've learned the lesson about not investing in our homes. Even if you rent, you should be sure to keep your digs in tiptop shape so that you get your security deposit back. And if you're going to sell your house, even if it's not anytime soon (just half of homeowners have been in their houses for a decade), you have to keep up the maintenance or you could pay dearly when it's time to sell. When you want to buy another home, you'll want your savings for your new deposit; you don't want to have put it all towards an overhaul. Continually look for ways to improve your house and consider the ways in which home improvement work is most likely to pay off with sellers. You will be thankful later when you're house is not a dud the second it's put on the market.
7. YOU GIVE INTO YOUR IMPULSES WAY TOO OFTEN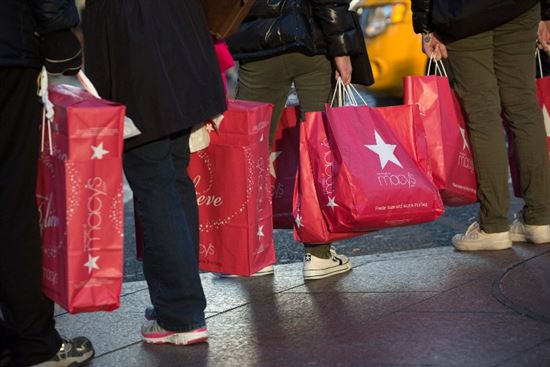 US-156860596 © Diariocritico de Venezuela (CC BY 2.0) via Flickr
There's a rush we all get from having a few shopping bags full of goodies to take home. We get it. But we also get the regret that settles in. In a CreditDonkey survey of consumers, 88% of respondents said they have bought things they don't need or didn't plan to buy. That's impulse shopping and it can cause more than pangs of guilt. It can lead to a credit card bill that's too hard to pay off and subsequent interest charges. A five-minute delay is an impulse buyer's best friend. No matter how much you want something, walk away. Give yourself some time to think about whether you can afford it, do some comparison shopping on your phone, and let yourself get distracted by other thoughts. If you remember the tempting item later and you've done the math, then maybe, just maybe, you should get it.
8. YOU THINK YOU'RE TOO GOOD FOR COUPONS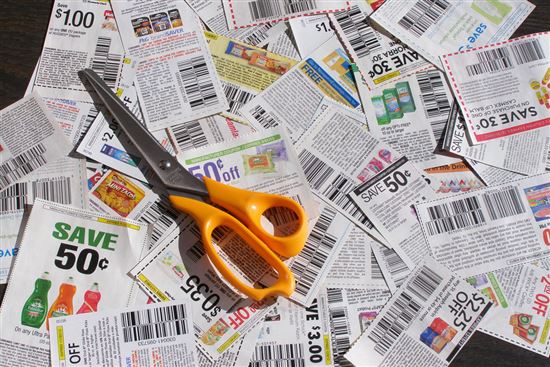 Clipped Coupons With Scissors 1 © Chris Potter (CC BY 2.0) via Flickr
Coupons have long ago moved on from the image of a housewife cutting up flyers from the newspaper. Those coupons still exist and can save you a few bucks. But what's more lucrative are savings you can get from a site like Groupon or digital coupons that you can get sent to you, based on your preferences. Why waste your time browsing and snipping coupons for items you don't really want or need? In this digital age, you can stick to the ones you do need and the ones that will actually save you money.
9. YOU'RE ALWAYS BUYING HIGH-TICKET ITEMS IN THE WRONG SEASON
Believe it or not, things like TVs, computers and household items actually have a "best time to buy" period, and that's when the new models are coming out and the old models are going away. To get rid of stock, last year's models are deeply discounted to make way for the new merchandise. And come on, even with technology changing by the minute, you can get a completely new product with all the bells and whistles for sometimes hundreds, even thousands, less than when they were first introduced a year earlier. Seasonal items, such as patio furniture and outdoor grills, usually have their prices slashed towards the end of summer. And while it may feel odd to purchase holiday decorations on December 26th, that 50-75% discount will put you way ahead of the game next year and make you the envy of your family.
10. YOU'RE NOT TAKING ADVANTAGE OF MONEY-SAVING E-MAILS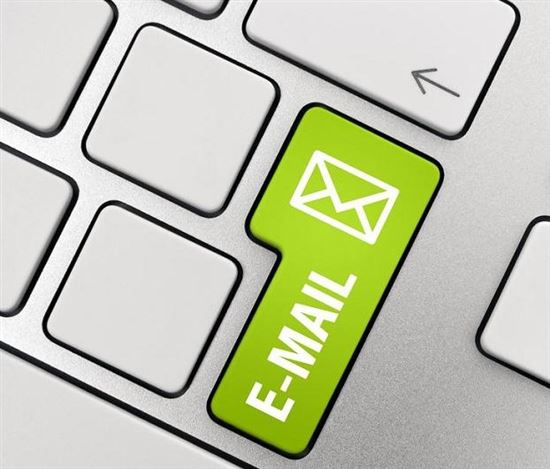 email marketing © Maria Elena (CC BY 2.0) via Flickr
Yes, we all get a lot of spam. But not all of it is from a Nigerian long-lost relative telling you about your million dollar inheritance. When you purchase something online, you're often placed on the email blasts of that merchant or a third-party merchant selling something similar. And while most of these e-mails will end up in the trash file, it doesn't hurt to click on an email from a reputable company that might be offering you a discount on something you're in the market for. Better yet, make a point of signing up for e-mail notices from your absolute favorite retailers or follow them on Facebook to get their latest discounts.
11. YOU MAKE YOUR PURCHASE AND FORGET ABOUT IT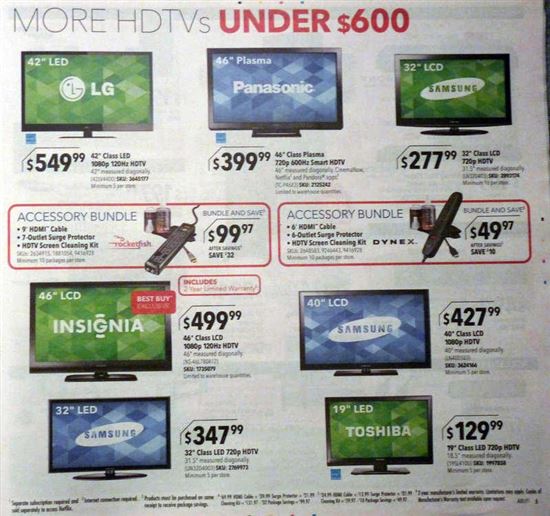 Best Buy Black Friday 2011 Ad Scan - Page 5 © Julie & Heidi (CC BY-SA 2.0) via Flickr
We'll admit, this takes some work on your part, but it can be well worth it. After you've purchased something, consider checking out the weekly sales circulars from other merchants (or even the one you purchased your item from) to see if it's listed for less than what you paid. Most major retailers — both online and brick and mortar — offer 30-day price matching. If you find a lower price than what you paid for the exact same item, you can bring in your receipt and show them the weekly circular (it can even be the version on your phone), and they'll refund the difference, sometimes with an extra 10% back added on. So if you made a purchase for $500 and it's on sale two weeks later for $375, you can get up to $137.50 back. That's a lotta cash, and could keep you supplied in lattes for the month. Some credit card companies will help you out with this, if they have a price protection feature.
12. YOU DON'T HAVE A CASH REWARDS CARD IN YOUR WALLET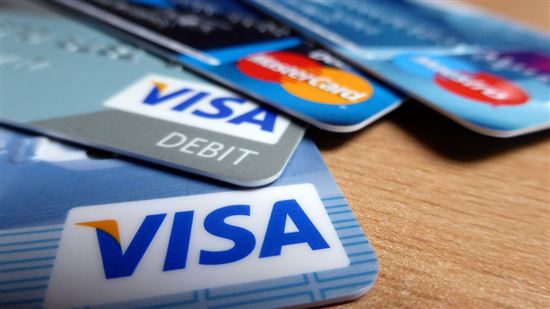 Credit Cards © Sean MacEntee (CC BY 2.0) via Flickr
If you haven't been in the market for a new credit card in awhile, this one is worth paying attention to. Cash-back credit cards these days are easy to use and, if they're a good fit for you, can add up to some significant savings. These cards usually offer between 1% and 5% back on purchases (the latter amount is typically reserved for specific categories during promotional periods). If you pay off your balance each month (i.e., you never pay interest), you are rewarded for using these cards on purchases you would have made anyway. That's smart shopping.
13. BEING SCARED OF OFFERS THAT SOUND TOO GOOD TO BE TRUE
You should always be wary when you see a promotion, and you should always read the fine print. But there are offers on the market right now that sound really good and actually are — if you use them correctly. Many credit cards these days have a 0% introductory APR for a limited time. If you pay off the balance of everything you purchase within the introductory period (which, for some cards, could be as long as 18 months), that could mean hundreds of dollars in interest that you'll never have to pay. If you have to make some big purchases in the near future or just need a breather while you try to pay down your debt, these intro offers are well worth it (and true to their word).
14. YOU'RE TRYING TO KEEP UP WITH THE JONESES
Tesla Model S © Shal Farley (CC BY-SA 2.0) via Flickr
Stop looking with envy at your neighbor's toys. If Mary Jones has a new Tesla Model S in her driveway, it doesn't mean you have to have one, too — especially if you can only afford a pre-owned Toyota. If her husband has the latest iPhone and you don't, that's OK. It's not a contest. You don't know their financial situation. They may be over their heads in debt for all you know. Pay attention to your priorities, and only buy what you can truly afford.
15. YOU PAY FOR HIGH-OCTANE GASOLINE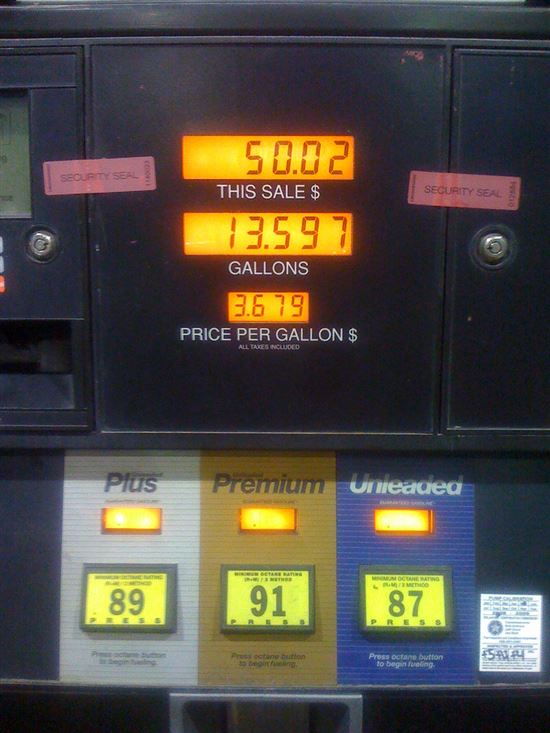 Expensive Gasoline © justinfeed (CC BY 2.0) via Flickr
We know, your Lexus ownership manual recommends premium gas in your new SUV. But, according to self-described cheapskate Tom Barlow of Forbes, unless a car manufacturer tells you in black and white that premium gas is required, your new vehicle will do just fine with regular gas. That's usually a 20-cent per gallon savings, which can add up to a lot each year, especially with the premium prices we pay on all grades of gas.
16. YOU NEVER HAVE ACTUAL CASH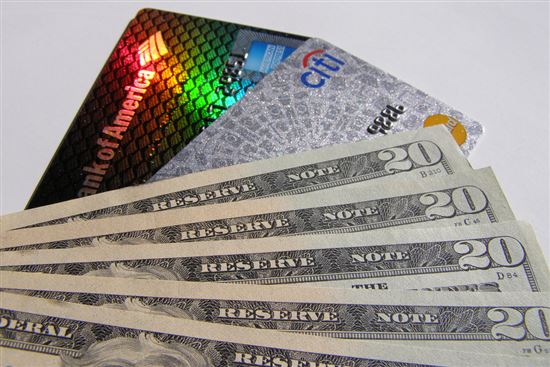 Credit Card With Money Ver2 © Chris Potter (CC BY 2.0) via Flickr
Didn't expect this one from a credit card comparison site, eh? In many cases, credit cards are indeed the way to go — for convenience, for cash-back rewards, if applicable, and for tracking expenses. When they are not the way to go is when you don't have a plan for paying them off. If you pay cash, you won't rack up debt. It's as simple as that. If you're using a high interest credit card or you've come close to maxing out your cards, make some trips to the ATM for a while until you get your debt situation under control.
17. YOU CARRY A CREDIT CARD BALANCE
Approximately three out of five Americans carry a credit card balance and pay interest on that luxury, according to the Federal Reserve. Sometimes you get in a situation where you need to carry a balance for a month or two, but your goal should be to not do it, ever.
Tip: How to Save Money on Credit Card Debt with Balance Transfers
18. YOU'RE NOT CAPITALIZING ON THE STOCK MARKET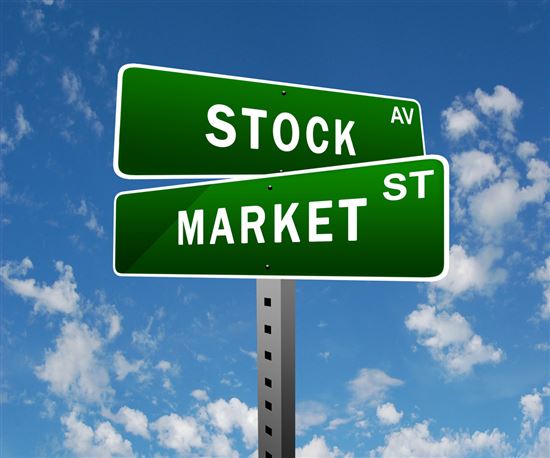 stock market © 401(K) 2012 (CC BY-SA 2.0) via Flickr
The time to get into the market is not always when it's bullish, because then you're paying a higher price for stocks. And not enough people are taking advantage of the market. Heather Long of CNN Money reports that only 49% of Americans have any money in the market at all. Even though it seems much scarier to invest in the stock market after the Dow takes a huge hit, if you do your research, you can find some rock-bottom prices and buy stock in some good companies. The idea is to stay in for the long term, not pull out when things look scary.
19. YOU'RE BARELY PUTTING ANYTHING INTO YOUR RETIREMENT FUND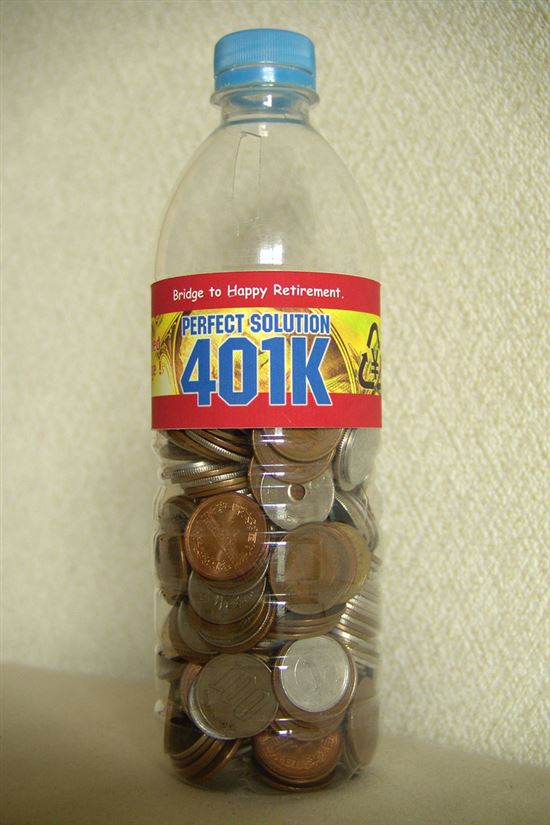 401K - Perfect Solution !? © MIKI Yoshihito (CC BY 2.0) via Flickr
If you have a 401(k) and your company is willing to match your contribution up to 3%, then it's wise to make sure you yourself are contributing 3% as well. Sounds simple, but why doesn't everyone do it? Retirement plans, like a 401(k), can reduce your taxable income and set you up for a more solid future. Many parents make the mistake of focusing too much on college savings plans and ignore their retirement savings. The fact is, though, that you cannot get a loan for retirement, but your child could get financing for school. Even if it's just a small amount, you should be putting some money aside for retirement as soon as you are of working age.
20. YOU DON'T HAVE A CAR STRATEGY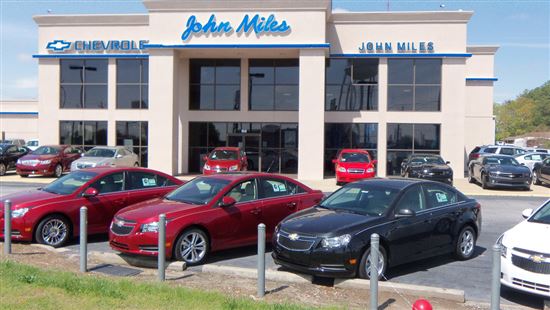 000_0325 © John Miles Chevy Buick GMC (CC BY 2.0) via Flickr
If you're one of the few Americans who can rely on your legs or a bike to get to work, you're lucky and saving a lot of moola for your economical commute. But for the rest of us, a car is a big way of life, whether it's to get to work, get our kids to daycare or school, or just to visit family and friends on the weekend. But it's also a major drain on the wallet, from oil changes, loan payments, and sudden emergency fixes. No matter whether you think owning or leasing is the best for you (we're not going to weigh in on that controversial debate), you need a plan from the moment you drive that car off the lot. Will you be getting a new car when the loans dry up? Or will you be saving money as you go along for those inevitable sudden breakdowns? Will you be following the maintenance schedule and how will you pay for it? It hurts to accept, but the fact is cars are an ongoing investment. The payoff won't be the value of your car in the end but rather your ability to commute where you need to go, reliably.
21. YOU LOSE TRACK OF YOUR BILLS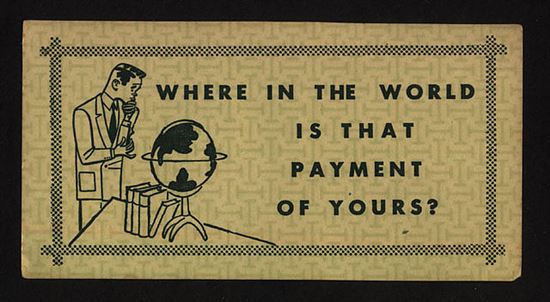 Where in the world Late Payment Reminder © wsssst (CC BY 2.0) via Flickr
Late payments on bills — whether they're for credit cards, a mortgage, or car loans — not only affects your credit score, but it can really hit you where it counts — in the wallet. And while we're on the subject, a lower credit score can hit you in the wallet as well, as the lower your score, the higher the rate of interest you'll be charged on credit cards and other loans. If you find that the flow of bills is too much to handle, see if your service providers can change their billing or due dates. And also look into seeing whether auto-paying some or all of them would make sense for you.
22. YOU SPEND TOO MUCH ON ENTERTAINMENT
We're surrounded by prods to spend money on entertaining ourselves, whether it's book downloads on a Kindle or a movie rental through iTunes. It is so easy to shop from our phones and in our living rooms. Just because it's easy doesn't mean we should do it so often. When these little rentals start to add up to big amounts every month, it's time to take a look at that entertainment budget and consider ways to cut. If you are downloading TV shows more than watching them on cable, should you cut the cable cord? Should you limit your downloads to once a week? Are you putting limits on your spouse or children? These are all questions worth asking as technology keeps making money easier and easier to spend.
23. YOU JUST DON'T EVEN THINK ABOUT YOUR MONEY HABITS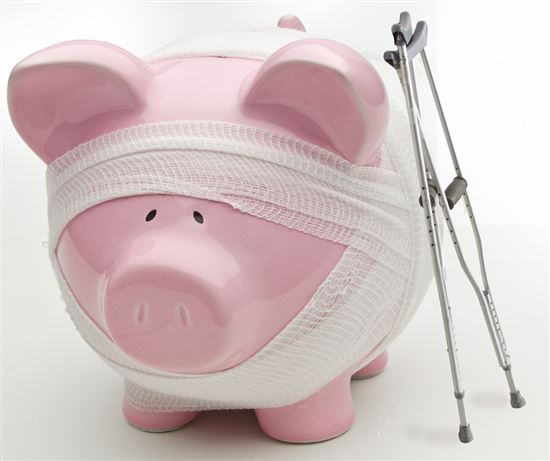 Injured Piggy Bank WIth Crutches © Ken Teegardin (CC BY-SA 2.0) via Flickr
The point of highlighting the many mistakes we all make isn't to make anyone feel bad. It's an opportunity to remind ourselves that smart money means checking in with your money. As you age, your needs change, and as times change, the pressure to buy more builds. Are you spending wisely? And are you saving wisely? These are questions that should be asked on a regular basis. The answers will help you correct any lapses you've made in money matters, and in the end you should be closer to the wealth you're striving for and deserve.
Cynthia Cohen is a retail analyst at CreditDonkey, a credit card comparison and reviews website. Write to Cynthia Cohen at cynthia@creditdonkey.com
Note: This website is made possible through financial relationships with some of the products and services mentioned on this site. We may receive compensation if you shop through links in our content. You do not have to use our links, but you help support CreditDonkey if you do.
More from CreditDonkey: