Can Money Buy Happiness? Not as Much as Family New Survey Says
---
Have we finally learned that money isn't everything? In a new CreditDonkey.com survey, only 21 percent of respondents said money can buy happiness. And just 10 percent said getting rich leads to the most happiness.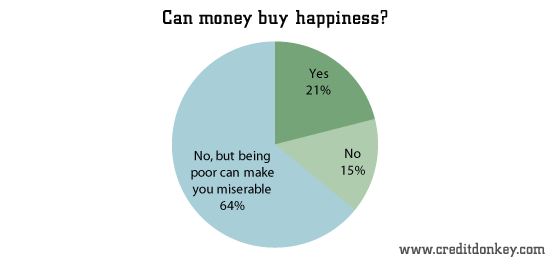 Can money buy happiness?

© CreditDonkey
So, if money isn't what makes us feel that all is right with the world, what does? The answer: someone to come home to at night. Seven in 10 respondents said a good marriage and family life lead to the most happiness over a lifetime. And 38 percent said prioritizing family and personal time over higher earnings leads to the most happiness in the long run.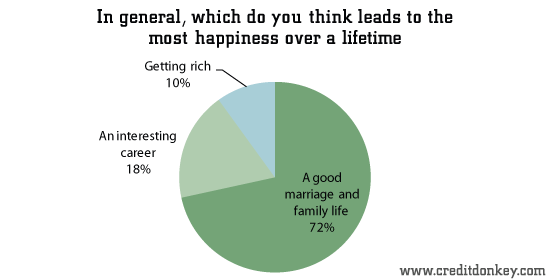 In general, which do you think leads to the most happiness over a lifetime

© CreditDonkey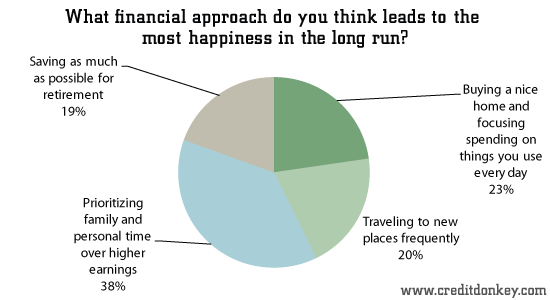 What financial approach do you think leads to the most happiness in the long run?

© CreditDonkey
Spending vs. Saving: What Makes You Happiest?
The majority of people (58.5 percent) believe having enough savings to cover emergencies would make them happier than buying something that they've been eagerly waiting to get for a long time, according to the survey. When they do spend money, most respondents said paying off debt or taking part in an activity, like a concert or sports event, would make them happiest. Less than half said buying clothes, furniture, electronics, or entertainment products would put the biggest grins on their faces.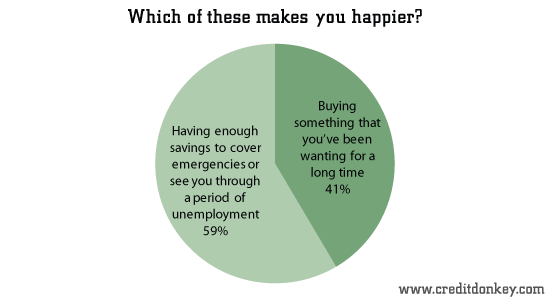 Which of these make you happier?

© CreditDonkey
One reason respondents may view financial security so highly on their happiness scale is the fact that it's been a difficult goal to achieve for many Americans since the subprime mortgage crisis hit. Most respondents (56 percent) said that being in debt made them unhappy, and even more (74.1 percent) said having a good financial cushion makes them happy.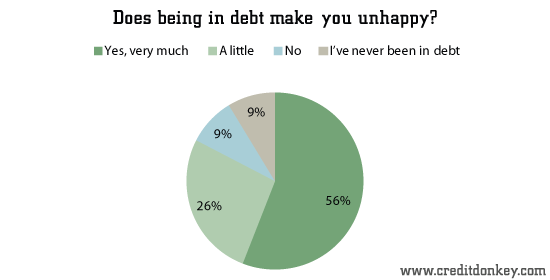 Does being in debt make you unhappy?

© CreditDonkey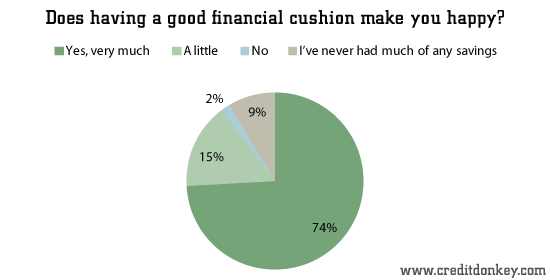 Does having a good financial cushion make you happy?

© CreditDonkey
"We have seen a major shift in consumer habits, where savings bring more happiness than spending," says Charles Tran, founder of CreditDonkey.com. "Ten years ago, people were much more eager to go to the mall and spend, but that consumerism is on the decline. Instead, people want the safety of some money in the bank."
With a safety net, they could reach the ultimate goal of financial independence — a status that 54 percent of respondents listed as their number-one way to be happy with their money situation. That was chosen much more often by respondents than reaching a good credit score (chosen by only 15 percent of respondents), being on a secure retirement path (14 percent), and getting rich (16 percent).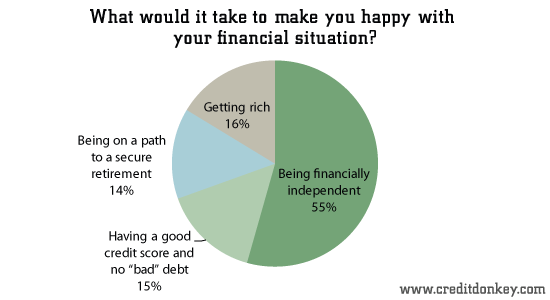 What would it take to make you happy with your financial situation?

© CreditDonkey
While the majority of respondents see happiness beyond dollar figures, 64 percent of them acknowledged that being poor can make a person miserable.
The Family-Work Balance
While work is a means to keep us out of the poorhouse, what we do during the day can provide a reward beyond the paycheck. In the survey, 18 percent said an interesting career is what would make them happy. Perhaps more of us would view our jobs more favorably if we were able to work fewer hours, bringing more balance to our lives and those of spouses and family members who make us smile. If money were no object, 14 percent of respondents said they would still prefer to work full time, and 50 percent would still work part time.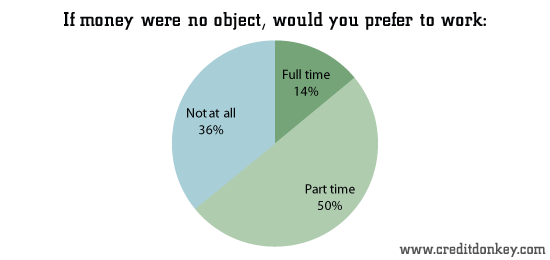 If money were no object, would you prefer to work

© CreditDonkey
(From September 3 to September 8, 2013 CreditDonkey surveyed 1,063 Americans about their shopping habits, payment preferences, credit card use, and what makes them happy.)
Sarah Johnson is a senior editor at CreditDonkey, a credit card comparison and reviews website. Write to Sarah Johnson at sarah@creditdonkey.com. Follow us on Twitter and Facebook for our latest posts.